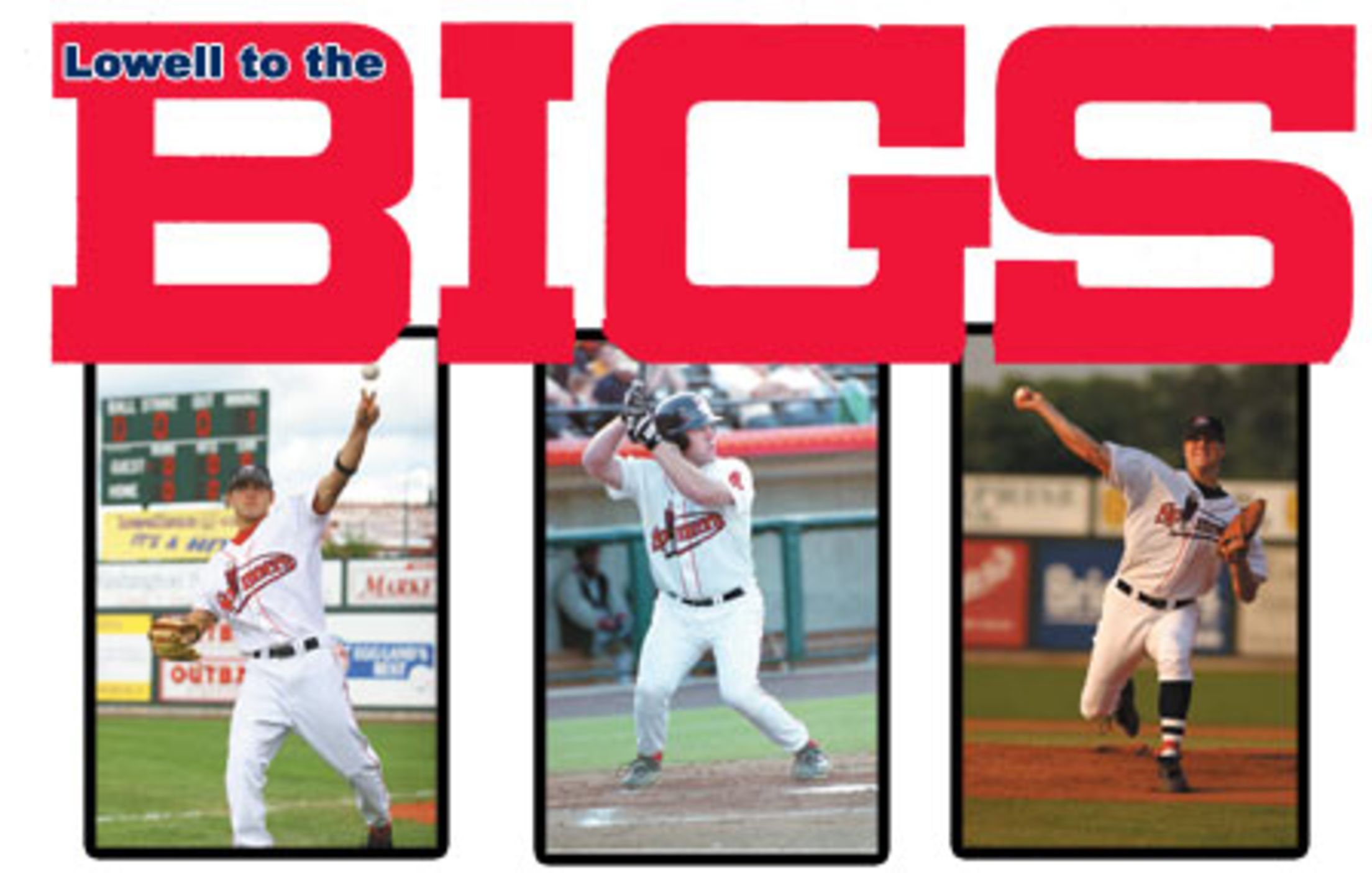 Since Wilton Veras made his Major League Debut with the Boston Red Sox July 1, 1999, a stream of former Spinners have continued to follow the path blazed by Veras to the Major Leagues. Be it with the Red Sox or else where, 111 former Spinners have made the trek from Lowell to the big leagues. Photos of each former Spinner line the walls of both the front office and the locker room in the Spinners' "Wall of Fame." Who will be added next?
To be considered for this list, players must have dressed for the Lowell Spinners, whether they appear in a game with the team or not [Pitchers Matt Barnes and Noe Ramirez were with the team in 2011 and pitchers Anthony Ranaudo and Brandon Workman were with the team for a month in 2010, but did not appear in a game].
Players who are beyond their first-year of professional baseball and on rehab assignment are not included. Players are added to the Spinner "Wall of Fame" after throwing at least one pitch in a Major League Game, play defensively in the field or receive an at-bat. Left-Handed pitcher Tom Cochran has been promoted to the big leagues, but did not appear in a game before returning to the Minor Leagues.
While these former Spinners have gone on to play Major League Baseball, one former Spinner went onto play in the major leagues in another sport. After five seasons of minor league baseball, including the 1996 season in Lowell,Corey Jenkins returned to college as a football player. After a standout career, Jenkins was drafted by the Miami Dolphins as a linebacker, making his NFL Debut in 2003. Jenkins played three seasons with the Dolphins and a season with the Chicago Bears. He is currently the defensive coordinator for Gray Military Academy in South Carolina. On the opposite side of the spectrum, linebacker Brandon Magee played two seasons in the NFL before giving baseball a try with the Spinners in 2015. Magee left the team in August of that season to attempt an NFL return.
Major League Spinners List
| Player Name | Year with the Spinners | Position | Date joined MLB |
| --- | --- | --- | --- |
| Wilton Veras | 1996 | 3B | Boston Red Sox (July 1, 1999 vs. Tampa Bay) |
| Steve Lomasney | 1996 | C | Boston Red Sox (Oct. 3, 1999 at Baltimore) |
| Matt Kinney | 1996 | RHP | Minnesota Twins (Aug. 18, 2000 vs. Toronto) |
| Jack Cressend | 1996 | RHP | Minnesota Twins (Aug. 26, 2000 vs. Toronto) |
| Shea Hillenbrand | 1996 | 3B | Boston Red Sox (Apr. 2, 2001 at Baltimore) |
| David Eckstein | 1997 | 3B | Anaheim Angels (Apr. 3, 2001 at Texas) |
| Casey Fossum | 1999 | LHP | Boston Red Sox (July 28, 2001 vs. Chicago) |
| Adam Everett | 1998 | SS | Houston Astros (Aug. 30, 2001 vs. Cincinnati) |
| Angel Santos | 1998 | 2B | Boston Red Sox (Sept. 8, 2001 vs. Philadelphia) |
| Mike Maroth | 1998 | LHP | Detroit Tigers (June 8, 2002 vs Philadelphia) |
| Freddy Sanchez | 2000 | 2B | Boston Red Sox (Sept. 10, 2002 at Tampa Bay) |
| Josh Hancock | 1998 | RHP | Boston Red Sox (Sept. 10, 2002 at Tampa Bay) |
| Rontrez Johnson | 1996 | OF | Kansas City Royals (Mar. 31, 2003 vs. Chicago) |
| Lew Ford | 1999 | OF | Minnesota Twins (May 29, 2003 vs. Seattle) |
| Kevin Youkilis | 2001 | 3B | Boston Red Sox (May 15, 2004 vs. Toronto) |
| Anastacio Martinez | 1999 | RHP | Boston Red Sox (May 22, 2004 vs. Toronto) |
| Abe Alvarez | 2003 | LHP | Boston Red Sox (July 22, 2004 vs. Baltimore) |
| Marty McLeary | 1997 | RHP | San Diego Padres (Aug. 22, 2004 vs. Florida) |
| Tony Blanco | 2000 | 3B | Washington Nationals (Apr. 4, 2005 vs. Philadelphia) |
| Matt Murton | 2003 | OF | Chicago Cubs (July 8, 2005 at Florida) |
| Jonathan Papelbon | 2003 | RHP | Boston Red Sox (July 31, 2005 vs. Minnesota) |
| Hanley Ramirez | 2002 | SS | Boston Red Sox (Sept. 20, 2005 vs. Tampa Bay) |
| Anibal Sanchez | 2004 | RHP | Florida Marlins (June 25, 2006 at New York Yankees) |
| John Hattig | 2000, 2001 | 3B | Toronto Blue Jays (Aug. 19, 2006 at Baltimore) |
| David Murphy | 2003 | OF | Boston Red Sox (Sept. 2, 2006 vs. Toronto) |
| Brian Esposito | 2000 | C | St. Louis Cardinals (June 2, 2007 at Houston) |
| Jacoby Ellsbury | 2005 | OF | Boston Red Sox (June 30, 2007 vs. Texas) |
| Phil Dumantrait | 2001 | LHP | Cincinnati Reds (Aug. 2, 2007 at Washington) |
| Brandon Moss | 2003 | OF | Boston Red Sox (Aug. 6, 2007 at Los Angeles) |
| Clay Buchholz | 2005 | RHP | Boston Red Sox (Aug. 17, 2007 vs. Los Angeles) |
| Harvey Garcia | 2004 | RHP | Florida Marlins (Sept. 3, 2007 at Washington) |
| Dan Giese | 1999, 2000 | RHP | San Francisco Giants (Sept. 8, 2007 vs. Los Angeles) |
| Jed Lowrie | 2005 | 3B | Boston Red Sox (April 15, 2008 at Cleveland) |
| Justin Masterson | 2006 | RHP | Boston Red Sox (Apr. 24, 2008 vs. Los Angeles) |
| Chris Smith | 2002 | RHP | Boston Red Sox (June 21, 2008 vs. St. Louis) |
| R.J. Swindle | 2004 | LHP | Philadelphia Phillies (July 7, 2008 vs. New York) |
| Hunter Jones | 2005 | LHP | Boston Red Sox (Apr. 20, 2009 vs. Baltimore) |
| Dusty Brown | 2002 | C | Boston Red Sox (June 23, 2009 at Washington) |
| Aaron Bates | 2006 | 1B | Boston Red Sox (July 6, 2009 vs. Oakland) |
| Dustin Richardson | 2006, 2008 | LHP | Boston Red Sox (Sept. 28, 2009 vs. Toronto) |
| Felix Doubront | 2006, 2007 | LHP | Boston Red Sox (June 18, 2010 vs. Los Angeles Dodgers) |
| Ryan Kalish | 2006, 2007 | OF | Boston Red Sox (July 31, 2010 vs. Toronto) |
| Yamaico Navarro | 2007, 2009 | SS | Boston Red Sox (Aug. 20, 2010 vs. Toronto) |
| Jose Iglesias | 2010 | SS | Boston Red Sox (May 8, 2011 vs. Minnesota) |
| Tommy Hottovy | 2004, 2009 | LHP | Boston Red Sox (June 3, 2011 vs. Oakland) |
| Kyle Weiland | 2008 | RHP | Boston Red Sox (July 10, 2011 vs. Baltimore) |
| Ryan Lavarnway | 2008 | C | Boston Red Sox (August 18, 2011 at Kansas City) |
| Nick Hagadone | 2007 | LHP | Cleveland Indians (Sept. 1, 2011 vs. Oakland) |
| Tim Federowicz | 2008 | C | Los Angeles Dodgers (Sept. 11, 2011 vs. San Francisco) |
| Che-Hsuan Lin | 2007 | OF | Boston Red Sox (April 14, 2012 vs. New York) |
| Will Middlebrooks | 2008, 2011 | 3B | Boston Red Sox (May 2, 2012 Oakland) |
| Luis Exposito | 2006 | C | Baltimore Orioles (May 4, 2012 vs. Boston) |
| Kris Negron | 2006 | INF | Cincinnati Reds (June 7, 2012 vs. Pittsburgh) |
| Miguel Socolovich | 2007 | RHP | Baltimore Orioles (July 14, 2012 vs. Detroit) |
| Stephen Fife | 2008 | RHP | Los Angeles Dodgers (July 17, 2012 vs. Philadelphia) |
| Casey Kelly | 2008 | RHP | San Diego Padres (August 27, 2012 vs. Atlanta) |
| Jackie Bradley Jr. | 2011 | OF | Boston Red Sox (April 1, 2013 vs. New York Yankees) |
| Ryan Pressly | 2009 | RHP | Minnesota Twins (April 4, 2013 vs. Detroit) |
| Alex Wilson | 2009 | RHP | Boston Red Sox (April 11, 2013 vs. Baltimore) |
| Chris McGuiness | 2009 | 1B | Texas Rangers (June 7, 2013 vs. Toronto) |
| Jose Alvarez | 2009 | LHP | Detroit Tigers (June 9, 2013 vs. Cleveland) |
| Brandon Workman | 2010 | RHP | Boston Red Sox (July 10, 2013 vs. Seattle) |
| Drake Britton | 2008, 2009 | LHP | Boston Red Sox (July 20, 2013 vs. New York Yankees) |
| Kris Johnson | 2006 | LHP | Pittsburgh Pirates (Aug. 18, 2013 vs. Arizona) |
| Cesar Cabral | 2009 | LHP | New York Yankees (Sept. 2, 2013 vs. Chicago) |
| Stolmy Pimentel | 2008 | RHP | Pittsburgh Pirates (Sept. 4, 2013) |
| Alex Hassan | 2009 | OF | Boston Red Sox (June 1, 2014 vs. Tampa Bay) |
| Garin Cecchini | 2011 | 3B | Boston Red Sox (June 1, 2014 vs. Tampa Bay) |
| Mookie Betts | 2012 | 2B | Boston Red Sox (June 29, 2014 vs. New York Yankees) |
| Roman Mendez | 2010 | RHP | Texas Rangers (July 8, 2014 vs. Houston Astros) |
| Christian Vazquez | 2009 | C | Boston Red Sox (July 9, 2014 vs. Chicago White Sox) |
| Anthony Ranaudo | 2010 | RHP | Boston Red Sox (Aug. 1, 2014 vs. New York Yankees) |
| Dan Butler | 2009 | C | Boston Red Sox (Aug. 10, 2014 vs. Los Angeles) |
| Bryan Price | 2009 | RHP | Cleveland Indians (Sept. 1, 2014 vs. Detroit) |
| Hunter Strickland | 2008 | RHP | San Francisco Giants (Sept. 1, 2014 vs. Colorado) |
| Matt Barnes | 2011 | RHP | Boston Red Sox (Sept. 9, 2014 vs. Baltimore) |
| Bryce Brentz | 2010 | OF | Boston Red Sox (Sept. 17, 2014 vs. Pittsburgh) |
| Jason Garcia | 2011, 2014 | RHP | Baltimore Orioles (Apr. 8, 2015 vs. Tampa Bay) |
| Travis Shaw | 2011 | 1B | Boston Red Sox (May 8, 2015 vs. Toronto) |
| Jonathan Aro | 2013 | RHP | Boston Red Sox (June 25, 2015 vs. Baltimore) |
| Deven Marrero | 2012 | SS | Boston Red Sox (June 28, 2015 vs. Tampa Bay) |
| Noe Ramirez | 2011 | RHP | Boston Red Sox (July 3, 2015 vs. Houston) |
| Brian Johnson | 2012 | LHP | Boston Red Sox (July 21, 2015 vs. Houston) |
| Frankie Montas | 2012 | RHP | Chicago White Sox (Sept. 2, 2015 vs. Minnesota) |
| Carson Blair | 2009-2011 | C | Oakland Athletics (Sept. 6, 2015 vs. Seattle) |
| Nefi Ogando | 2011 | RHP | Philadelphia Phillies (Sept. 9, 2015 vs. Atlanta) |
| Jeremy Hazelbaker | 2009 | OF | St. Louis Cardinals (Apr. 3, 2016 at Pittsburgh) |
| Hunter Cervenka | 2010-2011 | OF | Atlanta Braves (Apr. 12, 2016 at Washington) |
| William Cuevas | 2012 | RHP | Boston Red Sox (Apr. 21, 2016 vs. Tampa Bay) |
| Pat Light | 2012 | RHP | Boston Red Sox (Apr. 26, 2016 at Atlanta) |
| Mike Miller | 2012 | INF | Boston Red Sox (June 28, 2016 at Atlanta) |
| Andrew Benintendi | 2015 | OF | Boston Red Sox (Aug. 2, 2016 at Seattle) |
| Madison Younginer | 2010-2012 | RHP | Atlanta Braves (Aug. 7, 2016 at St. Louis) |
| Robby Scott | 2011 | LHP | Boston Red Sox (Sept. 2, 2016 at Oakland) |
| Raul Alcantara | 2011 | RHP | Oakland Athletics (Sept. 5, 2016 vs. Los Angeles) |
| Manuel Margot | 2012 | OF | San Diego Padres (Sept. 21, 2016 vs. Arizona) |
| Carlos Asuaje | 2012 | INF | San Diego Padres (Sept. 21, 2016 vs. Arizona) |
| Justin Haley | 2012 | RHP | Minnesota Twins (Apr. 5, 2017 vs. Kansas City) |
| Ben Taylor | 2015 | RHP | Boston Red Sox (Apr. 7, 2017 at Detroit) |
| Sam Travis | 2014 | 1B | Boston Red Sox (May 24, 2017 vs. Texas) |
| Austin Maddox | 2012 | RHP | Boston Red Sox (June 18, 2017 at Houston) |
| Tzu-Wei Lin | 2013 | INF | Boston Red Sox (June 24, 2017 vs. Los Angeles (AL)) |
| Kyle Martin | 2013 | RHP | New York Mets (Sept. 2, 2017 vs. Toronto) |
| Jamie Callahan | 2013 | RHP | New York Mets (Sept. 2, 2017 at Houston) |
| Aaron Wilkerson | 2014 | RHP | Milwaukee Brewers (Sept. 15, 2017 vs. Miami) |
| Bobby Poyner | 2015 | LHP | Boston Red Sox (March 31, 2018 at Tampa Bay) |
| Gerson Bautista | 2016 | RHP | New York Mets (Apr. 17, 2018 vs. Washington) |
| Williams Jerez | 2011-2014 | OF/LHP | Los Angeles Angels (Aug. 7, 2018 vs. Detroit) |
| Ty Buttery | 2013 | RHP | Los Angeles Angels (Aug. 16, 2018 at Texas) |
| Michael Kopech | 2016 | RHP | Chicago White Sox (Aug. 22, 2018 vs. Minnesota) |
| Michael Chavis | 2018 | IF | Boston Red Sox (Apr. 20, 2019 vs. Tampa Bay) |
| Darwinzon Hernandez | 2016 | LHP | Boston Red Sox (Apr. 23, 2018 vs. Detroit) |
| Travis Lakins | 2015 | RHP | Boston Red Sox (Apr. 23, 2019 vs. Detroit) |
| Shaun Anderson | 2016 | RHP | San Francisco Giants (May 15, 2019 vs. Toronto) |
| Mike Shawaryn | 2016 | RHP | Boston Red Sox (June 7, 2019 vs. Tampa Bay) |