Farhat's Walk-Off Propels Hillcats to Victory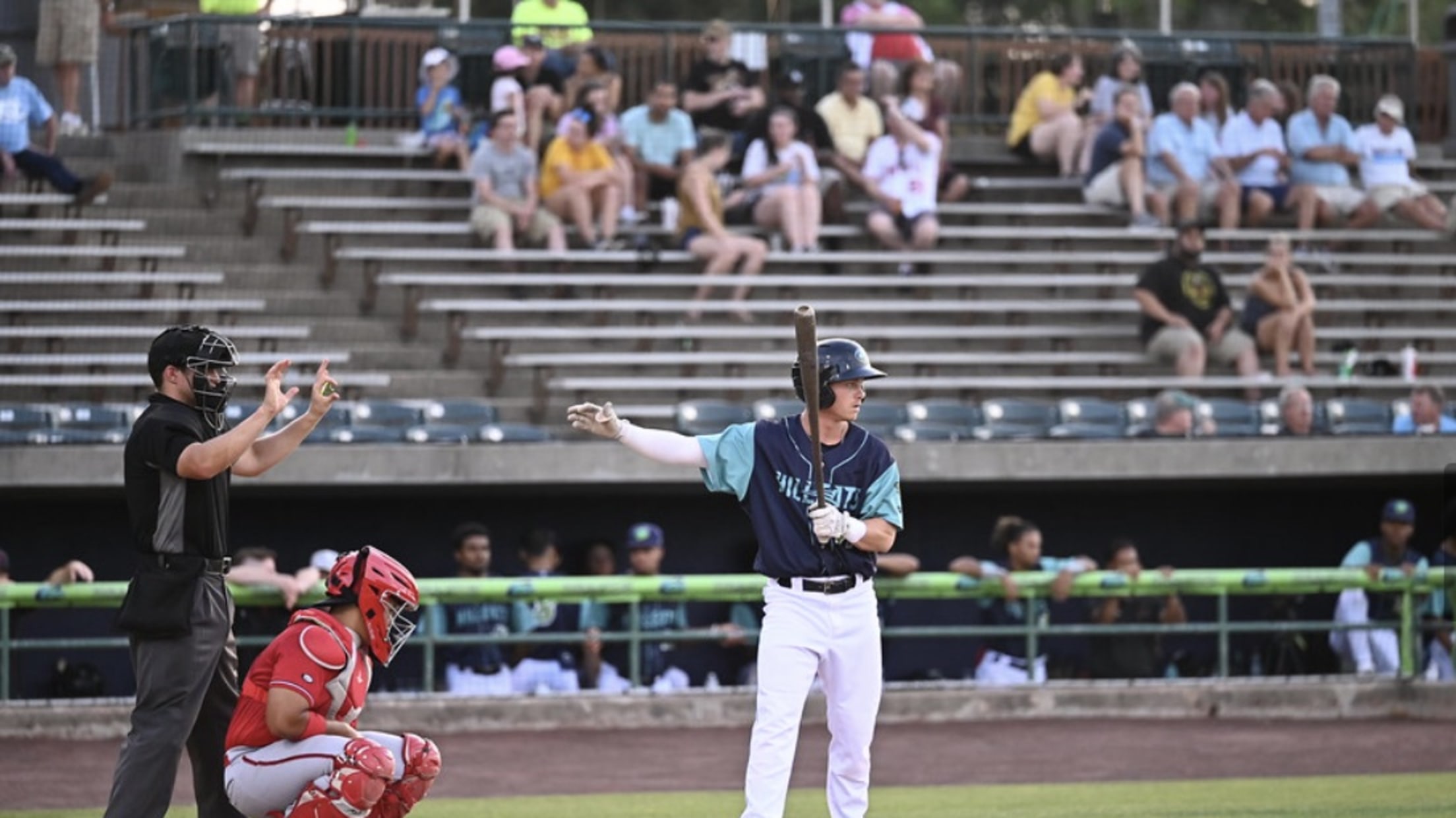 (Gary Streiffer)
Lynchburg, Virginia– Angel Martinez went 4-5 and Cody Farhat smacked his second walk-off hit of the year as the Lynchburg Hillcats (30-30) pulled off a 7-6 extra inning win on Wednesday night at Bank of the James Stadium. HOW IT HAPPENED
The FredNats scored first in the top of
Lynchburg, Virginia– Angel Martinez went 4-5 and Cody Farhat smacked his second walk-off hit of the year as the Lynchburg Hillcats (30-30) pulled off a 7-6 extra inning win on Wednesday night at Bank of the James Stadium.
HOW IT HAPPENED
The FredNats scored first in the top of the second inning with 'Cats starter Brauny Munoz on the mound, thanks to a pair of singles from Junior Martina and Jeremy De La Rosa. The knocks put the Nationals up 1-0.
That would be the last score for the Nationals with Munoz on the mound. In his second start with the Hillcats this season, the 20-year-old finished strong, pitching three more innings of scoreless baseball. The five innings of three hit baseball from Munoz put the Hillcats in prime position to make a comeback in the bottom of the fifth.
FredNats starter Michael Cuevas held the Hillcats scoreless until the bottom of the fifth, having fanned six batters going into the frame. However the inning quickly soured after an error and a hit by a pitch put Alexfri Planez and Andres Melendez on the basepaths. In his first home game, Hillcats' first baseman Wilfri Peralta smashed three-run shot to right field to give the Hillcats a 3-1 lead after five.
Alexfri Planez stretched the 'Cats lead to three with a double in the in the sixth.
The FredNats closed the gap with Lynchburg's Daritzon Feliz on the mound, scoring on a bases loaded walk and a Viandel Pena RBI single to cut the 'Cats lead to one in the seventh.
The Nationals officially took the lead when Kevin Strohschein crushed a two-run homer top of the eighth, going up 5-4.
Lynchburg responded right away in the bottom of the eighth with a Johnathan Rodriguez sacrifice fly that scored Petey Halpin and tied the game at five apiece.
Alec Wisely held the score for the Hillcats heading in the top of the ninth, striking out all three Fredericksburg batters he faced, but Davis Moore also retired the Hillcats in order forcing extra innings.
The FredNats scored their extra-runner right away when Ricardo Mendez smacked a triple and made it 6-5 heading into the bottom of the tenth.
Angel Martinez sliced his fourth hit of the night with a single to right that brought home the extra-runner, Melendez, knotted the game up once again.
With two outs, Cody Farhat smoked a ball to the left field corner, giving the speedy Martinez the perfect amount of time to slide in and score the Hillcats game winner.
WHO'S NEXT
The Hillcats look to make it four in a row Thursday night against Nationals in game two at 6:30p.m from Bank of the James Stadium.