Scrappers Front Office Working Remotely
Scrappers Staff Will Be Accessible During Normal Office Hours (M-F 8:30am-5pm)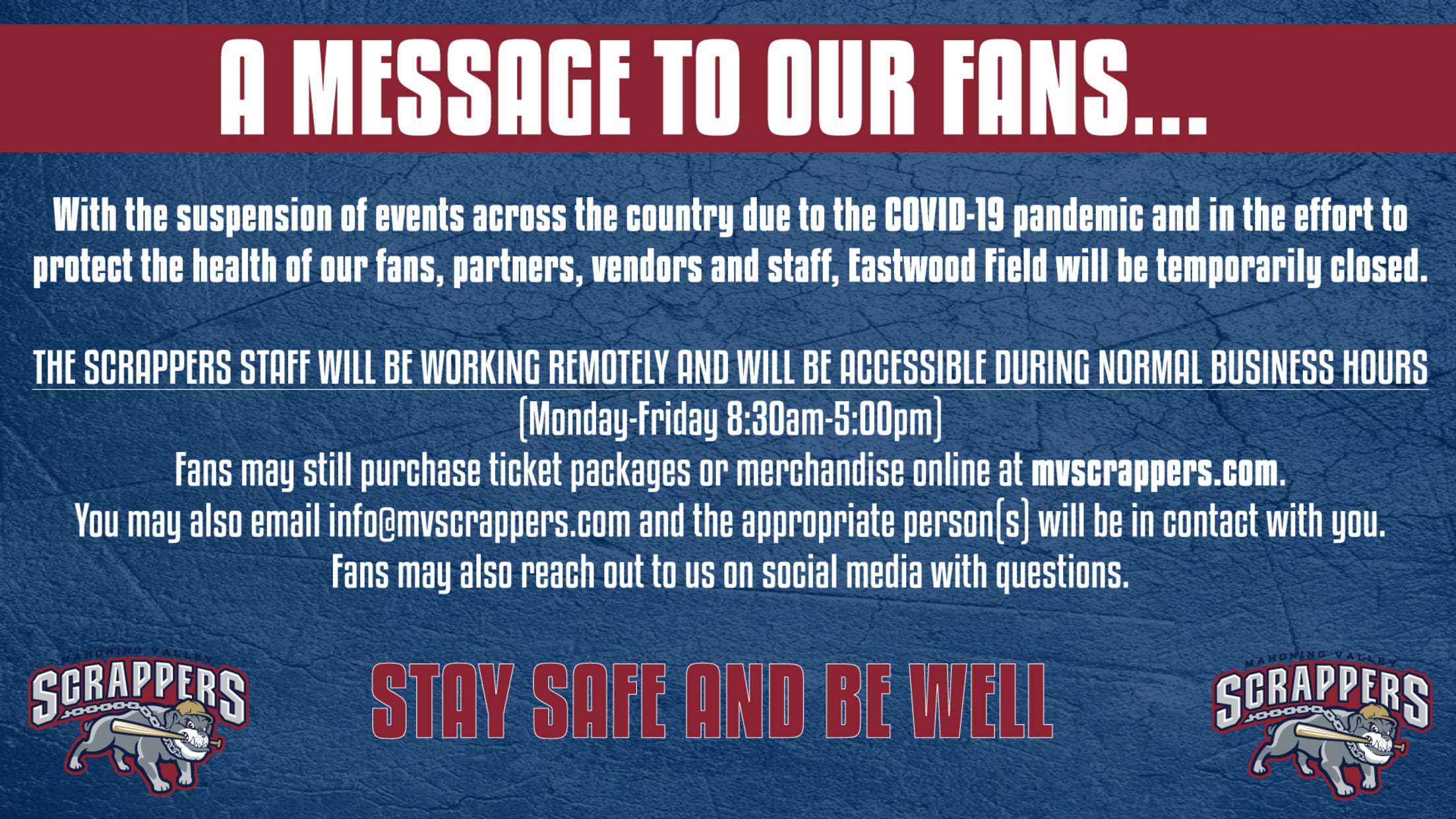 NILES, OH - With the suspension of events across the country due to the COVID-19 pandemic and in the effort to protect the health of our fans, partners, vendors and staff, Eastwood Field will be temporarily closed. The Scrappers staff will be working remotely and will be accessible during normal
Opening Night Package On Sale Now
Includes Opening Night tickets and gift cards to Quaker Steak & Lube & Hot Head Burritos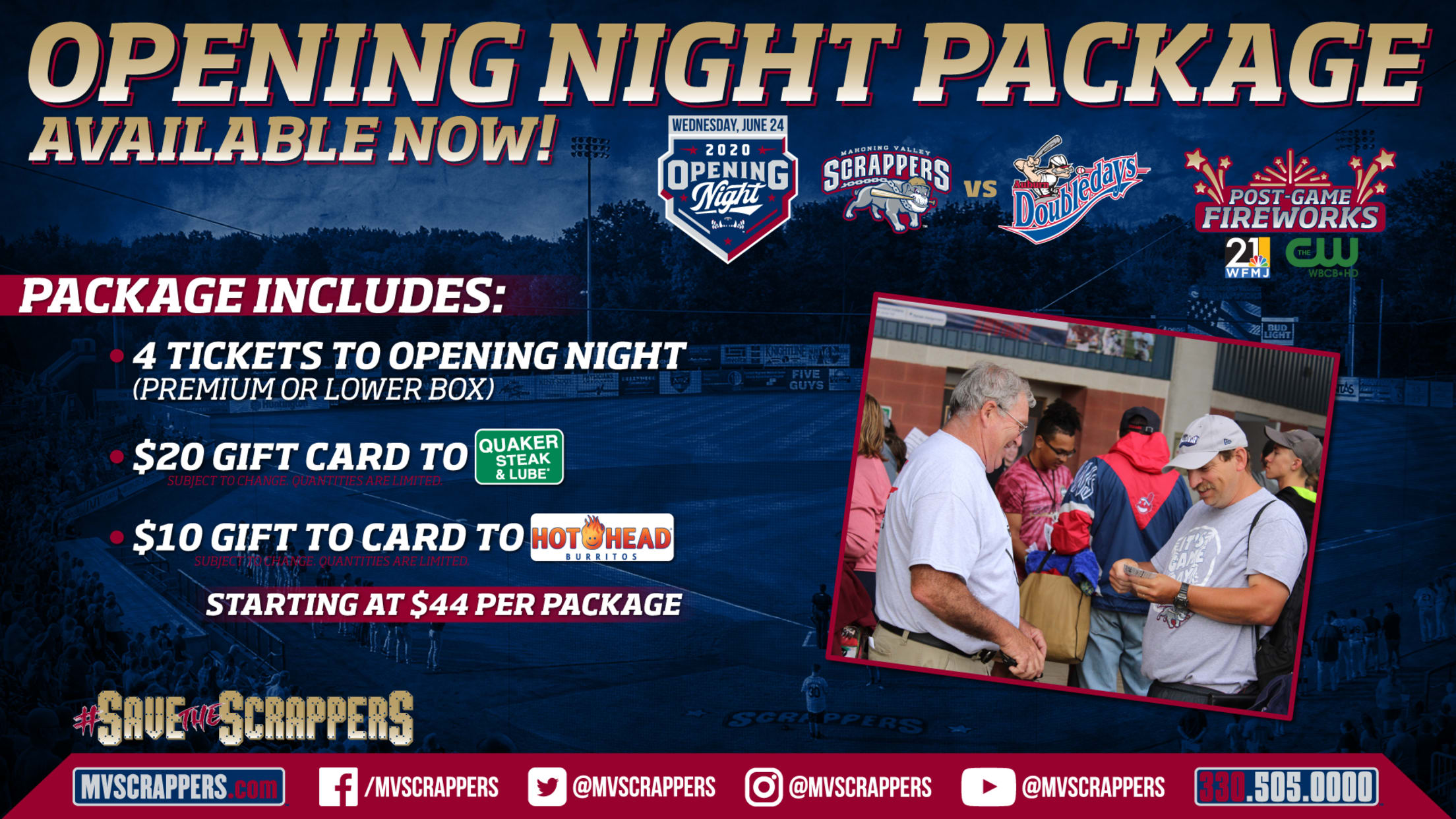 Niles, OH – The Mahoning Valley Scrappers are pleased to announce the Opening Night ticket package for the 2020 season. The package includes four tickets to Opening Night on Wednesday, June 24, a $20 gift card to Quaker Steak & Lube and a $10 Hot Head Burritos gift card. Following
Scrappers Announce Monthly Specialty Hat Package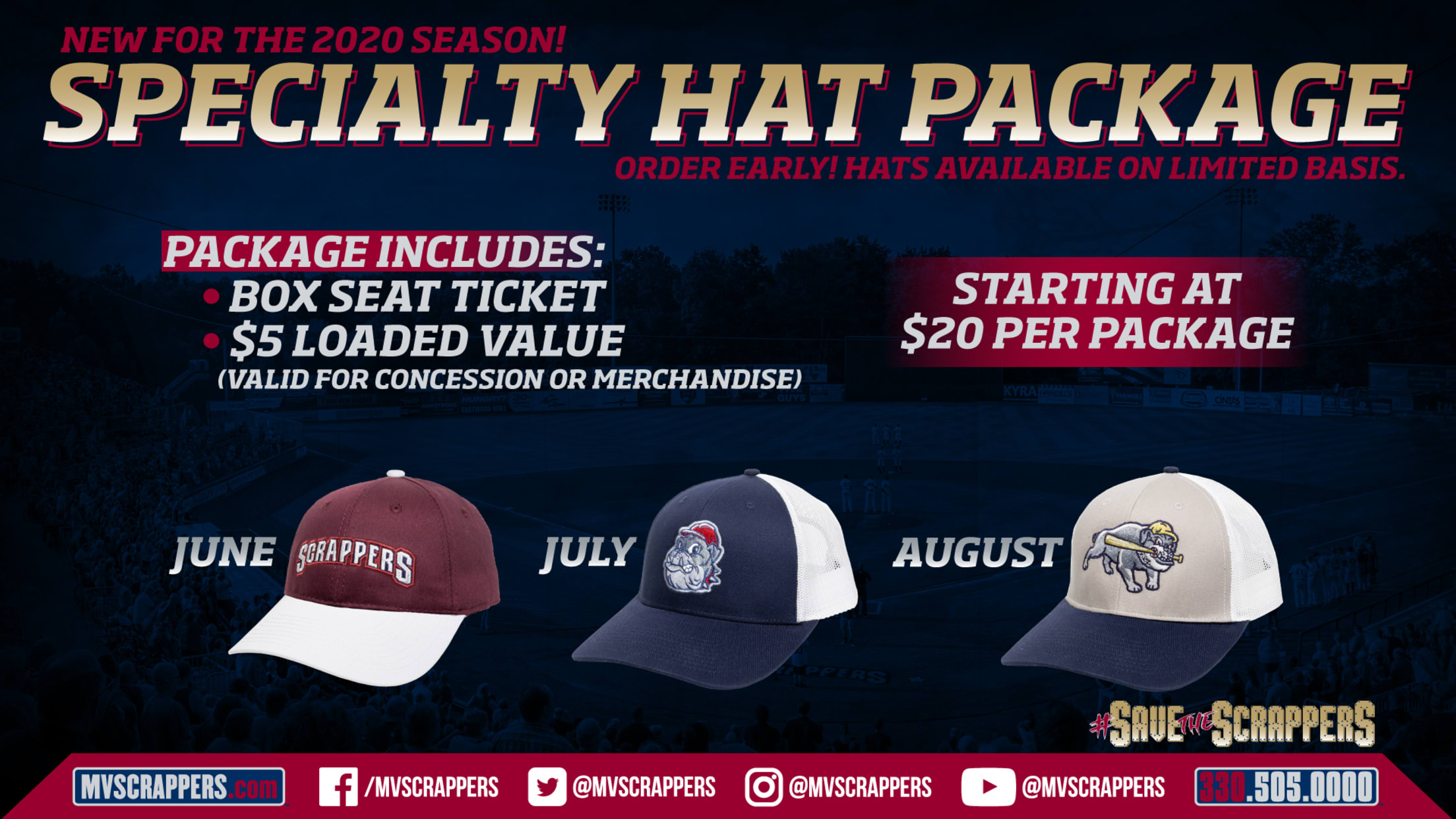 NILES, OH - Mahoning Valley Scrappers are excited to announce a specialty hat package that includes an adjustable hat, game ticket with $5 loaded value (valid for concession or merchandise) starting at $20. Each month will feature a limited edition hat that cannot be found in the team shop. The package
REMINDER: #SaveTheScrappers Community Support Rally Scheduled for Wednesday, February 19
Find Out How You Can Play Your Part!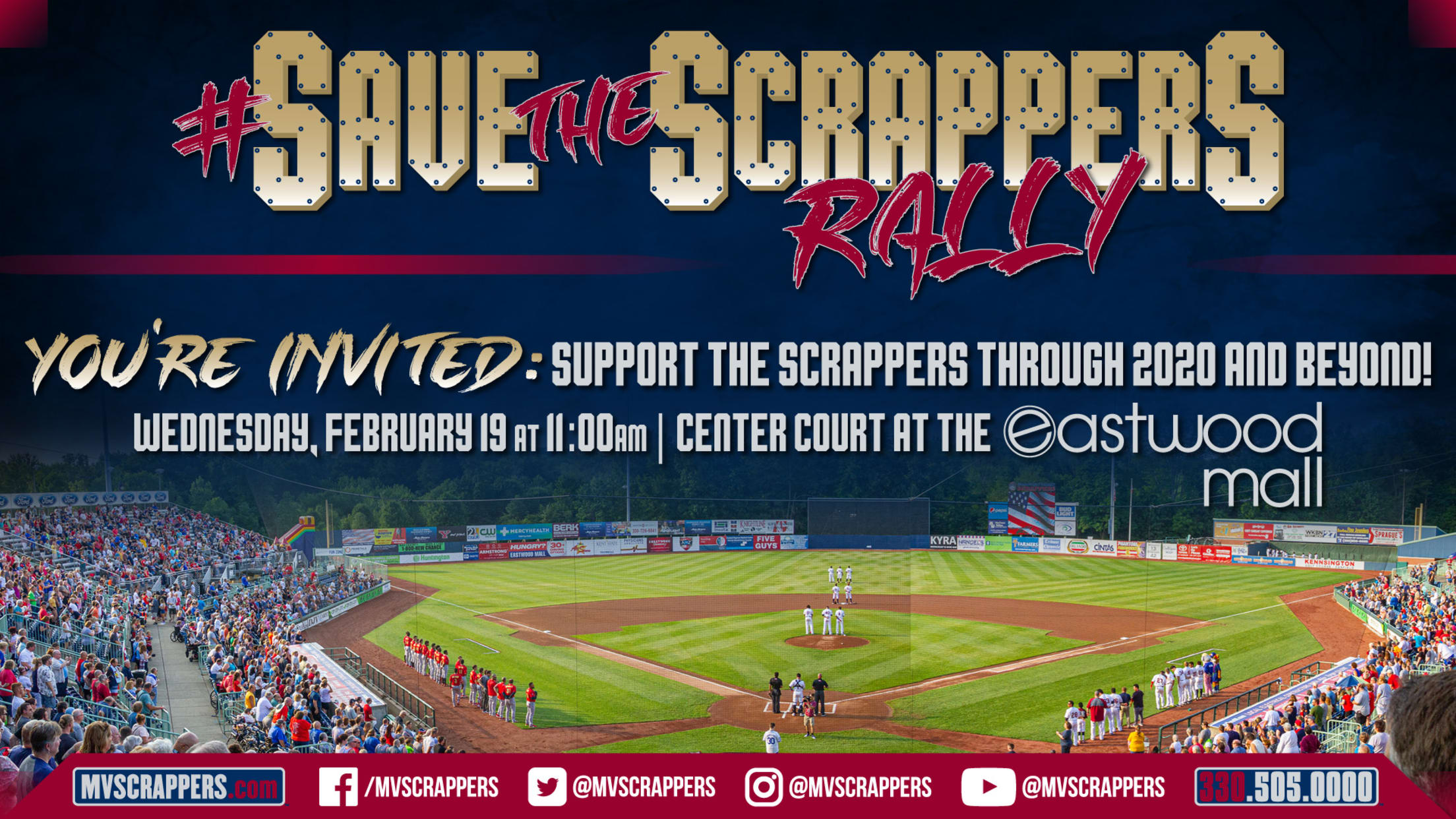 NILES, OH - The Mahoning Valley Scrappers invite the community to the #SaveTheScrappers Support Rally. Join the Scrappers on Wednesday, February 19 at 11:00am at center court inside the Eastwood Mall to find out how you can play your part to help keep the Scrappers in the Mahoning Valley through
Single Game Tickets On Sale Now!
Available Online Only at mvscrappers.com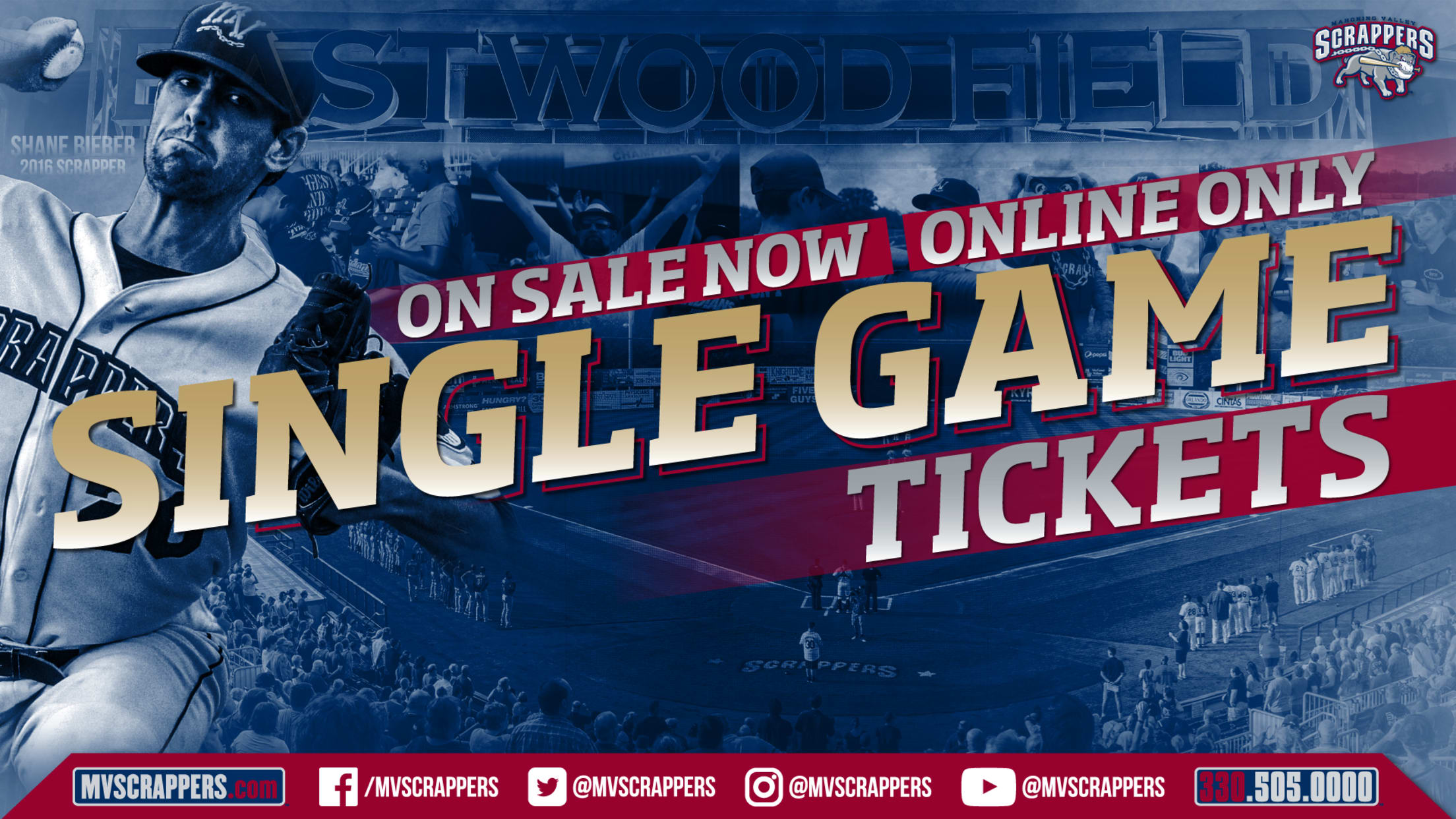 NILES, OH - Mahoning Valley Scrappers single game tickets will go on sale now. Tickets are available online only by visiting mvscrappers.com. Single game ticket prices range from $8 to $13.Opening Day at Eastwood Field is Wednesday, June 24 against the Auburn Doubledays at 7:05pm. The home opener will feature
Luke Carlin Returns As Scrappers Manager
Indians Announce 2020 Player Development Staff Assignments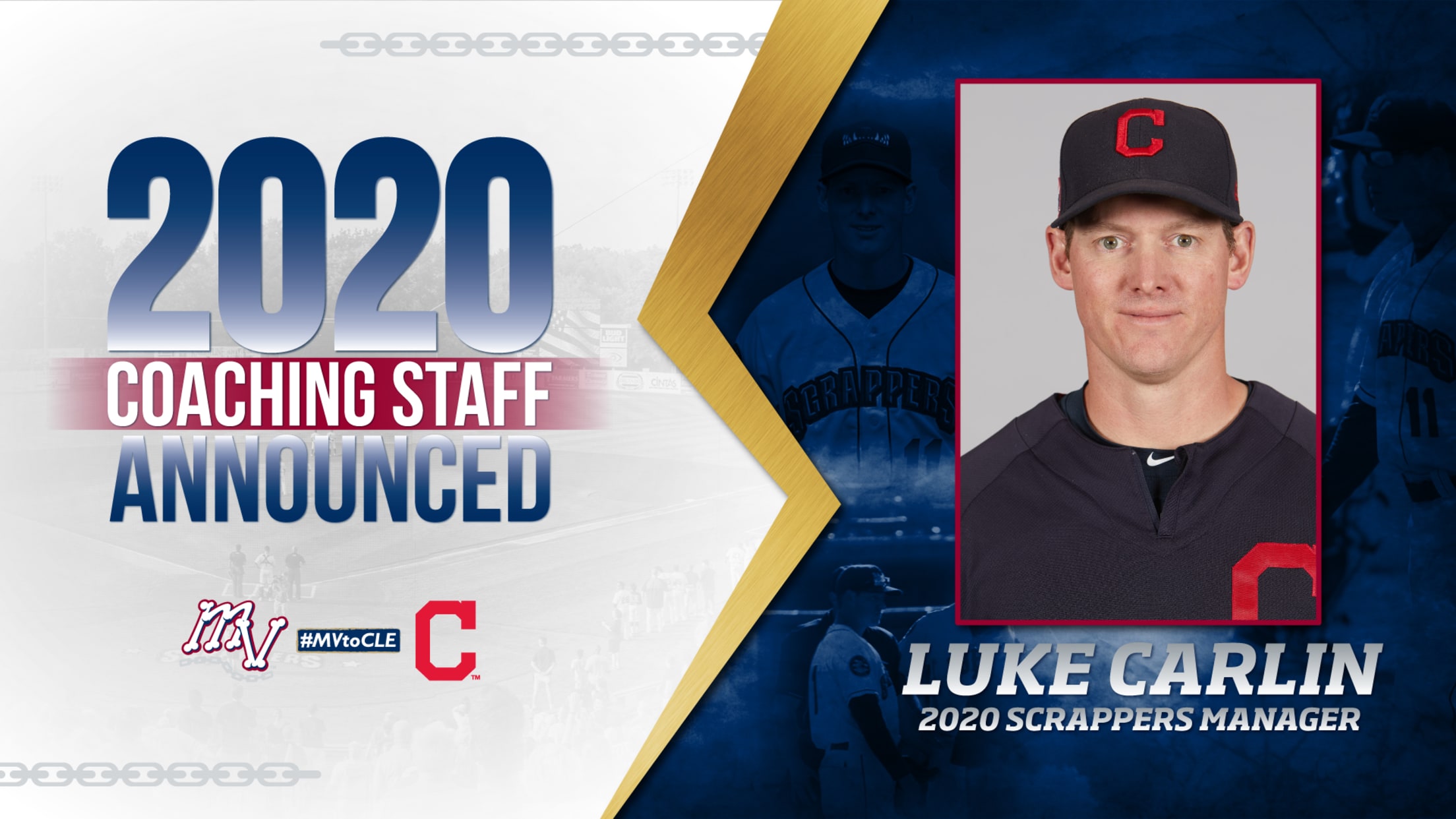 Niles, OH - The Mahoning Valley Scrappers, in conjunction with the Cleveland Indians Player Development Staff, are pleased to announce Luke Carlin as manager of the Scrappers for the 2020 season. Carlin was at the helm in 2017 for the Scrappers leading them to a 44-29 record and a Pinckney Division
Peppa Pig™ and George Coming to Eastwood Field
Tickets For July 25 On Sale Now | Presented by Once Upon A Child - Niles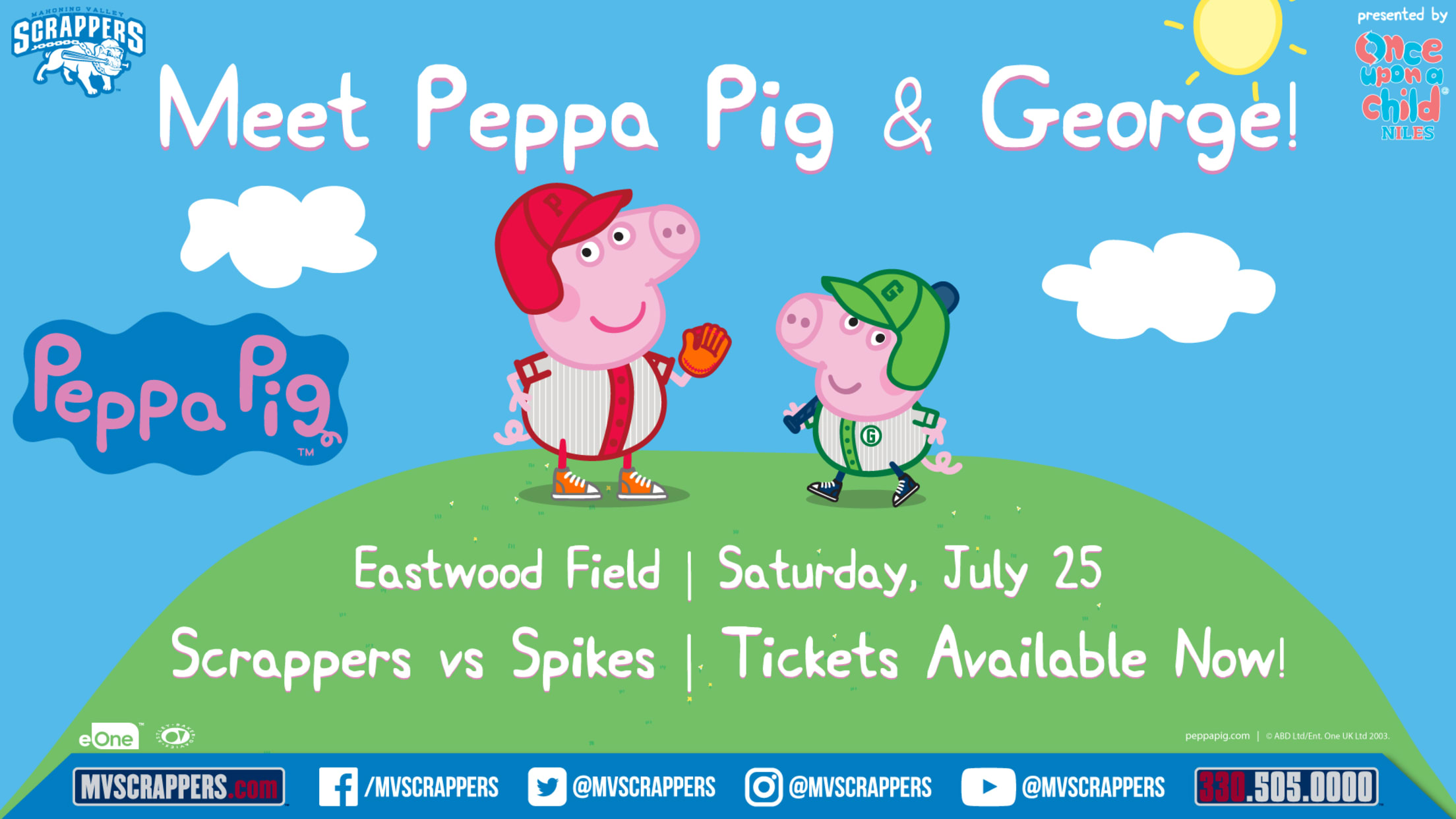 NILES, OH - The Mahoning Valley Scrappers are excited to announce the appearance of children's television show characters Peppa Pig™ and her brother George on Saturday, July 25 presented by Once Upon A Child - Niles. To guarantee a meet and greet and photo opportunity with Peppa and George, fans must
ZOOperstars! Heading to Eastwood Field on August 22, 2020
Presented by Fairfield Inn by Marriot Warren, Niles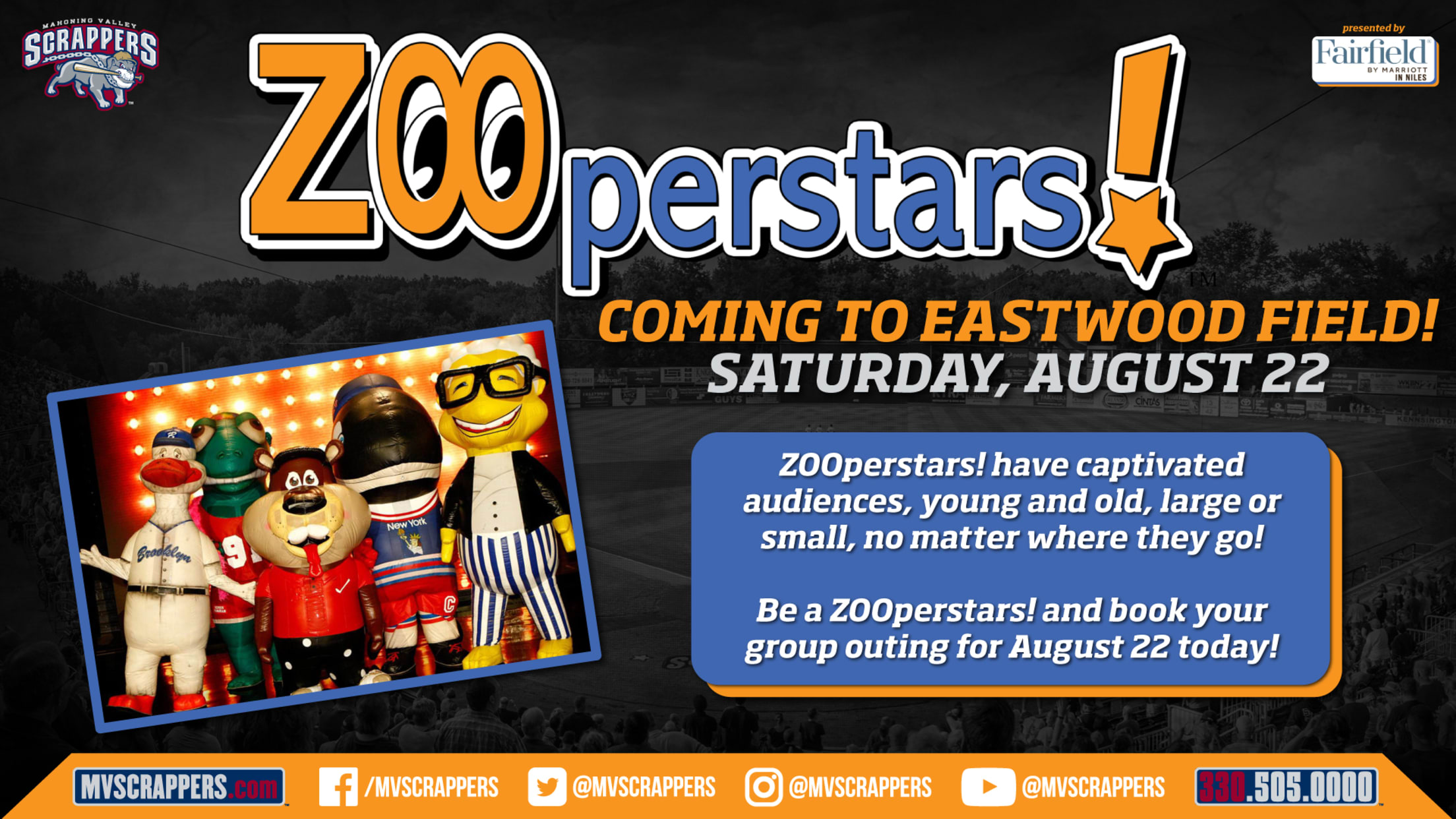 Niles, Ohio - The Mahoning Valley Scrappers are excited to announce the ZOOperstars!, one of the most popular entertainment acts in professional sports, will be entertaining fans at Eastwood Field on Saturday, August 22 presented by Fairfield Inn by Marriott Warren Niles. The ZOOperstars! unique show features hilarious inflatable characters with clever
Join The Scrappers For Office Night with Leslie David Baker Celebrity Appearance
Saturday, August 15th - VIP and Pretzel Packages Available Now!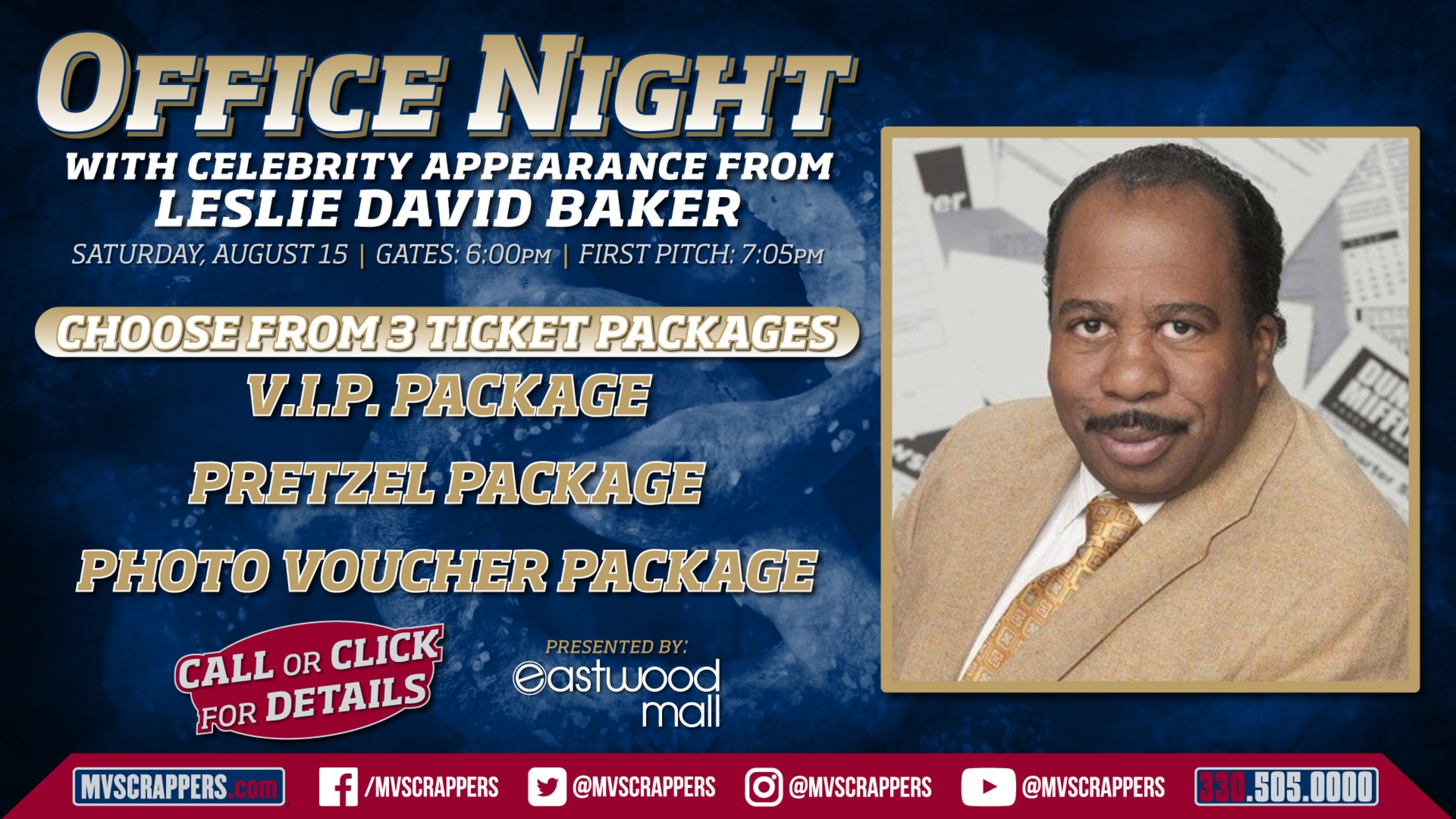 NILES, OH - The Mahoning Valley Scrappers are excite to announce Office Night with a celebrity appearance by Leslie David Baker, presented by the Eastwood Mall Complex. Leslie David Baker, known for his role as Stanley Hudson on The Office, is making an appearance at Eastwood Field for the Scrappers
Scrappers 2020 Hot Stove! Limited Tickets Available!
Featuring 3x MLB All Star, Omar Vizquel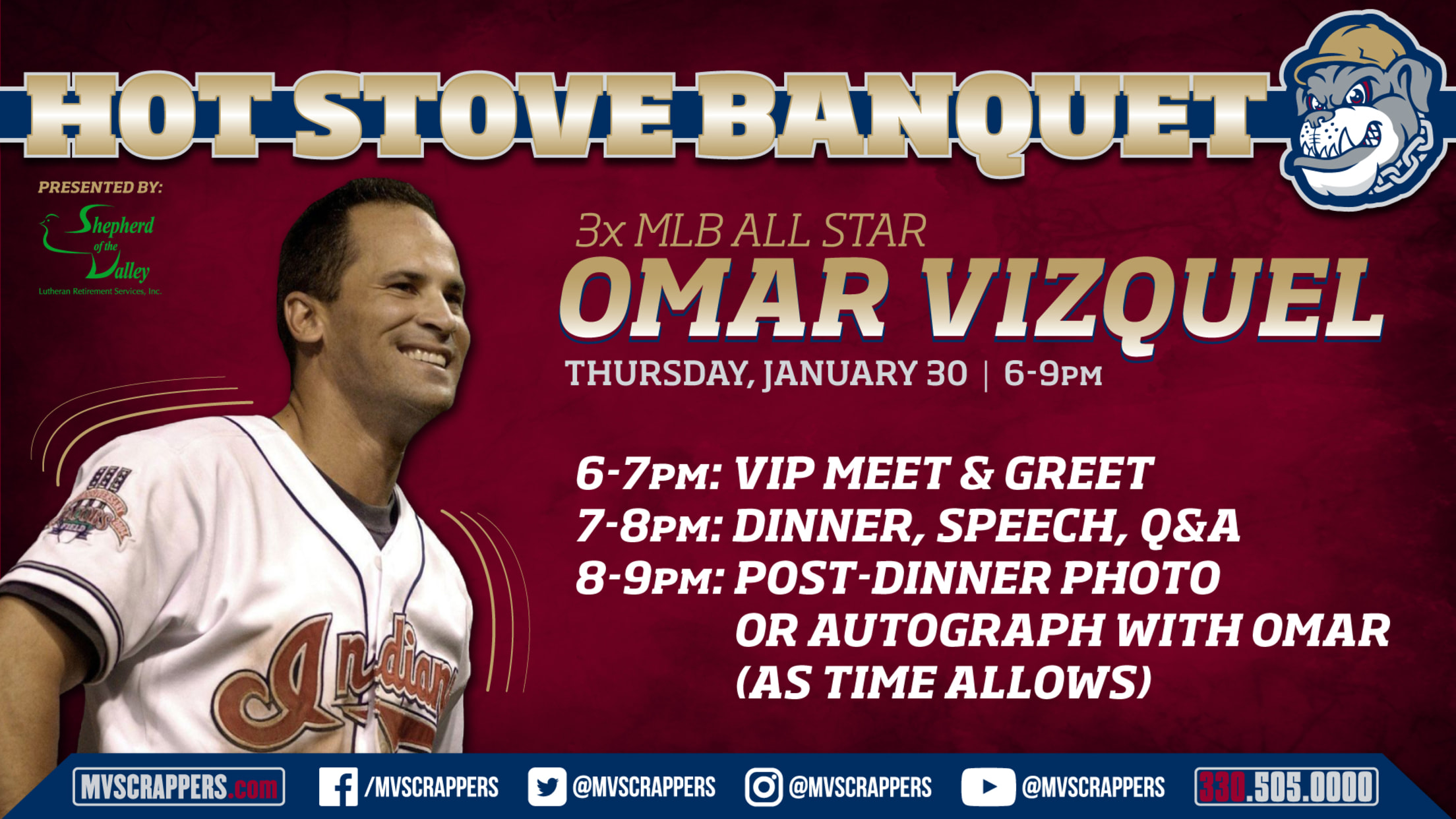 NILES, OH - The Mahoning Valley Scrappers are excited to announce their 2020 Hot Stove Banquet featuring guest speaker, former Cleveland Indians' Shortstop, Omar Vizquel presented by Shepherd of the Valley. The event will take place on Thursday, January 30, 2020 at the Hollywood Gaming at Mahoning Valley Race Course
Scrappers 2020 Bobblehead Giveaways
Featuring Lindor & Ramirez Double Bobblehead, Ed O'Neill, Roberto Perez & Nolan Jones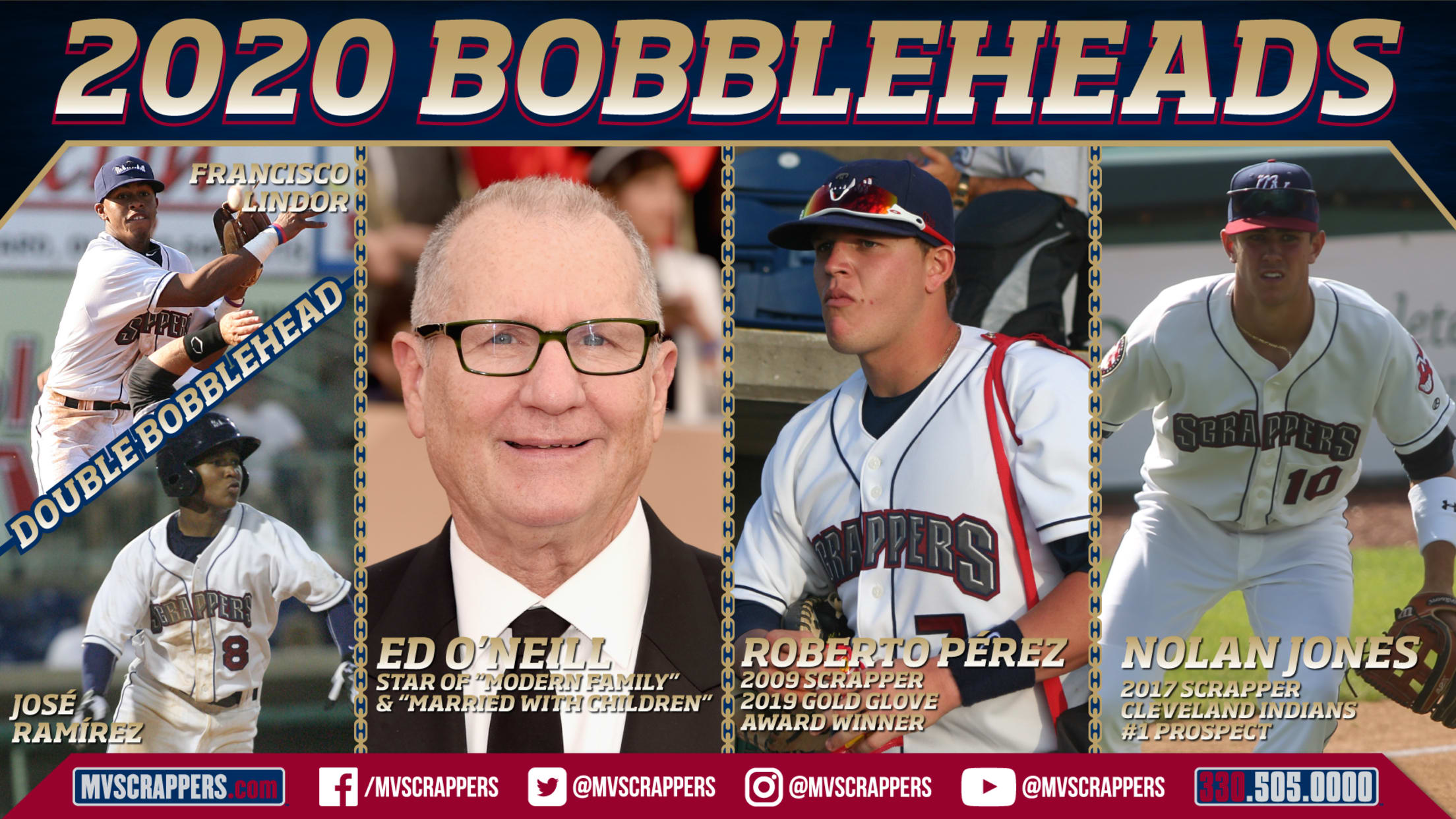 NILES, OH - The Mahoning Valley Scrappers are pleased to announce four bobblehead giveaways for the 2020 season. The full sized bobbleheads include a double bobblehead featuring Francisco Lindor and Jose Ramirez presented by Toyota of Warren on June 26, star of "Modern Family" & "Married With Children" and a
Scrappers Schedule Set For The 2020 Season!
Home Opener Will Be Wednesday, June 24 Against The Auburn Doubledays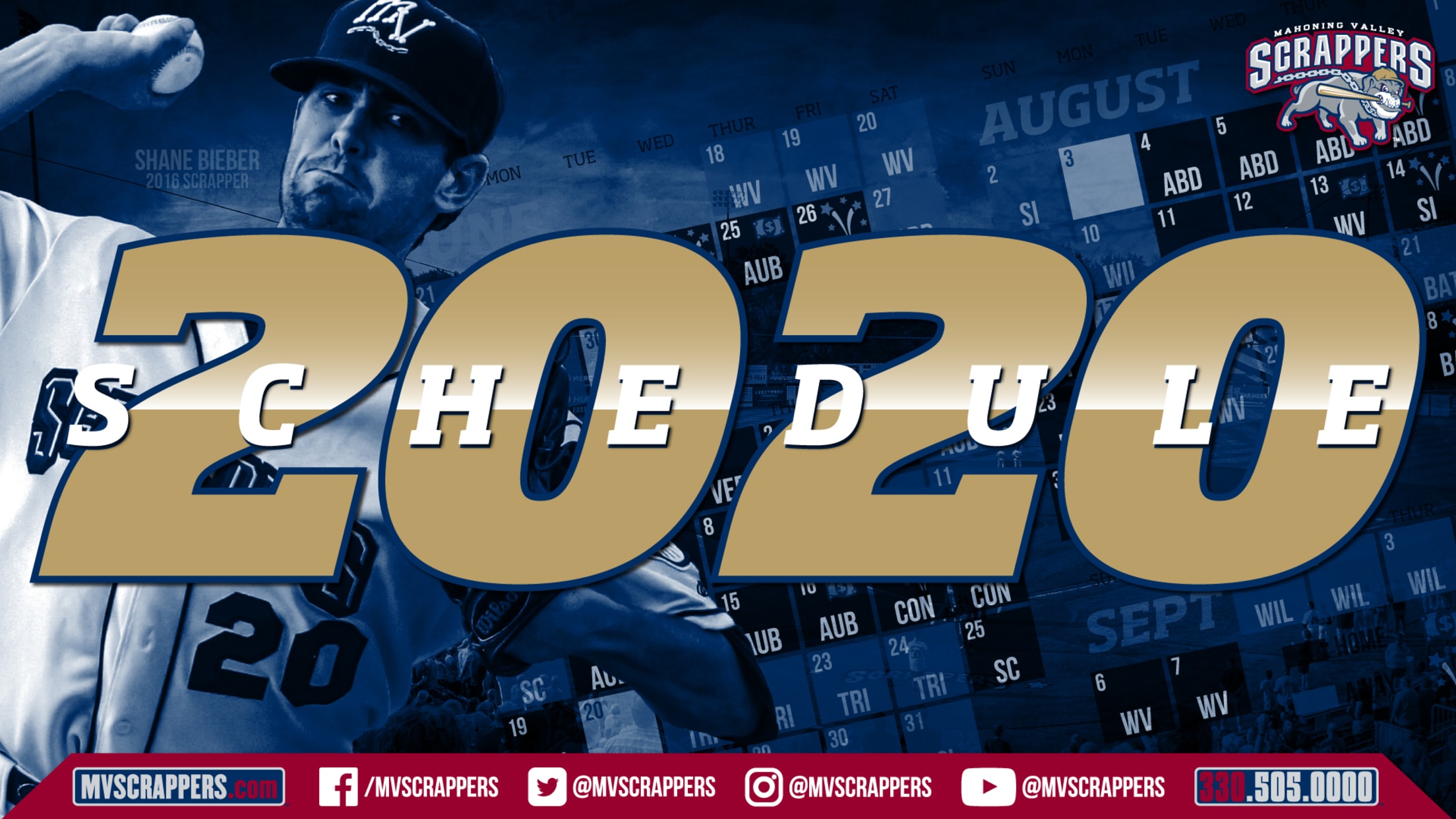 NILES, OH - The Mahoning Valley Scrappers are excited to release their schedule for the 2020 season. The Scrappers will open the 2020 season at home on Wednesday, June 24 against the Auburn Doubledays. Opening Night festivities will be highlighted by a post-game fireworks show.Additional highlights of the 2020 schedule
Scrappers Holiday Store Kiosk Open Inside The Eastwood Mall
Open now through December 24 | Located near Old Navy & Sports Obsession
Niles, OH - The Mahoning Valley Scrappers annual Holiday Kiosk inside Eastwood Mall is open now through Tuesday, December 24. The kiosk is located in the JCPenney's hall near Old Navy and Sports Obsession. Merchandise, ticket packages, Hot Stove tickets featuring Omar Vizquel, and Office Night tickets featuring Leslie David Baker are
Warren Rotary Hosts Fall Fest at Eastwood Field!
SATURDAY, OCTOBER 12 FROM 2PM-7PM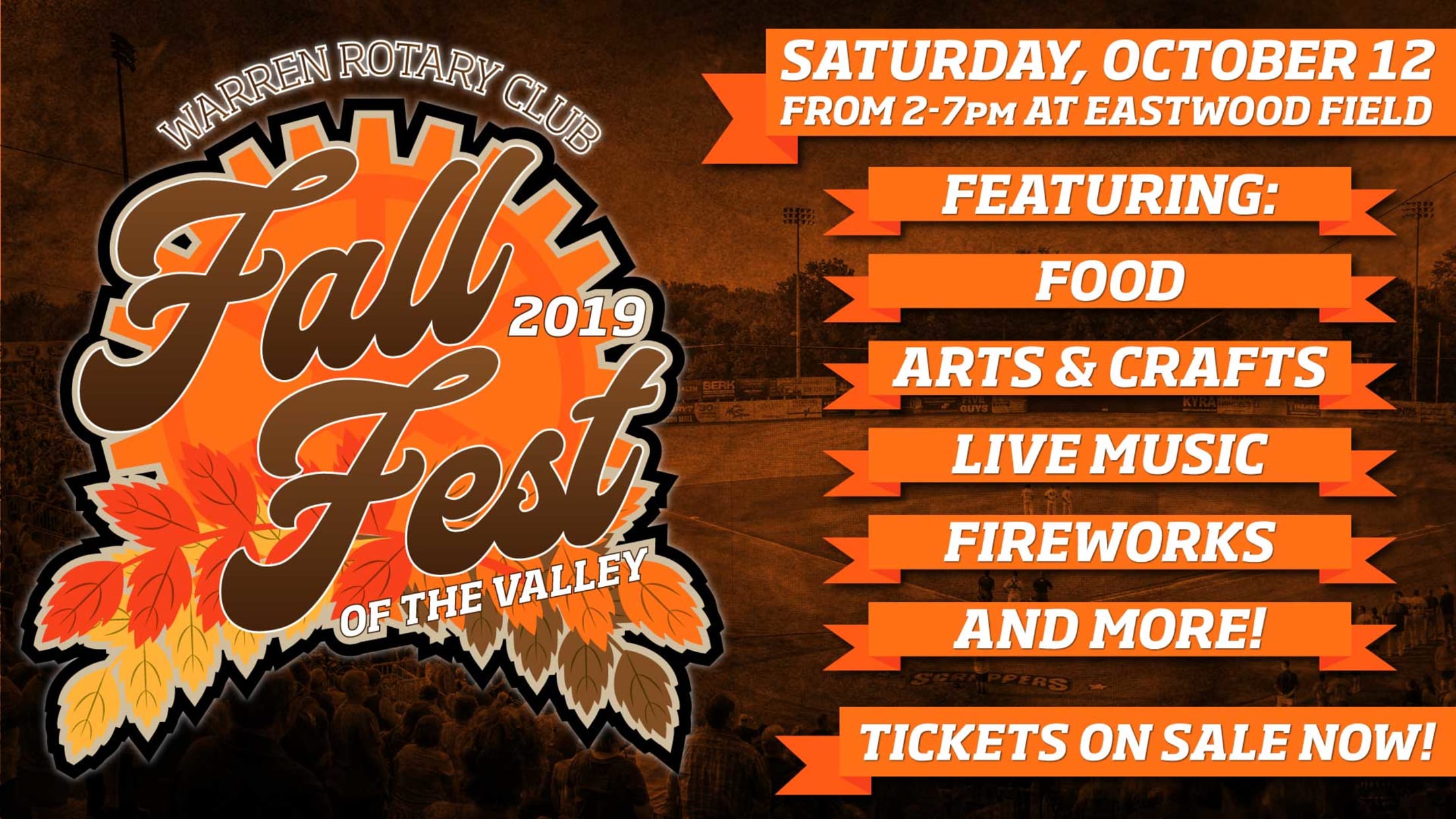 Niles, OH - The Scrappers and the Warren Rotary are excited to announce the Fall Fest at Eastwood Field on Saturday, October 12. The event will run from 2:00pm-7:00pm and will feature many merchandise vendors, food vendors, live entertainment, kid's activities, and more! Stick around at the conclusion of the event
Trick-or-Treat at Eastwood Field Is Back!
Tickets Go On Sale On Monday, September 16!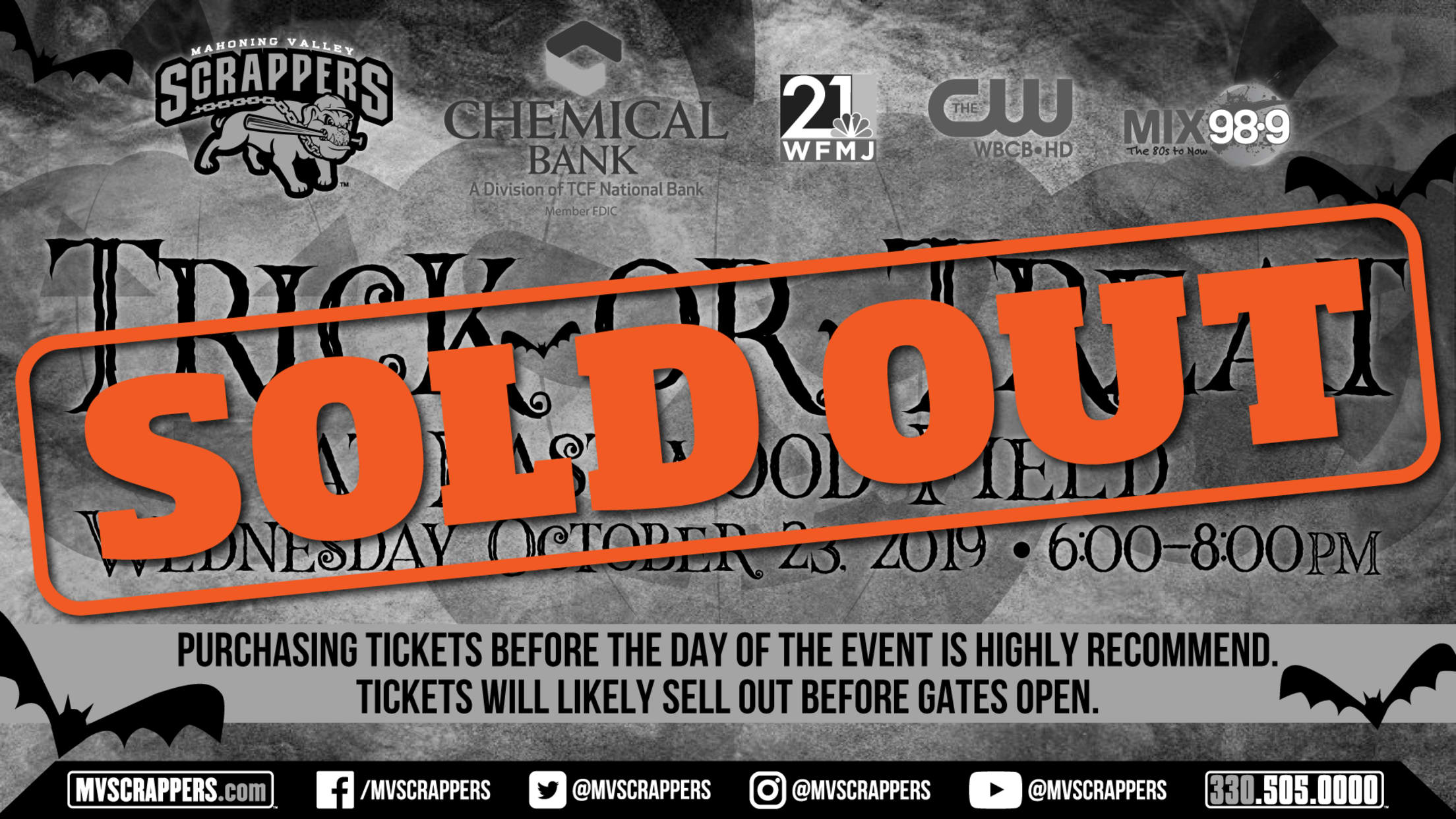 Niles, OH - The Scrappers are excited to announce the twenty-first annual "Trick or Treat" at Eastwood Field, presented by Chemical Bank, a Division of TCF National Bank, media partners 21 WFMJ and WBCB and radio partner Mix 98.9. The event will take place on Wednesday, October 23 from 6:00pm
6-Game Regular Season Finale!
Includes Final Buck Night, Final Friday Night Fireworks & Fan Appreciation!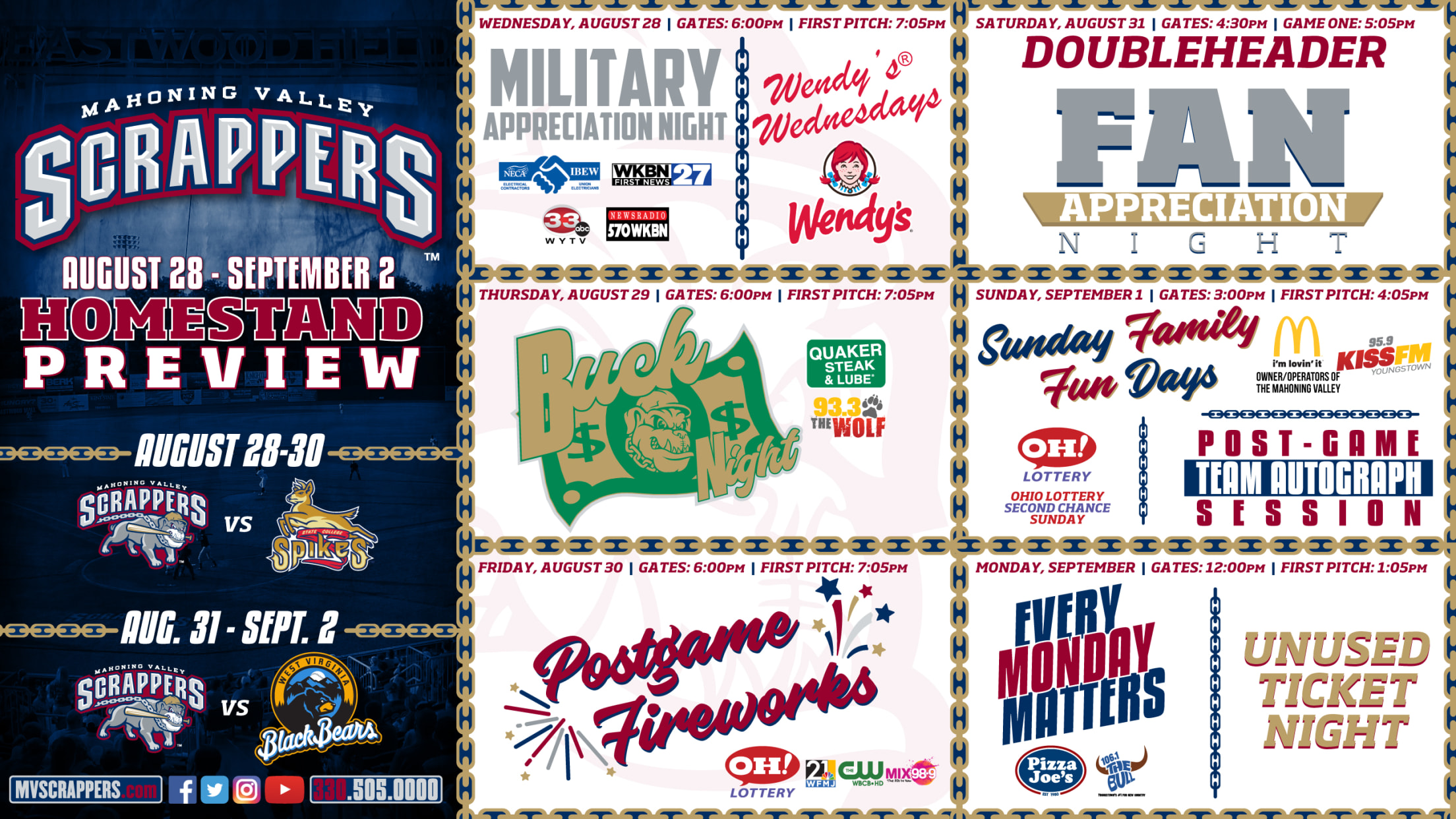 Wednesday, August 28 vs. Spikes @ 7:05pmIt's Military Appreciation Night presented by NECA/IBEW Electricians and 27 WKBN & WYTV 33 with radio partner 570 WKBN. Show your Military ID and get two free Upper Box Seat tickets. It is also Wendy's® Wednesday! Get buy one, get one free Upper Box
Three Scrappers' Are Heading to the NYPL Mid-Summer Classic
Bryan Lavastida, Brayan Rocchio & George Valera Head To Staten Island.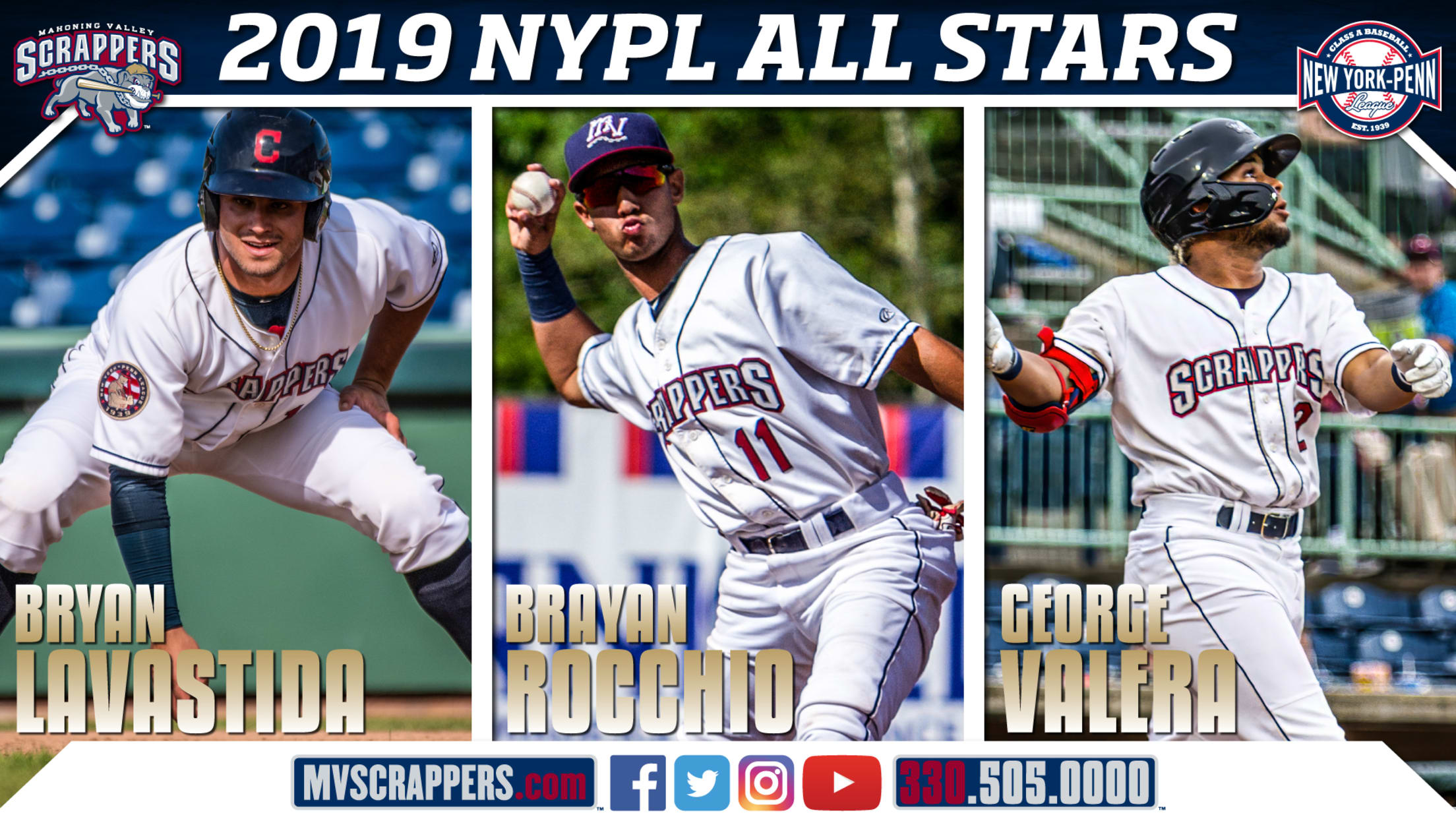 NILES, OH - The Staten Island Yankees and the New York-Penn League announce the 2019 All Star Game Rosters. The Scrappers will send 3 players to represent Mahoning Valley. If not for players being promoted, there could have been a possibility of five or six Scrappers getting the call for the
Scrappers Face-Off Against Muckdogs in 3-Game Homestand
Homestand Includes Bobblehead Giveaway, Bark In The Park & High School Football Night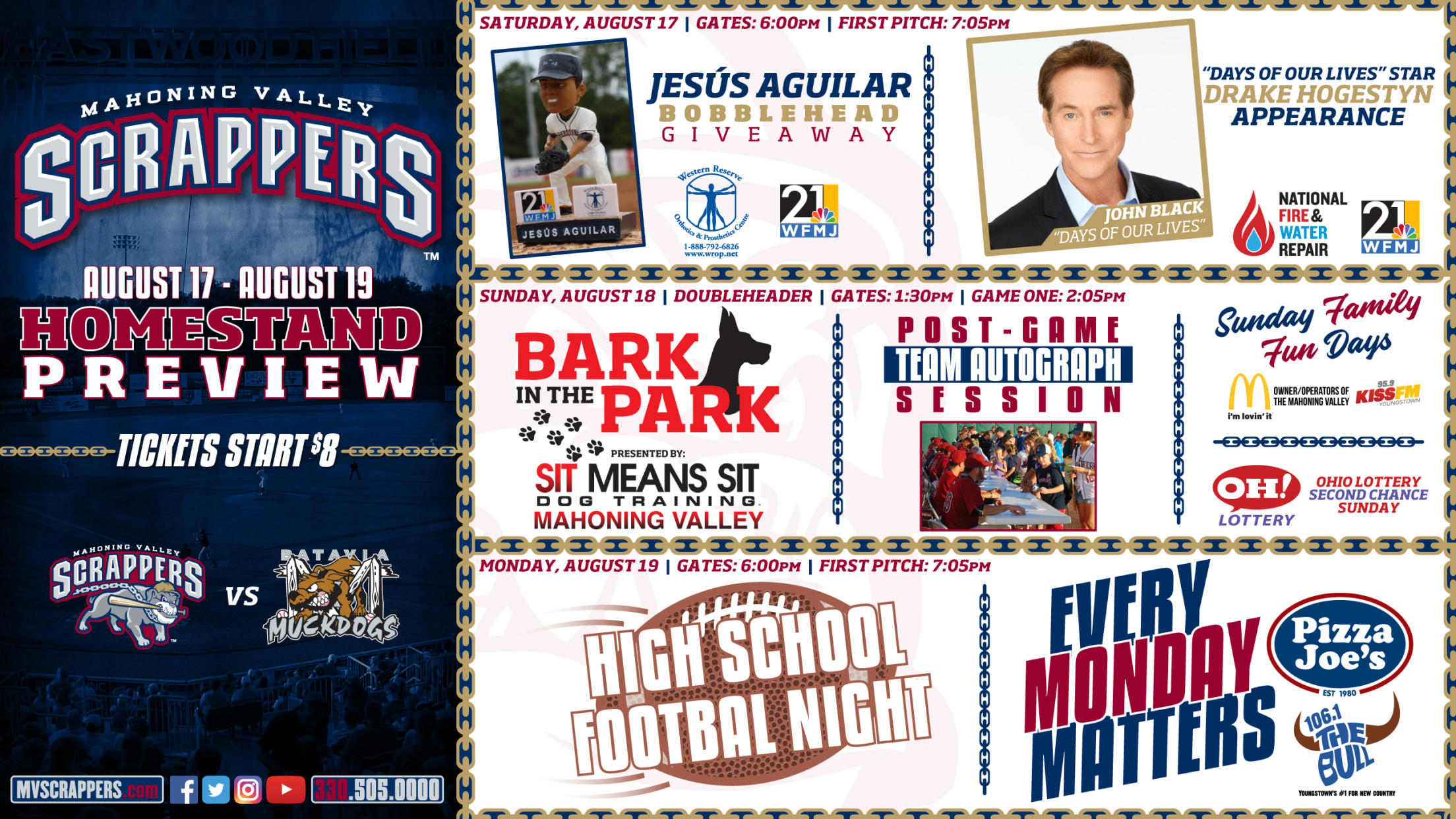 Saturday, August 17 vs. Batavia Muckdogs @ 7:05pmThe first 1,000 fans through the gates will receive a Jesús Aguilar bobblehead presented by Western Reserve Orthotics and Prosthetics Centre and 21 WFMJ. Drake Hogestyn, who plays John Black on Days of Our Lives, will be in attendance and throwing out a
Scrappers Game on Sunday, August 18 Now Scheduled as a Doubleheader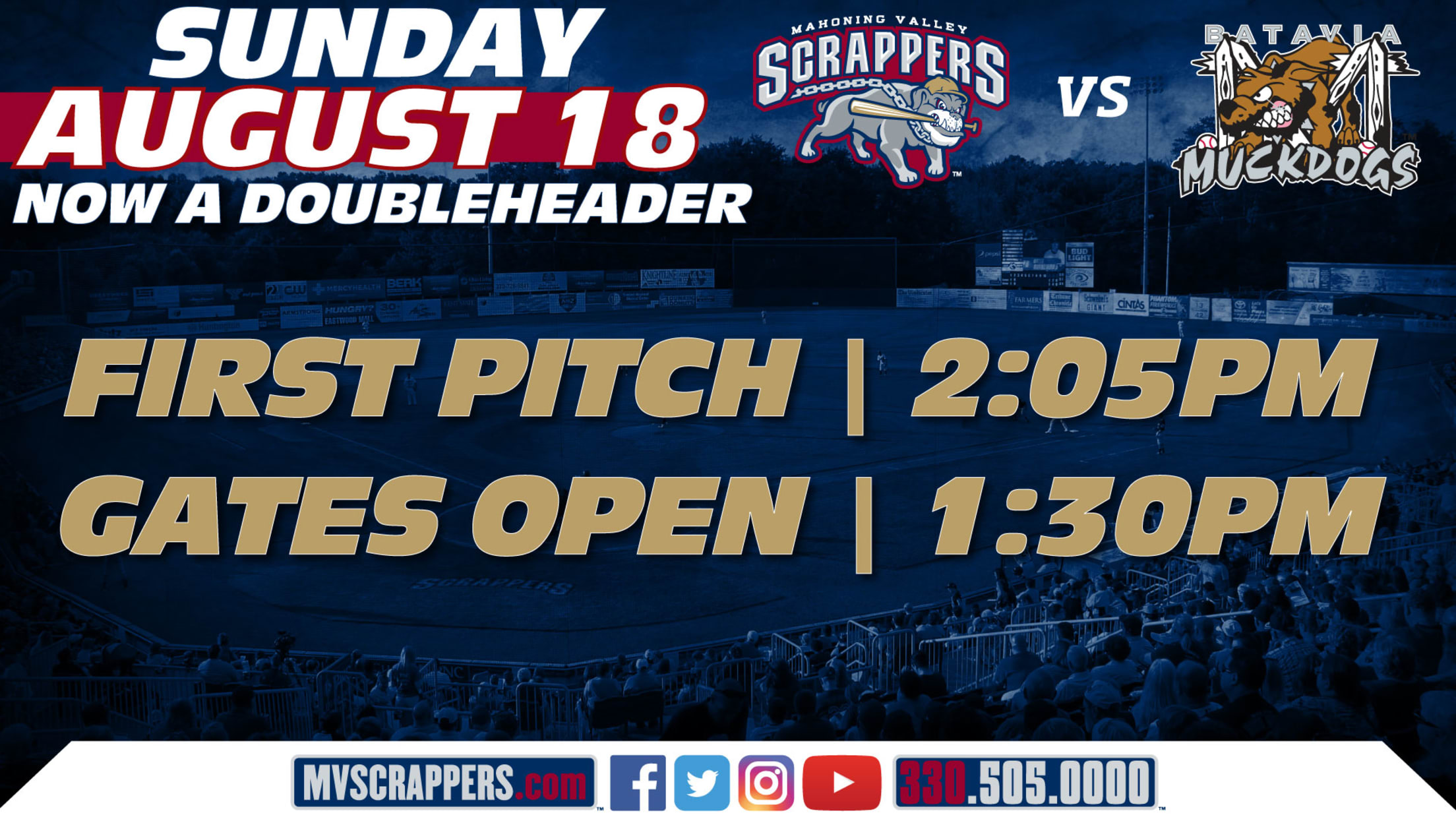 The Mahoning Valley Scrappers game on Sunday, August 18 at Eastwood Field is now scheduled as a doubleheader, with first pitch at 2:05pm. A rainout in Batavia yesterday (Tuesday) has pushed the make-up game to Mahoning Valley. Gates will open at 1:30pm for two seven innings games with a half
Tonight's Game (August 6) Has Been Postponed
Doubleheader Set For Saturday, August 31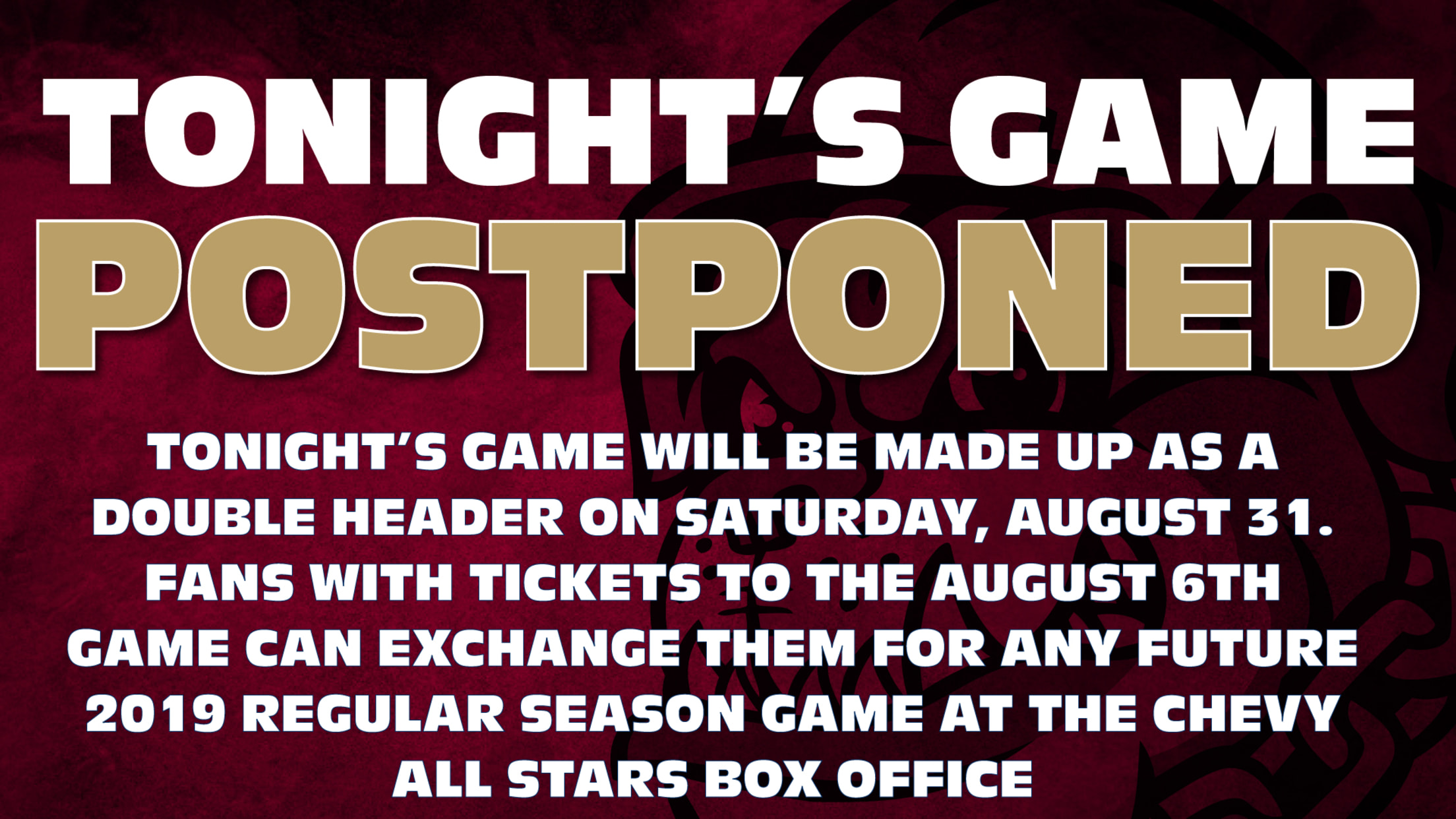 NILES, OH - Tonight's Scrappers game against the West Virginia Black Bears has been postponed due to inclement weather. It will be made up as a part of a double header on Saturday, August 31 at 5:05pm. Anyone with tickets to tonight's game can exchange them at the Chevy All
Jam Packed Six Game Homestand Ahead!
Includes Home & Garden Night, Buck Night, Bobblehead Giveaway & More!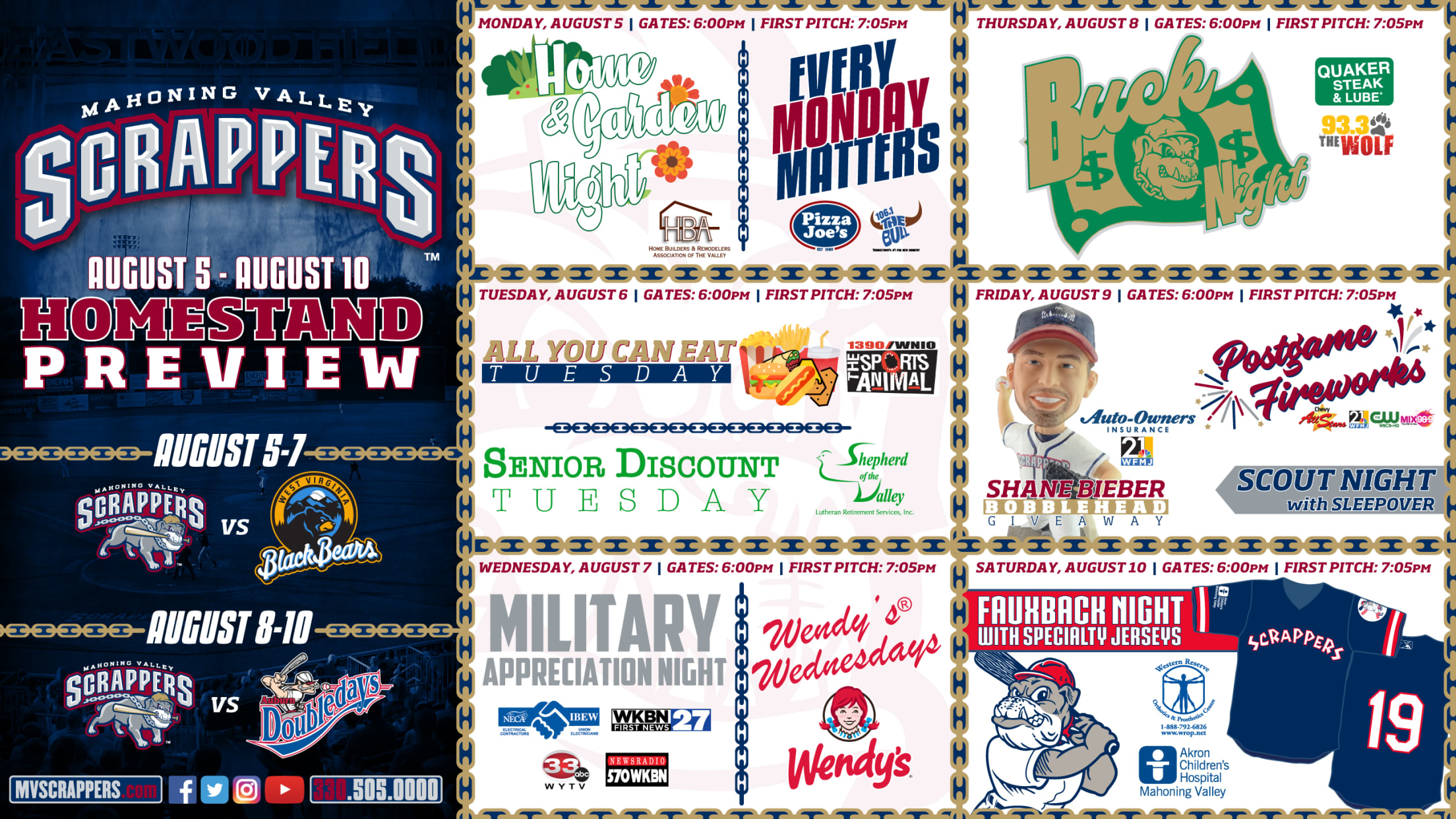 Monday, August 5 vs. West Virginia @ 7:05pmIt's Every Monday Matters presented by Pizza Joe's and 106.1 The Bull. Bring a donation of non-perishable food, gently used clothing or a new book and receive a General Admission ticket. It's also Home & Garden Night presented by the Home Builders &
Scrappers Take On IronBirds & 2019 #1 Overall Draft Pick For Three Game Series
#1 Overall Pick, Adley Rutschman, Howland Native, Craig Lewis and the Aberdeen IronBirds come to Eastwood Field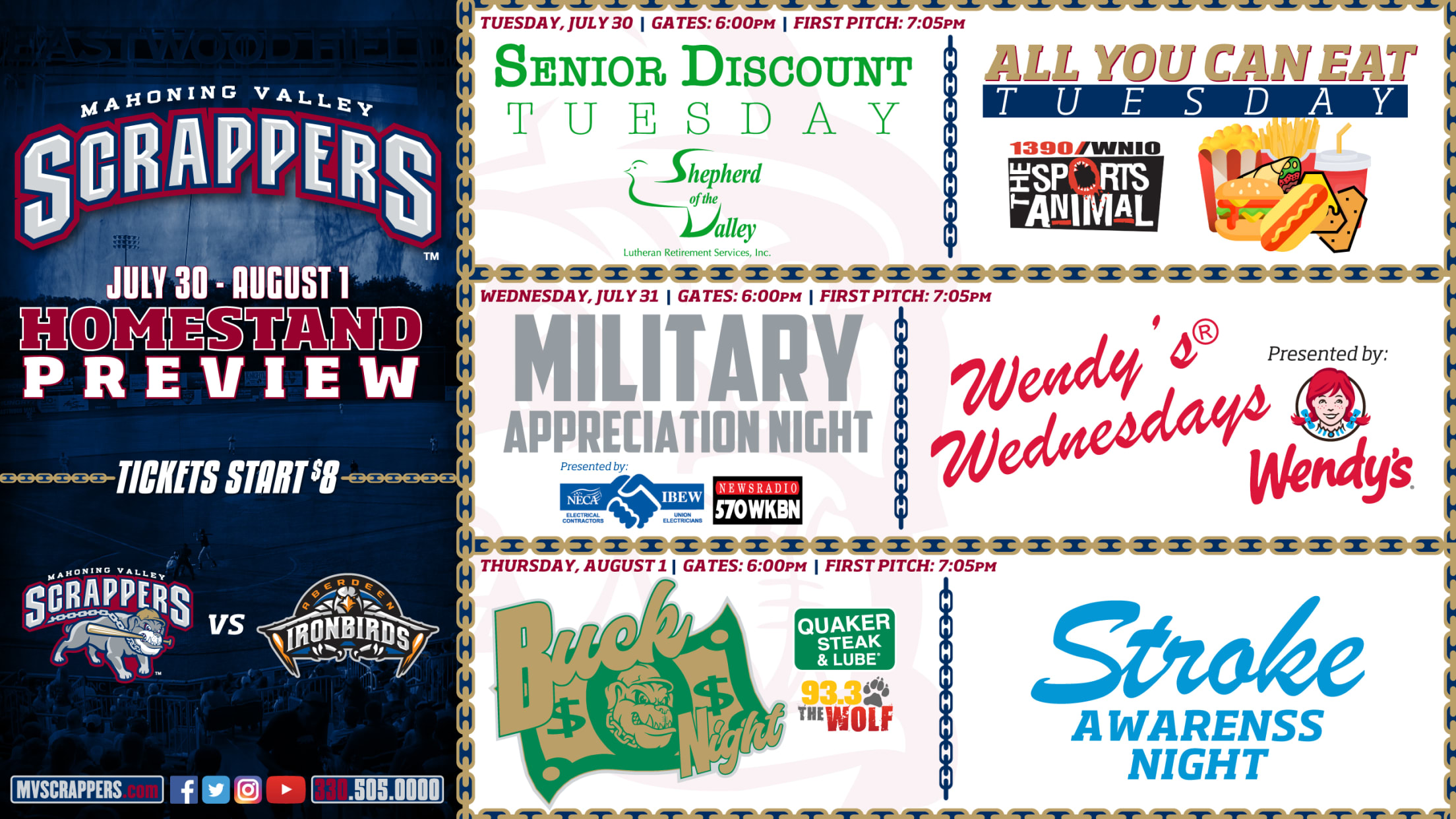 Orioles catching prospect Adley Rutschman, the No. 1 pick in the 2019 MLB Draft will be making his way to Niles, Ohio as the Scrappers take on the Aberdeen Ironbirds for a three-game series July 30-August 1. Rutschman, was drafted June 3 and signed with the club, with a MLB
Lavastida Succeeding In Leadoff Spot After Position Change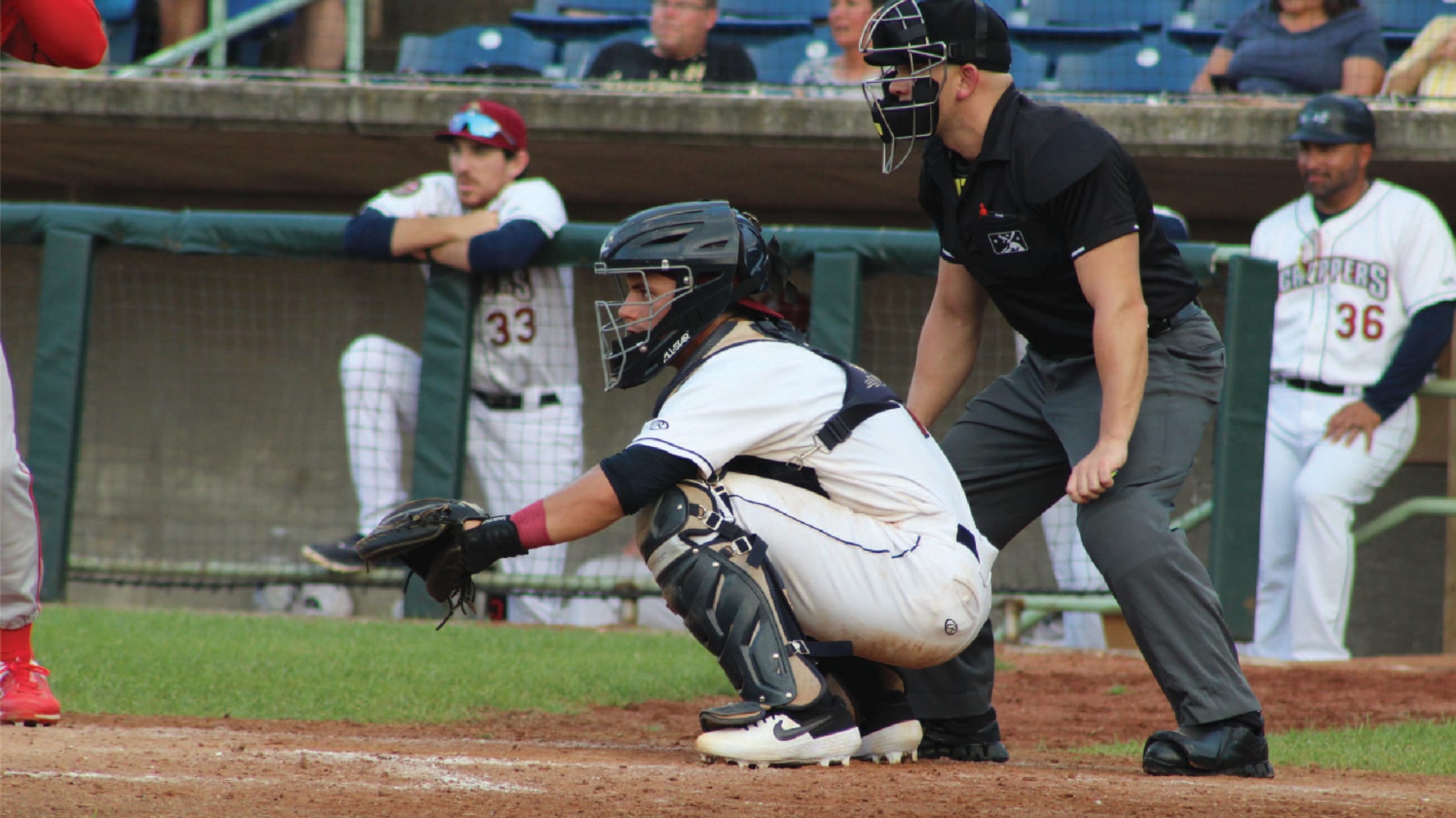 NILES, OH - Not often does a catcher serve as a teams' leadoff hitter. At the top of the order is usually a player who has a high on-base percentage and who has the ability to steal bases and wreak havoc on the base path with his speed. The Mahoning Valley Scrappers
All You Can Eat Tuesday, Military Appreciation Night and Buck Night This Upcoming Homestand!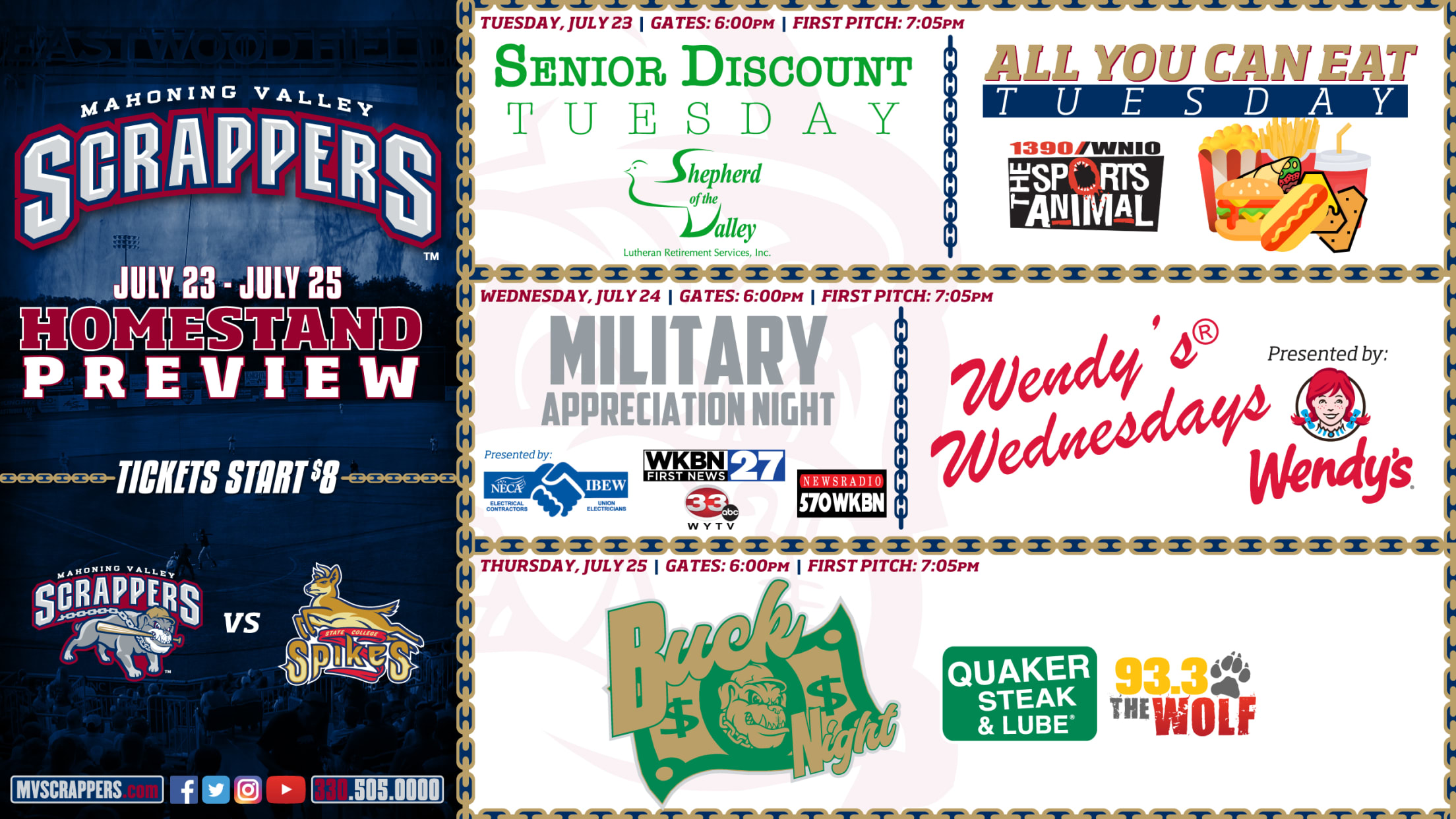 Tuesday, July 23 vs. State College @ 7:05pmIt's All You Can Eat Tuesday presented by 1390 The Sports Animal! Add $15 for adults and $12 for kids on to your ticket price and you can get all you can eat hot dogs, burgers, soft tacos, French fries, nachos, popcorn and
Indians' Pitcher Dan Otero to Make Rehab Appearance on Monday, July 15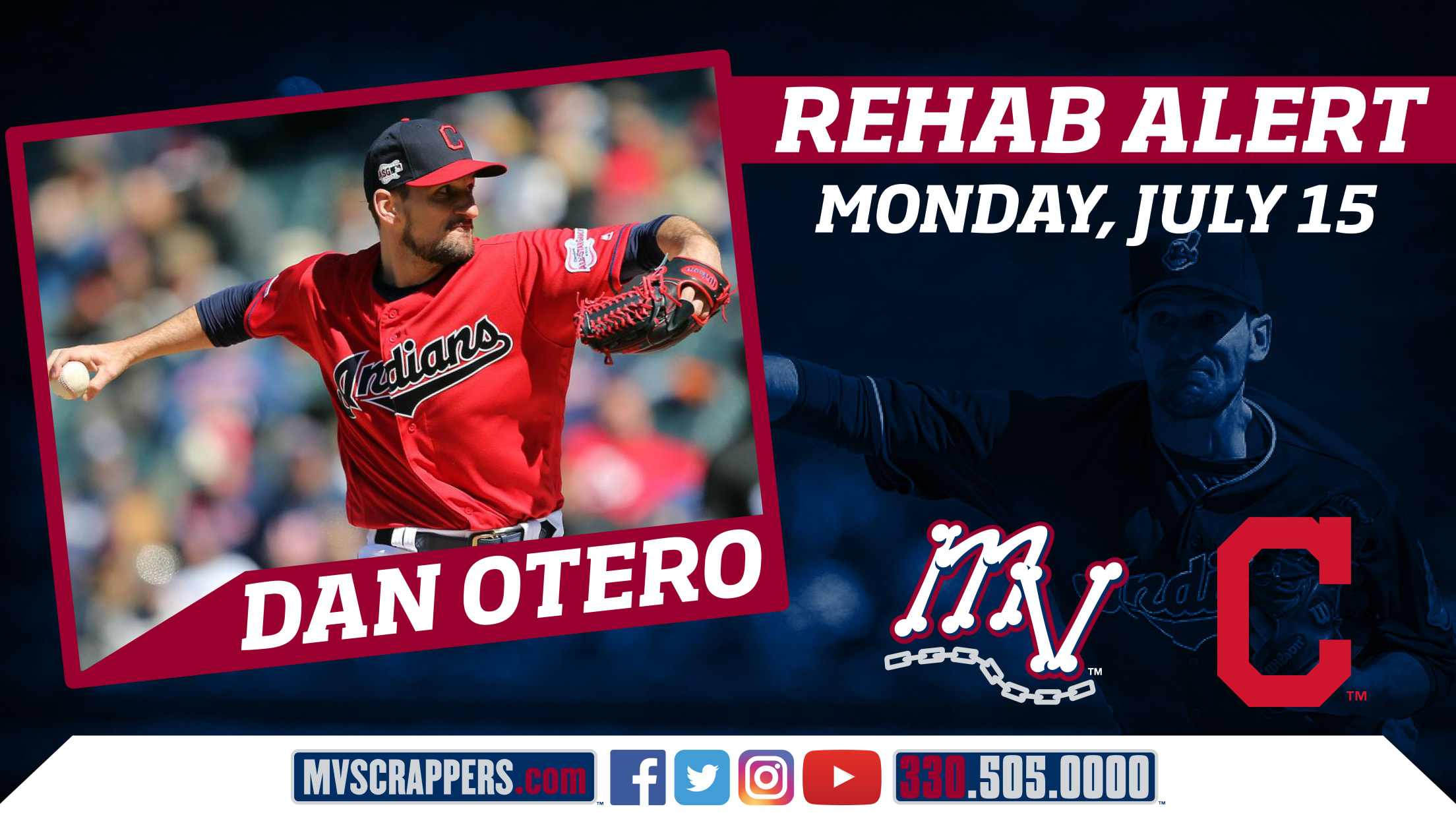 Niles, Ohio - Cleveland Indians RHP Dan Otero will make a rehab appearance on Monday, July 15 when the Mahoning Valley Scrappers take on the Hudson Valley Renegades at Eastwood Field. First pitch is set for 7:05 pm. Otero made his last appearance with the Indians on May 30 in Chicago