2020 Minor League Baseball Season Shelved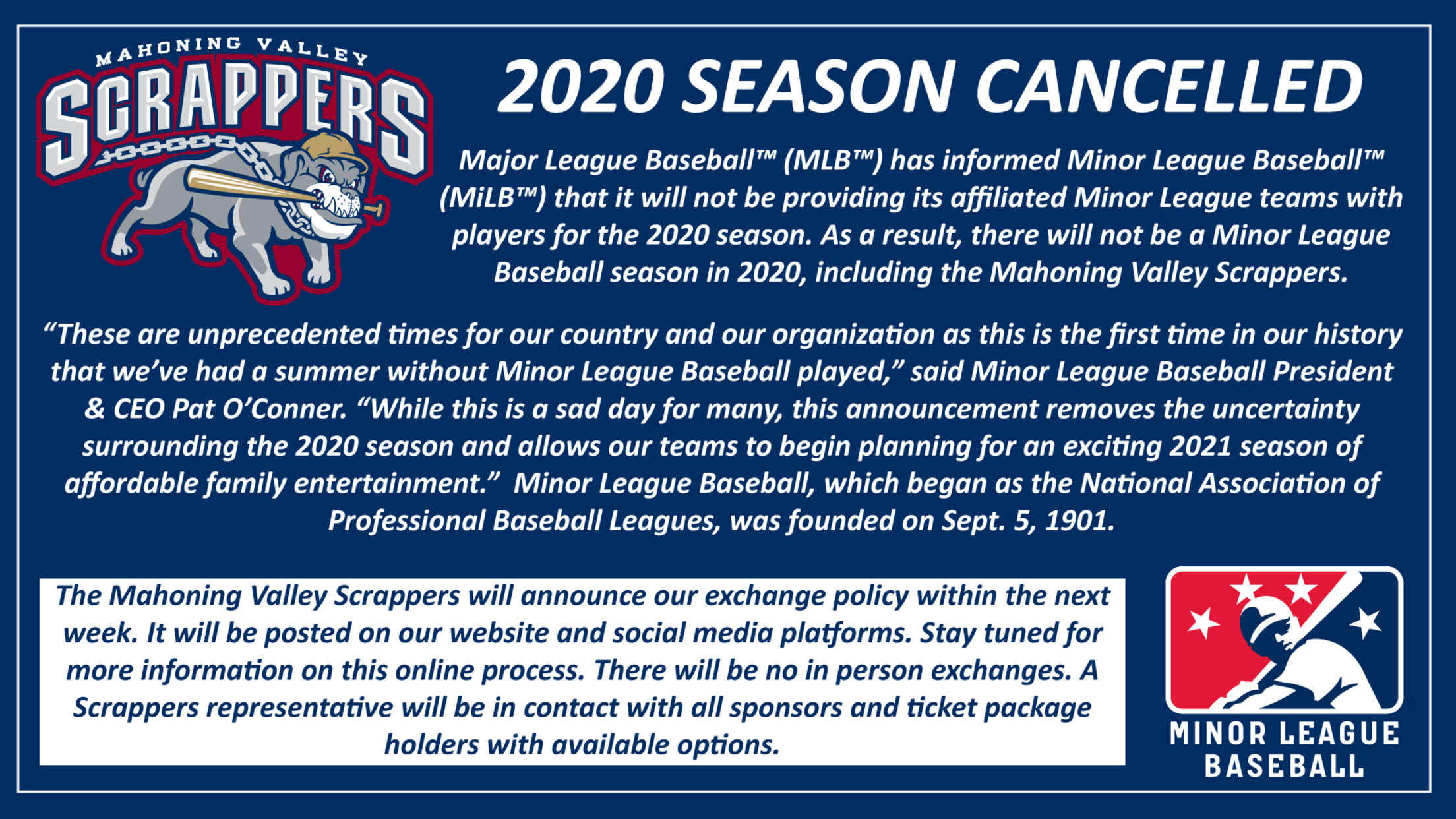 Major League Baseball™ (MLB™) has informed Minor League Baseball™ (MiLB™) that it will not be providing its affiliated Minor League teams with players for the 2020 season. As a result, there will not be a Minor League Baseball season in 2020, including the Mahoning Valley Scrappers. "These are unprecedented times
Major League Baseball™ (MLB™) has informed Minor League Baseball™ (MiLB™) that it will not be providing its affiliated Minor League teams with players for the 2020 season. As a result, there will not be a Minor League Baseball season in 2020, including the Mahoning Valley Scrappers.
"These are unprecedented times for our country and our organization as this is the first time in our history that we've had a summer without Minor League Baseball played," said Minor League Baseball President & CEO Pat O'Conner. "While this is a sad day for many, this announcement removes the uncertainty surrounding the 2020 season and allows our teams to begin planning for an exciting 2021 season of affordable family entertainment."
Minor League Baseball, which began as the National Association of Professional Baseball Leagues, was founded on Sept. 5, 1901.
"While we are incredibly disappointed that we are unable to play the 2020 season, we can now focus on planning an exciting season of Scrappers baseball at Eastwood Field in 2021" said Jordan Taylor, Vice President of HWS Baseball and Scrappers General Manager.
The Mahoning Valley Scrappers will announce our exchange policy within the next week. It will be posted on our website and social media platforms. Stay tuned for more information on this online process. There will be no in person exchanges. A Scrappers representative will be in contact with all sponsors and ticket package holders with available options.
To stay up to date with the Scrappers or for more information, visit www.mvscrappers.com or contact the front office at 330-505-0000. The Mahoning Valley Scrappers are the Short Season Single A Affiliate of the Cleveland Indians and play all home games at Eastwood Field. Notable alumni include C.C. Sabathia, Victor Martinez, Francisco Lindor, Jason Kipnis and Jose Ramirez.
####
*About Minor League Baseball *
Minor League Baseball is the governing body for all professional baseball teams in the United States, Canada, and the Dominican Republic that are affiliated with Major League Baseball® clubs through their farm systems. In 2019, Minor League Baseball attracted over 41.5 million fans to its ballparks to see baseball's future stars and experience affordable family-friendly entertainment that has been a staple of Minor League Baseball since 1901. For more information, visit www.MiLB.com. Follow Minor League Baseball on Facebook,InstagramandTwitter.