Scrappers Announce 2021 Weekly Promotions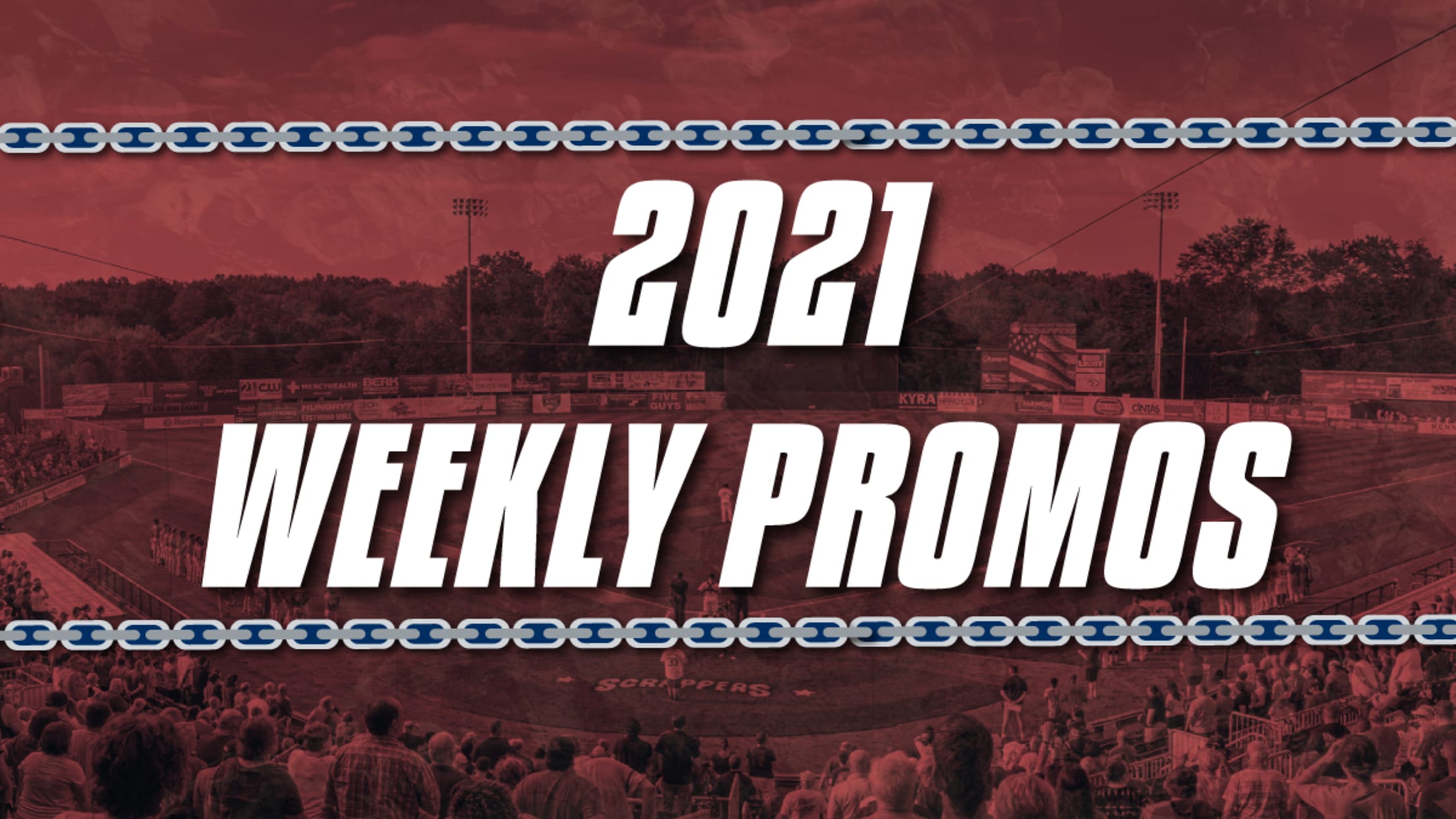 Scrappers Announce 2021 Weekly Promotions NILES, OH – The Scrappers are excited to announce the weekly promotions for the 2021 season. Fan favorites are back! Weekly promotions are listed below: Tuesdays: Senior Discount Tuesdays presented by Shepherd of the Valley. All our 55 + fans will receive half off Upper
Scrappers Announce 2021 Weekly Promotions
NILES, OH – The Scrappers are excited to announce the weekly promotions for the 2021 season. Fan favorites are back! Weekly promotions are listed below:
Tuesdays:
Senior Discount Tuesdays presented by Shepherd of the Valley. All our 55 + fans will receive half off Upper Box tickets. Tickets must be purchased at the Chevy All-Stars Box Office.
Tuesdays are also All You Can Eat! Get all you can eat hot dogs, Italian sausage, soft tacos, nachos, French fries, popcorn and fountain drinks through the 7th inning. Fans can purchase this wristband for an additional $15 per person or additional $12 per child, 12 and under.
Wednesdays:
Military Appreciation Nights presented by NECA/IBEW Electricians and 27 WKBN. Show a Military ID at the Chevy All Stars Box Office at Eastwood Field for two free upper box seat game tickets.
Wednesdays are also $2 Pizza Slice Nights presented by Pizza's Joes, the official pizza supplier of the Scrappers.
Thursdays:
Buck Nights are back, presented by Quaker Steak & Lube. Fans can enjoy $1 General Admission tickets, hot dogs and drinks at six Buck Nights this season!
Fridays:
Every Friday home game there will be a fantastic fireworks show! Fireworks will also follow the game on Opening Day (May 26 - Meijer, Trumbull Regional Medical Center, The Seasons, Phantom Fireworks, 21 WFMJ & WBCB & Mix 98.9) and the Fourth of July.
Friday Fireworks dates are:
May 28 (Yuengling, 21 WFMJ & WBCB 7 Mix 98.9)
June 18 (Fairfield Inn, 717 Credit Union, Flex Strut, The Hot Dog Shoppe, 21 WFMJ & WBCB & Mix 98.9)
June 25 (Chevy All-Stars, 21 WFMJ & WBCB & Mix 98.9)
July 30 (Chevy All-Stars, 21 WFMJ & WBCB & Mix 98.9)
August 13 (Eastern Gateway Community College, 21 WFMJ & WBCB & Mix 98.9)
Saturdays:
Saturdays are reserved for premium giveaways and entertainers! Youth jerseys, bobbleheads and more!
Sundays:
Every Sunday Matters at Eastwood Field. Bring a donation of a non-perishable food item, new or gently used clothing item or a children's book for a free General Admission ticket.
Scrappers single game tickets will go on sale on Friday, May 7th online at mvscrappers.com, by calling 330-505-0000 or visiting the Chevy All-Stars Box Office at Eastwood Field. The Scrappers home opener at Eastwood Field is Wednesday, May 26 against the State College Spikes. Ticket packages and group sales opportunities are on sale now. Mahoning Valley is one of six founding members of the MLB Draft League, joining the Frederick Keys, the State College Spikes, the Trenton Thunder, the West Virginia Black Bears and the Williamsport Crosscutters. For more information, visit mvscrappers.com or contact the front office at 330-505-0000.
###