ZOOperstars! Heading to Eastwood Field on August 22, 2020
Presented by Fairfield Inn by Marriot Warren, Niles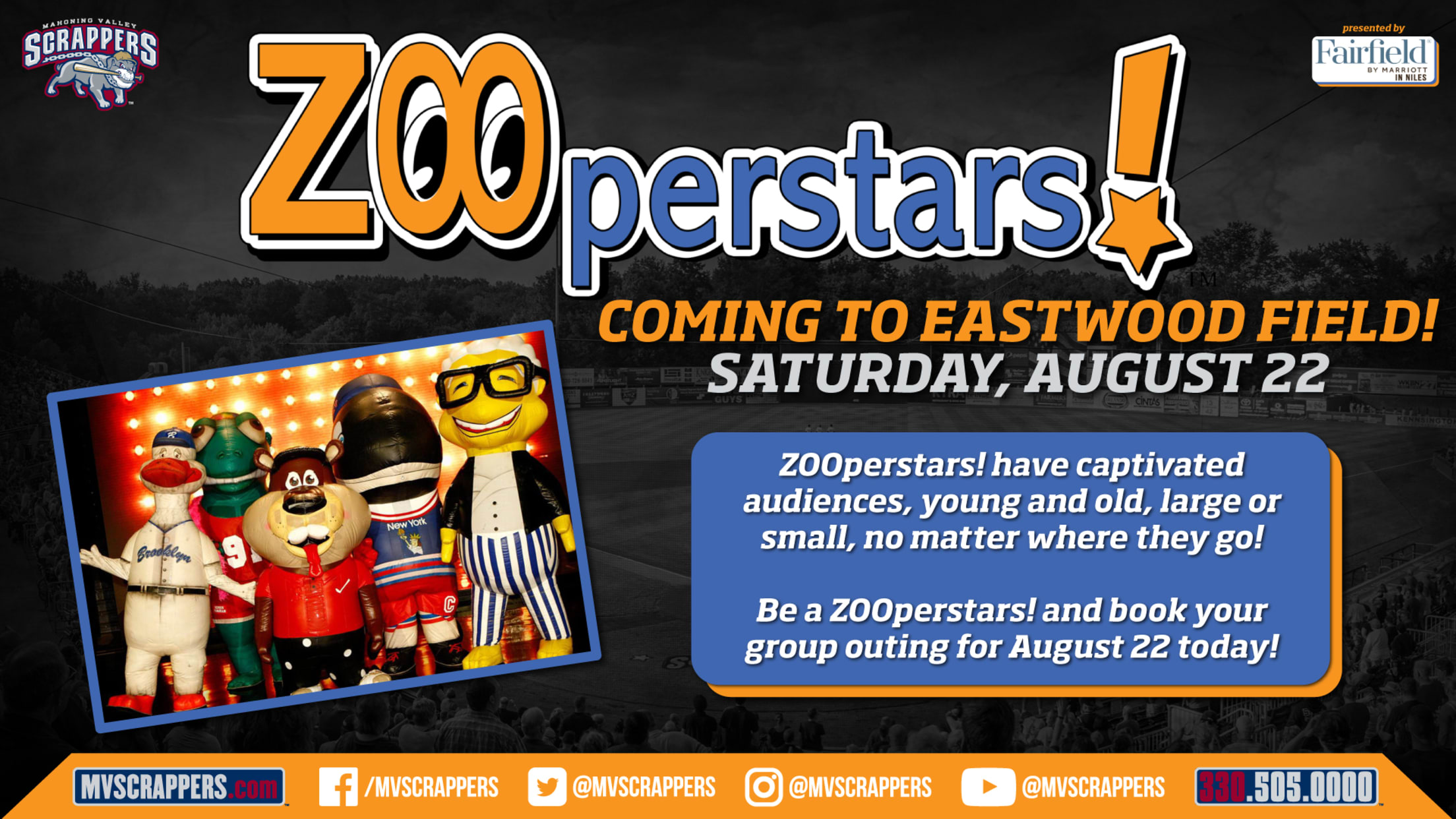 Niles, Ohio - The Mahoning Valley Scrappers are excited to announce the ZOOperstars!, one of the most popular entertainment acts in professional sports, will be entertaining fans at Eastwood Field on Saturday, August 22 presented by Fairfield Inn by Marriott Warren Niles. The ZOOperstars! unique show features hilarious inflatable characters with clever
Niles, Ohio - The Mahoning Valley Scrappers are excited to announce the ZOOperstars!, one of the most popular entertainment acts in professional sports, will be entertaining fans at Eastwood Field on Saturday, August 22 presented by Fairfield Inn by Marriott Warren Niles.
The ZOOperstars! unique show features hilarious inflatable characters with clever names such as Harry Canary, Tommy Laswordfish, Clammy Sosa, Shark McGwire, and many more! The performance combines synchronized dance routines, acrobatics, tricks and comedy for performances that connect with fans of all ages.
Lock in your ticket for this popular date now by purchasing one of the Scrappers many ticket packages or booking a group for as low as $8 per person (minimum 20). For more information about the ZOOperstars!, to book your group outing or purchase a ticket package visit mvscrappers.com, the Chevy All Stars Box Office at Eastwood Field or call (330) 505-0000.
The Mahoning Valley Scrappers are the Short Season Single A Affiliate of the Cleveland Indians and open up their season at home on Wednesday, June 24 against the Auburn Doubledays. For more information about ticket packages or group outings visit mvscrappers.com or call the front office at (330) 505-0000.