RockHounds Drop Opener to Hooks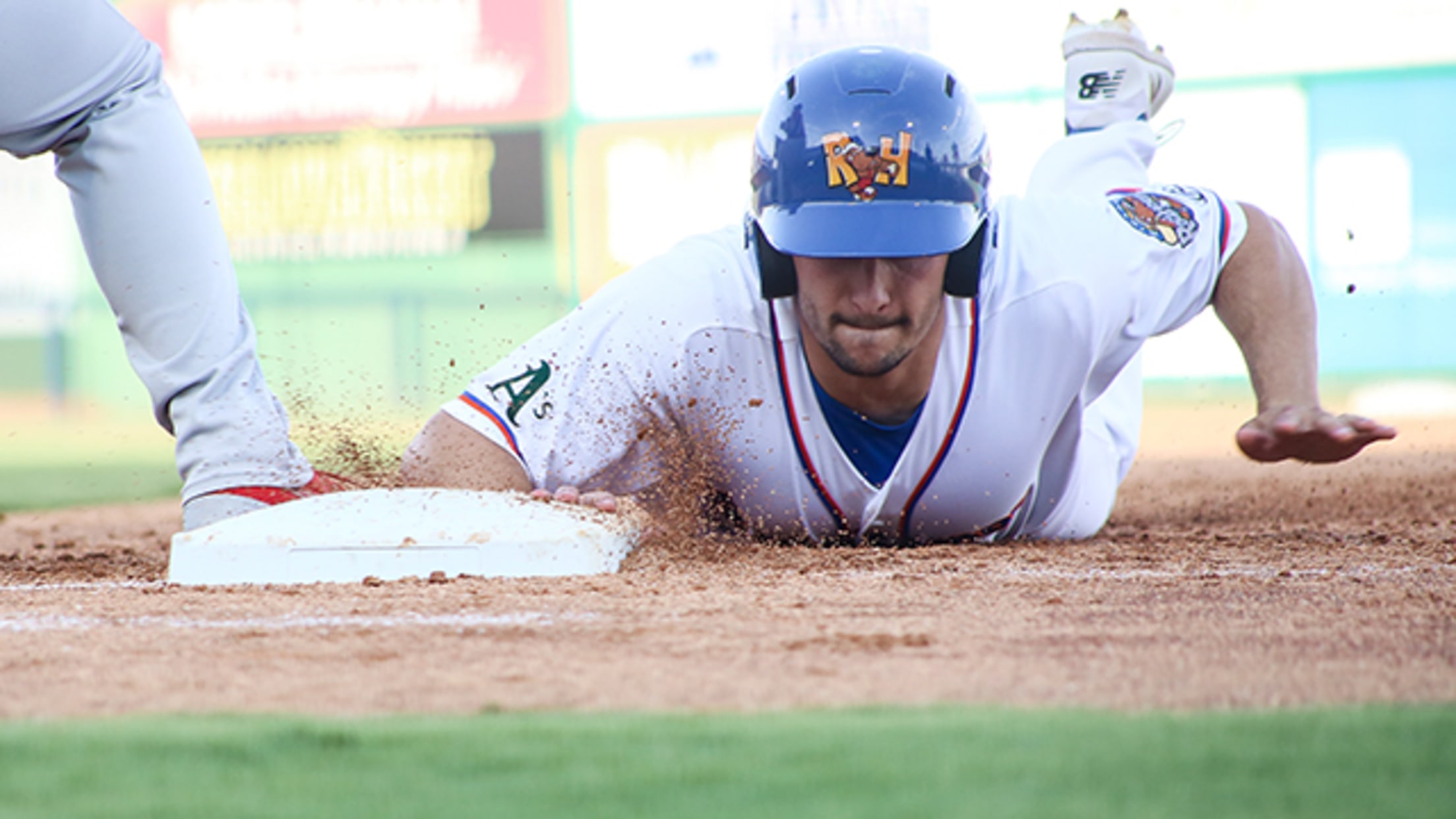 Corpus Christi Hooks 22, RockHounds 5Thursday, July 4, 2019Whataburger Field Corpus Christi, TXOne of the truly cruel aspects of a baseball season (statistically, anyway) is how one rough night (in this case, very rough) can undo a lot of good work.In five June starts, Matt Milburn went 3-1, with a
Corpus Christi Hooks 22, RockHounds 5
Thursday, July 4, 2019
Whataburger Field Corpus Christi, TX
One of the truly cruel aspects of a baseball season (statistically, anyway) is how one rough night (in this case, very rough) can undo a lot of good work.
In five June starts, Matt Milburn went 3-1, with a 2.48 earned run average and lowered his season ERA from 5.40 to 4.23. In four innings on the Fourth of July in Corpus Christi, that number went all the way back up to 5.30.
The Hooks scored 13 runs on 13 hits against the RockHounds' right-hander … and tacked on nine more, including eight with catcher Cooper Goldby on the mound in the eighth inning … in a 22-5 Independence Day win at Whataburger Field.
A strong wind (20-25 mph) pushing to left field was a factor all evening, including when Corpus got on the board in the second. Seth Beer ripped the first of his five hits, a single up the middle, and Granden Goeztman's pop fly toward foul ground down the right field line was pushed fair, dropping for a single. One out later, Colton Shaver's drive to left with the wind got out of the ballpark for a three-run home run.
As it turned out, the Hooks were just getting started. Corpus scored five more in the third, highlighted by Shaver's two-run single (he had a five-RBI night) and a two-run triple from Osvaldo Duarte. Chuckie Robinson's three-run homer then capped the five-run fourth.
Seth Beer wrapped a solo homer around the left field foul pole (again, the wind was a factor) off Angel Duno (see below) and the Hooks added eight in their final at-bat with catcher Cooper Goldby (and second baseman) Nate Mondou providing emergency relief pitching duties.
Corpus Christi starter Yohan Ramirez went five innings and, although he did not allow a hit, gave up one run on six walks while striking out 10 batters (the 'Hounds did not collect their first hit until the seventh).
The RockHounds dropped their second straight after putting together their third six-game win streak of the season.
Texas League South
Amarillo belted Frisco, 9-0, at Hodgetown, so the RockHounds' lead in the Texas League South Division was reduced by a game. The 'Hounds (9-5) lead Corpus Christi and Amarillo (both 6-8) by three games and Frisco (5-8) by 4½ at the "1/5 poll" of the second half.
"Stuff" from a Crazy Game
The Hooks have now scored 43 runs in their last three games … and are 1-2 (Corpus fell at Frisco by scores of 13-11 and 11-10).
Corpus pitching has walked 28 batters in those three games.
Miguel Figueroa entered in the sixth with a 13-1 lead … walked the first two batters he faced … and gave up a run on the second of two wild pitches. Brett Adcock started the ninth inning with a 22-5 lead … and walked the lead-off batter.
Here's Yohan Ramirez' third inning: Four-pitch walk … 3-1 walk … 3-2 walk … three-pitch strikeout … another three-pitch whiff … 3-2 bases-loaded walk. It was "that" kind of night.
The last of the eighth and top of the ninth ended on absolutely spectacular defensive plays. Brallan Perez made a diving catch (flat out horizontal) nearly 400 feet from home plate in center field off the bat of Seth Beer and Colton Shaver ended the game with an amazing grab of Tyler Ramirez's foul ball. The Hooks third baseman made the catch on the run and ended up in the first row of seats, baseball in glove. Nate Mondou also made a sensational, diving catch on Ronnie Dawson's line drive in the fourth.
Perez's robbery in the eighth cost Beer a six-hit game. The Astros prospect went 5-for-6 with three runs … a home run and two RBI.

Angel Duno, who entered the game in the fifth and the score 13-1, deserves a pat on the back for a solid three innings on an otherwise rugged night for 'Hounds pitching. Duno allowed Seth Beer's home run, and the wind was certainly a factor on the drive down the left field line, but that was the only hit the right-hander surrendered. He did not walk a batter and struck out four.
Personnel
James Naile has been called up to (AAA) Las Vegas, making Friday a "pitch by committee" (which is why there couldn't be any relied help earlier for Matt Milburn). Jesus Zambrano is expected to be the "opener."
Next Game
Friday, July 5 vs. Corpus Christi Hooks
Whataburger Field Corpus Christi, Texas
First pitch 7:15 p.m.
- Second of a four-game series and road trip
- Radio: NewsTalk 550 with Bob Hards ... airtime 7:05 p.m.
Probable Starters
CC: Enoli Paredes (RH, 1-2, 5.60)
RH: Jesus Zambrano (RH, 6-4, 5.75)
Next at Security Bank Ballpark
The RockHounds return Monday, July 8, to open a seven-game homestand:
Amarillo Sod Poodles (July 8-9-10) and the Corpus Christi Hooks (July 11-12-13-14).