Change does Chiefs' Machado some good
Cardinals No. 17 prospect plates career-high five, scores twice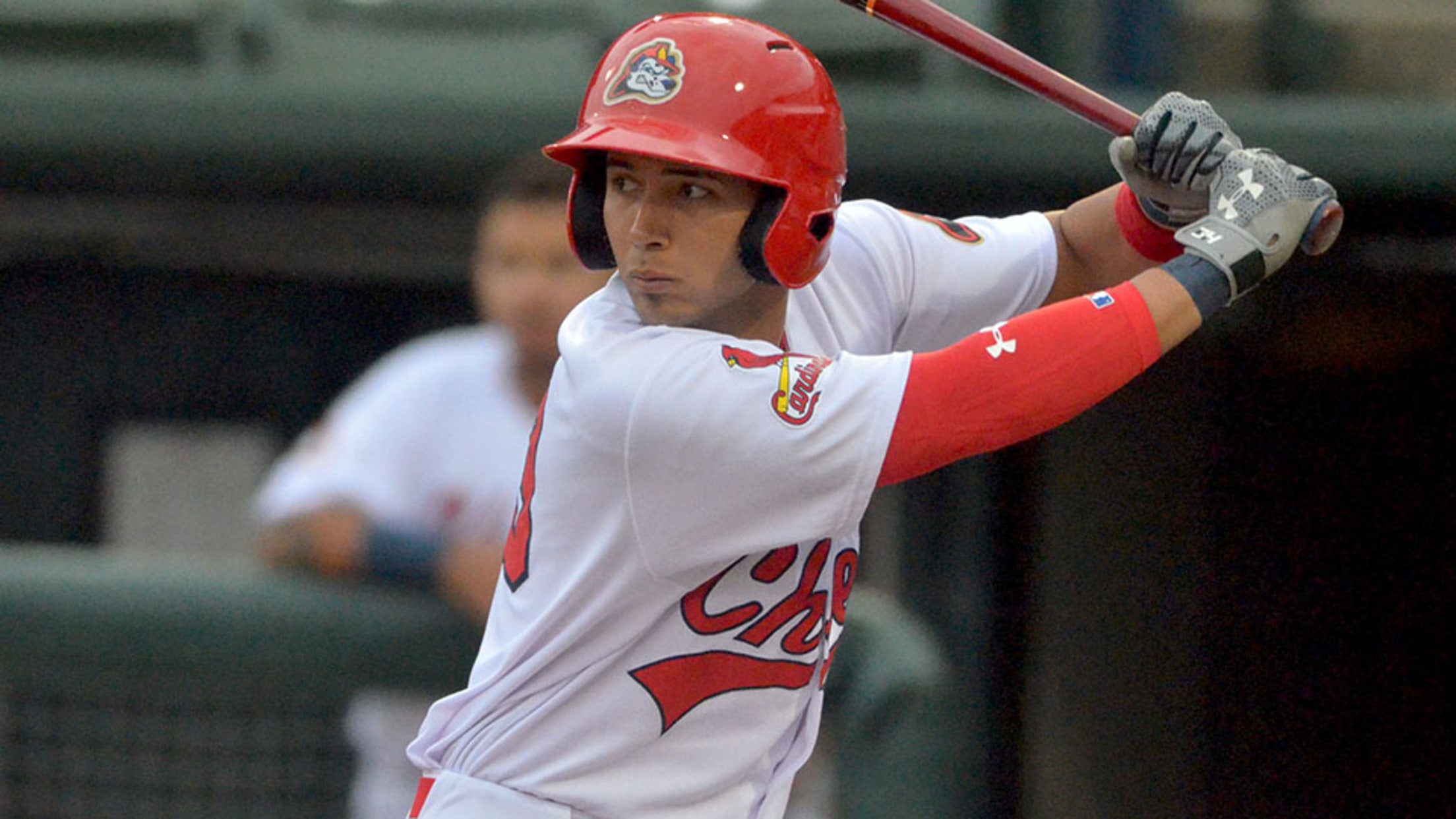 Jonatan Machado slashed .323/.381/.435 in 35 games in the Gulf Coast League last season. (Allison Rhoades/Peoria Chiefs)
Jonatan Machado hadn't looked like he'd quite adjusted to full-season ball, entering Thursday hitting.180 with just a single RBI in 50 at-bats. But perhaps his most recent performance might be indicative of better things to come. 
Jonatan Machado hadn't looked like he'd quite adjusted to full-season ball, entering Thursday hitting.180 with just a single RBI in 50 at-bats.
But perhaps his most recent performance might be indicative of better things to come.
Gameday box score
St. Louis' No. 17 prospect drove in a career-high five runs and scored twice in Class A Peoria's 12-2 rout of Beloit on Thursday at Pohlman Field.
"He started the season a little rocky, but I think every game he's played, I think the last four or five, he's gotten a hit and taken some good at-bats," Chiefs manager Chris Swauger said.
Machado went 2-for-4 with a double and a single to raise his average to .208 while increasing his RBI total sixfold. The international signee extended his hitting streak to six games.
The Havana, Cuba native started the season primarily as Peoria's leadoff hitter, but Swauger has been shuffling the hitters in his lineups to provide different looks at different situations. The skipper slotted Machado seventh as designated hitter against Beloit, and the left-handed hitter made the most of it.
The Cardinals outfield prospect cleared the packed bases with a double in the first inning to right field off Snappers starter Bryce Conley on a 2-2 count. He singled in two more runs with a knock to left off Seth Martinez in the seventh.
Swauger said coming up later in the lineup helped with Machado's psyche.
"When you end up being able to hit with runners on base instead of being that guy that's charged with getting on base, and sometimes when that happens the pressure is put more toward the pitcher and they can't do as much as they want to and they have to go right at the zone, and I think that's what happened tonight," Swauger said. "He ended up with good pitches to hit in good counts and he didn't miss them."
Described as a prototypical leadoff hitter with a slick glove and enough speed to flourish in center field, the 19-year-old signed with St. Louis for a reported $2.35 million bonus in 2016, which was at the time the highest ever for a Cardinals' signee.
"He can definitely give you a good at-bat and he doesn't swing and miss very much. He's a good contact hitter and he can run a little bit, so he can do some things on the bases that will help our guys hit behind him," Swauger said. "One thing we've focused on with him, is that because he can make contact with so many pitches in all sorts of areas doesn't necessarily mean he should.
"As he showed tonight, when he gets good pitches in the zone, he can drive them and do a little bit of damage. When he's expanding the zone early in the count and not doing damage with it, that's not what we want to see from a guy hitting at the top of the order."
Earlier in the season, Machado wasn't capitalizing on hittable counts. While he possesses great contact skills, the Peoria coaching staff has tasked him with being more selective.
The 5-foot-9, 155-pounder hit just .209/.284/.299 in his first professional season for the Cardinals' Dominican Summer League team, but turned it around significantly in 2017 in the Rookie-level Gulf Coast League, slashing .323/.381/.435 in 35 games.
Chiefs catcher Julio Rodriguez slugged two long balls and drove in four runs. His two-run homer in the seventh to center plated Machado. The 20-year-old Dominican Republic native, like Machado, has been working on his approach and reaped the benefits against the Snappers.
"For him, it wasn't about when he was swinging, it was more about what he was swinging at," Swauger said. "Guys were chasing him around a little bit, chasing him out of the zone, and putting him in bad counts where he was at the pitcher's mercy. It was a renewed emphasis in the right part of the plate and driving them to the big part of the field. He certainly did that tonight."
Peoria starter Evan Guillory (2-1) allowed two runs on seven hits over eight innings. He struck out five without issuing any walks.
Josh Horton is a contributor to MiLB.com. Follow him on Twitter @joshhortonMiLB