Dragons' Friedl belts three homers in two games
Reds prospect goes deep once in resumed game, twice in second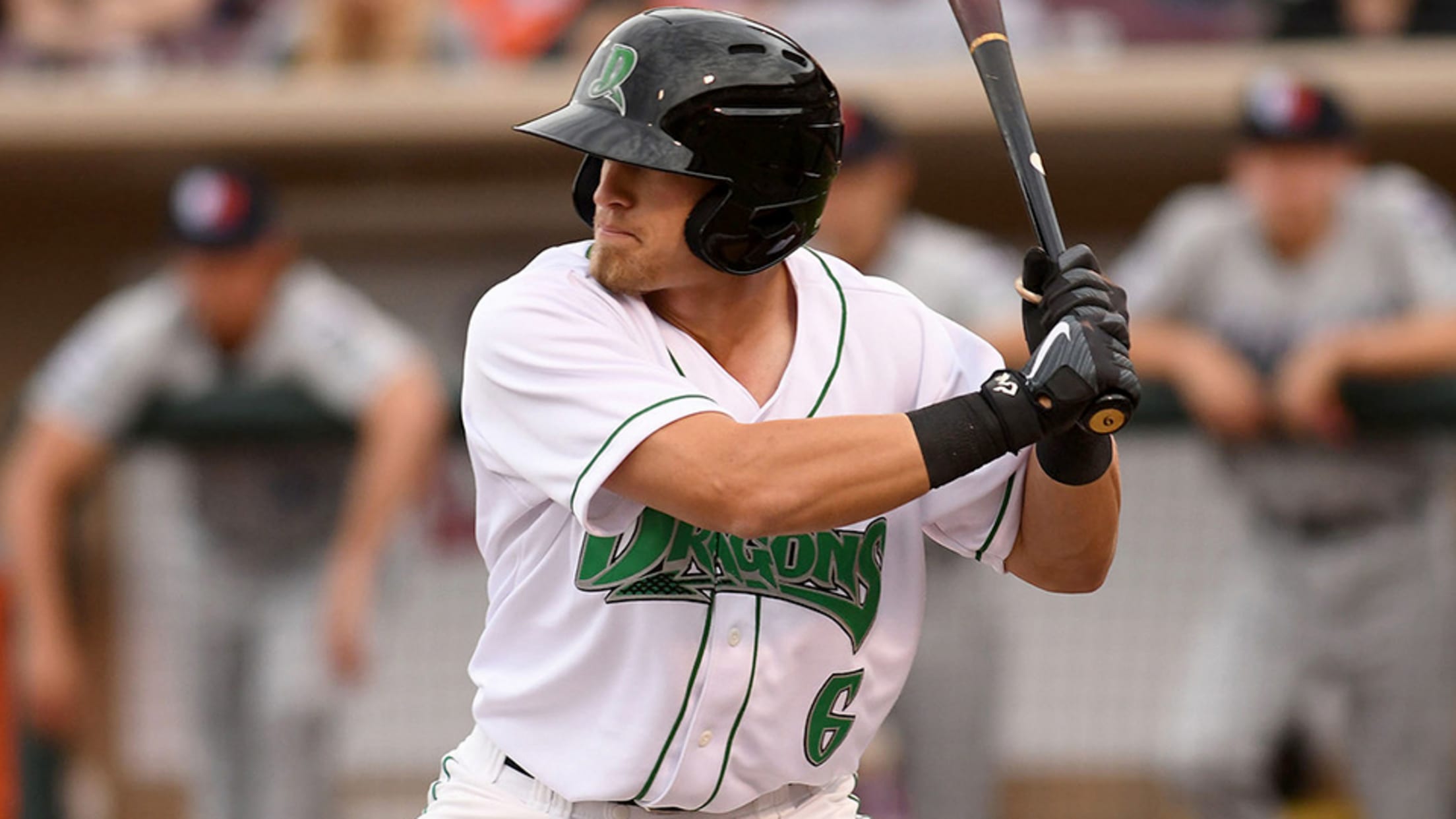 T.J. Friedl ranks eighth in the Midwest League with a .512 slugging percentage through 44 games. (Nick Falzerano/Dayton Dragons)
Dayton and Great Lakes went 13 innings without scoring Wednesday night before rain suspended the Class A game. Not long after the sides resumed at 10:35 a.m. Thursday, T.J. Friedl provided an onslaught all his own.The Reds' No. 15 prospect homered in the 16th inning of the first game --
Dayton and Great Lakes went 13 innings without scoring Wednesday night before rain suspended the Class A game. Not long after the sides resumed at 10:35 a.m. Thursday, T.J. Friedl provided an onslaught all his own.
The Reds' No. 15 prospect homered in the 16th inning of the first game -- a 2-1 Dragons' loss -- and added two more long balls in a 14-6 win over the Loons at Dow Diamond in the regularly scheduled contest. Friedl entered the day with only one homer in 42 games this season and enjoyed his first multi-homer performance since his pro debut on Aug. 5, 2016.
Game 1 box score / Game 2 box score
"We knew it was going to be a quick turnaround with the bus coming at 9 a.m.," Friedl said. "You have to get mentally prepared quickly. Our bats obviously weren't there yesterday, but all you can do after that is try to stick to a good approach. Put those 13 innings in the past, make sure it's a fresh start and treat it like a new day at the ballpark."
The left-handed-hitting outfielder had to wait a bit to impact the suspended marathon, however. The teams traded zeros in the 14th and 15th before Friedl stepped up against right-hander Chris Mathewson with two outs in the 16th. He swung at the first pitch and watched it carry over the fence in right center for his first homer since April 12. He thought that might finally be enough to give Dayton its 31st win of the season.
"To be honest, yeah, I did think that'd be good," he said. "You go 15 innings without anyone scoring any runs, and I kinda figured that there's no way anyone else would score in the 16th."
Dayton's Joel Kuhnel recorded the first two outs of the inning before Oneil Cruz reached on an error by third baseman John Sansone. Carlos Rincon capitalized on the mistake and gave the Loons a walk-off win with a homer to left.
Still, Friedl was happy to begin his day with a long ball and felt confident heading into the second contest.
"It was huge to get that so early," he said. "Normally as a leadoff hitter, I'm always thinking about getting good at-bats to start the game, just to get a good feeling going and to have some confidence. To have that happen, it boosted my confidence in a big way for the rest of the day."
Moving from the No. 3 spot in the order back to leadoff, Friedl didn't wait long to impact Game 2. The outfielder hooked an 0-2 fastball from right-handed starter Dustin May out to right center for a solo blast in the third inning. One frame later, with the Dragons up, 4-2, he stepped in against May once again, this time with the bases loaded, and admitted a grand slam was on his mind.
"Yeah, I'm definitely thinking of the situation there," he said. "It was still early on in the count, and unless he's going to throw me a real hanging breaking ball, I was going to wait for a good fastball to hit. In that situation, you want to get the ball in a specific zone before you go for it, and when it comes, you want to be ready to put your best swing on it."
Friedl did just that, turning on another heater from May and depositing it over the wall again in right-center. He was hit by a pitch and scored in the fifth and finished 2-for-5 with two homers, five RBIs and three runs scored.
With three homers on the day, Friedl matched his entire total over 29 contests with Rookie-level Billings last season, when he was named a Reds Organization All-Star by MiLB.com. He's now hitting .295/.383/.512 with four homers, five triples, 14 doubles and nine steals in 44 games with Dayton. The 21-year-old, who snuck under the radar as an undrafted eligible player out of Nevada last year before signing with Cincinnati for $732,500, has gained notoriety for his solid hit tool, plus-plus speed and ability to play all three outfield spots -- but even he's not expecting anyone to think of him as a power hitter after Thursday's performance.
"It's definitely not something I'm looking for in myself," he said. "Even if I try to hit for power, it's most likely something that's just not going to work out for me. That's why I try to stick to hitting balls gap-to-gap and hitting line drives. If I focus on what I do the best, the homers will come here and there."
That said, he'll still try to use Thursday's power display to build toward more sustained success as he works through his first full season.
"This is definitely a day to build on," Friedl said. "When you see results like that, you know that's the type of swing you want. Now, it's about putting those good swings on good pitches tomorrow and going into next week. When I come back to the park tomorrow, I'll still be replaying those swings over and over in my head, trying to make sure I can do them again."
Sam Dykstra is a reporter for MiLB.com. Follow and interact with him on Twitter, @SamDykstraMiLB.