Hill leads Whitecaps at the plate, in the field
Tigers No. 8 prospect triples twice, makes diving catch in center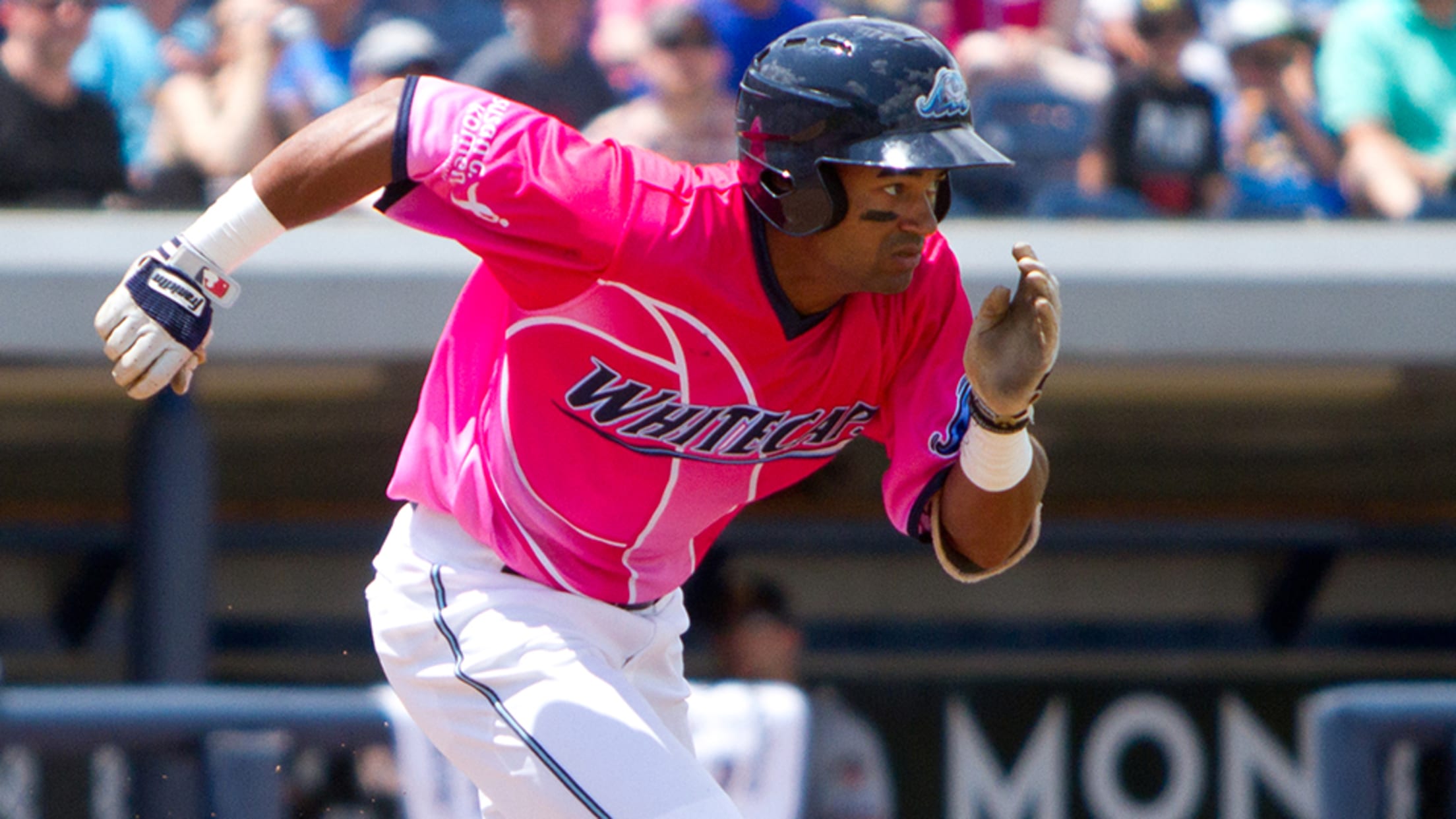 Derek Hill's two triples on Sunday gave him his first multi-hit game since rejoining the Whitecaps. (Emily Jones/MiLB.com)
While Derek Hill was in the final stages of his recovery from Tommy John surgery, he watched as a talented West Michigan Whitecaps roster put together one of the Minor Leagues' most impressive first halves. Back on that roster, he's contributing to the Whitecaps' second-half push.The Tigers' No. 8 prospect tripled
While Derek Hill was in the final stages of his recovery from Tommy John surgery, he watched as a talented West Michigan Whitecaps roster put together one of the Minor Leagues' most impressive first halves. Back on that roster, he's contributing to the Whitecaps' second-half push.
The Tigers' No. 8 prospect tripled twice, drove in a run and made a diving catch in center field on Sunday as Class A West Michigan matched a franchise record with its 19th shutout of the season, a 7-0 blanking of Quad Cities at Fifth Third Ballpark.
"It's been absolutely outstanding," Hill said. "The guys up here are absolutely balling out, as you can tell. We've tied our franchise record for shutouts and we've still got what, 60 games or something, to go? They're doing an outstanding job, staff and players. I'm just enjoying my time up here with the guys."
Sunday was West Michigan's Minor League-leading 62nd win in 90 games, and for the first time, Hill was a focal point in his fifth game with the club. The Whitecaps' leadoff man started the sixth inning with a triple to center but was thrown out trying to stretch it to an inside-the-park homer. In the eighth, he followed David Gonzalez's leadoff single to right with an RBI triple to left.
In between, the center fielder flashed his trademark glove. With two outs and the bases empty in the seventh, No. 9 Astros prospectDaz Cameron sent a drive to left-center. Hill, whose 70-grade speed is his top-rated tool by MLB Pipeline, raced back to make a full-extension catch, crash-landing on the warning track.
"I love getting the crowd going both defensively and today I got the crowd going offensively," Hill said. "I just helped the team out and that's what I'm up here to do, just help the team out in any way that I can, any way that they need."
The 2014 first-round pick tore the ulnar collateral ligament in his right elbow, requiring surgery last August. He returned to the field on June 26 in the Rookie-level Gulf Coast League and batted .163 in 14 games before rejoining West Michigan, where he spent parts of the 2015 and 2016 seasons. Sunday's showing came after Hill went 1-for-11 in his first three games back with the Whitecaps.
Gameday box score
"The rehab that I went through, the guys down in Lakeland, Florida (at the Tigers complex), did an outstanding job with me," Hill said. "I know that the preparation that I put in and all the hard work that I put in through the last 11 months and all the stuff that they had me doing to get ready, I knew that I was going to be game ready when I got up here because they didn't want to rush it or anything like that. They wanted to make sure that I was 100 percent before coming up here. I've got to tip my hat to them because there's a lot of -- not saying professional but college or high school -- they'll run you back out there just because they want to win. But this organization is outstanding at just 'We want to get you healthy' and move from there."
Hill provided a spark offensively and defensively, but it was West Michigan starting pitcher Tom de Blok who set the tone early. The Amstelveen, Netherlands, native went seven innings and allowed three hits while striking out eight without issuing a walk.
"He was just locating every single one of his pitches," Hill said. "I probably saw maybe three or four that just got away from him, but besides that, he was around the zone. At our level, if you're around the zone, people are going to chase here and there. He had just really good stuff today. I think he was up to 96 [mph] with a wipeout slider and curveball."
The righty faced two batters over the minimum and lowered his ERA to 0.92 in his 15th appearance and fourth start.
"It gives us confidence when we have a pitcher like that on the mound doing his job," Hill said. "We want to help him like he's helping us. It's just a complete team effort, you scratch our back, we'll scratch your back type of thing."
With 62 wins, including 19 by shutout, has Hill ever been on a team approaching this level of success at this point in the season?
"Absolutely not," he said, laughing. "I know people say this all the time, 'It's a family, blah, blah, blah,' but I mean every single one of the guys [here] has the other person's back right next to him. It's outstanding to watch right now. I've been following them all throughout the entire year, even before I got up here, and I don't know how they're doing it, but they have been doing it and I'm not going to ask any questions or do anything to make any waves. I'm just going to go with it and we're going to keep the ball rolling."
Tyler Maun is a contributor to MiLB.com. Follow him on Twitter @TylerMaun.