Kernels' Gonsalves fans 11 in one-hitter
Twins No. 11 prospect achieves career high in strikeouts in latest gem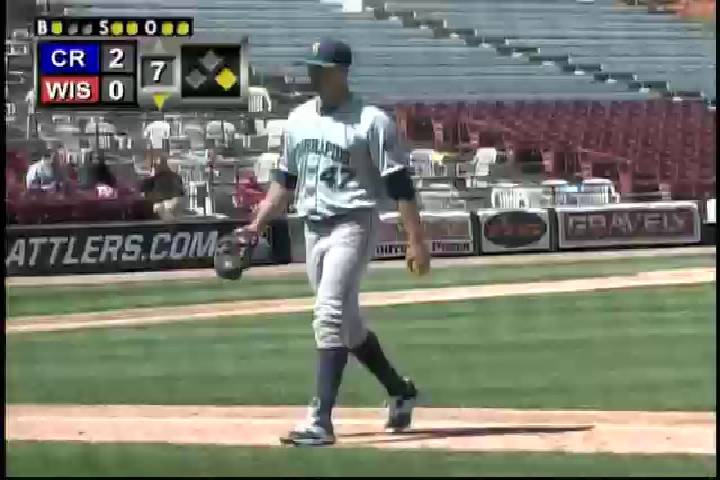 By Sam Dykstra / MiLB.com | April 23, 2015 5:30 PM
Stephen Gonsalves spent most of the offseason working out with All-Star pitchers Stephen Strasburg and James Shields in San Diego. Three starts into 2015, he's pitching like their Midwest League equivalent.
The Twins' No. 11 prospect set a career high with 11 strikeouts and allowed only one hit (a bunt single) and a walk over seven innings in Class A Cedar Rapids' 3-0 win over Wisconsin on Thursday. Kernels reliever Trevor Hildenberger completed the one-hitter with two perfect innings of his own.
The gem was just the latest in a string of impressive strong outings by Gonsalves to start the 2015 season. He had fanned nine and 10 batters in his first two starts, respectively, and improved to 2-0 with a 0.90 ERA, 0.65 WHIP, 30 strikeouts and only two walks in 20 innings following Thursday. That early success isn't going to the 20-year-old left-hander's head though.
"I'm trying to stay humble right now," Gonsalves said. "Each day is a new day, so you have to go at it like that. I have the confidence in my team to help me, so all I'm focusing on is throwing strikes and going from there."
That worked to near perfection Thursday, of course -- he threw 59 of his 90 pitches for strikes. He employed a strategy for mixing in his pitches that has been successful this season.
"I have the same mental attack for every start," he added. "I throw just my fastball and changeup in the early innings to see how far that gets me. Once they start hitting that, or I feel like I can go to something else, that's when I start mixing in the slider and curveball to keep them guessing and keep them honest.
"Obviously, I love getting strikeouts, but it all comes down to strikes for me. Use those pitches, and then let the guys do the work."
Taken individually, none of the 6-foot-5 hurler's offerings grade out at much more than average. Though his fastball may add velocity as he matures in his age-20 season, it sits in the low-90's for now. The changeup works well off that but received only a 50 grade from MLB.com. The curveball, which is "big and loopy" by Gonsalves' admission, got the same score, and the slider is only just coming along.
But where he's been so wildly successful thus far is in his control. Since being taken in the fourth round out of San Diego's Cathedral Catholic High School back in 2013, Gonsalves, who owned a 3.02 ERA with 70 strikeouts in 65 2/3 innings at Rookie-level Elizabethon and Cedar Rapids last season, has struck out 11 batters per nine innings and walked only 2.6 per nine during his three-year career.
Put another way, he won't necessarily blow it by hitters, but he will put it in the right spots in the strike zone where they can't hit it.
As for improving his pitches, the development of the slider, in particular, could be the next thing that sends Gonzalves up the Twins' farm system rankings, and the pitcher knows it.
"I'm really happy with it right now," he said. "I haven't thrown it too often, just 0-0 or 0-2 to left-handers. But I want to get the point where I can start throwing it to right-handers in 0-2 counts. Right now, I always have it to complement my big and loopy curveball, so it just gives me something else in the 80s with spin. Once I get it better, it's another to work off my fastball and slider."
Gonsalves got some big-time help on that pitch and in other areas this offseason back in San Diego. Through area strength coach Todd Durkin, who also works with Saints quarterback Drew Brees and Eagles running back Darren Sproles, The Twins prospect got hooked up with Strasburg and Shields this offseason -- both of whom he credits for his early-season success.
"Shields got there a little later, but he was a big help with my slider in showing me how to make it a little better," Gonsalves said. "But Strasburg, I worked with him a whole lot more -- about four times a week from October to February. The biggest thing was picking up his work ethic and other little fundamental stuff about my delivery and things like that. He helped me clean it up, and that's been a big help so far."
It almost led to perfection Thursday when the Kernels southpaw retired the first 10 Timber Rattlers he faced before Brandon Diaz laid down a bunt in the fourth inning. Gonsalves couldn't quite handle the dribbler, giving Wisconsin its first and only hit of the day. The one in the hits column could have angered the Cedar Rapids starter, but he chose, instead, to focus on the many positives from Thursday's outing.
"I take [the one hit] as pride, really," Gonsalves said. "It was just a little bunt single that I couldn't handle. That's pretty good. Yeah, it's a bunt, and part of that is annoying, but normally, when you only give up one hit, it's a really good thing, so I'll take it."
The win gave the Kernels a three-game sweep of the host Timber Rattlers and improved their record to 11-4 on the young season. If Gonsalves keeps pitching like he has in his first three starts, he won't be much longer for the Midwest League, but for now, he's enjoying his second ride with the Kernels.
"We're all feeling confident here," he said. "It's good to be back in Cedar Rapids, even if the weather is a little cold. There are a lot of the same guys from the team I played with here last year, so we've got great chemistry and it's showing."
Sam Dykstra is a contributor to MiLB.com. Follow and interact with him on Twitter, @SamDykstraMiLB. This story was not subject to the approval of the National Association of Professional Baseball Leagues or its clubs.
View More