McKinney leads continually stocked Cubs
'Ever-revolving door' keeps spinning in winning Chicago organization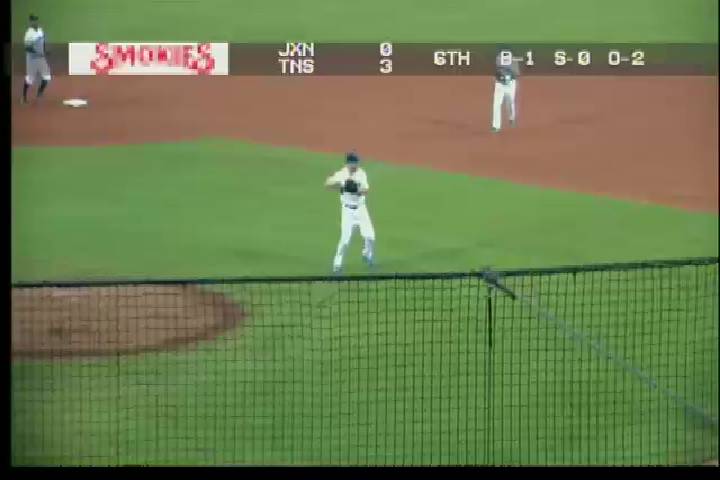 By Josh Jackson / MiLB.com | November 9, 2015 10:00 AM
This offseason, MiLB.com is honoring the players -- regardless of age or prospect status -- who had the best seasons in their organization. We're taking a look at each team to determine the outstanding seasons in Minor League Baseball.
Given that the Cubs' playoff run was fueled by a very young core that includes rookies Kris Bryant, Jorge Soler, Addison Russell and Kyle Schwarber, a logical assumption would be that the organization's Minor League system has been nearly exhausted.
Logical, but wrong.
If the performances honored below don't prove that the North Siders remain well-stocked, consider the players who aren't listed. Christian Villanueva led Cubs' Minor Leaguers with 20 homers and 95 RBIs, while Jeffrey Baez was tops with 36 stolen base. Despite injuries and a downturn in his power numbers, Dan Vogelbach posted an .849 OPS. And Ian Happ, the ninth overall pick in this year's Draft, hit his way up to the full-season Midwest League by the end of July.
Name a position, and the Cubs have a strong bat there at some level of the Minor Leagues.
"I think that was [president of baseball operations] Theo [Epstein] and [general manager Jed Hoyer's] plan all along -- to draft and sign international talent to build depth, and all of our trades have been geared toward depth at all positions," director of player development Jaron Madison said. "When guys go up, we want a guy right behind him to step into his shoes and take over.
"And that's the plan for the big leagues, when free agents possibly sign somewhere else or retire. We have guys ready to step up, so it's an ever-revolving door."
No surprise, then, that Cubs affiliates combined for the third-best record in baseball, going 444-385 for a .536 winning percentage. Of the six U.S.-based clubs, four had winning records and Class A Short Season Eugene was 38-38. The Myrtle Beach Pelicans won the Mills Cup in the Class A Advanced Carolina League.
Cubs Organization All-Stars
Catcher -- Willson Contreras, Tennessee (126 games): Contreras, who moved behind the plate from third base in 2012, led the Southern League and all Cubs' full-season Minor Leaguers with a .333 batting average, adding 34 doubles and 75 RBIs while drawing 57 walks against 62 strikeouts. Not bad for a guy who caught 75 games.
"It's very special," Madison said. "He's got the athleticism to play all over the field. The guy is just that dynamic on both sides of the ball, and we tried to keep that bat in the lineup as much as possible. He had the chance to split time [at catcher] with Kyle [Schwarber] and learn a little bit from him, and they had a special bond. Willson matured as a person and as a player, and he started understanding pitchers and what he can do."
The team's Minor League Player of the Year slashed .283/.361/.547 in the Arizona Fall League before being shut down with a mild hamstring strain.
Honorable mention: Cubs fans likely will long remember Kyle Schwarber's production in the Majors this year, but it shouldn't be forgotten that he played 75 Minor League games, catching 52 of them. He smacked 16 homers, batted .323 and put up a 1.022 OPS.
First baseman -- Jacob Rogers, Myrtle Beach (106 games), Tennessee (23 games): For the second year in a row, Rogers found himself among the system leaders in homers (13, tied for third) and RBIs (82, second). His presence in the Pelicans lineup was a considerable factor in their championship season, according to Madison.
"It was really big. He's an older guy and he was a more veteran presence on a really young team," the director of player development said. "We challenged some young guys and pushed them there, and for all intents and purposes, Rogers was a leader there. He was a really important person to plug into that hole and provide some power."
Second baseman -- Arismendy Alcantara, Iowa (120 games), Chicago (11 games): In the Pacific Coast League, Alcantara had 20 doubles, a circuit-best 10 triples, 12 homers, 16 steals and 72 runs scored. He did all that despite career lows in batting average (.213) and on-base percentage (.285), which the Cubs believe he can turn around with a shift in focus.
"The biggest thing is just understanding the type of dynamic player he needs to be offensively, using his speed and getting on base, being able to play small ball, not selling out for the home run, but, being OK driving a double to the left-center gap," Madison said.
Third baseman -- Jeimer Candelario, Myrtle Beach (82 games), Tennessee (46 games): Candelario already had put together a breakout campaign in the Carolina League, where he hit .270 with a .318 OBP. Then he went to the Double-A Southern League and batted .291 with a .379 OBP. He's toiling in the AFL, where he won the fans' Final Vote to earn a spot in the Fall Stars Game.
"He's a guy we've always just been waiting to take a step forward," Madison said. "He's got a good swing from both sides of the plate and he started understanding what he can do for himself, being more aggressive in the count. He'll be first to tell you, pitch selection and being aggressive was the key for him this year."
Shortstop -- Javier Baez, AZL Cubs (four games), Iowa (70 games), Chicago (28 games): The start of Baez's season was delayed by a death in the family, and he fractured a finger in June. Still, he drilled 13 homers and stole 17 bases while batting .324 for the I-Cubs, then went up to the big leagues and hit .289 with a .325 OBP.
"I think he's matured a lot. He did deal with a lot of adversity this year and he was able to focus and battle through and stay on track," Madison said. "He does have the heart. He's a baseball player and he really gets the game. Hopefully, that adversity is behind him and he stays healthy this year and he comes into Spring Training with a chance to compete for a position."
Honorable mention: Gleyber Torres slashed .287/.346/.376 in 126 games at shortstop for South Bend (119 games) and Myrtle Beach (seven games).
Outfielders
Robert Garcia, AZL Cubs (47 games): At 21, Garcia was a little old for the Rookie-level Arizona League, but his professional experience consisted of only 77 games in the Dominican Summer League. He wound up leading the system with a .341 average and stole 17 bases while finding his way aboard in about 41 percent of his plate appearances while slugging .445.
Mark Zagunis, Myrtle Beach (115 games): Taken in the third round of last year's Draft out of Virginia Tech, Zagunis was assigned to the Class A Advanced level out of the shoot. The Cubs didn't see it as a big challenge for the 22-year-old former backstop.
"Not really," Madison said. "He was one of the more advanced bats in last year's Draft, so offensively, we knew he could handle it. He controls the zone better than anybody in the system, pretty much, in terms of not expanding his zone. We decided to let him focus on playing the outfield and not worry about catching for now, which allowed him to be more free and focus on hitting. That allowed him to impact the game with his athleticism."
---
• More from director of player development Jaron Madison on Cubs prospects
---
Billy McKinney, Myrtle Beach (29 games), Tennessee (77 games): Along with Addison Russell, McKinney was one of the prizes in last year's trade that sent Jeff Samardzija and Jason Hammel to Oakland. In his first year in the new organization, McKinney -- who turned 21 on Aug. 23 -- slashed .300/.371/.454.
"He killed it at Myrtle Beach and he goes up to Double-A as one of the youngest guys in that league, and he holds his own. He took what was at one point an 0-for-25 slump [from July 13-21] and still put up those numbers," Madison said. "That's pretty special from a 20-year-old at that level."
Utility player -- Chesny Young, South Bend (28 games), Myrtle Beach (102 games): Young played five positions, but wherever they used him, he performed consistently at the plate, leading the Carolina League with a .321 average and finishing third with a .394 OBP while smacking 18 doubles and stealing 12 bases.
"He profiles really well as a second baseman and he's also a guy who can play short, and we had him at third base, first base and we also had him running around the outfield," Madison said. "He gets on base and he barrels the ball up and puts the ball in play where it's pitched."
Right-handed starter -- Ryan Williams, South Bend (nine games, eight starts), Tennessee (17 games, 16 starts): The Cubs' Minor League Pitcher of the Year, Williams led the system with 14 wins and a 2.16 ERA while climbing to the Southern League in his first full season. Class A foes batted .190 against him, while Double-A opponents didn't fare much better at .227.
"He's always been a guy who gets ground balls -- he's an early contact guy and he works down in the zone," Madison said. "For a guy who jumped from low A to Double-A, we're really proud of him and we thought he did a great job. He's still young in his pitching career and especially in his pro pitching career."
Left-handed starter -- Justin Steele, Eugene (10 games, 10 starts): A 2014 fifth-rounder out of a Mississippi high school, Steele missed the end of July and the beginning of August with a tweak in his arm --"We just decided to be cautious with him and shut him down for a little bit," Madison said -- but finished 3-1 with a 2.66 ERA. He recorded 28 strikeouts over 40 2/3 innings.
Reliever -- P.J. Francescon, Tennessee (42 games), Iowa (three games, one start): Francescon had far and away his best professional season, winding up second in the Southern League and the system with 22 saves, which he recorded in 25 chances. He also put up a 1.47 ERA across the two levels while holding foes to a .196 average.
"I think he really just embraced that closer role," Madison said. "He's always been a guy who pounds the zone and attacks hitters, and this year he just stepped that up to a new level."
Josh Jackson is a contributor to MiLB.com. This story was not subject to the approval of the National Association of Professional Baseball Leagues or its clubs.
View More