MWL notes: Mahle credits dad for edge
Reds' No. 29 prospect using more off-speed pitches with Dayton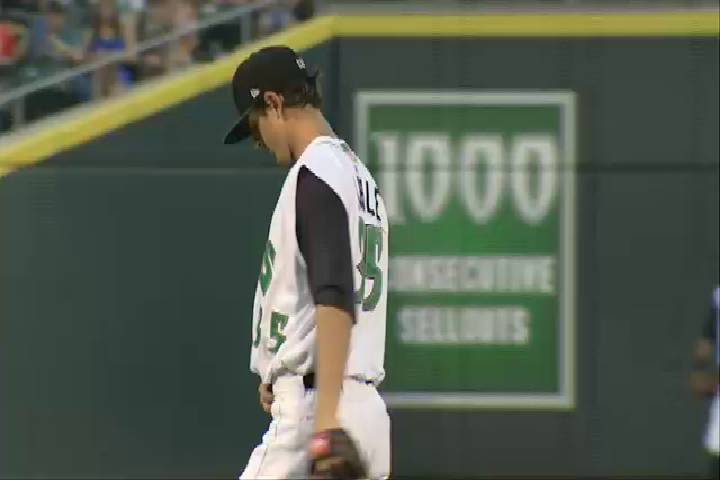 By Curt Rallo / Special to MiLB.com | August 27, 2015 11:00 AM
In a word, relentless.
That's the mindset that Dayton's Tyler Mahle, a 6-foot-2, 175-pound right-hander unleashed when he attacked Midwest League hitters this season. It's a mindset that earned the 20-year-old from Westminster, California, the right-handed starting pitcher selection on the Midwest League Eastern Division All-Star team.
This season, Mahle is 11-7 with a 2.43 ERA and a 1.121 WHIP. In his last 10 starts, the Dragons starter is 4-2 with a 1.45 ERA. Last season at Billings in the Pioneer League, Mahle wernt 5-4, with a 3.87 ERA and a 1.24 WHIP. His strikeout-to-walk ratio has gone from 4.73-to-1 to 5.33-to-1. In five starts this July, he was 4-0 with a 0.58 ERA.
"Tyler has opened up some eyes," Dayton pitching coach Tom Browning said. "He's surprised people how quickly he's adapted and how efficient he's been. He's probably throwing 13 or 14 pitches an inning for the year, which is outstanding."
Mahle said that the key to surging up the Reds' prospect list -- he's ranked No. 29 -- will be throwing strikes and keeping the ball down in the zone.
"I'm letting batters make their own mistakes, and I'm letting them show me how I'm doing each day, what's working and what's not," Mahle said. "I'm trusting the defense behind me to make plays. I'm getting a lot of ground balls. I'm just filling up the zone, and I'm living low in the zone."
Mahle said that he also worked with his father, Greg, during the offseason to develop an out pitch.
"Last year and the year before, I didn't really have an out pitch," Mahle said. "I lived off of my fastball, especially last year. I moved my fastball in and out. My slider and curve were very average at best -- really, below average. This year, they've been really great, working as an 0-0 pitch, or to get me over for an easy strike, or an 0-2 strikeout pitch. I don't think I'm overpowering. I think I get ahead of a lot of hitters, and they tend to make mistakes after that.
"My dad is probably my best pitching coach, and one that I've learned a lot from, more than anyone else," Mahle said. "He would watch all of the games, and he would tell me, 'You need an out pitch. You need an out pitch.' I kind of knew that, and I'm sure other people did, but no one really told me except for him. We worked really hard this offseason, and now I have two out pitches."
Browning said that Mahle has grown up quickly in the professional ranks, and has a desire to learn and improve his craft.
"I think Tyler's well above his age as far as his maturity," Browning said. "He looks like he understands what he's doing. He looks like he has a purpose with every hitter he faces. Tyler has four good pitches, and he has a knack of knowing what to throw at the right time. He doesn't try to sugar coat anything. He throws a lot of strikes.
"I think it's gotten easier for him," he contined. "It never gets easier to go out there and win, but at least it gets easier with your preparation and you're approach, and you don't make mountains out of molehills."
Browning loves the aggressiveness that Mahle has displayed this season.
"I tell our pitchers, 'If you're going to get beat, get beat on your terms,' That is, throw the ball over the plate, make quality pitches, and if you make some mistakes, get beat by throwing it over the plate," Browning said. "Guys who pitch behind and walk guys, that's an easy disaster to happen. When you go out there knowing you have the opportunity to get your butt kicked, but you're going to be aggressive, you'll find out that there are more positives than negatives. Batters don't hit every ball, every hanging pitch for a home run, a double or a base hit. Batters miss pitchers' mistakes as well."
In brief
Record rout: Cedar Rapids had 27 hits in hammeing Peoria, 23-3 on Monday, the largest margin of defeat suffered by the Chiefs in franchise history. The previous largest margin of defeat for Peoria was a 21-2 debacle suffered on July 4, 2005. The 23 runs allowed is the second-most in franchise history, one run shy of the 24 allowed in a 24-8 loss to Clinton in 1997. After reliever Dixon Llorens faced eight batters in the fourth inning, giving up eight hits and eight runs, three position players -- first baseman Alex DeLeon, catcher Luis Cruz and infielder Jake Gronsky -- pitched the final 4 2/3 innings. Gronsky was 4-for-4 at the plate and gave up no runs and one hit in two-thirds of an inning on the mound.
Long night: Dayton earned a 9-6 victory against Lake County in a 15-inning game on Monday. It was the longest game played by Dayton since the Dragons endured a 16-inning marathon in 2012. A 3-3 tie between the Dragons and Captains stood for nine innings before the Dragons scored three runs in the top of the 14th; Lake County tied it up with three in the bottom of the inning. Dayton then scored three more in the 15th, and Lake County had no response.
Home, sweet, home: Fort Wayne tied a franchise record Tuesday night with a 5-3 victory against Lansing that gave the TinCaps their 15th consecutive home victory. The 2009 TinCaps also reeled off a streak of 15 consecutive victories at home. That team went on to win the Midwest League championship.
Curt Rallo is a contributor to MiLB.com. This story was not subject to the approval of the National Association of Professional Baseball Leagues or its clubs.
View More