MWL notes: Beloit's Beck producing at plate
Lessons from instructs, spring camp have A's prospect thriving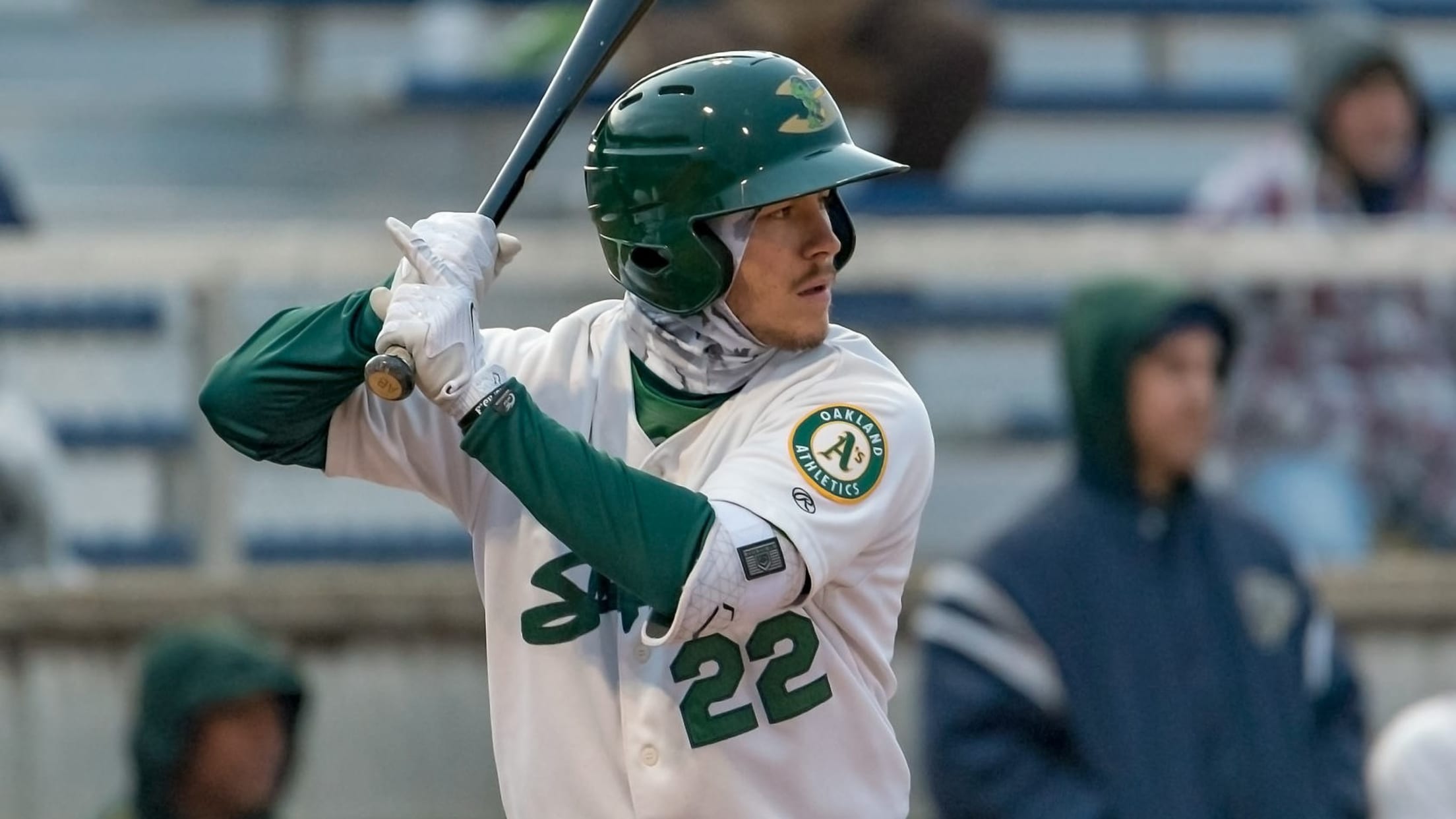 Austin Beck is hitting .292 with seven doubles, four triples, one homer and 39 RBIs for the Beloit Snappers. (Justin Nuoffer/MiLB.com)
For Austin Beck, it was all about the dogpile, even if a torn ACL and torn meniscus during his junior year meant he would have to jog out to North Davidson High School's North Carolina state championship celebration.Beck, who would turn out to be the Oakland Athletics' first-round selection in
For Austin Beck, it was all about the dogpile, even if a torn ACL and torn meniscus during his junior year meant he would have to jog out to North Davidson High School's North Carolina state championship celebration.
Beck, who would turn out to be the Oakland Athletics' first-round selection in the 2017 Draft, put off knee surgery for a month because he had a strong hunch that his team would be hoisting the state championship trophy.
North Davidson won the state title in 2016 and after the dogpile, Beck faced surgery and a grueling rehab.
Beck suffered his injury during the 2016 state tournament, hyper-extending his knee during pregame throwing drills.
"It was brutal," Beck said.
"I was motivated to get done as soon as possible and get back before the next season. I was at the rehab place three or four hours every day. I know it's a lot, but I had a mindset that I wanted to be back quicker than most."
Beck returned full force months ahead of schedule. Already committed to the University of North Carolina and projected as a top 15 pick, Beck missed the Summer Showcase tour. He answered questions about his recovery with pre-Draft workouts at his high school and a monster senior season. He hit a blistering .590 with 12 homers and 38 RBIs in 28 games, leading North Davidson to another state crown.
Oakland was impressed enough with Beck's return to select him sixth overall and give him a franchise record $5.3 million signing bonus.
Oakland manager Bob Melvin told MLB.com that Beck had the look of a legitimate five-tool guy.
"He throws, he runs, he hits, he hits for power, all the type of things you would hope you would get in a premier first-round pick," Melvin said after seeing Beck at a workout. "He's got all those tools, so we're excited about him."
Assigned to Beloit in the Midwest League for the 2018 season, the 6-foot-1, 200-pound outfielder is hitting .292 with seven doubles, four triples, one homer and 39 RBIs.
After a rough debut season in the Rookie-level Arizona League last year, Beck went to instructional league.
"It was tough, adjusting to the pitching and the speed of the game," Beck said of the transition to pro ball. "I went to instructionals last year and changed my swing. I calmed it down a lot. I came into Spring Training and crushed it. I knew I was going to have a good season if I maintained my approach and kept my swing."
This season, although his power numbers may not reflect it, the No. 5 A's prospect is driving the ball with authority. He's staying gap-to-gap and maintaining his approach.
"I'm trying to stay true to myself, swing at balls in the zone and trying to drive the ball," he said.
"Being a competitor, you have to know when to calm it down some. It's tough not to swing at pitches. If you're 0-for-0 with two walks to lead off the game, you're like, 'Dude, I just want to swing the bat.' You start swinging at pitches out of the zone. Again, you have to know when to calm it down."
When Beck does struggle, he prefers to rely on his intuition.
"I don't like watching video," he said. "I don't like getting too mechanical and watching my swing. If I feel something in my swing, I'll fix it in the cage. If I watch video, it gets in my mind too much. I just figure things out. I talk to my hitting coach, but most of the time, if I feel it in my swing, I figure it out and I fix it."

In brief
Western success:
Great Lakes is enjoying the change of scenery as it escapes Eastern Division play for brief action against Western Division teams. Great Lakes finished the first half with a 24-44 record, the worst first half in Loons history. The Loons lost their first nine games and 15 of their first 16 games in the second half. They were on a 3-16 skid -- all against Eastern Division opponents -- before they took on Western Division teams Burlington and Clinton in six games this past week. In those six games, Great Lakes is 5-1, and Loons pitchers have thrown four shutouts, allowing two runs in that six-game stretch.
Lights out:
On July 13, Lansing rallied for five runs to tie Burlington, 7-7, in the top of the ninth inning, but a thunderstorm and then a bank of lights going out at Community Field in Burlington brought an abrupt end to the contest. By baseball rules, the game went back to the last completed inning. Burlington wound up with a
7-2 victory
.
Peralta return:
Milwaukee Brewers rookie pitcher
Freddy Peralta
made a start on Wednesday for the Wisconsin Timber Rattlers, the team he pitched for in 2016. Peralta is 4-1 with a 2.65 ERA in seven starts this season for the Brewers. His start with Wisconsin -- in which he allowed a run on one hit and struck out five over two innings -- was an opportunity for Peralta to pitch in game conditions during the Major League All-Star break.
Curt Rallo is a contributor to MiLB.com.