Outfield trio headlines Padres All-Stars
Depleted by offseason trades, new prospects emerged in 2015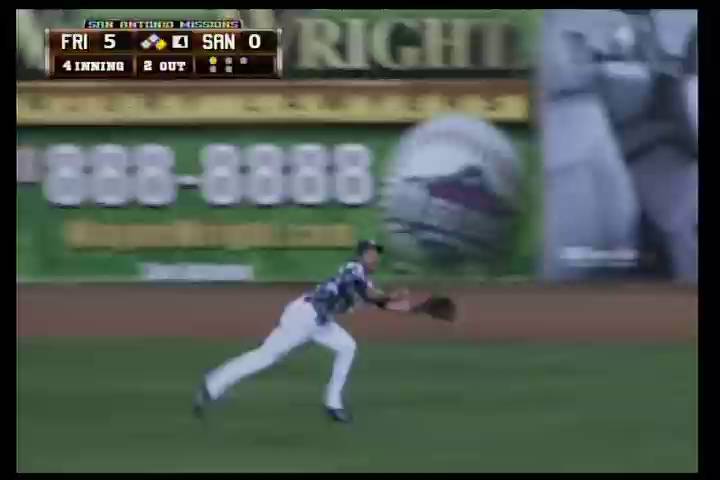 By John Parker / MiLB.com | December 7, 2015 10:00 AM
This offseason, MiLB.com will be honoring the players -- regardless of age or prospect status -- who had the best seasons in their organizations. We're taking a look at each team to determine the outstanding seasons in Minor League baseball.
New Padres general manager A.J. Preller made a host of moves last winter, acquiring big-name Major Leaguers like Justin Upton, Wil Myers and Craig Kimbrel in return for top-100 prospects like Trea Turner, Max Fried and Matt Wisler. One year later, the results seem mixed at best, but despite the farm system's losses, new players emerged to earn playing time.
The results of the 2015 season were also mixed at the affiliate level for the Padres: Double-A San Antonio and Class A Advanced Lake Elsinore had the worst records in their leagues, but Triple-A El Paso, Class A Fort Wayne and Class A Short Season Tri-City all won division titles and made playoff appearances, with each falling to their eventual league champions.
Preller has already begun restocking the farm, dealing Kimbrel to Boston for four of the Red Sox's top 30 prospects. But before the new players arrive, let's look at San Diego's 2015 All-Stars, which feature a trio of intriguing outfielders.
Padres Organization All-Stars
Catcher -- Rocky Gale, El Paso (102 games), San Diego (11 games): A 24th-round pick out of the University of Portland in 2010, Gale posted horrid numbers in his first two full seasons. After batting .174/.205/.230 in 2012, Gale has steadily improved and had a career year with the Chihuahuas in 2015, batting .307 -- which would have tied for third in the Padres system had he the plate appearances to qualify.
Power is not part of the 27-year-old Gale's arsenal -- he has four homers in 414 career Minor League games -- but his increased ability to put the ball in play and his steadiness behind the plate, from where he threw out 35 percent of would-be base stealers, earned him a late-season callup to San Diego.
First base -- Cody Decker, El Paso (120 games), San Diego (eight games): Decker is probably better known as a video prankster, aspiring Hollywood actor and Twitter phenomenon, but he can play a little baseball, too. The UCLA product led the Padres system in homers for the second straight season (after finishing second in the previous two campaigns), and only Hunter Renfroe (78) drove in more runs than Decker's 75. He also provided some versatility for the Chihuahuas, spending 30 games at third base, two at catcher and even making one relief appearance on the mound (about which the less said, the better).
After 761 Minor League games and 154 Minor League homers, Decker finally got the call to the Majors in September, becoming the 19th member of the 2009 Midwest League champion Fort Wayne TinCaps to reach the bigs. (No other Class A team, per our research, has produced more than 16 Major Leaguers.)
Second base -- Luis Urias, Tri-City (10 games), Fort Wayne (51 games): Urias turned 18 just three weeks before the Northwest League season began but so dominated the short-season circuit -- he had 11 hits and drew five walks in 10 games -- that he was quickly promoted to Fort Wayne, where he collected three hits and scored four times in his July 6 debut.
Power is not one of Urias' many assets -- he has no home runs and just 11 doubles in 106 Minor League games -- but he has an advanced approach at the plate and in the field has the range (if not the arm) to play shortstop. Last winter, Obregon made him one of the youngest players ever in the Liga Mexicana del Pacifico; this winter, despite being 10 years younger than the average player, he's batting .280 with a .369 on-base percentage through 36 games in the Mexican winter circuit. Such production at such a young age bodes extremely well for Urias' future.
Third base -- Brett Wallace, El Paso (61 games), San Diego (64 games): A first-round pick by the Cardinals in 2008, Wallace is a well-traveled ballplayer. In eight pro seasons, he's played for six different organizations (and twice for the Blue Jays). In parts of four Major League seasons with the Astros, the former top prospect was never more than an average hitter, which was not enough for a corner infielder.
Always a Triple-A threat -- Wallace has hit .302/.370/.479 at that level in his career -- the Arizona State product was predictably potent in 61 games for El Paso this year and perhaps even better in limited action for the Padres, batting .302/.374/.521 with five homers in 107 big league plate appearances. More than half those plate appearances (and four of the homers) came as a pinch hitter, with similar splits against righties and lefties. Wallace may be a good option for a team seeking a lefty bat off the bench.
Shortstop -- Trea Turner, San Antonio (58 games), Harrisburg (10 games), Syracuse (48 games), Washington (27 games): Few players have had a crazier last 12 months than Turner. In June 2014, the Padres made the NC State star the 13th overall pick in the Draft. Six months later, they dealt him -- as a player to be named later, since MLB rules at the time prohibited the trade of a first-year player -- to Washington. Because of that restriction, Turner began the season with Double-A San Antonio before finally joining the Nationals in mid-June.
None of the turmoil seemed to affect Turner's play. The Florida native hit .322/.385/.471 in his first 58 Double-A games for the Missions, was similarly strong in the Nationals system and made his Major League debut in late August. Had he remained with the Padres, his .322 batting average would have ranked second in the system; instead, with Ian Desmond hitting free agency, Turner may become Washington's starting shortstop as soon as next spring.
Honorable mention: Ramiro Pena
Utility -- Jake Goebbert, El Paso (122 games): After playing 51 games with the Padres in 2014, Goebbert spent the entire 2015 campaign in El Paso, where he spent at least 20 games at first base and each of the three outfield positions. The Northwestern product ranked sixth in the system with a .294 batting average and, of Padres farmhands playing at least 50 Minor League games, only teammate Travis Jankowski and Ty France, a 34th-round pick in the June Draft, topped Goebbert's .392 on-base percentage.
Goebbert combines on-base skills and defensive versatility with a little bit of power: he went deep 14 times in 2015 after homering 40 times in the previous two seasons. That skill set -- as well as the fact that his family owns a pumpkin farm, no doubt -- appealed to the Pirates, who signed him to a Major League contract on Nov. 25.
Outfielders
Alex Dickerson, El Paso (125 games), San Diego (11 games): Those same Pirates may regret letting Dickerson, their third-round pick in 2011, go to his hometown team in a trade following the 2013 season. The Indiana University product missed much of the 2014 season after having surgery to remove a cyst on his heel but rebounded to lead the Padres system in slugging (.503) and triples (nine), rank second with 36 doubles and third with a .307 average.
Despite his 6-foot-3, 230-pound frame, Dickerson's highest home run total in a season is 17 (for Double-A Altoona in 2013). So, though he may not often threaten Petco's outfield seats, he's demonstrated he can hit the ball hard.
Travis Jankowski, San Antonio (73 games), El Paso (24 games), San Diego (34 games): Jankowski began the season having played just 29 games above Class A and ended it in the National League. In between, he put up strong numbers with San Antonio and absurd stats in 24 Triple-A games, hitting .392/.464/.495 for El Paso.
The 24-year-old, who bats from the left side, hit just one homer in the Minors but led the system in batting (.335), on-base percentage (.413) and stolen bases (32). He also covered a great deal of ground in center field. After fanning 50 times and drawing 49 walks in the Minors, Jankowski uncharacteristically struck out 24 times and walked just four times in 96 MLB plate appearances. Now the Padres' No. 7 prospect, he has the tools to make the necessary adjustments.
Rymer Liriano, El Paso (131 games): Three years ago, Liriano was rated the Padres' top prospect and ranked as high as No. 55 overall. He missed the entire 2013 campaign following elbow surgery but came back strong in 2014 and earned a late-season callup to San Diego. Now 24, Liriano was even better in 2015, batting .292/.383/.460 with 14 homers, 18 stolen bases and a system-high 85 runs scored.
Liriano's power numbers have never quite lived up to his scouting reports and he benefited from a favorable .376 average on balls in play this year, but 2015 marked a step forward. An improved eye at the plate helped him draw 64 walks -- second-most in the organization -- and offset his 24-percent strikeout rate.
Honorable mentions: Nick Torres, Hunter Renfroe
Right-handed starting pitcher -- Colin Rea, San Antonio (12 games), El Paso (six games), San Diego (six games): In March, Rea was a 24-year-old who had never pitched above Class A, and as such did not rank among the Padres' top 30 prospects. By the end of a stunning season worthy of consideration for the Breakout Prospect MiLBY award, the Indiana State product had made six solid big league starts and is San Diego's top pitching prospect.
It all started in San Antonio, where Rea utterly dominated the Texas League with improved command and greater velocity on his fastball, which now touches 96 mph. In 12 starts for the Missions, Rea held hitters to a .185 average while posting a 1.08 ERA and 0.81 WHIP. Those numbers rose in the hitter-friendly PCL, but he nevertheless allowed just three home runs over 101 2/3 Minor League innings.
Left-handed starting pitcher -- Thomas Dorminy, Fort Wayne (25 games): A 10th-round pick in 2014, Dorminy was a workhorse for the TinCaps in his first full season. He tossed 141 innings -- fifth-most in the Padres system -- in 25 Midwest League starts and closed out the campaign by allowing just two earned runs over 26 innings in his last four outings.
A midseason All-Star, Dorminy was actually much better in the second half of the season, holding the opposition to a .210 average. The southpaw was effective against left- and right-handed hitters, though 40 of his 48 walks were issued to right-handed hitters and his strikeout rate was much higher against lefties.
Relief pitcher -- Colby Blueberg, Fort Wayne (41 games), Lake Elsinore (one game): Blueberg began the season with one disastrous appearance for Lake Elsinore, allowing four earned runs in 1 2/3 innings. After spending two weeks in extended spring training, he re-emerged as a shutdown closer for the TinCaps, who finished with the top record in the Midwest League's Eastern Division.
What Dorminy started for Fort Wayne, Blueberg often finished. The right-hander, who was chosen 14 rounds later in the 2014 Draft, led the organization with 21 saves and yielded only 33 hits -- none of them homers -- in 58 2/3 innings for the TinCaps, good for a 1.07 ERA and .163 average against.
Honorable mentions: Kyle McGrath, Michael Dimock
John Parker is an editor for MiLB.com. This story was not subject to the approval of the National Association of Professional Baseball Leagues or its clubs.
View More