Tatis Jr., Potts played beyond years for TinCaps
Teenage Padres prospects flashed historic pop for youthful squad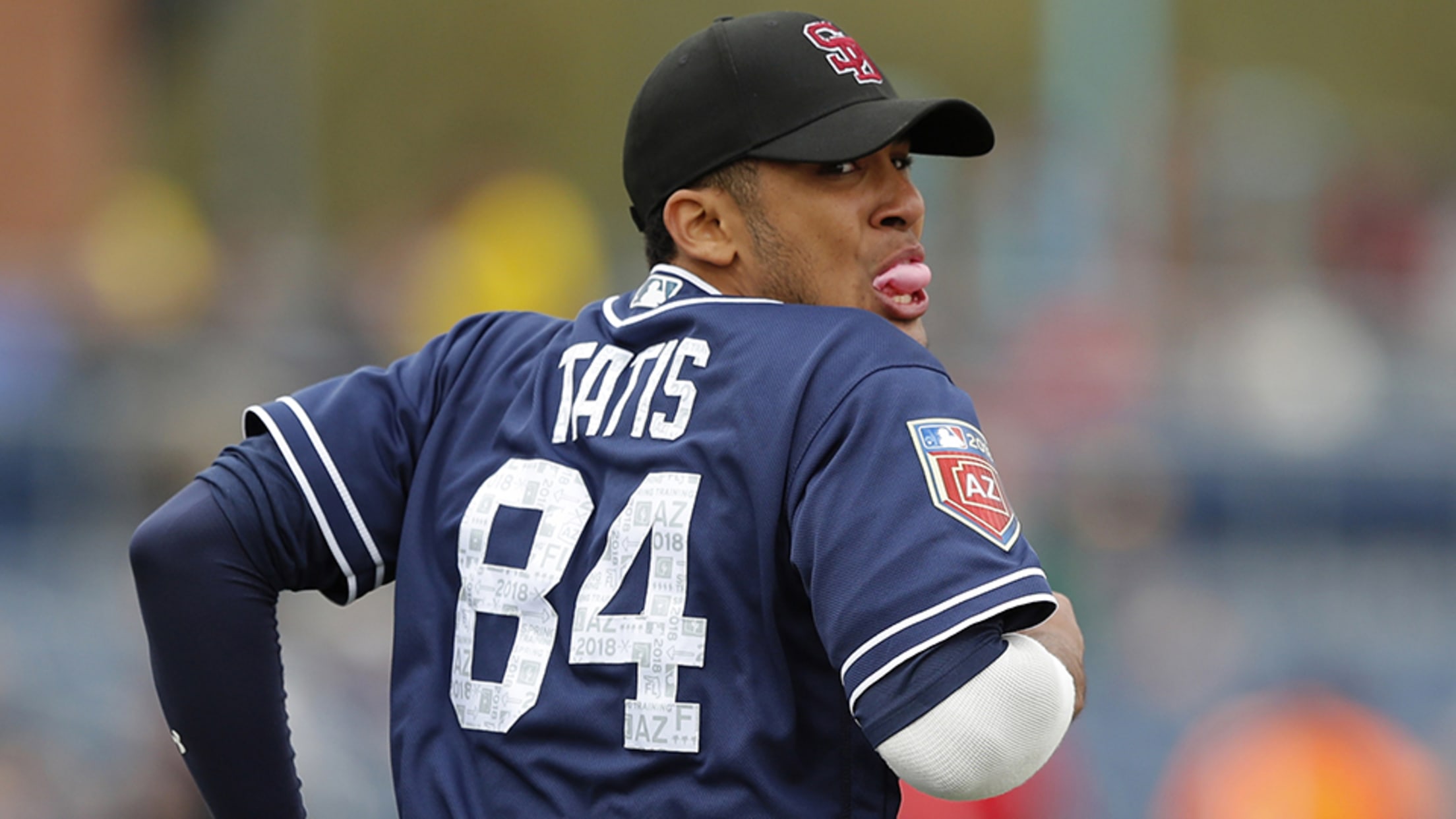 At 19, Fernando Tatis Jr. is the youngest player participating in a Major League camp this spring. (Charlie Neibergall/AP)
Since their professional baseball careers began, Fernando Tatis Jr. and Hudson Potts have been difficult to separate.After the White Sox signed Tatis out of the Dominican Republic in 2015, the Padres acquired him in June 2016 in a trade for James Shields. Five days later, San Diego selected Potts, a
Since their professional baseball careers began, Fernando Tatis Jr. and Hudson Potts have been difficult to separate.
After the White Sox signed Tatis out of the Dominican Republic in 2015, the Padres acquired him in June 2016 in a trade for James Shields. Five days later, San Diego selected Potts, a third baseman, with the 24th overall pick in the Draft out of Southlake Carroll High School in Texas.
The two players took the field together for the first time on June 22 of that season for the Padres' Rookie-level Arizona League affiliate. Potts -- who changed his last name from Sanchez to his stepfather's last name after being drafted -- was the designated hitter; Tatis, the son of a former big league third baseman, started at shortstop.
After thriving at the complex level, both players moved up to Class A Short Season Tri-City for the final month of the summer. As the 2017 season began, it came as no surprise to either man when they were assigned to Class A Fort Wayne.
"We've always moved around to leagues together," Tatis said. "We're close in the lineup, close in the field and then close off the field at the same time."
"We were just kind of always together," Potts agreed.
At 18 years old, Tatis and Potts not only were two of the youngest players on the TinCaps roster but were among the youngest in the Midwest League. They were hardly alone in the Fort Wayne locker room, however.
Four other teenagers began the year with the club: second baseman Reinaldo Ilarraza, outfielder Jack Suwinski and infielder Eguy Rosario were 18, while right-hander Logan Allen was 19. That number grew to seven when 18-year-old left-hander Adrian Morejon joined the team in late July. Teenagers comprised 75 percent of the infield, with Potts at third, Tatis at shortstop, Ilarraza at second and 22-year-old Brad Zunica the elder statesman at first.
"There were a lot of younger guys, but we were able to be serious when we needed," Potts said. "But with younger guys and younger personalities, it was a lot of fun. You could tell a difference throughout the year. I think it kept our energy levels up throughout the season."
"Seeing all those guys my age around, I knew it was going to be fun," Tatis added. "But at the same time, I knew it was going to be a process of adaptation."
The young shortstop's words rang true as he hit .230 through the first 23 games of the Midwest League season. Potts did not fare much better, batting .224 with one homer at the end of April. By the All-Star break, Tatis had gotten his average up to .260 with nine homers; Potts, however, stood at .226 with six long balls.
Potts said he never lost confidence. Rather, he looked to his teammates for a lift.
"I just tried to stay strong mentally and I knew I'd be able to pull out of it," he said. "I think each one of us, when we did struggle, we were able to see what everyone else on the team was doing, and I think our chemistry started to build. We were really playing for each other."
Both players took off after the break. Potts clubbed 14 homers in his final 65 games, more than doubling his first-half total, while batting .346 over 27 games in August. Tatis hit .311 and swatted 12 second-half homers in 14 fewer games.
"It was scary when pitchers were seeing us," Tatis said.
The stretch propelled the duo higher and higher in the Midwest League home run race. Tatis eventually settled into fourth with 21 -- eclipsing the TinCaps record of 20 set by Jake Patterson in 1997 -- while Potts tied the record and finished one spot back. Not only did the two make team history, they were the first 18-year-olds to hit at least 20 homers in the Midwest League since Derek Parks clubbed 24 for the Kenosha Twins in 1987.
While striving toward history, they also silently competed with each other.
"We never put it on the table," Tatis said with a laugh. "But everyone knew it was there and we were competing."
The contest didn't keep him and Potts from helping each other whenever possible.
"I'd ask him different stuff at different times," Potts said. "We definitely tried bouncing ideas off each other and picking up different things that happened in the game or that could happen in the future. We were always trying to learn."
Tatis and Potts became one of two sets of Midwest League teammates to belt 20 homers, joining Lake County's Emmanuel Tapia (29) and Conner Capel (22). But their run of dominance came to an abrupt end in late August. The Padres promoted Tatis to Double-A San Antonio for the final two weeks, bypassing Class A Advanced. The move surprised the Dominican youngster, who had expected to be with Fort Wayne through the playoffs.
Instead, the duo was split up for the first time. Potts understood the hole his friend's departure would leave in the lineup.
"He was a huge part of us and our success throughout the year," Potts said. "Him getting moved up, I mean, that was awesome. He deserved all of that. But we knew as a team that was a hole. We needed to come together and just play how we knew each one of us could play."
The TinCaps did just that, riding a late surge to the Midwest League Championship Series where they were defeated by Quad Cities. Tatis' replacement, 17-year-old Gabriel Arias, filled in nicely with a .276 average in eight postseason contests.
Tatis also finished strongly, collecting hits in each of his last nine games with the Missions after a slow start in the Texas League.
"The pitching was better. It was a challenge," MLB.com's No. 8 overall prospect said. "But at the end, I think I got how to read them and by then I had a good time."
With training camps open, both players are ready to resume their journeys. Potts spent the winter honing his speed with an eye toward becoming a better baserunner, while Tatis drilled himself in a number of areas. They've reported to Arizona, with Tatis checking in as the youngest player in any big league camp. He's already asserted himself, homering in the Padres' Cactus League opener on Friday.
This season may be the first that Tatis and Potts don't start in the same infield. But neither is ruling out a reunion.
"Hopefully," Tatis said. "Huddy's a great guy and I love playing with him. It would be great to be next to him again."
"We'll just let it all play out," Potts said.