RailRiders zip Braves, win Governors' Cup
Four pitchers combine on five-hitter; Cave selected IL Finals MVP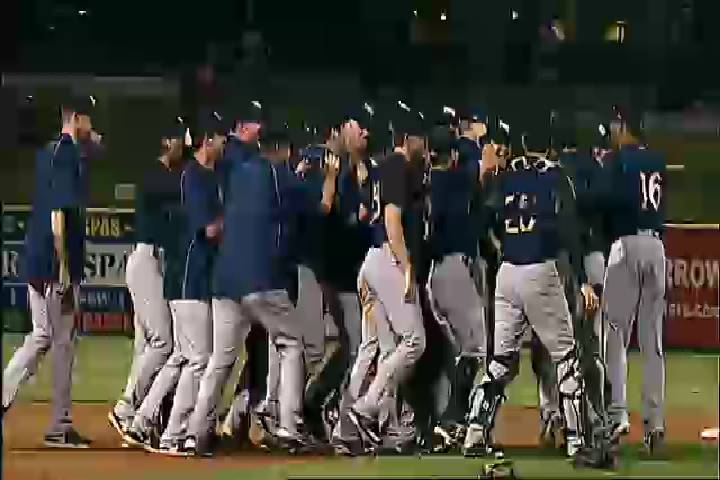 By Michael Leboff / MiLB.com | September 16, 2016 11:04 PM
In a season in which they set a franchise record with 24 shutouts, it was only fitting that Scranton/Wilkes-Barre captured the Governors' Cup riding a 23-inning scoreless streak.
Daniel Camarena, Johnny Barbato, Tyler Webb and Giovanny Gallegos combined on a five-hitter Friday as the RailRiders won their first International League championship since 2008 with a 3-0 blanking of Gwinnett at Coolray Field.
"It was impressive how the pitching staff performed throughout the whole season," Scranton/Wilkes-Barre manager Al Pedrique said. "[Pitching coach] Tom Phelps did an outstanding job with them. We kept saying it's not as much about the result, it's just the fact that they trust him and prepare well. Those guys really pay attention to detail and they deserve all the credit in the world."
Neither offense could get anything going in the early innings as Camarena and Gwinnett's Rob Wooten posted zeros through first four frames.
The RailRiders took the lead in the fifth on back-to-back RBI singles by Mark Payton and Yankees top prospect Clint Frazier.
Payton drove in an insurance run with a triple to right field in the seventh that plated Cito Culver. The 24-year-old outfielder was called up this week after spending the first part of the postseason with Double-A Trenton, which fell to Akron in the Eastern League Finals.
After allowing a pair of one-out singles in the sixth, Camarena (1-0) handed the ball to Barbato, who retired Ronnier Mustelier and Sean Kazmar to escape the jam. Webb took over in the seventh and worked two perfect innings.
In the ninth, Pedrique called on Gallegos to close out the series, and the 25-year-old right-hander responded with a 1-2-3 frame. He retired Sean Kazmar on a fly ball to center field before getting mobbed by his teammates on the mound.
"The pitching throughout the year kept us in games," Pedrique said. "The combination of great starters, a great bullpen and great defense won us this title."
Yankees No. 23 prospect Jake Cave was named as Governors' Cup Finals MVP after batting .348 with a homer and three RBIs in the four-game series.
"[Hitting coach] Tom Wilson talked to Jake and told him to be more patient, and I'm glad he listened to him," Pedrique said. "He came through with great at-bats. It's a well-deserved honor for him. He's been working real hard on his mechanics and slowing the game down."
The RailRiders, who finished with the best winning percentage (.636) and most victories (91) of any full-season Minor League team, head to Memphis for the Triple-A National Championship Game on Tuesday. They will face the winner of the Pacific Coast League Championship Series between Oklahoma City and El Paso.
"Right now, everyone's just happy and celebrating," Pedrique said. "It was a well-deserved championship. It's hard to explain how it feels, but it was a great year from everyone, from the staff to the players. I'm glad that we had this opportunity, especially for the young guys so they know what it feels like to play in meaningful games and win a championship."
Gwinnett starter Rob Wooten (0-2) struck out eight over five innings but allowed two runs on five hits and a walk.
Michael Leboff is a contributor to MiLB.com. This story was not subject to the approval of the National Association of Professional Baseball Leagues or its clubs.
View More