MWL notes: Dragons' Friedl plays the field
Reds No. 16 prospect splitting time evenly across the outfield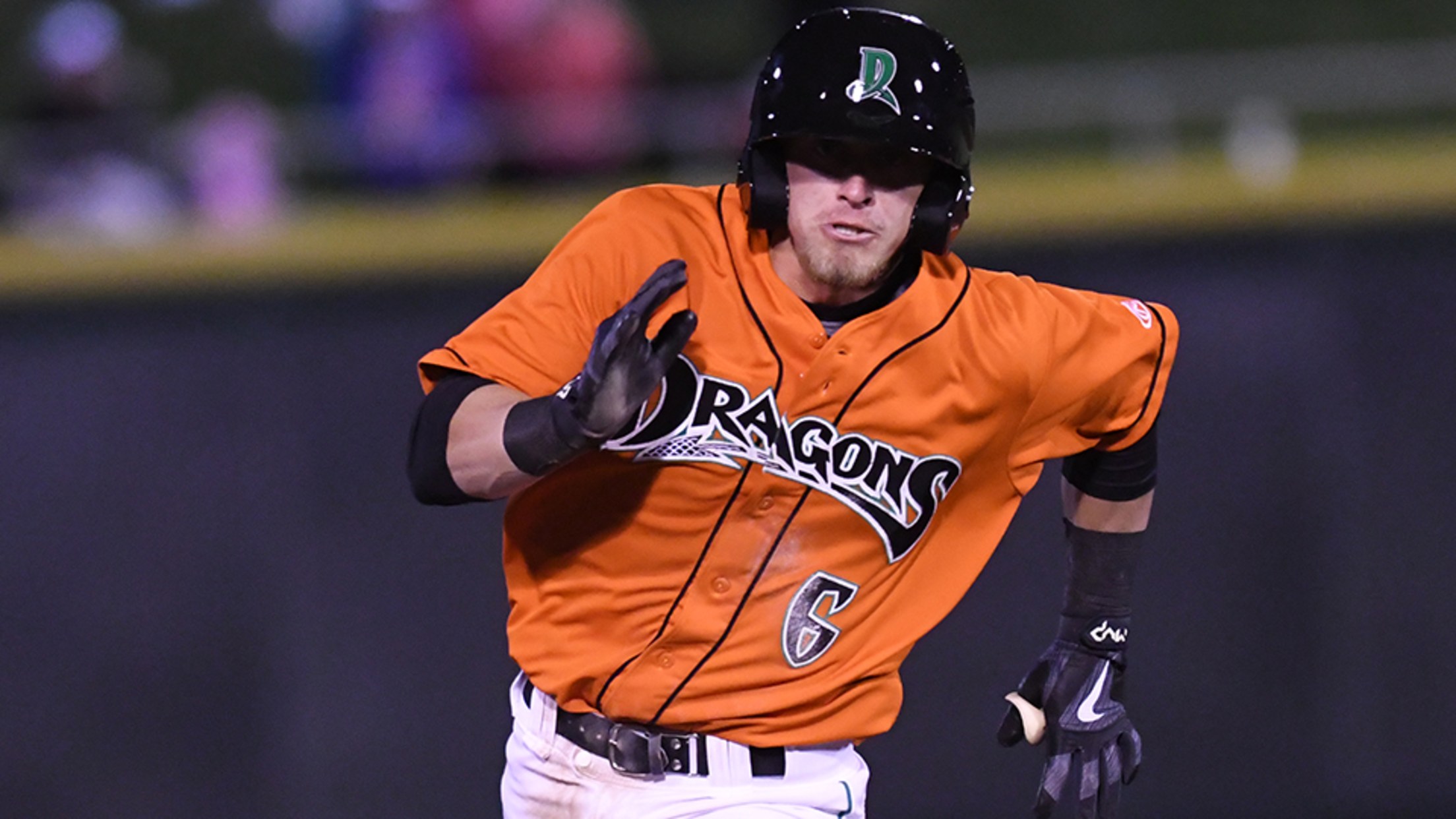 T.J. Friedl has played five games in left field, six in center and five in right for Dayton this season. (Nick Falzerano/Dayton Dragons)
On Monday, Dayton's T.J. Friedl played in center field.On Tuesday, Friedl was penciled in at right.On Wednesday, Friedl trotted out to patrol left.
On Monday, Dayton's T.J. Friedl played in center field.
On Tuesday, Friedl was penciled in at right.
On Wednesday, Friedl trotted out to patrol left.
Playing all the fields has been the play for Friedl, the Reds' No. 16 prospect, since the start of Spring Training. This season, the 21-year-old has played five games in left field, six in center and five in right.
"There's a lot of learning going on," Friedl said of his defensive assignments. "I played center field my whole life. My freshman year of college I played a little bit of left. I played some [right field] last year in Billings, Montana, but this year, I'm playing a lot of right field.
"I worked a lot in Spring Training, playing different positions, learning where to line up, learning how to read pitches. It's been a lot of work, but I'm getting the hang of it, and it's starting to come around."
Friedl, a 5-foot-10, 170-pound left-handed hitter, is figuring out the fade of the ball hit to right field by a right-handed hitter, or the slice to the line when a lefty stings a ball to left field.
"That's something you get from experience -- it's something you get from getting reps and live reads," Friedl said of picking up the nuances of playing each outfield position. "Getting BP reads, you learn that."
Dayton manager Luis Bolivar said Friedl is a solid prospect for the Reds.
"He's a great player -- he's a gamer," Bolivar said. "He goes about his business. He runs well, and he has a good arm. He's the complete package. He's a prospect, and we're glad to have him."
Bolivar said the former Nevada standout has an exceptional work ethic. Friedl grinds every day working on outfield defense at all three positions, and that work is paying off.
"What's impressive is he can play all three outfield positions very well," Bolivar said. "He's still learning. He's working more on playing right field. He's really more of a center fielder. I think the more he plays, the better he will be. He just needs more experience at the professional level.
"If he can play all three outfield positions well, it's huge. Right now, we can put him in any position in the outfield, and he gets the job done."
Friedl doesn't mind a different position each day.
"I'm glad I'm getting this experience," Friedl said.
Friedl made a splash when he signed a bonus of nearly $735,000, the largest for a non-drafted free agent. He wasn't considered a 2016 MLB Draft prospect because of confusion about his eligibility, because he was a red-shirt freshman. After a stellar showing with Team USA, a bidding war of sorts broke out over Friedl.
After signing with the Reds, he made another splash by homering twice in his first game with Billings.
Friedl had another dramatic debut this spring, slugging a homer in his first big league exhibition game. Friedl went yard on Giants' reliever George Kontos, whom Friedl cheered for as a youngster growing up in the Bay Area.
Friedl, who is batting .282 with a homer, seven RBIs and five stolen bases in 19 games for the Dragons, hopes he can make more than a splash with a Major League career that will be boosted by his versatility in the outfield.
"If the Reds need somebody in left or right, they don't just look at me and say I'm only a center fielder," Friedl said. "They know I have experience in left, center and right. If anything happens in a game, sudden notice, they don't have to double-think or rethink their options. They will know I can go out there and play whatever position they need in the outfield."

In brief
Mound collapse:
Bowling Green pitching limited Lansing to just two runs in the first two games of its recent series with the Lugnuts, but the pitching came crashing down Saturday. Bowling Green saw an eight-run lead disappear in a
12-10 loss to the Lugnuts
.
Robbie Tenerowicz
pitched in the eighth inning for the Hot Rods, his first career appearance on the mound. He's played three different positions in the infield so far this season.
Reed returns:
Former University of Florida star
Buddy Reed
is back in the Fort Wayne lineup after missing three games with back issues. Reed, a second-round pick last season, has hit safely in four of his five games since returning. Reed first hurt his back in Spring Training.
Blast off:
Quad Cities boasts 28 homers in 19 games, tops in the Minor Leagues. Last season, the River Bandits hit 61 homers for the entire 2016 season. Bradley Jones of Lansing and
Carlos Rincon
of Great Lakes lead the Midwest League with six homers each, but the River Bandits have seven players in the top 30 in the league with three homers each: Marcos Almonte, Rodrigo Ayarza,
Daz Cameron
,
Ronnie Dawson
, Spencer Johnson,
Jake Rogers
,
Stephen Wrenn
.
Grand theft baseball:
Dayton stole eight bases against Lake County in a
7-3 win on April 8
, tying a club record. The Dragons also stole eight bases in a game on June 27, 2009. Dayton leads the Midwest League with 37 stolen bases. Great Lakes, Fort Wayne and Lake County are next with 22 stolen bases each.
Curt Rallo is a contributor to MiLB.com.