Resurgent Coulter leads Brewers' stars
Just like organization, catcher-turned-outfielder had bounceback year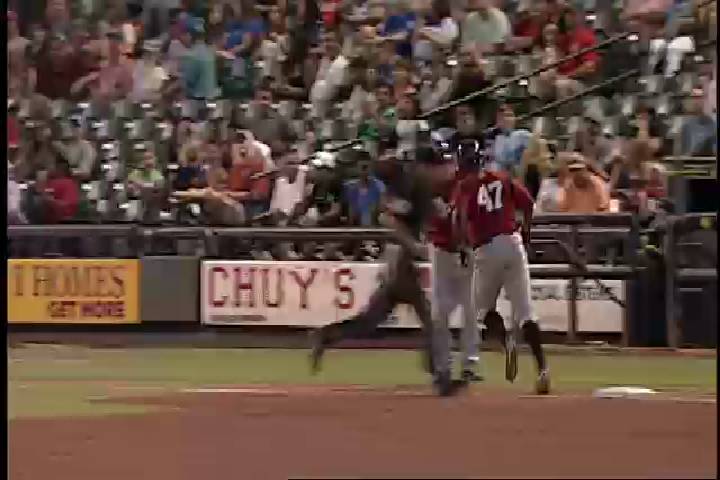 By Robert Emrich / MiLB.com | November 10, 2014 10:00 AM
This offseason, MiLB.com is honoring the players -- regardless of age or prospect status -- who had the best seasons in their organization. We're taking a look at each team to determine the outstanding seasons in Minor League Baseball. Select a team from the dropdown below:
Not just the name of a movie (and its neverending sequels), "step up" also might be the phrase best used to describe the Brewers organization this year.
As a system, the Brewers were leaps and bounds better on the field in 2014, posting a winning percentage that was 55 points higher than the year before. After ranking 28th with a .442 mark in 2013, Milwaukee improved to 15th overall at .497. The organization's top four affiliates all finished above the .500 mark, with Double-A Huntsville, Class A Advanced Brevard County and Class A Wisconsin reaching the playoffs.
Emblematic of the gains the organization made were a pair of right-handers, Jimmy Nelson and Mike Fiers. They comprised perhaps the best 1-2 pitching combo in the Pacific Coast League, with Nelson compiling a 1.46 ERA and Fiers a 2.55 mark, both of which would have been good enough to lead the league had they pitched enough innings to qualify. Instead, they both got the call to Milwaukee, where they made a combined 22 starts.
The theme spreads organization-wide, as many of the players who enjoyed the best years were bouncing back from rough seasons.
Brewers Organization All-Stars
Catcher -- Clint Coulter, Wisconsin (126 games): After an injury-plagued 2013, Coulter improved across the board, playing in 56 more games than the year before while boosting his OPS by 216 points. The 2012 first-round pick led the organization with 22 homers and 89 RBIs while batting a solid .287 for the Timber Rattlers.
"He made a big improvement," said Reid Nichols, the Brewers' director of player development. "I think he'll make more next year. He was a little more selective at the plate. He's learning how to slow it down. He was a little too firm and hard on his stride and he's learned to soften it up a bit, and it's really helped him."
Though there's a good chance you'll see the Brewers' No. 7 prospect on this list next year, it almost certainly won't be at the same position, Nichols indicated.
"His catching didn't get a whole lot better and we moved him to right field for now," he said of Coulter, who has continued his season in the Arizona Fall League. "He's working in the outfield and he's made a pretty good adjustment."
First base -- Nick Ramirez. Huntsville (133 games): Despite making the jump to Double-A, Ramirez managed to equal his 2013 home run total with 19 while driving in a career-high 82 runs. He succumbed to a second-half slump, compiling a .633 OPS in 65 games after the All-Star break but still managed to tie for third in the Southern League in homers while leading the league in RBIs. The 25-year-old also was one of the better defensive first basemen in the circuit, posting a .995 fielding percentage.
"He's gonna be a good hitter," Nichols said. "He made some adjustments and, of course, he had a lot of strikeouts, but that's something we're working on. He knows that's his goal, to cut down on the strikeouts and change his approach with two strikes and be a little more selective early in the count."
Second baseman -- Chris McFarland, Wisconsin (100 games): Repeating at Wisconsin, McFarland increased his batting average by 46 points and saw his OPS rise from .656 to .719. The 21-year-old also increased his stolen base total from seven to 30, tying for 12th in the Midwest League.
"I really think he came in more focused," Nichols said. "Different approach at the plate, more business-like. I think he started getting a bit more serious about his job."
Nichols attributed the rise in steals to an organizational emphasis.
"We [used to have] a roving baserunning instructor and we went without one this year, and I think everyone took it to heart that it was their job, too," he said of the coaches at each level. "Our teaching was to be more aggressive on the basepaths -- we didn't care if you got thrown out, we just wanted to see if you could steal or not. I think it's paid off. We were happy with the improvement in the basestealing, although that's not the focus; we just want the guys to be more aggressive. "
Shortstop -- Orlando Arcia, Brevard County (127 games): Despite moving to a less hitting-friendly environment in the Florida State League, Arcia posted career highs in nearly every offensive category. The Brewers' No. 2 prospect amassed 144 hits, 29 doubles, 50 RBIs, 42 walks and 30 stolen bases while still playing the solid defense for which he's known.
"He's a very good player," Nichols said. "He's kind of like [former Brewer Alcides] Escobar here when he was young, and he was a little bit like Escobar where every night you go, 'Wow, that's a good play.' He's solid at the plate, he's got such good hand-eye coordination. He hits bad balls well, though we're trying to get him to be more selective at the plate. This kid is a Major League shortstop."
Third baseman -- Jason Rogers, Huntsville (77 games), Nashville (57 games): With just one game at third base under his belt (in 2010, no less), Rogers made the transition to the hot corner in 2014 and continued putting up strong offensive numbers. The 26-year-old tied for fourth in the organization with 18 homers, tied for second with 82 RBIs, and his .296 batting average -- the second-highest mark of his career -- ranked second among Brewers Minor Leaguers. Defensively, he showed improvement as the year went on, committing seven errors in 56 games after his promotion to Nashville, as opposed to 14 in 66 games prior.
"He's gonna hit wherever he plays," said Nichols. "His range is OK at third and his arm is playable, but he makes the everyday play, which is what you want, and the kid's gonna hit. He's just a good hitter and he had time to work on third base in the instructional league last year. He's a good athlete and he can probably play anywhere in the field. I think his best position is first base and next is third and then the outfield. He can do with all three."
Outfielders
Tyrone Taylor, Brevard County (130 games), Huntsville (five games): Considered a gifted athlete, the Brewers' top prospect flashed those traits in 2014, smacking 36 doubles, stealing 23 bases and batting .273 in 135 games. Defensively, Taylor racked up eight outfield assists and committed only two errors while playing 133 of 135 games in center field.
"He's obviously a big league outfielder and it's just a matter of time," Nichols said, himself a former big league outfielder. "We're trying to get him up the middle more. I think, as he gets a little more focused up the middle, his batting will get better. And his defense is outstanding now. He's a complete player. He can run, he can catch, good arm -- he's gonna be a good one."
Jeremy Hermida, Nashville (108 games): A 2002 first-round pick who's played 1,456 games between the Minors and Majors, Hermida provided a veteran boost to the Sounds lineup and locker room. The 30-year-old slugged 16 homers and drove in 67 runs while batting .256, his highest mark since hitting .319 in 2011 for Louisville. Hermida also posted an .826 OPS, thanks in large part to 36 extra-base hits and 62 walks.
"Good clubhouse guy, he really helped the club, too," Nichols said. "Good player. OPS over .800, so he's a pretty complete hitter, extra-base guy, plays decent defense, and he's also a stabilizing force in the clubhouse."
Michael Ratterree, Wisconsin (125 games), Huntsville (seven games): After winning Pioneer League MVP honors in 2013, Ratterree made the jump to full-season play and showed promise, despite a .228 average. The 23-year-old tied for second in the organization with 19 homers and tied for fourth with 76 RBIs. Ratterree helped balance out his low average with patience at the plate, drawing 79 walks, including 75 at Wisconsin to rank second in the Midwest League. He also received some postseason hardware, earning a Minor League Gold Glove.
"Anytime you get a young hitter who can take walks, he's gonna do something later," Nichols said. "While he didn't have a really good batting average, his on-base was good and that will turn into a good batting average later, in my opinion. And he won a Gold Glove for the Minor Leagues, which is kind of cool. Same as all these guys -- focus up the middle and be selective at the pitches you swing at early in the count. It's kind of the formula for hitting in general. He'll get it."
Utility -- Hector Gomez, Nashville (121 games), Milwaukee (15 games): Once a highly regarded prospect in the Rockies system, Gomez put together a big year for the Sounds, slugging a career-high 15 homers and posting a personal-best .808 OPS. The 26-year-old infielder ranked ninth among Brewers Minor Leaguers with a .282 batting average and racked up the second-highest mark of his career with 197 total bases. He also was one of the better defenders in the Pacific Coast League, compiling a .969 fielding percentage in 111 games at shortstop.
"He's had a history of injuries and stayed healthy for the most part," Nichols said. "I think that was the biggest thing. We're working with him at second base as well to make him a little more versatile."
Right-handed starting pitcher -- Tyler Wagner, Brevard County (25 games): Wagner put together a superlative season, leading the organization with 13 wins and a sparkling 1.86 ERA, a figure that ranked second in the Florida State League. The 23-year-old earned mid- and postseason All-Star honors while ranking third in the circuit with a 1.11 WHIP and fourth with 118 strikeouts.
"The overall plan for all the pitchers was command and try and get away from trying to trick batters with movement and throw the ball where you want, and he did that," Nichols said. "Fastball, slider, change, and he's able to throw it over the plate. His command was very good this year. His fastball is a strikeout pitch and his slider is a strikeout pitch. He comes right after you -- he's not trying to trick you."
Left-handed starting pitcher -- Hobbs Johnson, Brevard County (25 games): Wagner's teammate with the Manatees, Johnson ranked just behind his right-handed counterpart with 12 wins and a 2.93 ERA while edging Wagner with a 1.09 WHIP. Nichols heaped praise on the hurler's competitiveness.
"Bulldog -- he's not afraid to challenge you," he said. "He's got a decent curve, good fastball and changeup. When his curve is on, he's gonna have a good night. I think he has all the tools he needs right now -- it's just a matter of experience. He's a bulldog, he comes right after you and he's good at reading the batters as well."
Relief pitcher -- David Goforth, Huntsville (54 games): After winning 11 games while pitching mostly as a starter last year, Goforth made the transition to a full-time reliever and shined in 2014. The 26-year-old led the organization by a wide margin with 27 saves, a mark that also topped the Southern League. Goforth utilized a four-pitch mix to rack up 46 strikeouts over 64 2/3 innings while limiting opponents to a .242 batting average.
"He wanted to do it, he likes that role," Nichols said. "His fastball plays up a little bit. He's 95-98 out of the bullpen, and he throws four pitches. His fastball is straight, but we saw a lot of fastballs in the World Series that were up and didn't get hit. I thought it was respectable and I think he'll get better. I'm happy with it."
Robert Emrich is a contributor to MiLB.com. Follow him on Twitter @RobertEmrich. This story was not subject to the approval of the National Association of Professional Baseball Leagues or its clubs.
View More