Snell, Shaffer among elite Rays prospects
Faria, Motter, Schreiber post big seasons, but Rays lose outfielders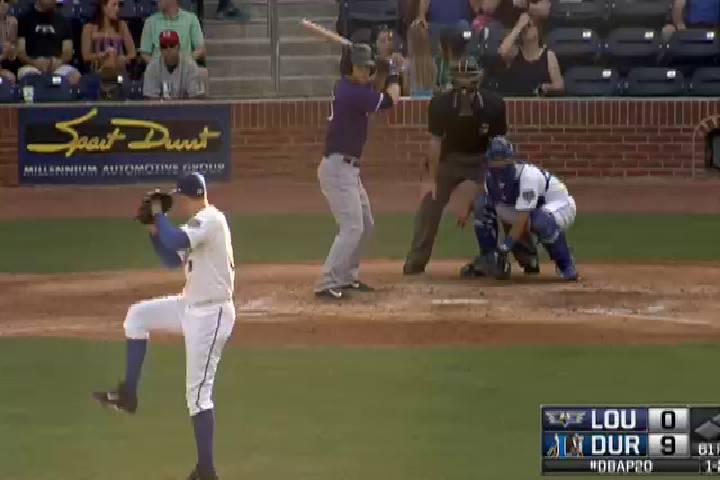 By Danny Wild / MiLB.com | December 16, 2015 10:00 AM
This offseason, MiLB.com will be honoring the players -- regardless of age or prospect status -- who had the best seasons in their organizations. We're taking a look at each team to determine the outstanding seasons in Minor League baseball.
Tampa Bay's season in the Minors was highlighted by arguably the most dominant pitching prospect of 2015, Blake Snell, and a championship from Class A Advanced Charlotte, which claimed its first Florida State League crown. Double-A Montgomery reached the Southern League playoffs but fell to Chattanooga in the semifinals, and Rookie-level Princeton fell one win shy of the Appalachian League title.
Snell, MLB.com's No. 41 prospect, started the year with 46 consecutive scoreless innings and showed both maturity and durabilty in pushing the Rays to bump him up to Triple-A Durham. No. 48 prospect Brent Honeywell turned in a solid season, and Tampa Bay snagged another talent at the Draft with first-round pick Garrett Whitley, an outfielder.
Rays Organization All-Stars
Catcher -- Rene Pinto, VSL Rays (51 games): The 19-year-old Pinto signed with the Rays in 2013 and posted solid numbers in his second season, hitting .323 with six homers, 38 RBIs and a .379 on-base percentage with Tampa Bays' Rookie-level affiliate in Venezuela, where the Rays named him the team's MVP. He led the VSL in batting, slugging (.552) and extra-base hits (27) and ranked second with seven triples, 111 total bases and six homers. Behind the dish, he threw out 23 of 48 potential base stealers.
First base -- Cameron Seitzer, Montgomery (102 games), Durham (7 games): The Rays' 11th-round pick in 2011 spent his third straight season at Double-A before making his Triple-A debut in September. Across two levels, the 25-year-old hit .312 with 13 homers, 65 RBIs and a .382 OBP in 109 games. He ranked second in batting among Rays prospects and was voted a Southern League end-of-season All-Star.
"Consummate pro," said Rays director of player development Mitch Lukevics. "A consummate professional, and his bat keeps improving."
Second base -- Riley Unroe, Bowling Green (116 games): The Rays' second-round pick in 2013 enjoyed his best season since being drafted, setting career highs in average (.255), homers (four), RBIs (35) and stolen bases (13) in his first full season after a pair of campaigns at the Rookie level. The 20-year-old switch-hitter drew 51 walks, and 18 of his 112 hits went for extra bases.
"He's got good skills," said Lukevics. "He's only getting better."
Third base -- Richie Shaffer, Durham (69 games), Montgomery (39 games), Tampa Bay (31 games): Shaffer, a first-round pick in 2012, made his Major League debut in August after splitting most of the season across two levels, for which he was named the Rays' Minor League Player of the Year. The 24-year-old hit .267 with a career-high and system-leading 26 homers and 72 RBIs -- second among Tampa Bay Minor Leaguers -- in 108 games. The Rays' No. 11 prospect and top-ranked third baseman went 14-for-74 in the Majors.
"A power bat that came alive -- he's really matured at the plate," said Lukevics. "Now he has the plate coverage and his power bat just came alive."
Shortstop -- Daniel Robertson, Montgomery (78 games), GCL Rays (four games): The 21-year-old finished the year ranked as the Rays' No. 2 shortstop prospect behind Willy Adames. In 82 games, the right-handed infielder hit .279 with four homers, 31 RBIs, a .365 OBP and 20 doubles.
"He's a good athlete." said Lukevics. "Daniel Robertson is a good athlete, and he knows how to play baseball. He's a baseball player."
Outfielders
Tyler Goeddel, Montgomery (123 games): The 23-year-old moved from third to the outfield in 2015 and posted nice numbers -- so good, in fact, that Philadelphia selected Goeddel with the first pick of the Rule 5 Draft on Dec. 10, meaning he'll need to make the jump from Double-A to the Majors in 2016 or be offered back to Tampa Bay. At Montgomery, the 6-foot-4 outfielder hit .279 with 12 homers, 72 RBIs and 28 stolen bases. He ranked second in the Rays' system in RBIs and steals while finishing ninth in batting, stats that left Tampa Bay pretty sore when he was scooped up.
"He made a nice transition to the outfield, and it seemed to free him up mentally at the plate," said Lukevics. "It's like anything else, you have 1-40 [players on the 40-man roster], someone has to be 41, 42, 43. And that's a sign of a strong farm system. We're happy for him though, and we're hopeful we get him back. We're always hopeful -- we want him back. We're glad for him, but we want him back."
Joey Rickard, Durham (29 games), Montgomery (65 games), Charlotte (23 games): Like Goeddel, Rickard turned in a solid season and then got plucked away in the Rule 5 Draft last week. The 24-year-old led the Rays' system in batting with a .321 average this past season, finishing with a pair of homers, 55 RBIs, 23 stolen bases and 28 doubles in 117 games. He tied for fifth among Rays players in steals and was caught six times, prompting Tampa Bay to name him their Baserunner of the Year. The Orioles selected him toward the end of the first round of the Rule 5 Draft.
"Phenomenal year," said Lukevics. "You've gotta give him a ton of credit. Here's a guy that started off in [Class A] and finished in Triple-A and went on the play in the Dominican Winter League and he's had a wonderful year. It's a credit to Joey. You're always disappointed losing players -- you spend a lot of time, effort and energy trying to develop them and then you know you lose them, but you're happy for them. It's kind of a bittersweet scenario. You're disappointed because you lost them, but you're hoping you can get them back and they can play in the big leagues for you. So that's what we're hoping for."
Corey Brown, Durham (114 games): The veteran hit .243 with 19 homers and 60 RBIs in 114 games, finishing third in the Rays' system in home runs. He added 19 doubles, 15 steals and drew 43 walks before electing free agency in November following his first season with Tampa Bay. Following the trend of departed Rays outfielders, Boog Powell also had a nice 2015 -- he hit .295 with 40 RBIs, 18 steals and a .385 OBP -- but was traded to Seattle on Nov. 5.
Utility -- Taylor Motter, Durham (127 games): The 26-year-old saw time at second, third, short and in the outfield at Triple-A, where he hit .292 with 14 homers, 72 RBIs, 26 steals and a .366 OBP. He was added to the Rays' 40-man roster last month, where he's listed as an outfielder, and was chosen by Tampa Bay as Durham's MVP.
"The big thing is he can play anywhere," said Lukevics. "He's got great versatility. We are the Rays -- he'll move around, we're a small market club, and one guy that can play three positions is a bonus to us."
Right-handed pitcher: Jacob Faria, Montgomery (13 games), Charlotte (12 games): The 22-year-old was dominant in 2015, finishing 17-4 with a 1.92 ERA in 25 outings. He struck out 159 and walked 52 in 149 2/3 innings, held opponents to a .197 average and ranked second among Rays pitchers behind Snell in ERA. Added to the 40-man in November, Faria enjoyed a year in which he was a Florida State League All-Star, Charlotte's MVP and was named a Class A Advanced All-Star by Baseball America.
"He really came on, he got stronger, he just got better," said Lukevics. "He matured, his mind and body matured, and he's always had good work ethic. Another good, young kind and a delight to be around. He was our Eric Walker award winner the year before, and he led our organization in wins this year. Just phenomenal."
Left-handed pitcher: Blake Snell, Durham (nine games), Montgomery (12 games), Charlotte (four games): Snell won pretty much every award, honor and title possible in 2015 -- he was the Rays' Minor League Pitcher of the Year, was named Minor League Player of the Year by both Baseball America and USA Today and earned a MiLBY Award as Best Starting Pitcher. He was a Futures Game All-Star, was named the Southern League's Player of the Month for May, was voted a Southern League All-Star and now takes home his third straight MiLB.com Organization All-Star nod.
The stats? Snell, just 23, went 15-4 with a 1.41 ERA and 163 strikeouts over 134 innings. He walked 53, allowed seven homers and held opponents to a MiLB full-season best .182 average in 25 outings. He set the Rays' Minor League record (min. 130 innings) with a 1.41 ERA, which was also the lowest in the Minors (min. 115 innings) since Justin Verlander's 1.29 mark in 2005. He also held opponents to one earned run or fewer in 19 of his 23 starts.
"His numbers speak for themselves, he had a phenomenal year," said Lukevics. "His worth ethic -- he matured as a young man and he got serious about his craft and his prior work ethic and set his career on fire. He just took off. It's great. He improved in everything, when you put up those kind of numbers. He was throwing a changeup behind in the count, throwing a breaking ball behind in the count -- he improved everything, his control, his command of pitches and his overall sharpness."
Reliever -- Brad Schreiber, Montgomery (24 games), Charlotte (30 games): The 24-year-old nailed down a career-high 30 saves across two levels and tied for second in the Minors. It was the most amount of saves by a Rays prospect since Lee Gardner collected as many in 2003. Schreiber was originally the Twins' 40th-round pick in the 2012 Draft but he remained at Purdue. A year later, he went undrafted and the Rays signed him as a free agent. Fast forward to 2015, and he was named by Tampa Bay as its Reliever of the Year.
"He's a self-made man. Think about it, a non-drafted free agent -- good for Brad Shreiber," said Lukevics. "He's a sinker-slider guy, he has a little deception in his delivery and he throws a heavy ball."
Danny Wild is an editor for MiLB.com. Follow his MLBlog column, Minoring in Twitter. This story was not subject to the approval of the National Association of Professional Baseball Leagues or its clubs.
View More