51s' deGrom tosses seven shutout frames
Mets prospect beats Reno to pick up first victory of 2014 campaign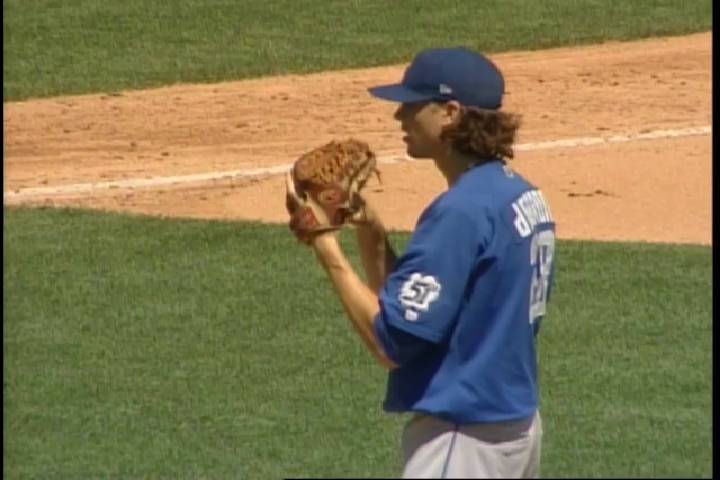 By Josh Jackson / MiLB.com | April 16, 2014 2:49 AM ET
Before it even began, there were signs Jacob deGrom's third start of 2014 might be his first rough outing of the year.
The signs were wrong.
The Mets' No. 13 prospect shrugged off an early omen and fired off seven shutout innings to earn his first decision in Triple-A Las Vegas' 6-3 win over Reno on Tuesday. He didn't allow a hit through four innings, then scattered three singles and a walk while whiffing four over seven frames.
"The biggest scare [of the night] was in the [pregame bullpen session]. I really had to focus. I was wilder than normal," deGrom said. "I got through the amount of pitches I usually throw in my bullpens, and I was sitting in the dugout thinking about throwing strikes, getting ready to face that first batter. I had to be mentally locked in on going out there and throwing strikes."
From that point on, deGrom was decidedly more comfortable.
"Everything just seemed to go smooth the whole night," he said.
The 25-year-old righty entered the game with an 0.82 ERA and dropped that mark to 0.50. He threw 88 pitches -- 59 for strikes -- and got 11 groundouts and three double plays.
"[When the game started], I had good command of my fastball to both sides of the plate, and my changeup was good. I mainly threw those," he said. "I got some ground balls, and I know one of the double plays came when I threw a changeup to a righty."
Another of the double plays came after the Aces' Mike Jacobs singled up the middle to end deGrom's early no-hit bid.
"I didn't let [the hit] bother me. You know it in the back of your head that you have it, but that was just a single. There was nothing hurt there," deGrom said.
The Stetson University product responded by getting Nick Evans to hit a dribbler to short.
"That helped out a lot. I was happy to get it. It was what I wanted to do -- get a ground ball," he said. "I threw an inside fastball and it got in on him."
After a one-out single by Reno's Tyler Bortnick in the sixth, deGrom got a punchout and an infield popup. He yielded a single to Didi Gregorius to start the seventh, but induced another double play and got yet another grounder to end the frame and his performance.
Wilmer Flores, the Mets' fourth-ranked prospect, put a slow start to the season behind him with a home run, a double and three RBIs.
"That's really good to see," deGrom said. "He always plays great defense behind me, and those were big hits to get us some runs."
Shortly after the Mets drafted him in the ninth round in 2010, deGrom underwent Tommy John surgery. Now he's part of a 51s rotation that includes baseball's No. 11 prospect Noah Syndergaard and No. 83 Rafael Montero. The trio has combined for a 2.28 ERA thus far, helping Las Vegas open the season with a 10-3 record.
"They're great guys to be around. I'm gald to have them on the team with me and be their teammate," de Grom said. "We knew coming in we'd have a solid starting staff, and it's nice we've pitched like we should. It definitely helps when everybody's throwing well."
Josh Jackson is a contributor to MiLB.com. This story was not subject to the approval of the National Association of Professional Baseball Leagues or its clubs.
View More