Ackley stays hot during position switch
Seattle's second baseman-turned-outfielder fuels Tacoma win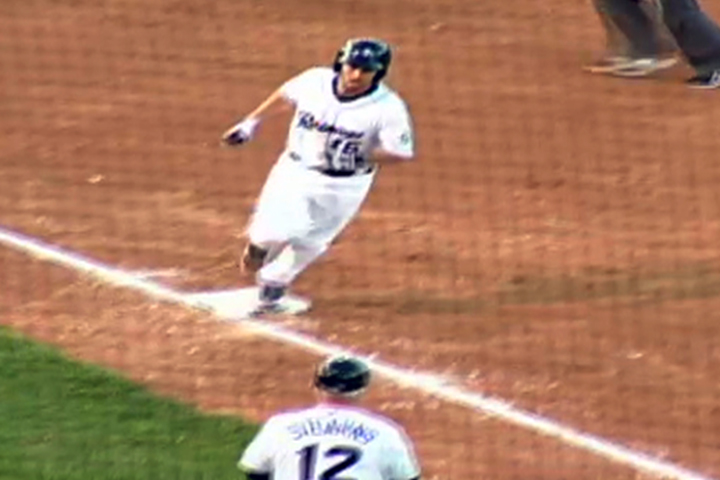 By Danny Wild / MLB.com | June 19, 2013 3:27 PM ET
Despite his struggles in the Majors, Dustin Ackley has been reborn in Tacoma, in more ways than one.
The former Mariners second baseman went 3-for-4 and scored four times, bumping his average up to .400 to help Triple-A Tacoma rout Colorado Springs, 16-4, on Wednesday afternoon.
Ackley, who began his transition from second base to the outfield last week, has also been tough to keep off base since being optioned -- he's recorded a hit in 18 of 20 games with the Rainiers, with 11 of those games being multi-hit efforts. After batting .205 with a homer and eight RBIs in 45 games with Seattle, the lefty-swinging Ackley is 34-for-85 with a pair of long balls and a dozen RBIs since returning to the Minors.
On Wednesday, the center fielder singled home Abraham Almonte in the first and scored, singled and scored in the fifth and sixth and walked and came home again in the eighth.
Ackley, the Mariners' No. 1 pick in the 2009 Draft, spent most of the past two seasons in the Majors after impressing at Tacoma in 2011, his last previous appearance with the Rainiers. That season, coming off an Arizona Fall League MVP campaign, Ackley hit .303 with 35 RBIs and a .421 on-base percentage in 66 games.
His production dipped last season when he batted .226 with Seattle, and after a sluggish start this spring, the Mariners optioned him down in favor of prospect Nick Franklin, a middle infielder who saw increased time at second this year.
The Mariners believe Ackley's versatility will only help him and the organization.
"I think it's good for Dustin," Seattle general managed Jack Zduriencik told the Seattle Times. "We've always talked about that. You never know what will happen. Versatility is a good thing. We spoke to him, asked him to take balls in the outfield, and he's wide open to it."
Ackley said his problems in Seattle were due to a lack of confidence, an aspect of his game that has returned along with his comfort level at Tacoma.
"I was just thinking too much up there," Ackley told the News Tribune. "About not getting out, not doing this and not doing that when I should have taken the thoughts out of it."
Ackley began his transition on June 12 in left field but has since primarily gotten starts in center. He was there Wednesday in his first three-hit game since June 7. While he's content with the bat, he has mixed feelings about the outfield.
"Just relaxing and taking my mind off the failures I had in the big leagues has been the biggest thing," Ackley said. "There's no pressure to do anything like there is at the big league level, and that's really the mentality I have to take here and then continue to take up there."
Ackley was an outfielder in college at North Carolina, but transitioned to second when the Mariners drafted him. Now as the Mariners are trying to do with Jesus Montero, he may have to accept a different role when he returns to Seattle. Ackley said it "would be tough" to leave second base behind for a new position.
"That wouldn't be ideal. It would be a tough transition," he told the News Tribune . "But if I had to, if that's what it takes. I've changed positions to second, I guess changing to somewhere else wouldn't be something I couldn't do."
"We'll see him play the outfield. Just see how it goes," Zduriencik said. "We know what he's done at second base; we'll let him get his feet wet in the outfield."
According to the Times, Ackley has been working with Mariners Minor League outfield coordinator Brant Brown, who will provide guidance and feedback on Ackley's transition. So far, he's been error-free.
"As you look at all the different scenarios, you don't know how it's going to play out,'' Zduriencik told the paper. "But I think as long as guys have experience playing other positions, it can benefit the player, it can benefit the organization, and that's the purpose of it."
Ackley's big day Wednesday was one of many for Tacoma: Third baseman Alex Liddi went 3-for-4 with his 10th home run -- a two-run shot in the first -- and scored four times while designated hitter Carlos Peguero doubled, tripled and plated six runs. Major League veteran Robert Andino, batting ninth, added his second homer in the second as Tacoma pounded out 16 hits and scored in six of nine frames.
The offense got Tacoma starter Brandon Maurer off the hook after he surrendered a pair of runs on four hits in one inning before Jonathan Arias (2-1) picked up the win after holding Colorado Springs to a pair of runs on two hits and a walk over 3 2/3 frames.
Danny Wild is an editor for MLB.com. This story was not subject to the approval of the National Association of Professional Baseball Leagues or its clubs.
View More