Alcantara making progress at plate for Cubs
Chicago prospect hits key triple, flirts with cycle to beat Zephyrs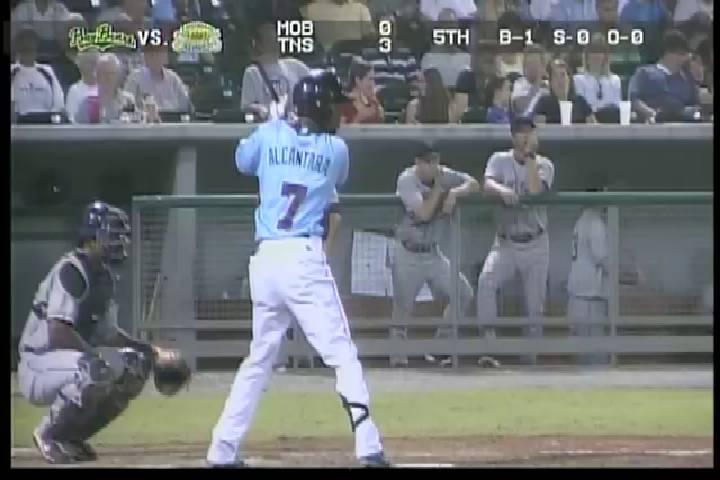 By Danny Wild / MiLB.com | April 16, 2014 7:28 PM ET
Arismendy Alcantara knows his future with the Cubs is all about adjustments, from the broader ones about his versatility to the smaller situations that pop up in, for example, the seventh inning of an April game in Iowa.
"It was a tight game, men on second and third, no outs, I tried to put the ball in play," he said. "I tried to hit a deep fly ball to score a run."
Alcantara made it look easy, lining a two-run triple to highlight a go-ahead three-run rally on his best day at Triple-A in the Iowa Cubs' 6-3 win over New Orleans on Wednesday. The 22-year-old Alcantara finished 3-for-5 with a pair of RBIs thanks to the key triple in the seventh. He raised his average up to .289 in helping Iowa (7-6) climb over .500.
"I hit one in the gap, it felt great," he said. "I thought, 'I can go to third,' and it happened."
Alcantara, the Cubs' No. 6 prospect and top-ranked second baseman, doubled and scored in the first inning, singled in the fifth and scored again in the seventh after his three-bagger. He bounced into an inning-ending double-play in the eighth, missing his chance to homer for the cycle.
"He's done a real good job making adjustments at the plate," said Iowa hitting coach Brian Harper, a 16-year Major League veteran who won the World Series with Minnesota in 1991. "He was out in front of the ball in his first few at-bats, but he stayed back with his last ones -- even his fifth at-bat was a real good adjustment."
Alcantara, who leads the Cubs with seven extra-base hits, ranked second in the Southern League with 55 extra-base hits for the Tennessee Smokies last season. He understands he's still a work-in-progress, though.
"I felt good, I tried to hit for contact, stay quick and try to hit to the opposite field," he said.
Alcantara, a switch-hitter, entered Wednesday batting .250 with four RBIs and a .273 OBP in a dozen games but boosted his average nearly 40 points with three hits. Although he has hit safely in 10 of 13 games this year, he'd posted just one mutli-hit effort on April 10 against Nashville.
"Hopefully he'll swing the bat like this. He was good last night, hit a couple balls good, but the weather has been a little cold, and sometimes that's a little different for some of the guys," said Harper. "I think Triple-A is a totally different adjustment from [Class A] to Double-A, the jump to facing the pitchers here -- there are more veterans and they look to exploit guys' weaknesses. As a hitter, you have to make adjustments quickly, and he's starting to do that. You're not guaranteed to get a fastball in fastball counts, and he's learning on the fly with stuff like that, and he's doing a real good job."
Alcantara, who faces a potentially crowded infield at Wrigley if all goes well, knows what he needs to do as well.
"I'm doing good, we have to make adjustments every day, different teams and different players, as compared to last year. At Triple-A, it's different from Double-A -- it's not hard, it's just an adjustment. It's baseball; it's the same everywhere."
Alcantara is one of several highly ranked infield prospects in the Cubs system, and he's already been moved around to accommodate other players and stay on the field. Signed as a shortstop, Alcantara shifted to second to let Cubs No. 1 prospect Javier Baez work at short last year. The future grows cloudier if Mike Olt, who made the Cubs' Opening Day roster, sticks at third base -- that could prompt Baez to shift to second, with Starlin Castro already at short in Chicago. Then there's current second baseman Darwin Barney, third-base prospect Kris Bryant and third-base prospect Jeimer Candelario all in the mix.
"What's the old saying, be strong in the middle? You want to be deep, and we're getting there," said Harper. "[Alcantara] has a very strong arm -- he can play anywhere. We had a situation in Double-A where we had another guy and said, 'Let's see if he can play second' with Javier moving up to Double-A. It's a good fit for him -- he's got a real strong arm at short."
The Dominican infielder was a Futures Game and Southern League All-Star last season, batting .271 with 15 homers, 69 RBIs, 31 stolen bases and a .352 on-base percentage in 133 games with Double-A Tennessee.
"He's got things to learn," said Harper. "he's had less than 100 games at second base. He needs to get a little better turning the double-play and he needs to get used to being a little shorter with his throws."
Alcantara said he doesn't really care where the Cubs put him on the field.
"I'm a natural shortstop, but I learned a lot at second and I feel good at both," he said. "I can play short, second, I feel good, so it doesn't matter what position, I just want to play the game."
At the plate, he's working on becoming consistent from both sides. He's batting .300 against right-handers and .267 against lefties so far.
"I have to make adjustments from last year, there are more lefties in this league, so I'm hitting more right-handed, but I feel good from both sides," Alcantara said. "I feel strong; I just have to make some adjustments."
"In the past he's always been stronger right-handed, so he works really hard on his left-handed swing, which is really coming around," Harper said, "He's learning the balance both sides of the plate."
Harper said a cycle on Wednesday wasn't out of reach for his second baseman.
"The wind was blowing out today, if he got one up," Harper said. "He's a smaller guy, but he's very strong."
So, what's Alcantara's timeline to reach the Majors? Harper said it's too soon to guess.
"That's hard to tell -- the ability he has, he's a great athlete and he's fast, he has strength," he said. "As he continues to make adjustments, it'll be easier to tell, but it's hard to say he'll be a big leaguer two months from now. We'll have to see how the season goes. He definitely has Major League abilities."
Danny Wild is an editor for MiLB.com. Follow his MLBlog, Minoring in Twitter. This story was not subject to the approval of the National Association of Professional Baseball Leagues or its clubs.
View More