Alfaro helps Pelicans rally past P-Nats
Rangers catching prospect homers for second straight game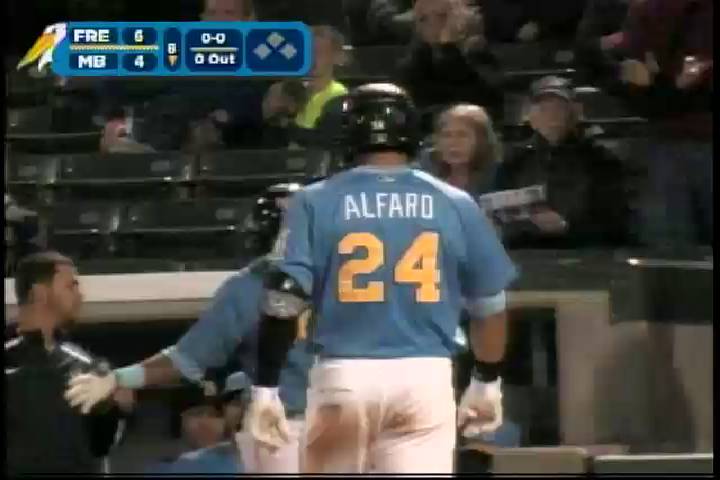 By Robert Emrich / MiLB.com | May 10, 2014 1:26 AM ET
It took him a little while, but it looks like Jorge Alfaro is getting the hang of the Carolina League.
The Rangers' top prospect went 2-for-4 and homered for the second straight game Friday night as Class A Advanced Myrtle Beach rallied for a 7-5, 11-inning win at Potomac.
Alfaro doubled and walked, reaching base three times. He cut the Pelicans' deficit to 5-3 in the ninth with a two-run blast, his fourth of the season.
"Jorge's been swinging the bat good as of late," Myrtle Beach manager Joe Mikulik said. "He's made some adjustments. I think [hitting coach] Josue Perez and him, they've been working on some things just to get his bat through the zone longer and be aggressive more with the fastball and use the whole field. I think that's something he's been doing. Lately, he's been hot. He's made a lot of adjustments that have helped him out. It paid off big-time tonight."
After hitting .264 and driving in 10 runs in April, Alfaro is batting .394 with three homers and nine RBIs in only eight games this month. Mikulik again credited the work the 20-year-old catcher has been putting in with his Perez.
"I think he's done a really fine job of making the adjustment," the veteran manager said. "He went through a little tough time early on, missing some pitches, chasing some balls in the dirt, maybe going away from a plan. Lately, I think he's been more consistent with his plan and taking advantage of some pitches that are left up in the zone and driving the ball with authority."
Alfaro is 13-for-33 during an eight-game hitting streak that's knocked his average up to .300, the highest it's been since Opening Day.
"It's a daily grind. It's not that easy," Mikulik said. "In the Carolina League, when you hit here, you play teams over and over and they're going to make adjustments on you. You have to counter that by making adjustments vs. the pitching, and that's something I think he's done a good job with.
"I think early on he was a little more defensive. Now I think he's aggressive, hitting the ball out front, getting ready to hit and taking advantage of some mistakes. Whereas before, he was putting the ball into play, rolling over some balls, not really driving the ball. As of late, he's been driving the ball with authority, and that's been fun to watch."
Four batters after Alfaro went deep, Preston Beck tied the game with a two-run homer. In the 11th, Beck followed a go-ahead blast by Nick Williams -- Texas' sixth-ranked prospect -- with a solo shot that capped the scoring.
"Beck, lately he's been scuffling a little bit, had some tough luck," Mikulik said. "He keeps working hard, keeps fighting and got a couple of pitches up in the zone that he took advantage of."
Williams finished with two hits and two runs scored for the Pelicans, who have won four straight and boast the league's top record at 21-12.
Myrtle Beach starter Sam Wolff, the Rangers' No. 20 prospect, gave up three runs on five hits over seven innings. Abel De Los Santos (2-0) earned the win with two innings of one-hit relief and Jose Leclerc recorded the final out for his fourth save.
Randolph Oduber went 3-for-5 with two doubles, an RBI and a run scored for Potomac.
Robert Emrich is a contributor to MiLB.com. Follow him on Twitter @RobertEmrich. This story was not subject to the approval of the National Association of Professional Baseball Leagues or its clubs.
View More