Alvarez hits first two Class A home runs
White Sox prospect, former Olympic speedskater batting .436 in SAL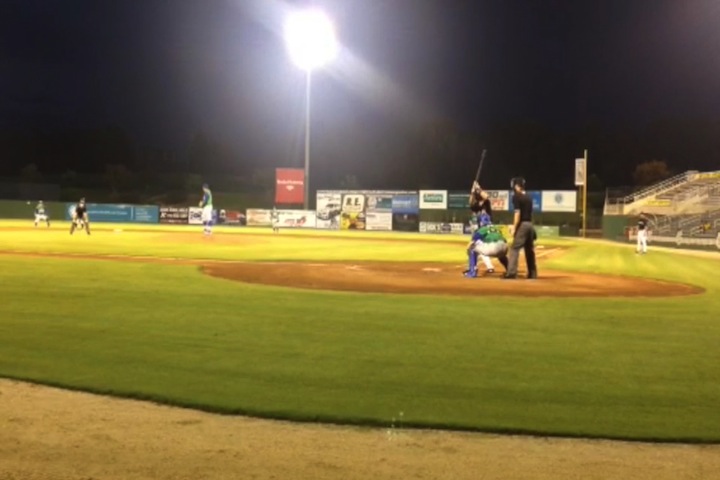 By Mark Emery / MiLB.com | August 24, 2014 12:03 AM ET
Two days after the first hitless game of his full-season career, former world-class speedskater Eddy Alvarez checked a different, more favorable box off his baseball to-do list.
The White Sox prospect slugged his first Class A home run, then added another roundtripper as part of a three-hit performance in the Kannapolis Intimidators' 5-4 loss at West Virginia Power on Saturday night.
"I felt good, pretty confident," said Alvarez, who went 0-for-3 on Thursday and 1-for-4 on Friday. "I was seeing the ball really well today and I knew they were going to challenge me inside because of yesterday's game, so I was just prepared. I did some homework.
"Your 0-fers are going to come, they're going to come. It's going to happen. Not every day you're going to get a hit. I just kept the same approach, and it worked out."
The second baseman -- who won a silver medal in the short track speedskating 5,000-meter relay at the Winter Olympics six months ago -- led off the game with a homer to right field, lined an RBI double to right in the third inning and sent another solo shot out to right in the fifth.
"It's amazing, it really is," Alvarez said of the long balls. "I like to call my home runs 'mistakes.' I really do, because that's never what I'm thinking when I'm out there. I'm always thinking hard line drive. But if they just so happen to go over the wall, I won't argue whatsoever -- I'll take it."
Before beginning his professional baseball career, the 24-year-old had an impressive speedskating career that culminated with his participation in the Sochi Games. He signed with the White Sox as a non-drafted free agent on June 11 and started playing in the Rookie-level Arizona League on June 20.
In 27 games there, he compiled a .291/.400/.409 slash line with two homers, 12 RBIs and five steals in 11 tries.
Alvarez made his full-season debut on Aug. 12, going 1-for-3 with an RBI, a walk and a stolen base. He's recorded hits in nine of his first 10 games with the Intimidators, and his statistics include a .436/.500/.692 slash line, two homers, six RBIs and two steals in four attempts.
"I knew coming into this season that the game was going to be really fast for me," he said. "I've been trying to lock in as much as possible because of the accelerated process that I had to go through to be where I am today. But I knew the more I saw pitching live, the more comfortable I was going to feel at the plate. So just keeping the same approach is really important for me."
The Miami native had to work overtime to make the transition from speedskating to baseball so quickly. While the ride has certainly been an enjoyable one, it has come with challenges.
"I'm not going to lie, I'm ready for a little break," Alvarez said. "I'm ready to lay out by the beach for a couple weeks."
Chevy Clarke drove in Kannapolis' other run on Saturday, while West Virginia got two RBIs from Austin Meadows -- the Pirates' No. 4 prospect -- and one apiece from No. 15 prospect Wyatt Mathisen and Jeff Roy.
Intimidators left-hander Dylan Chavez (4-5) tossed the final three frames, yielding one run on three hits while striking out four. Power right-hander Zack Von Rosenberg (2-2) was perfect in the seventh and eighth, fanning four, for the win. Isaac Sanchez turned in a 1-2-3 ninth for his sixth save.
Mark Emery is a contributor to MiLB.com. Follow him on Twitter @Mark_Emery. This story was not subject to the approval of the National Association of Professional Baseball Leagues or its clubs.
View More