Anderson proves he can deal with change
Drillers lefty dominates unfamiliar lineup over 6 2/3 shutout innings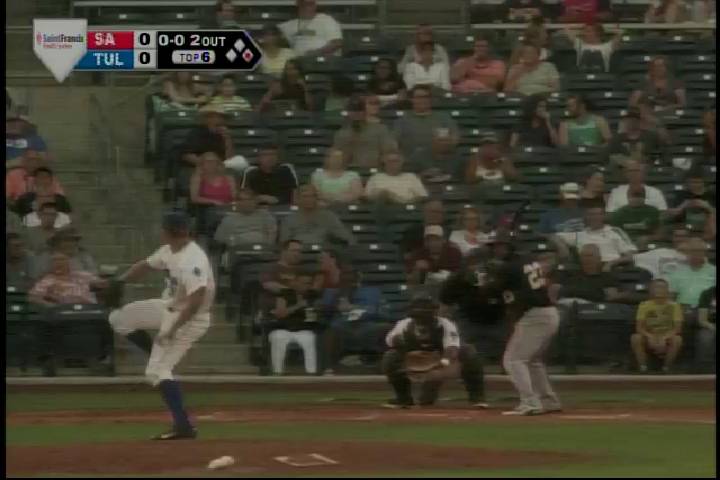 By Jake Seiner / MiLB.com | June 26, 2014 12:23 AM
As Tulsa left-hander Tyler Anderson looked over the San Antonio lineup prior to Wednesday's start, he saw a number of names he didn't recognize. Without a personal history with the Missions' hitters, the 24-year-old decided to go to his best pitch -- the changeup -- and hope for the best.
It turned out to be the right move. The Rockies' No. 10 prospect set a season high with 6 2/3 scoreless innings, scattering two hits and two walks for Double-A Tulsa in a 1-0 loss in 10 innings to San Antonio.
Anderson fanned eight, earning five of his final eight outs via strikeout. The Oregon product slimmed his ERA to 2.74, but didn't factor into the decision.
The last time Anderson faced the Missions was on April 6, when he allowed an unearned run on one hit over five innings. Just three hitters -- Rymer Liriano, Yeison Asencio and Austin Hedges -- were in the lineup in both games.
Not knowing much about the other six batters in the lineup, Anderson challenged the Missions early with a combination of fastballs and changeups. MLB.com's prospect team considers Anderson's changeup his best pitch, noting it has "a ton of fade and sink to it."
"I threw some good changeups," Anderson said. "That helped make the fastballs a lot better. It was a lot of fastballs and a lot of changeups.
"I think I kind of went into it knowing there were a lot of guys this time that weren't here last time. The new guys hadn't seen me yet, so I just attacked them, saw how they responded. It ended up that the changeup worked well."
After missing time in 2013 with a stress fracture in his throwing elbow, the left-hander has been on a strict pitch count this season, making it difficult to go deep into games. Anderson hadn't helped his own cause by running up pitch counts on occasion, but wasted little time disposing of his Texas League opponents.
"It's hard if you're on a pitch limit," he said. "Every ball is just sort of a wasted pitch. You can throw some quality balls once in a while, but if you do that with every hitter, that makes it tough to go deep into the games."
The Las Vegas native kept the pitch count down by inducing some early contact on the ground. One of the Rockies' organizational "absolutes" for their pitchers is to induce more groundouts than flyouts, and Anderson's been a good pupil with a 1.43 groundout-to-flyout ratio this season coming into the game.
He improved that mark with nine groundouts and just two flyouts against San Antonio.
"A lot of times, if you just throw balls down in the zone, chances are it's going to get hit on the ground," Anderson said. "Everything we work on, day in and day out, is throwing down in the zone, trying to throw pitches guys will hit on the ground. I think that's definitely part of that, that the Rockies have done a good job instituting that from top to bottom."
Padres right-hander Bryce Morrow countered Anderson with seven scoreless innings, scattering three hits and a walk while striking out six. In three starts with the Missions, he has a 0.95 ERA with 19 strikeouts and three walks over 19 innings.
Morrow signed with the Padres in 2013 after spending parts of three seasons in the independent Frontier League. The Central Michigan product posted a 3.75 ERA in 19 appearances (five starts) with Class A Advanced Lake Elsinore before being promoted to San Antonio.
Jake Seiner is a contributor to MiLB.com. Follow him on Twitter at @Jake_Seiner. This story was not subject to the approval of the National Association of Professional Baseball Leagues or its clubs.
View More