Angels' Moyer delivers at plate for Owlz
Seventh-round pick collects four RBIs, two runs in double-dip sweep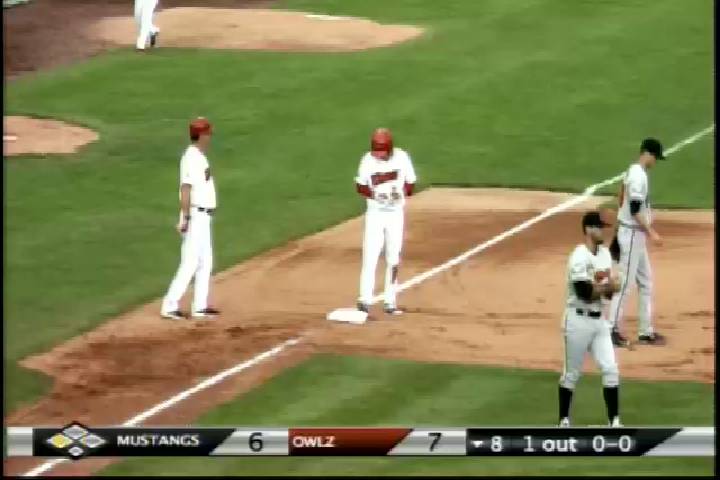 By Robert Emrich / MiLB.com | July 10, 2015 2:53 AM
Hutton Moyer has grown up around the game of baseball and what he's learned has helped him start out on the path to the big leagues.
The Angels infield prospect had four RBIs and scored twice as Rookie-level Orem took both games of a doubleheader from Billings on Thursday.
Moyer drove in four runs in the resumption of Wednesday's suspended game, with the big blow coming in the eighth inning. With the Owlz holding a 7-6 lead, the 22-year-old second baseman cleared the bases with a triple to right field and came around to score on Alex Abbott's groundout en route to an 11-7 victory.
"I knew [reliever Austin Orewiler] was going to come at me, I thought he was going to try and get ahead with a fastball first pitch," Moyer said. "He threw one I knew I could handle and I hit it down the line, thankfully it stayed fair and we got three runs out of it."
While the California native went hitless in the nightcap, he walked and scored as part of a four-run eighth that led the Owlz to a 5-1 win. Overall, Moyer reached base three times in nine plate appearances.
"I felt good," he said. "I had some early at-bats where I missed a few pitches. The few pitches that I ended up hitting well resulted in RBIs that got us the win. That was nice."
The son of 25-year Major League veteran Jamie and brother of Dodgers prospect Dillon, Moyer has had plenty of experience with professional baseball even before being drafted.
"I'm thankful that we were given the opportunity to be around some of the greatest of our generation," the Pepperdine University product said. "We learned so much from them and from (my father) as well. My brother and I, we're not pitchers, but we got to learn some of the pitching mind-set and how they think, which has been nothing but beneficial to us.
"I'm very fortunate to have been raised around the game for the last 22 years. Not a lot of guys can say that they've been around the game their whole life like that."
Moyer has adjusted quickly to life as a pro with an .805 OPS, two homers and 19 RBIs in 20 Pioneer League games. The hardest part thus far has been the change in equipment, though it might be harder on the equipment.
"It's been a lot of fun," Moyer said. "Adjusting to wood, it's a little different, it feels a little heavier than metal. I've broke my share of wood bats. It's been a blast so far. I'm excited to keep going and I hope to play this game for a long time."
Kyle Survance reached base six times and scored six runs in the twin bill and first-round pickTaylor Ward plated a pair of runs in the nightcap.
Reds' first-rounder Tyler Stephenson went 3-for-5 with a double and two RBIs in the opening game for the Mustangs.
Robert Emrich is a contributor to MiLB.com. Follow him on Twitter @RobertEmrich. This story was not subject to the approval of the National Association of Professional Baseball Leagues or its clubs.
View More