Soto keeps on buzzing for Bees
Angels' No. 19 prospect logs second four-hit game in four days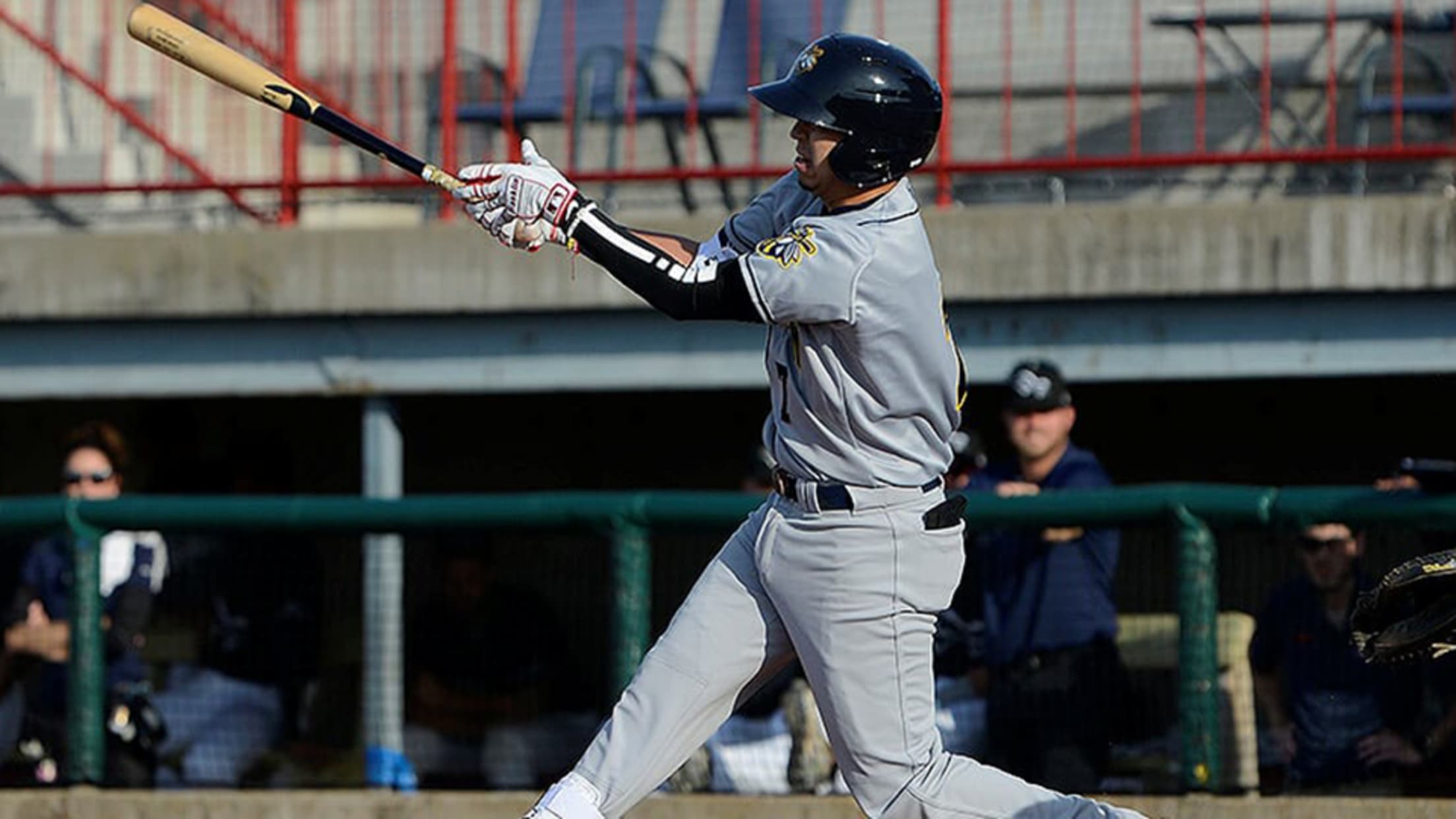 Livan Soto is 11-for-21 (.524) with four runs scored during a five-game hitting streak. (Burlington Bees)
Earlier this week, Livan Soto's first full professional season wasn't off to a great start statistically. Four days and two four-hit performances later, however, and that's no longer the case.The Angels' No. 19 prospect went 4-for-5 with a double, two runs scored and an RBI as Class A Burlington topped
Earlier this week, Livan Soto's first full professional season wasn't off to a great start statistically. Four days and two four-hit performances later, however, and that's no longer the case.
The Angels' No. 19 prospect went 4-for-5 with a double, two runs scored and an RBI as Class A Burlington topped Peoria, 6-1, on Saturday at Community Field.
Gameday box score
It was the second four-hit outing in four days for Soto, who saw his average rise from .179 to .304 since he first accomplished the feat on Wednesday against Kane County. It was definitely a rapid improvement for the 18-year-old, but if you ask manager Jack Howell, it wasn't necessarily a surprise.
"He's a prime example of the things we're trying to preach, and that is to stay with the process. ... If these guys will stay with that process, we just feel that eventually the results will happen," Howell said.
While he likely didn't expect 10 hits in four games, Howell knew that Soto was better than his numbers indicated. He was hitting balls hard and putting them into play, striking out just nine times in 53 plate appearances coming into Saturday. And as time has passed, that's naturally beginning to translate into better production.
"He's starting to get his hits," Howell said. "Everything's starting to come together for him."
Soto's double came in the third inning when he sent the first pitch from starter Kyle Leahy to right field to plate D.C. Arendas and lift the Bees into a 1-1 tie, although Michael Stefanic was thrown out at the plate. He was stranded at second when Halos No. 15 prospect Kevin Maitan flew out to left.
The rest of Soto's hits were singles. He opened the bottom of the first with a line drive to center, then led off the sixth with another base hit up the middle before scoring on Spencer Griffin's go-ahead two-run homer. An inning later, the Venezuela native grounded a single to right and came home again on a single by Francisco Del Valle.
Soto is just three weeks into his first full professional season with the Bees after stints in Rookie ball in 2017 and 2018. In 44 games last season with Orem in the Pioneer League, he put together a line of .291/.385/.349 while driving in 11 runs and scoring 31 times.
As he continues to develop and navigate his first full campaign, Soto will continue to have highs and lows and will need to manage them accordingly -- such is the nature of the sport. But in the eyes of his manager, after 15 games it's so far, so good for the youngster.
"He's on his way," Howell said. "He's young, he's got a lot to learn and a lot to do ... it's his first full season. So he's going to need to learn to pace himself a little bit. There will be some ups and downs, but so far what I've seen I really like."
Jordan Wolf is a contributor to MiLB.com. Follow him on Twitter @byjordanwolf.