Angels Prospect Primer: Gems among ranks
While system isn't flashy, Halos counting on impact players to emerge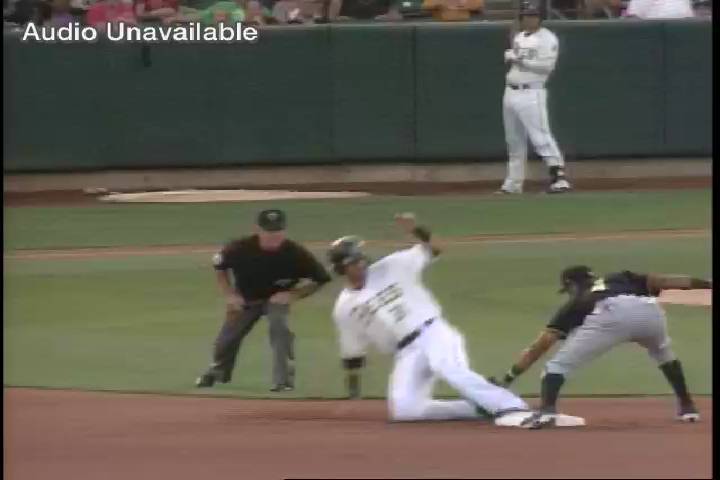 By Tyler Maun / MiLB.com | March 29, 2016 10:30 AM
Some players are on the verge of stardom, others are entering a crucial phase of their development and still others are getting their first tastes of full-season ball. With the 2016 season approaching, MiLB.com takes a look at the most intriguing prospects from each MLB organization.
Breakout prospect: Jahmai Jones, OF
While the Angels may not have the top-tier talent present in other organizations, they're internally very high on prospects like Jones. The son of late Notre Dame and NFL linebacker Andre, Jones has one brother, T.J., playing wide receiver on the Detroit Lions and another, Malachi, doing the same for Appalachian State. It's safe to say extreme athleticism comes naturally to the 18-year-old.
"He's an impressive young man and baseball player as well," Angels director of Minor League operations Mike LaCassa said at his Tempe Diablo Stadium complex office earlier this month. "I think 'Jam' understands and trusts that there's a process. He understands that he's not going to reach the big leagues this year … but he understands what it's going to take for him to get to the big leagues."
After being taken in last year's second round, Jones was just 17 for most of his debut season in the Rookie-level Arizona League but adjusted quickly. A .194/.265/.323 hitter through his first eight games, Jones batted .256/.345/.349 over his final 32, swiping 15 bases and scoring 22 runs in the process. The center fielder's consistency and maturity made an impact Angels brass.
"You hear all the time this is a game of failure," LaCassa said. "To be able to not have too high of highs or too low of lows over the course of the season, stay grounded, it takes maturity. It takes a lot of experience for a lot of people. To achieve that without much experience is going to help with the trajectory in his career."
Jones is solid across the board. His run tool is his highest-rated at a 60, according to MLB.com, and just one (power) grades below 50.
"Overall [he's] just a pleasure to have around, and we're excited to see him grow," LaCassa said. "He's not on the prospect lists of the top 100 players in the country. He wasn't taken in the first round, but him and many other players who were taken after him have the opportunity to show the rest of the industry what they can do."
Full-season debutant: David Fletcher, SS

Given his organization and his stature, Fletcher draws comparisons to David Eckstein. If the Halos get a career out of Fletcher resembling the two-time All-Star and World Series MVP's, they'd more than take it.
"He makes every play," LaCassa said. "Despite the size, he's got a plus arm, and offensively he really controls the bat well, great idea of the strike zone and what his zone is. The plate discipline and the ability to make contact and drive the ball into the gaps, he's a really fun player to watch."
A sixth-round pick as a Draft-eligible sophomore from Loyola Marymount last year, Fletcher tasted full-season ball with a 32-game cameo at Class A Burlington to end last summer, batting .283/.358/.358. Combined with the 37 games he spent with Rookie-level Orem to start his career, Fletcher's final line checked in at .311/.377/414. While spending most of his time at short, Fletcher also got two starts at second base with the Bees.
"He is a lead-by-example kind of guy," LaCassa said. "He's a true leader. He does everything you ask of a player. He's a student of the game, incredibly hard working on and off the field. Absolutely guys around him look to that, and he's a perfect example of how you want to go about your business."
This year Fletcher will be tested wire-to-wire in full-season ball and could reach Class A Advanced Inland Empire in short order.
Back and healthy: Roberto Baldoquin, SS
One of the most exciting players on the international market in late 2014 when he signed with the Halos for $8 million, Baldoquin hasn't taken off yet as a professional but showed signs toward the end of last year. The infielder was hampered by nagging hand and lat injuries that limited him to just 36 games through June but came on strong in the season's second half.
"He finished the year with an OPS of 150 points higher in his last 50 games than the beginning of the year," LaCassa said. "He made zero errors in his last 40 games after 12 in the first 37. That's an incredible improvement. The strides we saw him make from learning English to being a better teammate, overall he really got comfortable, and we got to see the player and the person that he really is."
Baldoquin played 22 games in July and 23 in August and batted .273 in each month. In addition to getting acclimated to baseball following a year away from playing competitively, Baldoquin was navigating his first season in the United States after leaving his native Cuba in February 2014.
"Even though he's a year removed from that, it doesn't mean it's all easy from here on out," LaCassa said. "He's still adjusting to a new culture and going through his second year in the United States instead of his teammates who spent three years at a university or whatever.
"Through instructional league and the offseason and where he's at today, he is in a completely different place from where he was 12 months ago. It's going to be a big season for him."
At the crossroads: Jake Jewell, RHP
In this case, "the crossroads" is in no way a negative assessment of Jewell's place with Anaheim. He's simply taking an exit from the bullpen expressway to the main street of the rotation.
A college closer at Northeastern Oklahoma A&M, Jewell caught the Angels' eye with what he did during nine 2014 starts after being selected in the fifth round. The righty made his first 16 appearances out of the bullpen last year, building up his arm strength before hopping into the rotation in mid-June. Though his numbers there weren't dominant -- 3-6, 4.99 ERA with a .268 opponents' average in 15 starts -- Anaheim likes how he profiles as a starter.
"That's definitely the plan with Jake," LaCassa said of the transition to a starting role. "He hadn't done that before in his career or his collegiate career, so what we have seen out of Jake is the development of all three pitches as well as his mental development to understanding being a pitcher and what it takes."
Jewell finished the season with 111 1/3 innings pitched and only failed to make it through five frames four times in his 15 starts.
"Last year there was a certain number of innings that we wanted to achieve," LaCassa said. "He wouldn't have been able to make 27 Minor League starts. This year, there's no reason why he shouldn't be in the rotation throughout the year and beyond for his development."
Loudest tool: Victor Alcantara, RHP
Like Baldoquin, Angels fans have been waiting on Alcantara to cash in on his considerable promise since he joined the organization in 2011. While his numbers haven't been eye-popping, his stuff certainly can be. Alcantara's fastball is a plus pitch that sits 95-96 mph with heavy sink and can touch 99. The righty's slider is also above average with a 55 grade from MLB Pipeline.
The hitter-haven California League wasn't kind to Alcantara a year ago with a 7-12 record and 5.63 ERA after 27 starts in the circuit, but the 22-year-old fanned 125 batters in 136 innings. While many scouts see Alcantara as being more effective in the bullpen, the Angels will stick with him as a starter when he moves up to Double-A Arkansas in 2016.
More to keep an eye on: Catcher Taylor Ward, the Angels' top prospect, is one of only two first-round picks in Anaheim's system and will head to Class A Advanced this summer. … Third baseman Kaleb Cowart, a first-round selection in 2011, stepped back a level to Inland Empire before leapfrogging Double-A on his way to his big league debut last year. He was named the Angels' Minor League Player of the Year. … Outfielder Chad Hinshaw made a favorable impression during his time in Major League camp, according to LaCassa. He's likely ticketed for Triple-A Salt Lake City.
Tyler Maun is a contributor to MiLB.com. Follow him on Twitter @TylerMaun. This story was not subject to the approval of the National Association of Professional Baseball Leagues or its clubs.
View More