Appy notes: Holmberg taking Jays to playoffs
Manager sets sights on title after reaching 1,500-victory milestone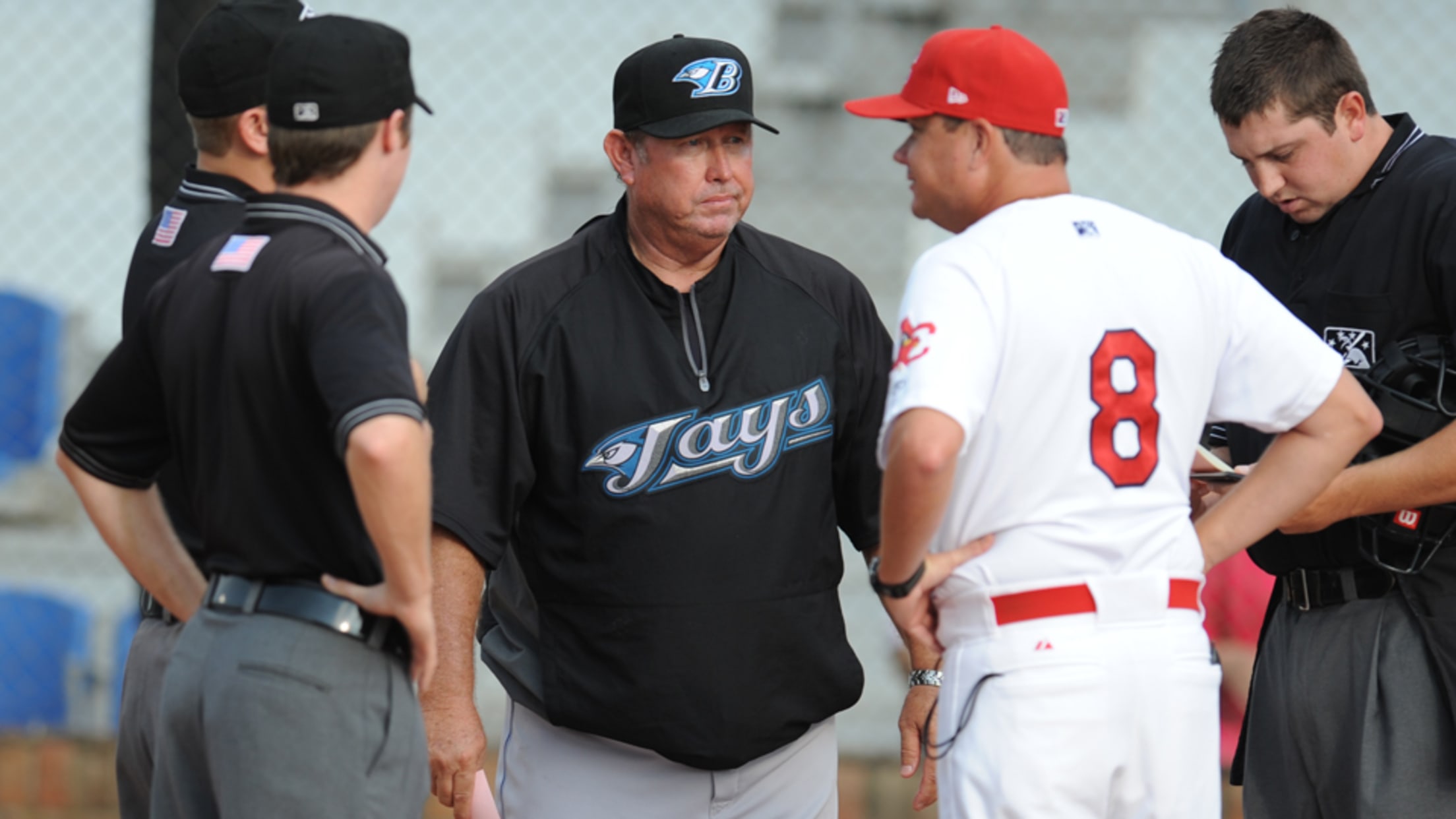 Dennis Holmberg first managed in the Minor Leagues during the Jimmy Carter presidency. (Tony Farlow/Four Seam Images)
Dennis Holmberg has spent four decades working in the Toronto Blue Jays organization, mostly in the Minor Leagues. For 18 seasons, he has guided short-season teams, and that has become his specialty.The Rookie-level Bluefield manager has seen plenty, and later this week he'll head back to the Appalachian League playoffs."You
Dennis Holmberg has spent four decades working in the Toronto Blue Jays organization, mostly in the Minor Leagues. For 18 seasons, he has guided short-season teams, and that has become his specialty.
The Rookie-level Bluefield manager has seen plenty, and later this week he'll head back to the Appalachian League playoffs.
"You don't just go into this," Holmberg said, "You just try to be consistent and persistent. One year has led into another. Another year became another opportunity and another opportunity became another year."
Earlier this month, Holmberg passed the 1,500-win mark. That's just one of his notable achievements.
"Winning 1,500 for me is a huge milestone … and you're just doing your job," he said. "It takes good players and good teams to accomplish a task like this."
When Holmberg first managed in 1977 in the Milwaukee Brewers system in Newark, New Jersey, in the New York-Penn League, his team lost its first seven games but finished with a winning record. The next year, he joined the Toronto organization and never left.
In addition to his tenure as Toronto's bullpen coach from 1994-1995, Holmberg's travels have taken him to the Florida State League, South Atlantic League, Carolina League, a one-year stint in the Pioneer League and the more-recent assignments back to the NYPL and finally the Appalachian League.
With so many stops, there are countless stories -- like the time with his Auburn team in the NYPL while visiting Troy, New York, where there was a knock on the office door after batting practice. It was a state police officer, and Holmberg figured there might have been trouble involving a player until…
"He said, 'I used to be an umpire in the South Atlantic League,'" Holmberg recalled. "And I thought, 'Oh no, this is where the past comes back to haunt you.'"
The officer had heard that Holmberg was bringing his team to the area and decided he would pass on an old ejection report he had uncovered. The rap sheet on Holmberg was 2 ½ pages long. The men shared a few stories and Holmberg said he was pleased that the former umpire stopped by to reminisce.
There's something special, Holmberg said, about managing at the short-season level, where for the players are in an introductory phase of their careers.
"I've always enjoyed that challenge of guys coming in from all sorts of programs, whether it has been college or high school or from the Dominican Republic," he said.
Bluefield will be in the postseason for the fourth time in eight seasons under Holmberg. His lone title came in 2007 with Auburn in the NYPL.
"When you get to the playoffs, everything really, really counts," he said. "Those [titles] are tough to win. It's whoever is playing the best at the time."
Holmberg, 67, said he attempts to be a steady influence on players who have passed his way, noting he's had considerable help.
"Toronto has been a great organization," he said, uncertain how many more years he'll be in uniform. "I'm thankful to be able to stay the course. Teach them to understand how to play the game better. The expectations are that they're becoming more accountable and so that can see what you have to do to get the next level. I accept the responsibility and accountability. When the players fail, we fail. Sometimes, it takes horses to win races. You have to have thoroughbreds. A lot of the credit goes to the scouts."
Toronto added a fourth member to Bluefield's staff this year, so Holmberg no longer goes to the third base coach's box. He said he still embraces the flow of a season in a developmental role.
"People have passed through my life who have helped," he said. "A lot of farm directors who have been passionate about their jobs. It takes a supporting staff. If you're going to have a good play on Broadway, you have to have great supporting actors."

In brief
Providing pop:
Bristol Pirates outfielder
Jonah Davis
is the in the top four in the league in home runs, triples and doubles. While listed at 181 pounds, he says he's checking in at about 200 pounds on his 5-foot-10 frame. "I think I've had it for the most part," Davis said of a swing that produces power. "Definitely glad to have it. Not trying to do too much at the plate."
Saving grace:
Two of the league's five co-leaders in saves entering the final days of the regular season are with teams with the two worst records. Burlington's
Kyle Hinton
and Greeneville's
Connor Bennett
each have six saves, with four of Bennett's coming since mid-August. Hinton was a starter in college for Delaware, but he likes his latest role. "I didn't know how I would do," Hinton said. "I like the pressure situations."
Looking for Twins titles:
The Elizabethton Twins will attempt to repeat as league champions when the playoffs begin with a semifinal series later this week. The Twins are back-to-back West Division regular-season champions for the first time since 2008 and 2009 under manager Ray Smith, who's the all-time winningest manager in league history. If the Princeton Rays hang on, the East Division will have produced a different regular-season champion in four straight seasons.
Bob Sutton is a contributor to MiLB.com.