Around the Minors: The week of July 25-31
Sights and sounds from action across Minor League Baseball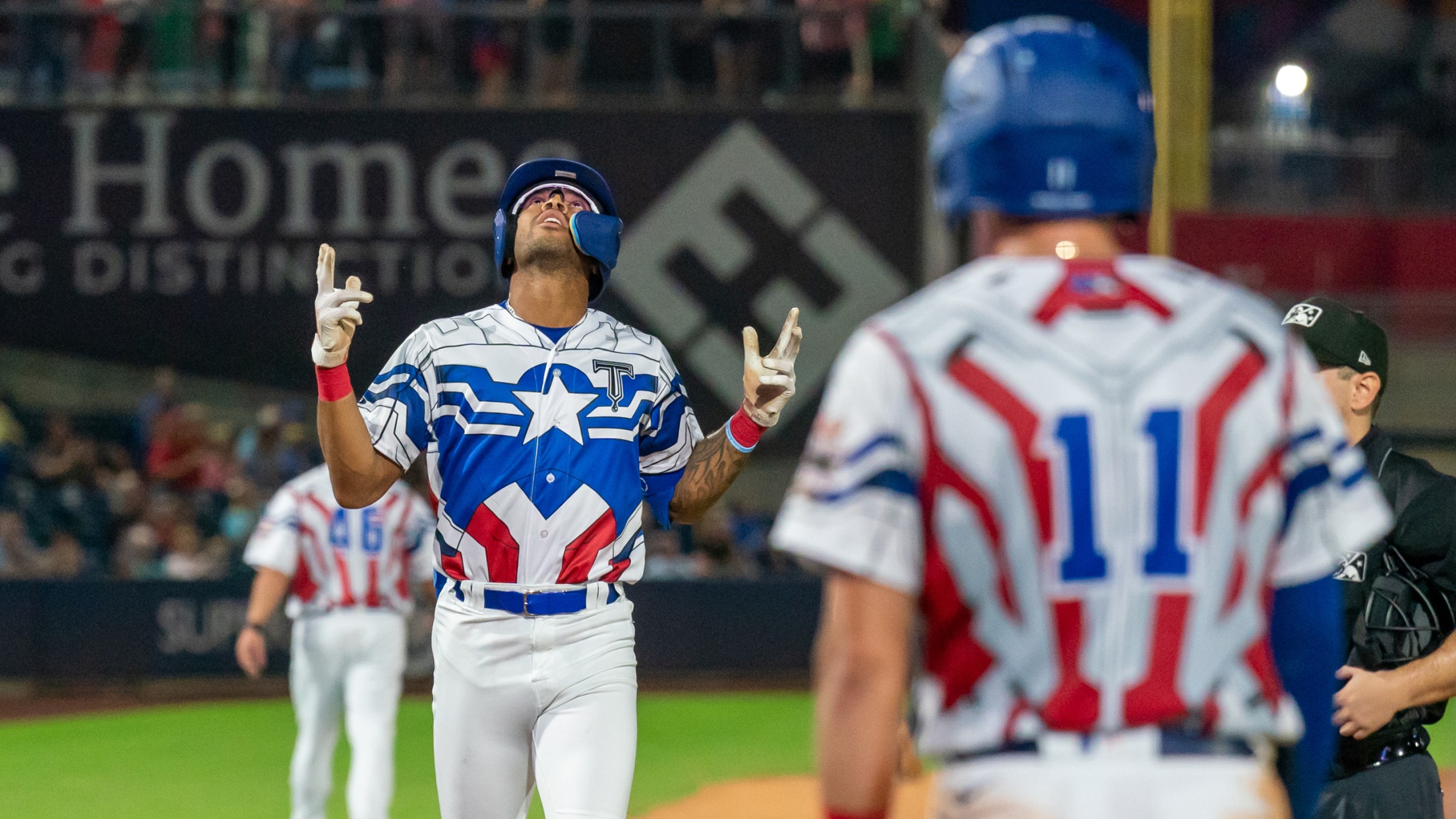 Buddy Reed celebrates a home run in his Marvel jersey for Double-A Tulsa. (Tim Campbell/MiLB)
July 31
A Winn-ing formula
Cole Winn had avoided being tagged with a loss through his first 15 starts this season, and he put a stop to a two-game skid in a big way.
The No. 5 Rangers prospect tied a season high with nine strikeouts in Triple-A Round Rock's 9-4 win over Sacramento. Winn's five-inning scoreless outing was the first in which he had held his opponent scoreless since his second start of the season on April 14.
Winn's win-loss record (7-2) is slightly deceiving since his ERA now sits at 5.72 even after the scoreless effort. That isn't too far off the Pacific Coast League average (5.45), but Winn's propensity for allowing hits has only recently started catching up to him. He yielded just one hit in this outing, a much-needed bounce-back.
That deserves a high five
For the first time in his professional career, Tirso Ornelas tallied five hits in a game.
The Padres' No. 22 prospect doubled twice, singled three times, scored three times and drove in three runs in Double-A San Antonio's 13-12 extra-innings loss to Midland. After grounding into a fielder's choice in his first at-bat, the 22-year-old rattled off five straight knocks -- doubles in back-to-back at-bats and three straight singles -- and hit to each field at least once. Ornelas entered the game batting .289 and raised his average 11 points to .300 with his fourth multihit effort in his last 10 games. In that span, he's slashing .333/.388/.533 with six extra-base hits, eight RBIs and nine runs scored.
The lefty slugger is in the midst of his best season to date, posting an OPS of .768 with 87 total hits, five homers, 18 doubles, a triple, 18 walks and 36 RBIs in 74 games.
Third time's the charm
Make it a trifecta for Oswaldo Cabrera.
The No. 13 Yankees prospect went deep again for Triple-A Scranton/Wilkes-Barre to extend his consecutive homer streak to three games. Cabrera teamed up with Estevan Florial to put the RailRiders, who ultimately beat Rochester 9-2, on the board with jacks in the first inning.
Injuries halted Cabrera's season in early May and he just recently returned to the Scranton lineup. Now healthy, he's been nothing short of excellent. In 13 games since being activated, Cabrera is hitting .288 with a 1.085 OPS and six home runs.
A mad Dash of homers
Bryan Ramos had enjoyed a strong July, but the No. 8 White Sox prospect truly capped the month with a flourish.
Ramos connected on a pair of home runs for High-A Winston-Salem against Greensboro. Both jacks bookended the Dash's 8-4 win, with his first getting his team on the board in the opening frame before providing insurance with a three-run homer in the ninth.
The effort represented a nice finish to an exceptional month for Ramos. In 20 games, the outfielder hit .284 with an .853 OPS. He's now up to 17 home runs on the year, equaling his total from his first two pro seasons combined.
Mendez injured in scary collision
Baseball became secondary for a few minutes of Single-A Carolina's matchup with Fayetteville.
With no score in the bottom of the second inning, the Woodpeckers'Tyler Whitaker sliced a ball to right field where. Mudcats right fielder Hendry Mendez attempted to make a play. However, the ball fell just out of reach of the No. 15 Brewers prospect, who lost his footing and crashed headlong into the side wall without bracing himself.
Whitaker raced around the bases for an inside-the-park homer, but the concern was with Mendez, who was removed from the game and taken to a local hospital where he is staying the night to undergo observation. Although no further details were provided, the club believes all signs are "positive" for Mendez.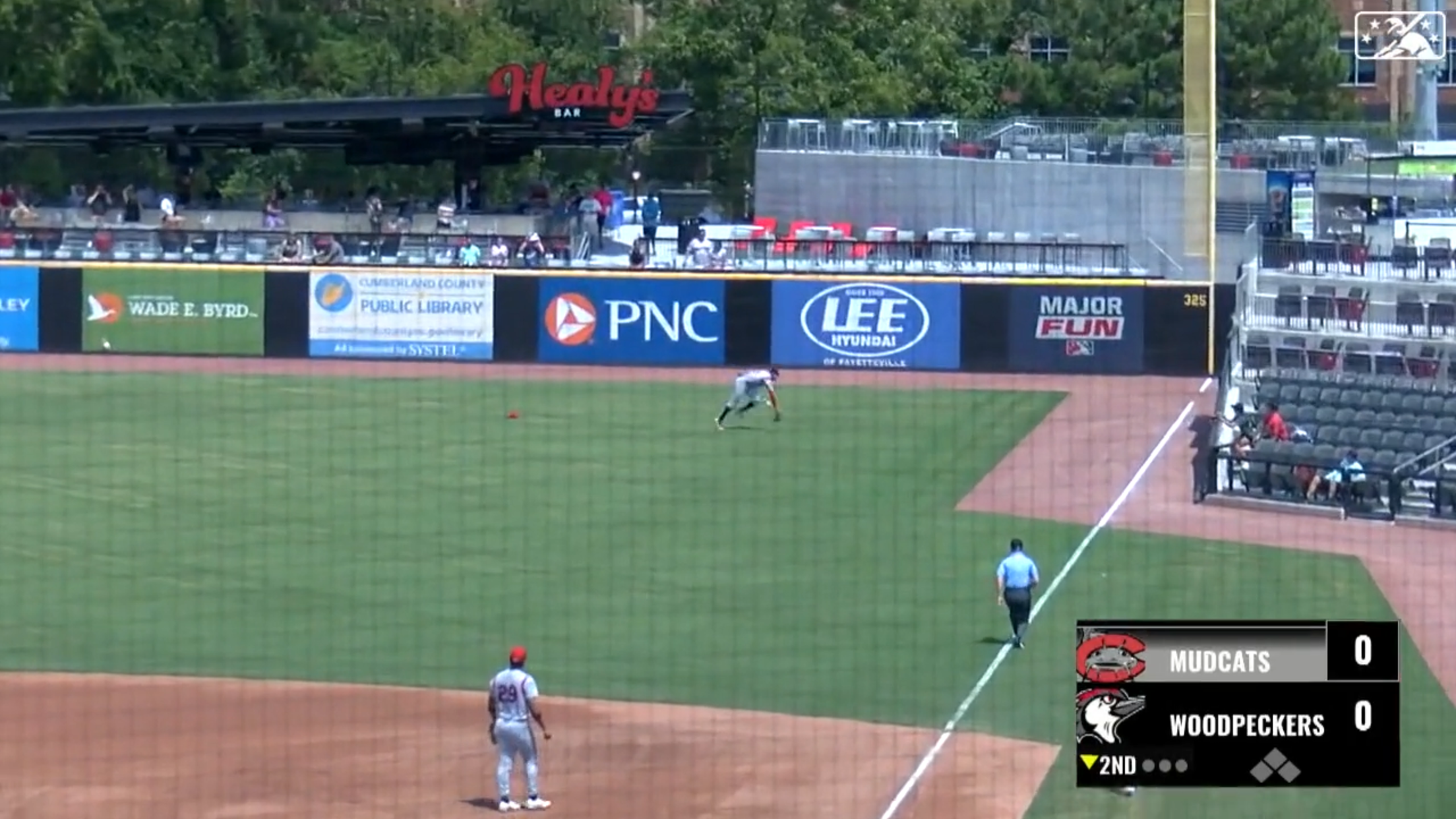 We appreciate all of the messages regarding the status of outfielder Hendry Mendez. We're told that he is doing well and will remain under observation throughout the night. For those unaware, Mendez was involved in a collision with the outfield wall today in Fayetteville.

— Carolina Mudcats (@CarolinaMudcats) August 1, 2022
Foscue has grand amibitions
Amid a slugfest between Double-A Frisco and Springfield, fourth-ranked Rangers prospect Justin Foscue clubbed a grand slam as part of a three-hit game in the RoughRiders' 14-12 win on the road.
MLB's No. 59 overall prospect lined an RBI single to center in the third before stepping to the plate with the bases loaded and one out in the sixth. Frisco was clinging to a two-run lead until Foscue jumped on a pitch on the outside half of the plate and deposited it over the fence in left for his second grand slam of the season. He added another base knock up the middle in the ninth to complete his day. It's the 23-year-old's fourth three-hit performance of the season and his second with five RBIs.
The 14th overall pick of the 2020 Draft, Foscue is batting .279 with a .810 OPS, six homers, 23 doubles, 31 walks and 45 RBIs in 65 games.
Walker's wild weekend
Jordan Walker had his first multihomer game in nearly two months on Friday. Two days later, seeing a new pregame plan bear fruit, he did it again.
Baseball's No. 6 overall prospect continued his surge to the end of July by driving in three runs and scoring three as Double-A Springfield fell to visiting Frisco in a wild one, 14-12.
"I just changed my approach a little bit on my pregame prep work, started using a faster velo machine and trying to get my foot down," Walker said after his big Sunday. "I think that's mainly it. My teammates [Masyn Winn] and [Mike Antico] have been doing the machine with me, helping me out with my swing, and sometimes you get a little lucky. Sometimes something clicks, so yeah, I've been just feeling good at the plate for a little bit. Hopefully I can enjoy it as long as I can."
The tweak may seem like a minor one, but it's paid major dividends, like Friday's performance, Walker's first multihomer affair since June 2. Full story »
Double trouble ... with an exclamation point
They may sit at the back end of the Pirates' Top 30 Prospects List, but Jase Bowen and Dariel Lopez, Nos. 29 and 30, respectively, were at the forefront of the system with their simultaneous performances.
Both homered twice for their affiliates, Bowen with Single-A Bradenton and Lopez with High-A Greensboro. All four combined homers were of the solo variety and helped both teams to a series-ending victory.
The 21-year-old Bowen returned to the Florida State League this year after spending all of 2021 with the Marauders. He's handled the league quite well in his second go-round, now slashing .278/.358/.450 with 13 home runs.
Lopez, meanwhile, has made the jump to the South Atlantic League as a 20 year old and dominated. Despite taking all but three of his 341 plate appearances against older pitchers, Lopez is hitting .284 with an .824 OPS and 18 home runs, good for third in the league.
Two for the road
Aaron Sabato continues to flex his power at the plate.
The No. 13 Twins prospect cranked two homers and plated five runs en route to High-A Cedar Rapids 9-2 victory over Wisconsin.
n the first inning, Sabato crushed a two-run drive to left field. He followed that up with an RBI double to center in the third. The extra-base hits wouldn't stop there, as Sabato mashed another two-run drive to left-center in the fifth inning
The 23-year-old raised his season home run total to 16, making him sixth on the Midwest League leaderboard. He ended the month of July with a .226/.347/.453 line on the season.
Mashing Mets
Don't look now, but Alex Ramirez is starting to heat up.
The Mets' No. 4 prospect has recorded at least one hit in nine of his past 10 games, and his latest feat was a two-homer effort in High-A Brooklyn's 7-0 win over Hudson Valley. The 19-year-old first clobbered a dinger to straightaway center on the first pitch he saw in the fourth before launching a ball to left two innings later.
Ramirez got off to a slow start at High-A before firmly breaking out with a string of five multihit games in a row. All five of his long balls for the Cyclones have come in the last nine days. In 20 games for Brooklyn, the outfielder is batting .300/.360/.575 with 11 extra-base hits, 19 RBIs and a pair of stolen bases.
Also homering was baseball's top prospect, Francisco Álvarez, who continued to show off his power by clobbering an opposite-field homer for Triple-A Syracuse. The 20-year-old raised his Triple-A OPS to .789 and has walked 15 times in his first 16 games at the Minors' highest level.
July 30
Throw 'em out, Rawhide
It was a rough start to the bottom of the fifth for Single-A Visalia when Inland Empire's Tucker Flint hit his first career homer, then Tate Kolwyck and Jeremy Arocho reached on errors. But the Rawhide limited the damage by turning three. Arol Vera flew out to center fielder Alvin Guzman, who threw to third baseman Jean Walters. The D-backs prospect stepped on second base, then threw to first baseman Sergio Gutierrezfor the final out.
The triple play shifted the moment back to Visalia, who padded its lead with three runs in the top of the sixth. The extra run support ended up proving key as Inland Empire put up a 4-spot in the ninth, but the Rawhide held on, 9-6.
The gem was ninth triple play of the Minor League season.
Talk about a perfect first impression!
There really is no two ways about it, Sonny DiChiara made his professional debut and was simply perfect. The fifth-round selection in this year's Draft by the Angels went 2-for-2 with a double, two RBIs and a pair of walks. Add in hit by pitch, and DiChiara reached base in all five plate appearances in Double-A Rocket City's 9-8 loss to Chattanooga at AT&T Field.
The 23-year-old singled on a ground ball to left in the second, drove in his first career runs with a double to center in the third, was hit by a 3-2 pitch in the fifth and concluded his debut with a pair of walks -- in the seventh and eighth. It's only one game, but DiChiara will have at least 24 hours to look at his 2.500 OPS to begin his pro career.
Now that's more like it!
In a season marred by inconsistency, Jack Leiter looked every bit the No. 2 overall Draft pick in Double-A Frisco's 4-1 victory over Springfield at Hammons Field.
The top Rangers prospect was perfect over his first three frames and exited after allowing a run on a pair of hits and three walks while fanning four over 5 2/3 innings. Other than solo home run by Julio E. Rodriguez with two outs in the fifth, Leiter mostly coasted through his outing. He tossed 50 of his 80 pitches for strikes.
The 22-year-old pitched a perfect frame in the All-Star Futures Game, and after issuing just one walk in his last start on July 24, it appears Leiter may have turned a corner and righted the ship. His start against the Cardinals marked his longest outing since May 31.
A great day at the (Win)dish
A four-hit game certainly isn't a bad thing to notch at the start of your professional baseball career. Just ask Hogan Windish, a seventh-round Draft pick by the Mariners, who singled four times, scored twice and drove in two runs in his first game with Single-A Modesto in its 9-8 walkoff win.
Batting second, the UNC Greensboro product singled up the middle on the second pitch he saw in the California League before coming around to score. He added an RBI knock to right in the next frame and led off the fifth with a base hit to center before scoring another run. Windish plated another run with his final hit to center in the sixth.
The 23-year-old played three games in the Rookie-level Arizona Complex League after being signed, going 3-for-10 with two doubles, four RBIs and a walk. The second baseman hit .370 with a 1.166 OPS, 16 homers and 19 doubles in his 2022 collegiate season before slashing .266/.351/.425 in 31 games in the Cape Cod League this summer.
Top Mariners prospect Harry Ford won it for the Nuts with an RBI single in the 10th.
July 29
Baty drives in 7 runs on grand night with Rumble Ponies
By all indications, it would behoove Brett Baty to have his bags packed. Whether the next destination is Syracuse or Queens remains to be seen, but it's becoming evident with each passing game that his days in Binghamton are numbered.
The second-ranked Mets prospect not only extended his hitting streak to 12 games with an early home run, he also added a couple of exclamation points to his performance with a late grand slam and a career-high seven RBIs to help power the Rumble Ponies over New Hampshire in a 12-8 slugfest at Mirabito Stadium.
Baty's 12-game hitting streak is his second longest of the year. He hit safely in 16 straight games from June 8-25. During his active steak, he has nine multihit efforts, including six consecutive, and has gone deep in back-to-back games with Friday marking his first multihomer output of the year. Full story »
Walker delivers two-homer night for Cardinals
After returning from the Futures Game, Jordan Walker flaunted what took him to Los Angeles.
Baseball's No. 6 overall prospect smashed two home runs and drove in four, en route to Double-A Springfield's 12-6 victory over Frisco. It was his second two-homer game of the season and third of his career.
"Something just clicked today," said Walker. "Sometimes you just have these good days and bad days and today just happened to be good. These guys are really good pitchers and throw really hard. So I was looking for fast balls, and I got them and just happened to hit them out." Full story »
Welcome to Cincinnati!
The Trade Deadline is nearing, and the Mariners and Reds are the latest teams to get in on the action. Cincinnati acquired three of Seattle's top prospects (four players total) in a deal for right-handed pitcher Luis Castillo, one of the most coveted starters on the market. Shortstop Noelvi Marte (MLB's No. 18 overall prospect, SEA 1), shortstop Edwin Arroyo (MLB No. 93, SEA 3), RHP Levi Stoudt (SEA 5) and right-hander Andrew Moore are the newest members of the Reds organization.
Marte has been on a tear lately for High-A Everett, slashing .356/.375/.600 with five multihit games, seven extra-base hits and 14 RBIs in his last 10 contests. On the season, the 20-year-old is batting .275 with a .825 OPS, 15 homers, 55 RBIs and 42 walks in 85 games.
Arroyo, who turns 19 at the end of August, was the 48th overall pick of the 2021 Draft. The switch-hitter has been raking at Single-A in his first full season, slashing .316/.385/.514 with seven triples, 13 homers, 19 doubles and 21 steals in 87 games with Single-A Modesto. Arroyo's 115 hits lead all ranked Mariners prospects by a wide margin; Marte has the second-most with 91.
Stoudt, ranked as the second-highest pitching prospect in Seattle's system, underwent Tommy John surgery shortly after he was drafted in 2019 and didn't make his debut until 2021. The 6-foot-1 hurler had a strong introduction to Double-A Arkansas last year before struggling to find consistency in his sophomore campaign, sporting a 5.28 ERA in 87 innings. Still, the third-rounder (97th overall) has a plus changeup and a fastball that can touch 99 mph. The 24-year-old logged a quality start in his last outing on July 26, tossing six innings while allowing a run on five hits with no walks and five strikeouts.
Moore, a 14th-round pick in the 2021 Draft out of Chipola Junior College, is in the midst of a breakout season for Modesto. Pitching exclusively out of the bullpen, the 6-foot-5 righty has posted a 1.95 ERA in 25 games this season with 58 strikeouts in 32 1/3 innings with no home runs allowed. Moore is holding opposing batters to a .217 average with a WHIP of 1.30.
The #Reds have acquired IF Noelvi Marte, IF Edwin Arroyo, RHP Levi Stoudt and RHP Andrew Moore from the Mariners in exchange for RHP Luis Castillo. pic.twitter.com/0T4A8cHkan

— Cincinnati Reds (@Reds) July 30, 2022
King of the Hill
Jamison Hill nearly etched his name in the history books twice. In the end, the D-backs prospect settled for just one entry -- a single-game strikeout record for High-A Hillsboro.
Hill delivered the best start of his young career in the Hops' 5-4 loss to Eugene, exiting with two outs in the sixth without having allowed a hit. The bid was ultimately squashed by a Patrick Bailey single off reliever Jose Alcantara to lead off the seventh.
Despite the loss, Jamison's night was one to remember. His 13 strikeouts set both a career high (it was also his first time in double digits as a professional) and a franchise record, breaking the mark of 12 set in 2014 by Anderson Placido.
July 28
When is a cycle not enough?
Apparently hitting for the cycle wasn't enough for Monte Harrison.
An inning after completing the milestone, the Angels outfielder added a second double for good measure to equal a career high with five hits as Triple-A Salt Lake rolled past Reno, 11-4, at Greater Nevada Field. Harrison's cycle was the first by a Bee since Michael Hermosillo on May 1, 2018.
The 26-year-old might not have had a historic night on his mind when he took the field, but he got the two hardest legs of the cycle out of the way quickly. Harrison connected on his seventh homer of the year to right field in the second inning and brought home another run with his first triple in the fourth. A two-out single in the fifth put the former Marlins prospect on the precipice, and he finished it off with an RBI double in the eighth. It was the second cycle in 12 days in the Minors and the 13th this year. Full story »
Volpe does a little bit of this, a lot of that
Anthony Volpe has a cool and calm demeanor about him. When he stumbled out of the gate, hitting just .203 through the first two months of the season, his poise kept him level-headed.
And when he homered in both ends of Double-A Somerset's doubleheader sweep of Richmond on Thursday, the latest entry in a flipped script since the beginning of June, it was that same mindset that could only see one thing: the outcomes of the games.
"As a team we wanted to come out and get ahead early and really sweep these two games. They were important to us," Volpe said. "To be able to feel like I contributed meant a lot." Full story »
Dialing long distance
Toronto's No. 2 prospect and the Mets' No. 3 prospect had themselves a home run bout.
While the top prospects ended in a stalemate with two blasts apiece, Orelvis Martinez took the edge with five RBIs as Double-A New Hampshire grabbed a 17-8 victory over Ronny Mauricio's Binghamton on Thursday night in Binghamton, N.Y..
The fireworks began in the second inning when Martinez launched a jack to center field, but Mauricio was quick to respond with a homer of his own in the bottom half of the inning, also to center. Martinez retook the lead with a three-run blast to left in the third, marking his 24th homer of the season.
It took two more innings, but Mauricio hit another solo shot to right in the fifth. They both ended the night 2-for-4, with Martinez totaling five RBIs and Mauricio knocking in two of his own. Full story »
The Oklahoma Kid
It may not have been perfect, but Bobby Miller bounced back from a poor outing his last time out in a big way in Double-A Tulsa's 4-2 win over Arkansas, striking out a career-high 11 across six innings of two-run ball.
The Dodgers' top pitching prospect carried a perfect game into the fifth inning, fanning seven of the first 13 batters he faced before surrendering a one-out double and a two-run homer. Miller was not discouraged, though, as he fanned two of the next three batters to limit the damage. The 23-year-old capped off his night with two more punchouts in the sixth to notch his second double-digit-strikeout performance of the month.
The righty hurler generated 23 swings-and-misses while throwing 62 of his 96 pitches for strikes. Ranked as MLB's No. 25 overall prospect, Miller has pitched to a 2.75 ERA in July and has racked up 95 strikeouts in 76 1/3 innings this season.
Going Loon-y for Great Lakes
With the Trade Deadline nearing, it's impossible to escape the rumors of top prospects headlining blockbuster packages. Diego Cartaya has been one of those names, and on Thursday night, he showcased exactly why he's so highly coveted.
MLB's No. 12 overall prospect put on a show in High-A Great Lakes' 7-2 win over Lansing, clubbing two homers in a game for the second time this season as part of a four-RBI game. The two-hit effort raised his season line to .273/.408/.545 with 17 homers and 56 RBIs in 68 games across two levels.
"I'm kind of surprised I have 17 home runs this year," Cartaya laughed. "I never thought that I was going to be a power hitter. I just try and put a good swing on the ball, and good things are happening."
Look(out) below!
Elly De La Cruz has been turning heads all season, but this moment might just take the cake.
Playing in his sixth game with Double-A Chattanooga, the Reds' No. 2 prospect blasted a home run that traveled a projected 512 feet in his first at-bat of the night. It was the 20-year-old shortstop's first homer with the Lookouts and 21st overall on the season as he continues his rapid ascent through the Minors.
For context, only two homers in MLB have traveled at least 500 feet since Statcast began tracking in 2015: a 505-foot shot by Nomar Mazara in 2019 and a 504-foot blast by Giancarlo Stanton in 2016.
As if the mammoth homer wasn't enough, De La Cruz later went on to add a triple, also his first with Chattanooga, and a stolen base to his stat line. It's pretty safe to say he had a good day at the plate.
Walking on air
A slump, an adjustment to a new level or a combination of both has conspired against Francisco Álvarez since his arrival in Triple-A. MLB Pipeline's top prospect entered his ninth-inning at-bat hitting .125 with a single homer -- a grand slam -- since joining Syracuse on July 4.
One pitch and one long drive later, Álvarez might have found his footing, even if he was barely touching the ground.
With the game tied, the winning run at third and two outs in the bottom of the ninth, the 20-year-old clobbered an 0-2 pitch well beyond the fence in left-center field to give Syracuse a 5-3 win over visiting Omaha. The walk-off homer was Álvarez's 20th long ball of the season, just four behind the career-high 24 he belted last season.
Despite his small-sample-sized struggles in Triple-A, the backstop is batting .259 with an .894 OPS, 39 extra-base hits and 57 RBIs in 80 games between Double-A Binghamton and Syracuse.
Jumping right in
Marlins No. 6 overall Draft pick Jacob Berry made his pro debut and collected an RBI knock for the Florida Complex League Marlins in a 9-0 victory over the FCL Cardinals.
The LSU product was the designated hitter and batted second in the lineup. He finished 1-for-5 with a two-RBI single back up the middle in the fourth inning. Miami's 14th-round selection Torin Montgomery also made his debut and went 2-for-4 with an RBI and a run scored.
The Marlins also announced that second-rounder Jacob Miller (No. 46 overall) will throw a side session on Saturday before the right-hander tosses live batting practice next week.
July 27
The Baron of home runs
It took Oscar Colas half of his first Minor League season to prove he was too good for the High-A South Atlantic League. Just over a week in, the Double-A Southern League might not be much of a challenge either.
The second-ranked White Sox prospect left the yard twice for the second time in three games as part of a four-hit effort in the Birmingham Barons' 8-3 win over the Tennessee Smokies on Wednesday.
Facing No. 7 Cubs prospect Jordan Wicks in the third inning, Colas wasn't fazed by the left-on-left matchup. The outfielder was caught off balance by a two-strike curveball but used his 60-grade strength to flick it on a line over the wall in right field. Southpaws proved to be of little difficulty for Colas with Winston-Salem before his promotion -- in 38 such plate appearances, he hit .400 with a 1.018 OPS against them.
But all 10 of his home runs entering the night had come against right-handers, and back in that familiar matchup facing Kyle Johnson with a runner on in the fifth inning, Colas did it again. His second of the game doubled Birmingham's lead, which it held for the rest of the night. Full story »
Gunnar riding a high Tide
Gunnar Henderson entered Wednesday riding an eight-game hitting streak in which he notched one knock in each contest during that stretch. But the second-ranked Orioles prospect believed there was still untapped production that was being caused by a timing issue he's been working on for the last few weeks.
He tapped into it Wednesday.
Henderson was right on time as he broke out for his second four-hit night of the season, mashing a pair of home runs, while collecting four RBIs and scoring four times to help fuel Triple-A Norfolk's 13-10 comeback victory over Memphis at AutoZone Park.
"I felt like I was able to stick with a good approach today. Had a good plan going into the game and stuck with it and was able to put on a few good swings, get the barrel to the ball," Henderson said. Full story »
Back on top
Moisés Gómez is on a tear.
Over his last three games, the Cardinals' No. 25 prospect has launched a homer in each appearance. He continued his long ball streak in Triple-A Memphis' 13-10 loss to Norfolk. A ninth-inning solo shot to left field did the job, marking his sixth homer with the Redbirds; he was promoted on June 28. During his three-game stretch, the right fielder is batting .400 (4-for-10) with three jacks and five RBIs. Gómez is also on a seven-game hitting streak.
On the season, the 23-year-old is the Minor League leader in homers with 29 overall while batting .311 with 92 hits, 70 RBIs and 69 runs.
Loving life in Lansing
Max Muncy has needed little to no adjustment since joining the Lugnuts.
Oakland's No. 4 prospect played a large part in High-A Lansing's 8-6 loss to Great Lakes.
The first-round (25th overall) selection in the 2021 Draft began the night with a leadoff homer to left-center field on the very first pitch of the game, his first with his new team. In his second at-bat, the 19-year-old laced a double to left in the second. He followed with a single to right in the sixth, ending the evening a triple shy of the cycle.
The shortstop's three hits are the most since his promotion on July 20. In the five games since, Muncy's slashing .333/.375/.762.
Fitting right in
If Daniel Vellojin made contact, it was going out.
Cincinnati's No. 22 prospect showed off his power in Double-A Chattanooga's 9-7 loss to Rocket City. In his first at-bat, the 22-year-old crushed a solo shot to right-center field in the third inning and promptly followed with another solo blast to right in the fourth for his first two homers with the Lookouts.
The catcher was promoted to Double-A on July 26. After going 0-for-2 with two walks in his first appearance, the Colombia native was 2-for-4 in the latest outing while knocking off multiple milestones from his to-do list.
Vellojin is hitting .210 for the season with eight homers and 16 RBIs.
That was a no-Brainer
Single- A Salem's Brainer Bonaci could not be denied against Fredericksburg.
Boston's No. 20 prospect was 3-for-4 during the completion of a game suspended on July 26. The 20-year-old smashed a two-run homer to right-center field in the first inning and came full circle with a two-run blast to left-center in the ninth. Accompanied by a bases-loaded walk in the second and a two-run single to center in the sixth, the second baseman drove in a career-high seven runs. The two jacks were his first of the season and his first career multihomer game on the way to the Red Sox's 9-3 win over the Nationals.
It was much of the same success in Salem's 6-2 win in Game 2. Bonaci was 3-for-4 again and continued the extra-base-hit clinic. In his first at-bat, the switch-hitter launched his fifth triple of the season to center field in the first inning. He followed with a double to left in the third and an RBI double to right in the fourth.
Bonaci is batting .600 (12-for-20) over his five-game hitting streak with eight extra-base hits and nine RBIs.
A National treasure
Cade Cavalli was dazzling in his first start since being removed in the fourth inning on July 12 due to a blister-like issue on his finger.
MLB Pipeline's No. 45 overall prospect tossed five scoreless innings for Triple-A Rochester. The 2020 first-round (22nd overall) Draft selection allowed three hits and three walks while fanning three.
In just his second professional season, the 23-year-old has skyrocketed through the ranks. After the setback earlier in the season, it was significant for the right-hander to show the blemish wouldn't slow him down. A third straight start without allowing an earned run has brought Cavalli's ERA down to 4.03, the lowest it has been all season.
Back in the swing of things
Gabriel Moreno's home run was just his second of the season and first in over two months, but it's another encouraging sign for the No. 5 overall prospect in MLB. The power needs to come, of course, but the Blue Jays have been encouraged by Moreno's contact of late as he builds up reps in Triple-A.
Playing time was the primary reason for Moreno's return to the Bisons after an 18-game big league stint. He flashed his defensive abilities against the running game with the Blue Jays, but with Alejandro Kirk and Danny Jansen representing one of the league's best catching duos, Toronto can continue to be patient with the young star's development.
"We talked about how impressed we were with him and how things didn't speed up," GM Ross Atkins said. "I personally told him, 'You did better than I expected you to do,' because of the position and how hard it is to handle the advanced scouting report, managing 13-14 pitchers and their arsenals, 13-14 hitters for a different team every day. With that amount of information, to be able to work through it and still remain an athlete and do a great job controlling the running game and having good at bats. ... The contact-oriented approach is a nice complement to us."
July 26
A Giant evening with the bat
It was a career night for Grant McCray.
The No. 25 Giants prospect delivered a five-hit game in Triple-A San Jose's 18-4 victory over Rancho Cucamonga. The 21-year-old went deep to take over the Giants' team lead in home runs and swiped his 26th bag of the season.
McCray led off with a single placed into center followed by a two-RBI knock to right in second. The lefty then hustled to second to successfully steal a base. In the fourth, he smashed a home run to right-center field. McCray capped off his five-hit night with two singles to center in both the sixth and eighth inning.
This was the first time McCray completed a five-hit night in his career. He brought his season home run total to 15 and raised his slash line to .285 /372/.516.
Making the grade
Tyler Soderstrom grew up in Turlock, Calif., which is less than 100 miles away from RingCentral Coliseum, and nights like he had on Tuesday show why one day he may become an everyday starter in the stadium that is close to home.
The No. 2 Athletics prospect was a run-producing machine after he finished 3-for-5 with two homers and four RBIs in High-A Lansing's 6-0 win over Great Lakes.
"It felt good tonight," Soderstrom said. "I'm glad I gave my team a chance to win and drove in the runs that I did tonight."
In Triple-A, it appears Shea Langeliers continues to shrink the distance between Las Vegas and Oakland.
The top A's prospect continued his domination of the Pacific Coast League, posting a perfect 4-for-4 night with a walk and another mammoth home run in the Aviators' 15-7 loss to Albuquerque at Isotopes Park on Tuesday night. Full story »
The Frisco Kid
In the midst of his best month of the season, Dustin Harris put together his best game of the year.
Texas' No. 7 prospect reached base five times and went 4-for-5 with a homer, three RBIs and three runs scored as Double-A Frisco downed Springfield, 10-6.
Harris kicked off his night by singling to left in the first before reaching base on a fielding error charged to Springfield third baseman Jordan Walker in the third. Harris then provided his biggest moment of the night, when he belted a three-run homer to right-center in the fourth. The 23-year-old then singled to center in the seventh and to right in the eighth to cap his night.
Through 76 games with the RoughRiders this season, Harris is batting .266/355/.475. Through 15 games in July, he's been hot, batting .290/.370/.500
Yankee Doodle Peraza
Make it seven straight games with a hit for Oswald Peraza, who homered and singled in Triple-A Scranton/Wilkes-Barre's 12-5 rout of Rochester at Frontier Field.
The second-ranked Yankees prospect found a hole on the left side of the infield for a single in the first. He later successfully stole his 24th bag of the year with two outs in the frame. He then led off the third with his 13th dinger of the year to left field. Peraza has notched a pair of knocks in each of his last three games and has three home runs during his seven-game hitting streak.
MLB.com's No. 37 overall prospect has been red-hot of late, sporting a .323/.400/.597 slash line with nine extra-base hits, 12 RBIs and 12 runs scored over 15 games in July.
Chourio's just two good
On his first swing in High-A, Jackson Chourio announced his arrival.
Baseball's No. 36 overall prospect singled on the first pitch he offered at and later added an RBI double and a walk as Wisconsin fell to visiting Cedar Rapids, 10-4.
In the bottom of the first inning, Chourio took the second pitch he saw from Kernels starting pitcher John Stankiewicz and punched it up the middle for his first Midwest League knock. After working a free pass in the bottom of the second, Chourio came up big in the fourth. The outfielder lofted a drive down the line in right, one-hopping the wall for an RBI double.
Milwaukee's top prospect was promoted to High-A after a breakout showing to begin the year with Single-A Carolina. In 62 games there, Chourio batted .324 with a .373 on-base percentage and .600 slugging percentage, thanks to 12 homers, five triples, 23 doubles and 47 RBIs.
The Show beckons
The Orioles have added another member of their top-rated farm system to the big league club. In doing so, they rewarded a prospect whose play was becoming hard to ignore, and they added a hoped-for nightly contributor to a team garnering competitiveness.
No. 12 prospect Terrin Vavra was called up from Triple-A Norfolk for the first time ahead of Tuesday's tilt with the Rays at Camden Yards, one superutility player replacing another as Jonathan Araúz landed on the injured list with a right finger fracture sustained in Monday's win.
Vavra was not in the starting lineup as a late arrival to Baltimore. But once he debuts, he's expected to be a nightly contributor in myriad ways, namely his utility in the field and his left-handed swing to a very right-handed lineup. He stands to earn most of his time at second base, but he has played both center and left field with Norfolk. Full story »
The @Orioles have recalled their No. 12 prospect, Terrin Vavra, for what would be his MLB debut.

Scouting report, tool grades and more: https://t.co/7uvOT4lkkZ pic.twitter.com/C7SaYF5nSO

— MLB Pipeline (@MLBPipeline) July 26, 2022
The week that was
Even though there were only three days' worth of Minor League games, prospects did get to take the spotlight last week. With the Futures Game in the rearview mirror, the 2022 MLB Draft wrapped up on Tuesday after three days of picks. On the field, there was a good amount of news too. The Reds bumped their No. 2 prospect Elly De La Cruz to Double-A, and the Yankees sent third-ranked Jasson Domínguez to High-A, where he made an instant impact. Top Mets prospect Francisco Álvarez did the same in his early days in Triple-A, and fourth-ranked Marlins prospect JJ Bleday got the call to The Show. In the Pacific Northwest, top Mariners prospect Noelvi Marte continued his turnaround. Take a look back at last week's action.