Around the Minors: The week of July 4-10
Sights and sounds from action across Minor League Baseball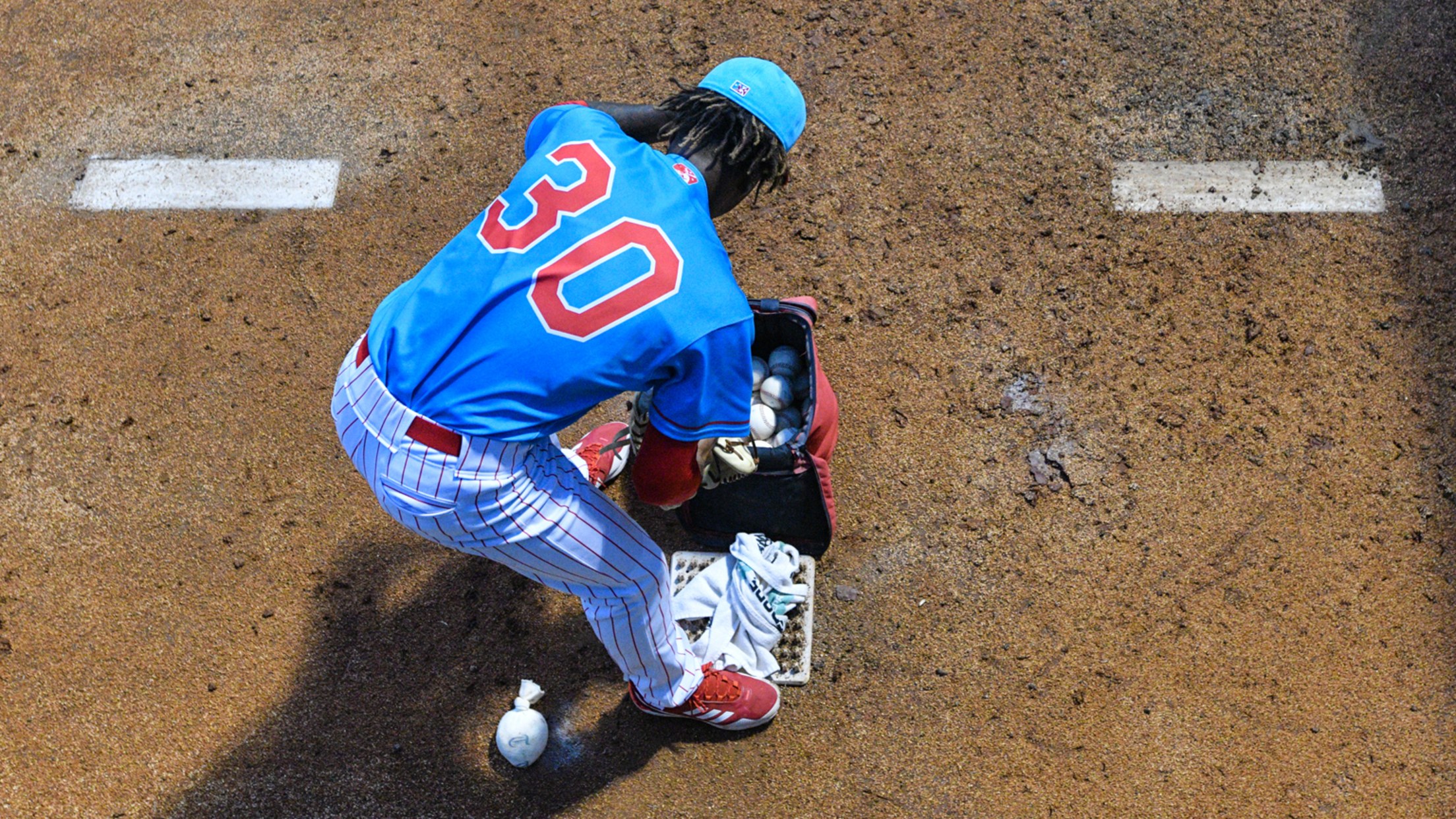 Right-handed Phillies prospect Rodolfo Sanchez gets set to work in the bullpen at Single-A Clearwater. (Tom Hagerty/MiLB.com)
July 10
60 is the new 40
Esteury Ruiz is tearing it up on the basepaths.
The Padres' No. 28 prospect stole his 60th base in Triple-A El Paso's 4-3 victory over Sugar Land. He stands atop the leaderboard for stolen bases in both the Minors and the Majors. The 23-year-old achieved the milestone after hustling to second base on the first pitch to Taylor Kohlwey in the first inning.
Ruiz nabbed 37 bases in 49 games for Double-A San Antonio and has 23 in 28 games for the Chihuahuas. In his five-and-a-half-year career, he has 218 total stolen bases.
Coming up Aces
"The Biggest Little City in the World" might prove too small for Corbin Carroll.
Baseball's No. 3 overall prospect parked a two-run homer in his Triple-A debut with Reno, which outlasted visiting Tacoma, 3-2, in 11 innings. Carroll, who will participate in the All-Star Futures Game next weekend at Dodger Stadium, also flashed his 60-grade defense with a pair of stellar plays in center field.
All in a day's work? Maybe, but his debut did elicit a few butterflies.
"Yeah, there were a few added nerves," Carroll admitted. "I think spending some time recently in Arizona [rehabbing an undisclosed injury] added to that a little bit. I've worked hard to get here and it felt really special. The guys in the clubhouse did a nice job of letting me know it's still the same game." Full story »
THIS KID IS ELECTRIC 😱

Corbin Carroll cuts down the go-ahead run at the plate in the top of the tenth inning. @corbin_carroll | #Aceball pic.twitter.com/1NTbbUIsmK

— Reno Aces (@Aces) July 11, 2022
New role, same Sikkema
After pitching hitless ball into the fifth inning and striking out eight in his last outing on July 4, T.J. Sikkema would've been hard-pressed to improve on it. He may have, anyway -- and did so in a different role.
Pitching out of the bullpen for the first time in his career, the No. 19 Yankees prospect struck out a career-high 11 while allowing one earned run on two hits over five innings as High-A Hudson Valley outlasted Jersey Shore, 9-6, in 11 innings.
Sikkema entered in the sixth and whiffed four of the first five batters he faced. The lefty struck out the side in the sixth, then fanned two in each inning from the seventh through the 10th. Sikkema only recorded three outs on balls in play and one on the basepaths. Though it wasn't a start, the appearance marked the first time Sikkema has pitched five innings in a game in his pro career.
Drafted 38th overall by the Yankees out of Missouri in 2019, Sikkema missed all of the 2021 season with shoulder and lat issues before making his full-season debut with the Renegades this year. The 23-year-old's first 13 pro appearances came as a starter.
Drilling for zeros
For the second consecutive Sunday, Bobby Miller took the ball under the sun for Double-A Tulsa and posted a zero.
The Dodgers' No. 2 prospect -- and MLB's No. 27 -- worked five scoreless innings in the Drillers' 6-3 win over Northwest Arkansas, adding nine strikeouts. Miller allowed a pair of unearned runs with two outs in the third frame, but recovered to set down the final seven batters of his afternoon in order.
Add six scoreless innings in a duel with Mariners prospect Emerson Hancock in his last outing and Miller has posted these numbers in the span of a week: 11 innings, three hits, no earned runs, four walks and 19 strikeouts. His season-long ERA has dropped from 4.92 to 4.12 over that stretch.
The mighty Quinn
In his abbreviated season,Quinn Priester has been taking steps forward. In his fourth Double-A start, he took a big one.
Baseball's No. 35 overall prospect dealt five scoreless innings, striking out six and scattering four hits, to nab his first win of the season while leading Double-A Altoona to an 11-1 rout of Akron.
Priester got half his eventual hit total out of the way by allowing singles to the first two batters he faced before retiring the next three RubberDucks batters. In the second, he again allowed two baserunners by yielding a one-out single and two-out hit batsman but got out of trouble.
From there, Pittsburgh's top pitching prospect cruised. After Brayan Rocchio singled to right to open the third, Priester retired the next nine in a row, four via strikeouts. Rocchio, who also had one of Akron's singles in the first, was the final out of Priester's afternoon when he bounced to second to close the fifth.
All told, Priester threw 65 pitches, 45 for strikes, and got five groundouts against two on the fly.
July 9
Hickory Dickory Dock
It took an extra frame, but High-A Hickory made history for the first time in nearly a decade.
After breaking through with four runs in the 10th inning, the last of four Crawdad pitchers closed the door on a no-hitter in Hickory's 4-0 victory against Bowling Green on Saturday night. It was the 22nd no-no in the Minors this year and the second in the South Atlantic League in a week.
Larson Kindreich, Leury Tejada, Michael Brewer, and Theo McDowell all started the year in Single-A Down East. The quartet all played a role in Crawdads' first no-hitter since 2013.
Pitching coach Jon Goebl knew of the history between this group of pitchers and immediately contacted the Wood Ducks' pitching coach Demetre Kokoris.
"I texted him right away," Goebl said. "I was like, 'Hey, four of your Wood Ducks just threw a no-hitter by the way.'" Full story »
High-fives all around
It was a career night for Jose Salas who went yard as part for a 5-for-5 night to lead High-A Beloit's 6-1 victory over Peoria at Dozer Park.
The seventh-ranked Marlins prospect collected singles in the first, third, fifth and eighth innings. In the sixth, Salas turned around a 2-0 fastball and hammered it to right-center for a two-run blast. It was his second jack with the Sky Carp and seventh of the year. He finished with three RBIs.
The performance raised the 19-year-old's average 82 points as he now sports a .364/.417/.545 slash line with eight RBIs and seven runs scored over 10 games with Beloit.
The Ty that binds
No one can get a run off of Ty Madden, recently.
The Tigers' No. 5 prospect has been dealing in his last three outings, going 13 consecutive innings without allowing a run. The 22-year-old continued that streak on Saturday, striking out six while allowing one hit across five frames in High-A West Michigan's 3-0 win over Dayton.
The righty was on from the start, retiring the first 10 batters before allowing his only hit in the fourth inning. He threw 72 pitches – 46 for srikes.
Madden lowered his ERA to 2.61 and increased his strikeout tally to 73 in 72 1/3 innings.
De La Cruz pulls double duty
Elly De La Cruz has quickly turned himself into a must-see event, and his latest act did not disappoint.
The second-ranked Reds prospect homered from both sides of the plate and took sole possession of the Midwest League home run race with his 20th jack in High-A Dayton's 5-3 loss to West Michigan in the nightcap of a doubleheader at Day Air Ballpark on Saturday.
It's the second time in three days that the 20-year-old has gone yard from both sides of the plate in the same game. No Dayton player had connected on home runs from both sides of the plate in the same game since 2010, when Henry Rodriguez accomplished the feat.
De La Cruz became just the third player in Dragons history to reach 20 home runs and 20 stolen bases in a season, joining Wily Mo Pena in 2001 and Jose Siri in 2017. Full story »
Quack, quack, quack!
Daniel Mateo may not be a household name in the Rangers system, but he's starting to make a name for himself.
Mateo homered three times and finished 4-for-6 with a career-high seven RBIs in Single-A Down East's 13-1 win over Fayetteville on Saturday night.
Mateo resembled the player he feels he is most like: Carlos Gomez. It makes sense since he described his style of play as "aggressive" and "always looking to help the team win in any way I can."
Mateo was aggressive from the outset, hitting the third pitch he saw he over the left-field fence for a two-run homer in the first inning. He followed up in the next frame with another two-run poke on the first pitch, this time to right. The Dominican Republic native finished off the trifecta with a three-run jack to left-center field in the fifth. Full story »
Painting a masterpiece
It was just another day at the beach for Andrew Painter.
Baseball's No. 54 overall prospect struck out four over three perfect innings in High-A Jersey Shore's matchup with visiting Hudson Valley. Painter was making his second start since returning from a 10-day stint on the Development List that ended on July 2. The 19-year-old returned to the BlueClaws by tossing two scoreless frames the following day.
Painter, who did not allow an earned run until his sixth start with Single-A Clearwater, needed 36 pitches (25 strikes) to retire all nine batters he faced. Selected 13th overall in last year's Draft, the 6-foot-7, 215-pounder has a 1.74 ERA with 79 strikeouts in 46 2/3 innings over 12 starts with the Threshers and BlueClaws.
July 8
Mercy, Marte!
This is the Noelvi Marte we've been waiting to see.
The Mariners No. 1 prospect continued his red-hot month of July, homering twice as part of a three-hit night in High-A Everett's 10-5 win over Vancouver.
It was the first multi-homer game of the season for Marte, who achieved three, including a three-homer game, in his full-season debut at at Single-A Modesto in 2021. Marte hit 17 homers at Modesto as a 19-year-old in 2021, a few years after signing for $1.55 million as the prize of Seattle's 2018-'19 international signing class.
There might not be any player in the Mariners system who surpasses Marte, the game's No. 20 prospect, in terms of raw power. He is also a shortstop with plus speed and arm strength, enough athleticism to move around the field and enough bat to profile at third base long-term if necessary. That bat is Marte's calling card. Full story »
Home run number two for Noelvi pic.twitter.com/DZorUHm2fP

— Everett AquaSox (@EverettAquaSox) July 9, 2022
Three Jete
The calendar has flipped to July, and Jeter Downs is heating up with the weather. The fifth-ranked Red Sox prospect homered in his third straight game for Triple-A Worcester, finishing the 5-3 loss by going 2-for-4 with a double and three RBIs. The dinger was a three-run jack in the bottom of the ninth to get the WooSox on the board and give Downs 16 long balls in 67 games this season. He is eight roundtrippers shy of tying his career-high mark of 24, which he set in 119 games across two levels in 2019.
The 23-year-old has struggled at the Minors' highest level, entering the month with a .182/.312/.392 slash line, but he's tallied six two-hit games this month alone and is riding a seven-game hit streak dating back to July 1 -- he had amassed only seven multihit efforts through the first 50 games of the year. With eight extra-base hits in July, the middle infielder has raised his slugging percentage 80 points to .472.
deGreat once again
Making his second rehab outing for Single-A St. Lucie, Mets ace Jacob deGrom had plenty of familiar faces in the crowd pitching at Daytona. The Stetson University product grew up in nearby DeLand, Florida.
"It was really cool, how many people came out [on Friday]," deGrom told reporters. "Growing up around here, seeing the support from this community is awesome."
Although he doesn't typically nee an extra boost, deGrom thrived with loved ones nearby, working around three hits with six strikeouts across three scoreless frames the Florida State League Mets won, 5-4. The right-hander now has 11 punchouts against zero walks in 4 2/3 innings for St. Lucie as he works his way back from a stress reaction in his right scapula.
"Coming off the first time in a game, being on a five-day routine -- I felt really good," deGrom said. "I was happy to get out there and get three complete innings."
Jacob deGrom - 3 innings, 0 runs, 0 walks, 3 hits, and 6 strikeouts! pic.twitter.com/c3lsf52CLr

— St. Lucie Mets (@stluciemets) July 9, 2022
Ninja Turtle or Spider-Man?
Ceddanne Rafaela has had an impressive few days. After smacking a homer and a double the day he was announced to the All-Star Futures Game roster, the No. 26 Red Sox prospect put his plus field tool on display. After Double-A Binghamton's Brandon McIlwain lofted a ball to left-center, Rafaela climbed wall to take a home run away.
Two frames later, McIlwain got his revenge with a homer to left-center that cleared the fences -- and fielders. But Portland held on for 7-4 victory. Rafaela went 2-4 in the game and brought his slash line to .311/.353/.946.
July 7
Happy birthday to you...
A couple of hours before turning 20, Owen Caissie made the last at-bat of his teenage years one to remember.
The No. 8 Cubs prospect belted a walk-off grand slam in the bottom of the ninth to lead High-A South Bend to an 8-6 win over Wisconsin.
South Bend got a leadoff walk from BJ Murray Jr. to open the ninth but was down to its final out with Murray still at first before the rally. Yohendrick Pinango singled to center to push Murray to second, and Caleb Knight walked to load the bases and set the stage for Caissie.
On the third pitch he saw from Wisconsin's Taylor Floyd, the outfielder crushed a drive down the line in right, off the facing of the team's performance building beyond the right-field wall. The grand slam was Caissie's second of the season, joining one on May 10 against Fort Wayne.
De La Cru-shed x3
That's how you celebrate being named to the 2022 SiriusXM All-Star Futures Game.
Reds No. 2 prospect Elly De La Cruz did so with a monster day at High-A Dayton, homering thrice in the club's split doubleheader hours after being named to the upcoming annual prospect showcase. De La Cruz homered from both sides of the plate in the Dragons' 7-3 Game 1 loss, then he added a solo shot in their 5-0 nightcap win, finishing 4-for-6 with a walk on the day.
"That felt very, very good," De La Cruz said via an interpreter. "It's the best feeling ever to hit a home run from both sides. It's an emotion that's hard to explain. But it's a good emotion."
The switch-hitter clocked his first homer of the day lefty and the next two right-handed, including once in each game. In the process, he achieved his first multihomer game since debuting in affiliated ball last summer. He also tripled his season output of right-handed homers, hitting two of his three on the season on Thursday. Full story »
Early and often
Before their starting pitcher even toed the rubber, the Portland Sea Dogs had just about gotten him into the win column.
Double-A Portland put 11 runs on the board in the top of the first inning and added five more by the third on the way to a 16-1 drubbing of Binghamton.
Portland sent 16 batters to the plate in the top of the first, and the Sea Dogs started it with a bang. Leadoff man Alex Binelas cranked a leadoff homer to right-center, and Ceddanne Rafaela followed with a solo shot of his own to left. From there, Portland was off and running, adding four doubles, two singles and another home run, a three-run blast by designated hitter Stephen Scott.
Sea Dogs starting pitcher Brett Kennedy, the beneficiary of the run support, was no worse for his lengthy wait, retiring the side in order in the bottom of the first. In the second, the onslaught continued with Nick Sogard belting a two-run homer to right-center. One inning later, it was more of the same. Izzy Wilson clubbed a three-run homer to right-center to give the visitors a 16-0 lead.
The performance marked season highs for the Sea Dogs in hits and runs as well as the most runs scored in any inning.
Kennedy went seven scoreless innings, scattering six hits and striking out four while walking two.
No. 26 @RedSox prospect and Futures Game roster selectee Ceddanne Rafaela knocks a double and homer for the @PortlandSeaDogs in an 11-run first. pic.twitter.com/6x8vQRCq3D

— MLB Pipeline (@MLBPipeline) July 7, 2022
Moisés Gone-z
Squaring off against his former organization, Cardinals prospect Moisés Gómez made a loud statement. The former Rays prospect crushed his Minor League-leading 25th home run to left field for Triple-A Memphis on the road at Durham.
With his team trailing 2-0, Gómez clobbered the third pitch he saw from reliever Zack Erwin and deposited it onto the concourse behind the left-field wall at the Durham Bulls Athletic Park. It was the slugger's second homer in nine games since being promoted to Triple-A.
Gómez began the season with Double-A Springfield and starred. There, the 23-year-old batted .321/.401/.705 with 23 homers and 54 RBIs in 60 games played. His 25 clouts already this year surpass the combined total (24) of his 2019 and 2021 seasons, which were comprised of 195 games between then-Class A Advanced Charlotte and Double-A Montgomery.
July 6
Hitting it big against Vegas
Ryan Noda smoked two home runs and a triple for a career-high seven RBIs to key Triple-A Oklahoma City's 10-7 victory over Las Vegas.
The seven runs the 26-year-old outfielder drove in during his team-leading third multi-homer game of the year were the most by an Oklahoma City player since Luke Raley (nine RBIs) and Steven Souza Jr. (seven RBIs) combined for 16 in on May 30, 2021 in El Paso.
Noda started off with a two-run triple to right field, his first three-bagger of the season, in the first inning. In the fifth, he belted a two-run homer to right, and followed that up with a three-run long ball to left-center in the seventh.
In 73 games for Oklahoma City, the Cincinnati product has produced a .269/.383//853 slash line with 12 homers, 44 runs and 41 RBIs.
Ryan Noda, have a night!

2 HR of 400+ ft
3B
BB
7 RBI
3 R@Dodgers | @okc_dodgers pic.twitter.com/mXRgh8ZvgO

— Minor League Baseball (@MiLB) July 7, 2022
Wood you believe?
James Wood continues to barnstorm his way through the California League.
The third-ranked Padres prospect (MLB's No. 92) doubled twice and drove in five runs in Single-A Lake Elsinore's 13-1 win over Visalia. He also singled, stole a base and sports a .325/.438/.579 line in 32 games with the Storm.
Wood doubled in the third inning to bring home one run and then cleared the bases on a two-out single as part of a seven-run fourth inning for Lake Elsinore. He capped his night with another RBI double in the ninth.
Most of Wood's production has come since returning from a wrist injury on June 16. Over that 18-game span, he is hitting .342 with a 1.012 OPS and seven stolen bases.
Having power to spare
Of the five tools, Orelvis Martinez has an abundance of power.
MLB Pipeline's No. 37 overall prospect smashed two homers in Double-A New Hampshire's 11-6 win over Hartford.
The fireworks have come and gone, but the 20-year-old continued to put on a show for the fans. A fifth-inning solo homer to left field marked the fifth run of the game for the Fisher Cats, and a two-run blast to left in the eighth gave the team its final runs of the contest. Martinez's second jack marked his 19th of the season; he now ranks third in the Eastern League behind Erie's Kerry Carpenter (22), who has since been promoted to Triple-A, and Richmond's Sean Roby (21). This was also his first multihomer game of the season and the fifth of his professional career.
"He could've even had three home runs, there was one very close that just went foul in his first at-bat," New Hampshire manager Cesar Martin said. Full story »
Don't sleep on Cavalli
The season-long numbers shouldn't fool you. Cade Cavalli is back.
The top-ranked Nationals prospect continued his strong stretch with a near-flawless outing, taking a perfect game through 5 2/3 innings and finishing with seven scoreless. Cavalli struck out seven, allowed two hits and, for the first time this season, did not walk a batter in Triple-A Rochester's 4-0 win over Lehigh Valley.
Cavalli's stuff was on from the jump, as he struck out a pair in the first inning. From there, the righty went 17 up, 17 down before losing the bid on an 0-2 pitch to Chris Sharpe with two outs in the sixth. Cavalli allowed a leadoff single in the seventh but battled back with a strikeout and a ground-ball double play to end his night on a high note.
Since leaving his May 17 start with five earned runs in two-thirds of an inning and a season ERA of 7.62, Cavalli has completely turned his year around. In seven starts since, he has a 2.31 ERA over 39 innings. Full story »
Wacky Wednesday instead of Freaky Friday
Top pitching prospect Brayan Bello was at Fenway Park while seven-time All-Star Chris Sale took the mound at Triple-A Worcester's Polar Park. If the latter has his way, the latest rehab outing will have been just a temporary rest stop on his way back to Boston, even if the results weren't exactly there.
Sale allowed one earned run on three hits and five walks while fanning five over 3 2/3 innings for Worcester in a 4-2 loss to Scranton/Wilkes-Barre. The southpaw, who is returning from a rib cage stress fracture and hasn't seen the Majors this season, threw 72 pitches, 42 of which were strikes.
It marked the first time Sale issued five or more free passes in an outing at any level since May 19, 2019, in a Red Sox game against the Astros.
"A blip on the radar," he said. "I know this is a big deal. I know people are going to look very deep into this and dissect this 100 ways to midnight. For me, if my stuff's there and I have just an outlier, that's kind of what this was." Full story »
Hall in the game
Three starts ago, DL Hall told local Norfolk reporter David Hall that he was worried he was tipping his pitches, leading to a run of rough outings. It's incredible what tinkering and two starts can do to wash away such concerns.
Hall collected the best outing of his Minor League career in Triple-A Norfolk's 6-1 win over Jacksonville, striking out a career-high 14 batters while facing just five baserunners -- one of whom he picked off -- and allowing one earned run. Hall has struck out 22 of the 38 batters he's faced in his past two outings (a 58 percent mark) while conceding just four hits and three walks. That came after he was tagged for 10 hits, 12 runs and 10 walks in his two starts prior.
Hall's performance tied a high in the Minor League circuit for single-game strikeouts, something accomplished only seven times before him. In Norfolk Tides history, Hall became the first since 2009 to whiff 14 in a game.
Perhaps most promising of Hall's afternoon was that he built up to a season-high six innings and 98 pitches, throwing 68 of them for strikes (69 percent). The Orioles have long wanted to see Hall pitch more efficiently and deeper into games before talk of a big league debut got more serious. It remains a matter of time before he's called up for his debut; a continuation of starts like his last two merely fuel the excitement, especially after Hall rose to the No. 67 prospect in baseball the day before his start.
July 5
Mon dieu, Mondou!
Oakland prospect Nate Mondou spent all of last season in Triple-A and put together a strong campaign. This year, he's been even better.
Mondou ripped off his second four-hit game in his last three and drove in a season-high four runs to lead Triple-A Las Vegas by Oklahoma City, 8-3.
Out of the Aviators' leadoff spot, Mondou started his big day with a strikeout to open the game. Then he redeemed himself. In the second, Mondou lifted a shallow fly to center that touched down just over the outstretched glove of Dodgers shortstop Jacob Amaya to bring in a pair of runs.
Following a grounder to short in the fifth, Mondou singled on a liner to center to drive in two more runs in the sixth. The second baseman followed with his 16th double of the year on a liner to right in the eighth and capped his day with a single on a liner to center in the ninth.
After batting .282/.371/.432 in 87 games for Las Vegas last year, Mondou is hitting .310/.395/.460 in 49 contests at Triple-A this season.
That's his Foscue
Justin Foscue notched his second three-hit night in two games and drove in three runs as Double-A Frisco cruised past San Antonio, 10-1, at Nelson Wolff Stadium.
The fourth-ranked Rangers prospect knocked an RBI single to left in the first, drove in a pair of runs with another single to center in the fourth and blooped in his third single of the game into center in his final at-bat in the ninth.
MLB.com's No. 63 overall prospect extended his hitting streak to six games with eight knocks over his past three contests. Foscue is batting .283/.374/.455 with 32 RBIs and 26 runs scored over 49 games with the RoughRiders this season.
July 4
Rinse and repeat
Less than 48 hours after Triple-A Tacoma's Brian O'Keefe delivered a three-homer feat, Zach Green also hit that trifecta for the first time.
The 28-year-old plated seven runs with his three long balls, powering the Rainiers to an 11-4 victory over the Aces in Reno. It marked the first time the Rainiers plated seven runs since Chris Herrmann on April 18, 2018 vs. Albuquerque.
"Any time you can be the guy that's winning the game, it's pretty cool," said Green.
The feat came only two days after catcher Brian O'Keefe racked up three homers for Tacoma on July 2. Until Saturday, the last time a Rainiers player had a three-homer game was on June 27, 2015, when Justin Ruggiano accomplished the feat at home vs. El Paso. Green admitted he was inspired by O'Keefe's effort. Full story »
Lawlar and order
After nearly hitting for the cycle and homering in his Single-A swan song, Jordan Lawlar made his presence known immediately for High-A Hillsboro.
Baseball's No. 17 overall prospect singled, stole a base and scored in his first inning with the Hops. Lawlar added an RBI groundout in his next at-bat as Hillsboro topped visiting Eugene, 5-3.
Although he spent time on the injured list last month, Lawlar left Single-A Visalia with a .365/.465/.612 slash line, 23 extra-base hits, 31 RBIs and 23 stolen bases in 47 games.
Everybody homer now
Storm Chasers fans received two fireworks shows on Independence Day.
Led by a multi-homer effort from Royals' No. 29 prospect Nate Eaton, Triple-A Omaha went deep nine times to set a franchise record in its 20-6 win over Toledo. Six different Storm Chasers homered, with Eaton's pair joined by two from veteran Roman Quinn. Kansas City's top-ranked prospect, Nick Pratto, contributed his 14th long ball as well.
Since being promoted from Double-A in late May, Eaton -- a 21st-round pick in 2018 -- is hitting .336 with an even 1.000 OPS and seven home runs in 33 games.
One for the road
After 13 years, Aaron Barrett is hanging up his cleats, at least as a player.
On July 2, the 34-year-old revealed on Twitter that he thought it was time to "start the next chapter" of his life and planned to play his last game on Independence Day. The World Series champion delivered a 1-2-3 frame in the first inning of his final game with his family watching from behind home plate en route to Triple-A Lehigh Valley's 5-1 win over visiting Rochester.
Barrett, who signed with the Phillies organization on March 16, was drafted by the Nationals in 2010. The right-hander spent 13 years in the Minors (striking out 366 and posting a 3.32 ERA over 287 innings) and four in the Majors, winning the game's ultimate prize in 2019 with Washington.
Finally part of the team
For 100-year-old Roy Kinyon, it was a night 80 years in the making.
In 1942, the high school baseball star was set to try out for the Buffalo Bisons, but he turned them down to join the U.S. Navy and fight in World War II. On Monday, the Blue Jays' Triple-A affiliate signed the veteran to a one-day contract to officially put him in the history books as a Bisons player eight decades later.
Buffalo honored Kinyon with a pregame ceremony that included him officially signing his contract, greeting every one of his new teammates and throwing out the first pitch. After inking his name and officially becoming a Bison, Kinyon donned a jersey with his last name and the number 100 on the back.
The crowd stood and clapped as each young teammate came up and fist-bumped him, exchanging words and laughs as Kinyon geared up to throw out the first pitch. Full story »
Starting off on the right foot
The catcher all Mets fans want to see in Flushing is officially one step away. Francisco Álvarez made his Triple-A debut and contributed an RBI single during Syracuse's 4-3 win at Buffalo. Baseball's No. 6 overall prospect came through with a tiebreaking single with two outs and the bases loaded in the fifth inning.
Álvarez also walked and threw out a runner attempting to steal on a close play at second to end the fourth.
The 20-year-old backstop was promoted after powering through the Double-A Eastern League over the last seven weeks. Overall, Álvarez slashed .277/.368/.553 with 34 extra-base hits, 18 homers and 47 RBIs in 67 games for Binghamton.
The week that was
At the close of the season's second full month, a quartet of Cubs prospects pitched the second no-hitter of the season for Double-A Tennessee while the Orioles' Gunnar Henderson hit for the cycle on his 21st birthday. Elsewhere, Max Scherzer rehabbed with Double-A Binghamton and gave himself a passing grade, and Chris Sale did the same with Double-A Portland. Top prospects continued climbing the ladder in their organizations, like the Mets' Francisco Álvarez, who headed to Triple-A Syracuse. Recap last week's action in the Minors.