Around the Minors: The week of June 13-19
Sights and sounds from action across Minor League Baseball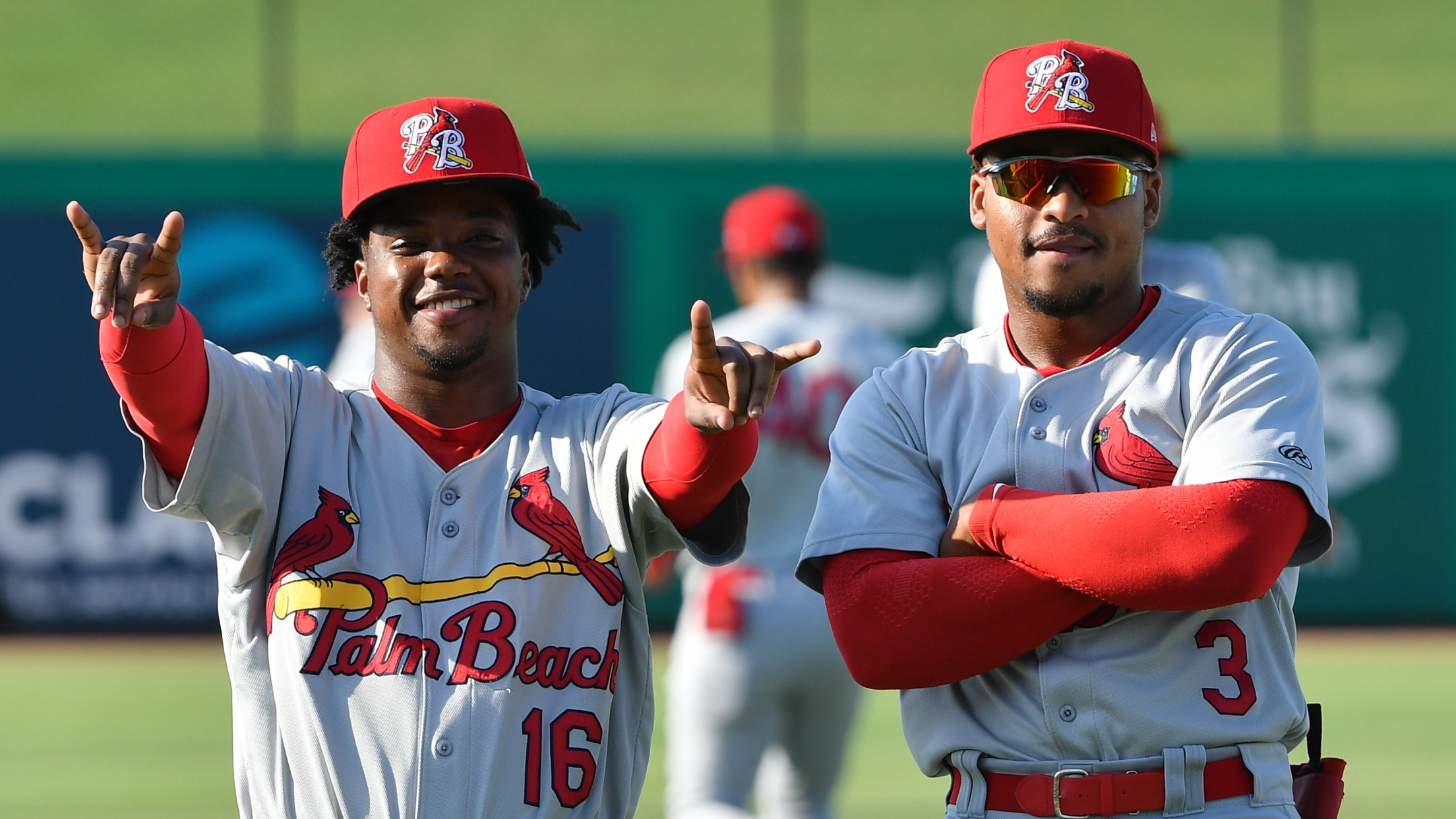 Single-A Palm Beach players Sander Mora and Brandon Hernandez before a game with Clearwater. (Tom Hagerty/MiLB.com)
June 19
A Blaze of glory
Blaze Jordan is on fire for Single-A Salem.
The No. 6 Red Sox prospect contributed heavily in a 12-11 victory over Delmarva with two home runs and a season-high four RBIs.
The 19-year-old made it a four-run fourth inning with a blast toward right-center field, then crushed an opposite-field drive to left in his next appearance in the sixth.
In his last 10 games, Jordan has notched 19 hits and 10 runs. He now sports a .364/.429/.527 line for the month. Overall, the 2020 third-round Draft pick is batting .291 with an .810 OPS, 26 extra-base hits, six homers and 37 RBIs in 57 games.
Robert + Robert = too much
The Fort Wayne TinCaps came up just short in their pursuit of the final three outs after a big rally on Saturday night. On Sunday, they left nothing to chance with their first three.
Spurred by an eight-run first inning, Fort Wayne's offense roared in support of a dominant outing by starting pitcher Robert Gasser, who retired 21 straight, as the TinCaps rolled Lansing, 14-0, at Jackson Field.
While San Diego's No. 8 prospect Gasser was one of the major headlines, it was Fort Wayne's offense that set the tone. One night earlier, the TinCaps stormed back from a 4-0 deficit in the ninth to take a 5-4 lead before falling in walk-off fashion in the bottom half. On Sunday, they wanted to make things different.
The first five TinCaps reached with Corey Rosier and baseball's No. 30 overall prospect Robert Hassell III kicking things off. Full story »
Multiplication tables
The seventh multihit effort of the month for Curtis Mead was also his first multihomer one.
Tampa Bay's No. 4 prospect launched two solo dingers in Double-A Montgomery's 7-2 loss to Rocket City. It's his first two-homer effort of the season and his first since July 1, 2021. The 21-year-old got the scoring started by capping off a seven-pitch at-bat with a long ball to left-center in the first. His second homer in the ninth went to the same spot, giving him 10 jacks on the season through 50 games.
Mead is slashing .305 /.395/.561 with 18 doubles, 22 walks and 34 RBIs.
50 ... with a bruise to show for it
No. 25 Astros prospect Luke Berryhill was hit by a pitch in the first inning of Double-A Corpus Christi's 4-2 win over Springfield, extending his on-base streak to an even 50 games, the longest in the Majors or Minors this season.
Over the streak, the catcher -- who was actually playing the outfield in this game for just the second time as a pro -- is slashing .288/.418/.466. Just 22 other players have reached 50 games since 2005, when Minor League game logs become available.
Berryhill still has a few weeks to go to catch all-time leader Andrew Velazquez at 74 (2014).
Priester throws opponents a Curve in Double-A debut
Quinn Priester's long-awaited Double-A debut was everything he could have hoped for.
Working his way back from an oblique issue that's limited him to three starts this year, Pittsburgh's No. 4 prospect struck out three over three innings of work in Altoona's 2-1 loss to Erie. The righty hit the first batter of the game and allowed a leadoff double to begin the second frame, but both times he was able to work out of trouble with the help of a double-play ball and two strikeouts, respectively. Priester tossed 26 of his 36 pitches for strikes and generated five swings-and-misses.
It was a nice bounceback for the 2019 first-rounder, who allowed five earned runs on six hits in his previous outing with High-A Greensboro.
June 18
More like IronArms
High-A Aberdeen had already clinched the South Atlantic League East Division first-half title, but that didn't stop them from pressing down the gas and making some more history.
Three IronBirds pitchers -- Peter Van Loon, Daniel Lloyd, and Xavier Moore -- combined to toss a no-hitter in the Orioles affiliate's 6-0 win over the Jersey Shore BlueClaws in Lakewood, N.J., on Saturday.
Van Loon struck out six batters over five innings before giving way to Lloyd for the sixth through eighth innings. He was followed by Moore, who worked around a hit batsman to shut the door in the ninth. The trio of arms etched their names in Aberdeen baseball lore by contributing to the second no-no in franchise history. Full story »
Matos makes it happen
Eugene cemented its place in the Northwest League postseason with a 13-0 shutout over Vancouver, capped off by a 5-for-5 night from Luis Matos. The Giants' No. 3 prospect got off to a slow start with the Emeralds in April before missing nearly all of May with a left quad strain. In nine games since returning to action, the 20-year-old outfielder has four multihit efforts.
4 x 2
It was a productive day at the plate for Jackson Chourio, who collected four hits – including a home run – across a doubleheader sweep by Single-A Carolina over Columbia. In Game 1, the third-ranked Brewers prospect collected a trio of knocks, an RBI and scored twice to help lift the Mudcats to an 8-7 victory over the Fireflies. Chourio singled to left in the third, advanced to second on a throwing error, stole third and then scampered home on another scoring error. He added an RBI single in the fifth, and his third single came in the seventh before he was plated on a Jeferson Quero go-ahead three-run dinger.
MLB.com's No. 99 overall prospect's fourth hit was a two-run tater in the third inning of Carolina's 7-3 win in the nightcap. Chourio blasted one over the wall in right-center for his seventh homer of the year. The 18-year-old is batting .354/.401/.614 with 34 runs scored and 32 RBIs over 39 games this season.
June 17
He got it from his momma
A mother's touch can make everything better. Many baseball players credit their fathers for their smooth swing, but Miami's No. 15 prospect Cody Morissette says that he inherited his skills from his mom.
"My mom, she might have the best swing in the family," Morissette said. "I've seen videos of her swing, and I'm happy I got it."
The second-round pick (52nd overall) in 2021 put that swing on full display, crushing a career-high three homers and six RBIs in High-A Beloit's 11-1 win over Lake County.
Morissette began the fireworks early with a solo shot in the first inning to right-center field on a 1-0 pitch. He followed with an RBI single in the third to give the Sky Carp a lead that they'd never give back. After an RBI groundout in the fourth, Morissette ended the night with two blasts: a two-run homer to right in the fifth and another solo shot to right to cap it off. He finished 4-for-6 with three runs and 13 total bases to add to his already impressive stat sheet. This was the first multihomer game of his career and the first time he recorded more than two RBIs.
"Baseball is a weird game," Morissette said. "Last night, not afraid to admit, I had five strikeouts. I talked to the coaches, talked to my teammates and today was 'how are you gonna respond?' And just to put it together tonight in the game and give us a good win was really special for me." Full story »
We'll call this one the Cody Morissette game.

Morissette goes 4-6 with 3 homers and 6 RBIs to boost the Sky Carp to their third straight. #ClutchCody #MakeItMiami pic.twitter.com/CCEG3rG29A

— Beloit Sky Carp (@beloitskycarp) June 18, 2022
Renegades on the run
With Everson Pereira as the catalyst, High-A Hudson Valley put on a clinic against Greensboro. The Yankees affiliate collected six homers and 23 hits in a 22-2 rout of the Grasshoppers at First National Bank Field on Friday night. Pereira -- New York's 10th-ranked prospect -- crushed two of those long balls, notched four hits and drove in a career high and team-best seven runs in the victory. He ended up finishing a triple shy of the cycle.
The Renegades were off and running from the very first batter of the game. Cooper Bowman singled after a nine-pitch at-bat, and Trey Sweeney singled after him before Pereira smacked his first roundtripper of the game. Carlos Narvaez homered later in the inning, capping off the first of two five-run innings Hudson Valley would put together. Narvaez would hit another dinger later, making him the only other player of the night to have a multihomer performance. The Renegades scored in every inning except the fourth and seventh, and the fourth frame is the only one in which they went hitless.
Every player in the lineup recorded at least one hit, and seven got two or more knocks. The team drew nine walks and only struck out eight times in 48 total at-bats.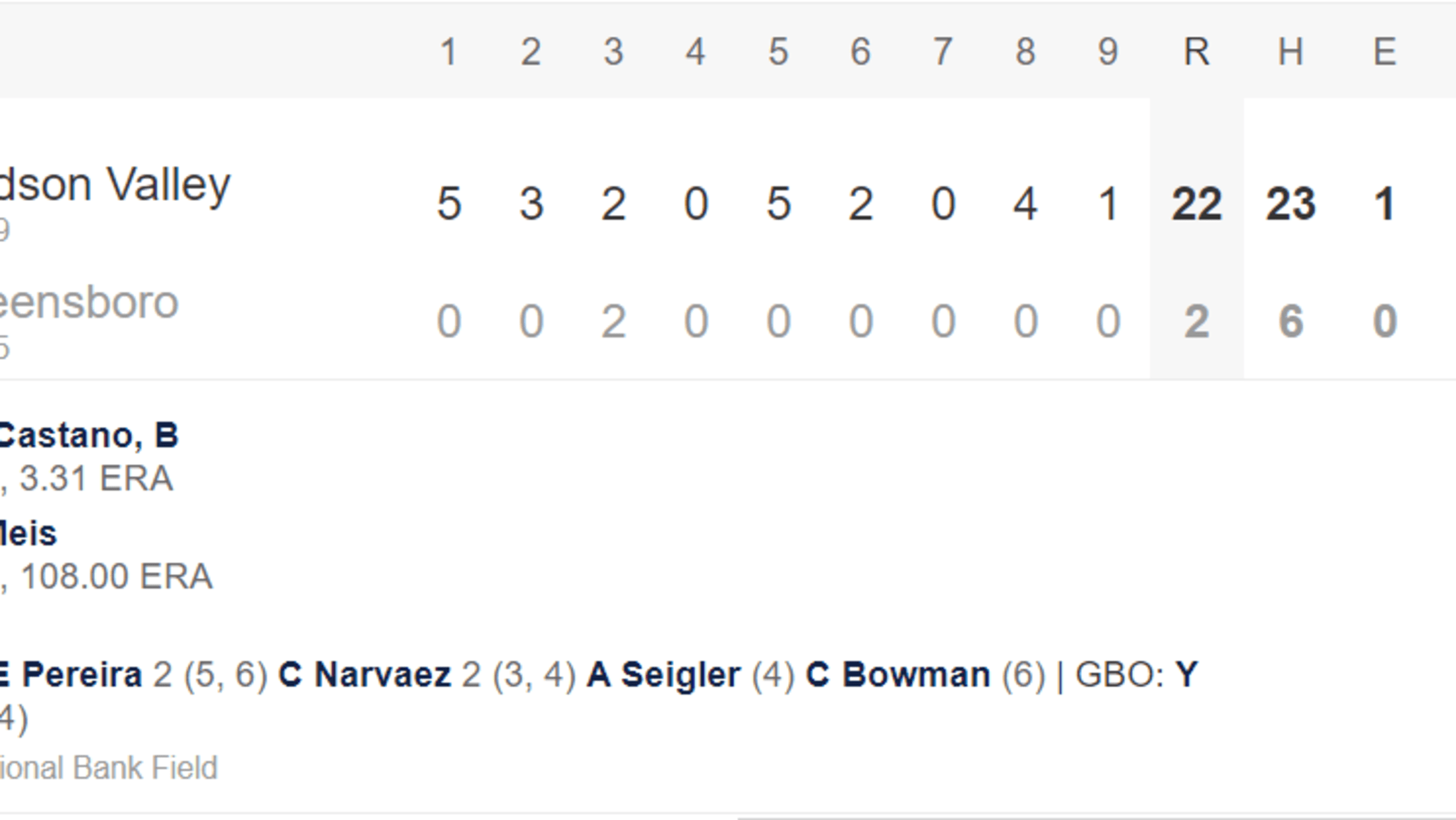 Greene means Go
All signs pointed to Riley Greene making the Tigers' Opening Day roster until he fractured his foot at big league camp. After a couple months of rehab, MLB's No. 2 overall prospect finally made it back to Triple-A Toledo on May 30. And on Saturday, he'll make his highly-anticipated debut.
In 15 International League games this season, Greene hit .274/.338/.387 with a homer and six RBIs. The 2019 No. 5 overall Draft pick features plus hit and power tools while displaying highlight-reel catches in the outfield throughout his career.
Here. We. Go.

Tomorrow we will select the contract of MLB Pipeline's No. 2 overall prospect, @Greene21Riley. pic.twitter.com/m3XGrCNNe5

— Detroit Tigers (@tigers) June 17, 2022
No-hitter in a 10-inning … loss?
That's right, the Rookie-level Florida Complex League Nationals had four pitchers combine on a 10-inning no hitter but still lost, 4-3 to the FCL Cardinals. A hit-by-pitch, a walk, a wild pitch and an RBI groundout plated the Cards' first run in the third. Two innings later, the Cardinals scraped across a pair of runs on three errors and a clean steal of home by Luis Pino.
Down 3-1 in the bottom of the ninth, the Nats knotted the score on a two-out, two-run single by Roismar Quintana to force extras. But the sloppy play in the field ultimately cost them the game as the Cardinals scored the winning run when automatic runner Jeremy Ramos scampered home on a throwing error by third baseman Angel Geraldo. The Nats finished with three runs on nine hits and five errors.
While they didn't secure the win, Gabriel Agostini, Jose Cedeno, Franklin Marquez and Miguel Gomez combined for the first no-hitter in Rookie ball this season.
June 16
Finishing what he started ... last year
On Sept. 5, 2021, Alex De Jesus wound up a triple shy of the cycle.
Then with Single-A Rancho Cucamonga, the Dodgers infield prospect wound up on third base for what was ruled a double with an error that allowed him to advance. He finished the game with a homer, two doubles and a single.
But this year, he finally got his milestone.
Los Angeles' No. 20 prospect completed the first cycle of his professional career in High-A Great Lakes' 13-4 win over Wisconsin at Dow Diamond. He drove in four runs and scored four times during his historic performance. Full story »
A very special Mission
Last month's shooting at Robb Elementary School in Uvalde, Texas, that took the lives of 19 students and two teachers shook the United States to its core. Yet a byproduct of evil inevitably leads to an outpouring of love, support and kindness -- all needed to begin the healing.
"San Antonio is the closest big city to Uvalde," said Double-A Missions president Burl Yarbrough. "Some of our high schools play in the same district. There are so many connections we have with the Uvalde community. What happened really hit home."
In conjunction with the Uvalde Consolidated Independent School District and Wilson Sporting Goods, players and coaches for the Padres' Double-A affiliate wore replica jerseys of what the Uvalde High School baseball squad wears during the game against Amarillo.
Fans were able to bid for the game-worn jerseys with all proceeds going to the Robb School Memorial Fund, established by the First State Bank of Uvalde to aid the families of those affected by the tragedy. Full story »
Uvalde Strong❤️ pic.twitter.com/7wga9H1oL4

— San Antonio Missions Baseball (@missionsmilb) June 17, 2022
Outdoing himself
It was a career game for Logan Allen.
The Guardians' No. 8 prospect has been fanning a lot of hitters in the month of June, a total of 17 strikeouts in his past two starts. The 23-year-old topped those performances with a career-high 11 strikeouts across six scoreless innings in Double-A Akron's 1-0 win over Hartford.
Allen was dealing throughout the game, striking out five of six batters in the fourth and fifth frames. The lefty's lone blemishes were two infield hits to third base in the second and third.
The 2020 second-round pick's outing has lowered his ERA to 3.55 and brought his strikeout tally to 93 over 60 innings this season.
They don't get much grander
A good measuring stick for determining whether a huge performance qualifies as the best game of a player's life is if you have to start pulling out the Little League game logs.
The last time Vaughn Grissom hit a grand slam? "I was like 12 years old, maybe 11," he recalls.
A two-homer game? Surely there was one in high school. "I didn't hit my first until the second-to-last game I ever played."
Therefore, his latest outing was surely the game of Grissom's life. The fifth-ranked Braves prospect swatted a pair of grand slams, added a double and a single and scored five times in High-A Rome's 22-1 rout of Asheville. Full story »
Well that escalated quickly... pic.twitter.com/mSYg6nzDfr

— Minor League Baseball (@MiLB) June 17, 2022
Hall in the game
Fifth-ranked Orioles prospect DL Hall had it all working for Triple-A Norfolk, striking out a career-high 11 batters and allowing one run in just 4 1/3 innings en route to the Tides' 6-2 victory over the Mets.
It marked the third straight start for Hall in which he allowed two earned runs or fewer and pitched more than four frames (30 strikeouts in that span).
The No. 79 overall prospect has posted a 3.52 ERA with 66 strikeouts in 10 starts across three levels this season.
June 15
Big night in the 'burque
Playing in a hitter-friendly ballpark in the offensively tilted Triple-A Pacific Coast League, the Isotopes did something even they'd never done before -- hit eight homers in a game.
The 'Topes got two-homer nights from Colorado's No. 9 prospect Ryan Vilade and Sean Bouchard, and Coco Montes, Carlos Pérez, Bret Boswell and No. 5 Rockies prospect Elehuris Montero added dingers to lead the home team to a 20-8 rout of visiting Salt Lake.
Vilade started the scoring with his first long ball of the season in his 52nd game. He belted a solo shot to left-center in the opening inning. Montes and Bouchard followed with three-run and two-run homers to left and center in Albuquerque's seven-run fourth, giving their team the lead for the first time.
Pérez launched a two-run shot to left-center in the sixth, one of three round-trippers in the inning. Bouchard added a solo blast to left, and Vilade hammered his second of the night, a three-run shot to left-center. The Isotopes' six-run sixth gave them 16 unanswered runs before the Bees got two back in the seventh.
In the eighth, Albuquerque put the game more than out of reach. Boswell cranked a solo blast to left, and Montero homered to left-center with Vilade aboard to reclaim the team lead with his 12th of the year, breaking a briefly held tie with Bouchard and Pérez.
The Isotopes scored 20 runs on 17 hits and seven walks. The club's run total and margin of victory were their biggest of the year.
Babe in the woods
Enmanuel Valdez has been with Triple-A Sugar Land for exactly one week, but he's already established a reputation in his new clubhouse -- and a legendary one at that.
After notching a multihomer game in his debut, the Astros infield prospect clubbed three home runs for the first time in his career to power the Space Cowboys to a 10-4 victory over Round Rock at Dell Diamond on Wednesday.
"He is such a confident kid and a mature kid, he knows what he's capable of and his approach is so advanced for his age. Especially at this level," Space Cowboys hitting coach Rafael Pena said. "But when he got up here and hit two home runs in his first two Triple-A at-bats, the guys started joking around and calling him Enmanuel Ruth. Like, oh wow, look, we got Enmanuel Ruth. And then after his performance today, our group chat just kept going with that nickname.
"He's the real deal and what he's doing right now is just making him fit in really good here." Full story »
Clinching season commences
Three months ahead of the Minor League postseason, September's first three participants are confirmed -- Aberdeen, St. Lucie and Fort Myers.
The IronBirds' clinch of the High-A South Atlantic League North first-half title came courtesy of their 40th win of the season, 11 more than any other team in the division. Aberdeen picked up its 10th win in 12 matchups with Jersey Shore, taking down the BlueClaws, 3-2. The Orioles affiliate has had six winning streaks of four games or longer this season, first reaching 10 games over .500 on April 30 at 15-5 and hitting 20 games over on June 9 at 37-17. The pitching staff has led the way with a combined 3.63 ERA, second-best in the league.
#Orioles prospects are postseason-bound!

The @IronBirds claim the SAL North first-half title. pic.twitter.com/n0tgIBYf9K

— Minor League Baseball (@MiLB) June 16, 2022
At the Single-A level, St. Lucie has been similarly dominant in the Florida State East. The Mets' 5-1 win over Tampa put the club's record at 39-19, eight wins better than second-place Jupiter. St. Lucie has surged on the strength of its offense with a league-best .249 average, 12 points better than Dunedin and Jupiter, and a league-leading .746 team OPS, 24 points better than Fort Myers. The Mets were just 11-7 entering play on April 29 before they rattled off seven straight wins, the start of a 15-3 stretch. St. Lucie has been nearly impossible to beat at home this season, going 22-3 at Clover Park.
FSL East first-half title: SECURED

The St. Lucie Mets are going to the playoffs! pic.twitter.com/oSKnmKLxPQ

— Minor League Baseball (@MiLB) June 16, 2022
Eight games up on Bradenton and Lakeland, Fort Myers captured the FSL West crown in part due to its offense, which leads the circuit with 283 runs scored. But the Mighty Mussels also have pitched brilliantly this season with a 2.91 staff ERA that is not only the best in the Florida State League, but the best in all of Minor League Baseball. They sealed the first-half title with a 5-4 win over Bradenton.
Fort Myers muscles its way to the postseason!

The #MNTwins prospects clinched the FSL West first-half title. pic.twitter.com/uV60ic6gKr

— Minor League Baseball (@MiLB) June 16, 2022
Quality and quantity
In his first quality start of the season, Luis Medina fanned a season-high 10 batters through six scoreless innings of work, giving up just two hits and a walk.
The Yankees' No. 11 prospect led the way in Double-A Somerset's 2-0 victory over New Hampshire. It marked the right-hander's eighth time striking out 10 or more batters since being signed to a Minor League contract on July 8, 2015, at 16 years old.
In 2022, the Dominican Republic native has tossed only two games through 11 starts (42 2/3 innings) in which he's allowed more than two runs, including two scoreless outings. His performances have garnered him a 3.38 ERA with average-against of .174. His opponents' average hasn't gone above .193 this season.
Taking flight with a milestone
After a tough May, Single-A Palm Beach is turning things around in June, going 7-3 to start the month. The club raised it to a whole other level in its latest outing.
Cardinals prospects Tink Hence, Jose Moreno and Roy Garcia combined for Palm Beach's first no-hitter in 10 years as the team blanked Clearwater, 5-0.
"It was a big celebration. I mean, it was a day game, it was 100 degrees and we're on the road and the club's been playing good, and we pushed across a couple of late runs," manager Gary Kendall said. "So there was a lot of celebration. The team continues to play a little better than we had in the last month. We've started to turn the corner a little bit and compete better.
So there was a lot of celebration due to that and the fact that, you know, we threw a no-hitter, and everybody was happy for our pitching staff. I was very happy for Gio [Carrara], our pitching coach." Full story »
WE DID IT! 🥳 😆

Tink Hence, Jose Moreno and Roy Garcia combine for 11 strikeouts and a no-hitter over the @Threshers today!

The trio each tossed three innings and claim a share of the no-no a night after Miles Mikolas' gem! pic.twitter.com/gAwlDGvbHQ

— Palm Beach Cardinals (@GoPBCardinals) June 15, 2022
June 14
He's got the power
The recent struggles of Zac Veen can most likely be attributed to the ups and downs of a lengthy baseball season but before his June could officially swoon, he did something about it.
Baseball's No. 29 overall prospect homered twice and drove in a season-high four runs to power High-A Spokane past visiting Hillsboro, 9-2. Veen's second-inning tater was his first in 44 at-bats dating back to May 29.
The 20-year-old's three-run homer capped a four-run frame and sent Spokane on its way. He cleared the fences again in the fifth, hammering a 2-0 pitch over the left-field fence for his seventh of the season. It was Veen's second multihomer game of his career and first since last July 15 with Single-A Fresno. Full story »
The man so nice he homered twice. @veen_zac goes opposite field for his second big fly of the night and Spokane now leads 7-0! #GoSpo pic.twitter.com/HSL6iuyOhG

— Spokane Indians (@spokaneindians) June 15, 2022
Flying Tourist
Cristian Gonzalez had never driven in more than four runs in a game in his pro career, and that four-RBI effort came on June 12, 2019, in the Rookie-level Dominican Summer League.
The 11th-ranked Astros prospect more than doubled that after a four-hit, nine-RBI performance -- with three runs scored -- to lead the charge in High-A Asheville's 19-7 romp over Rome at McCormick Field.
"He was out there barreling baseballs all night. It was great to see because he's such a hard-working young man," Tourists skipper Nate Shaver said. "I think he's just starting to get comfortable, you know. Just being comfortable with who he is and who he can become." Full story »
The @BloodConnection Scoreboard: #Tourists SS Cristian Gonzalez has 2 HR and 9 RBI tonight! Yes, 9 RBI. #Tourists lead the @TheRomeBraves 16-7 here in the 8th

— Asheville Tourists (@GoTourists) June 15, 2022
Miss me?
A 10-day absence only served as a temporary reprieve for International League hurlers against Mark Vientos. Two games into his return and nothing has changed.
The No. 5 Mets prospect homered twice and drove in a season-high five runs as Triple-A Syracuse rolled past Norfolk, 18-6. Vientos left the yard Sunday in his first game off the seven-day IL, and has now gone deep nine times in 22 contests since the beginning of May.
The 22-year-old kept his foot on the gas which continued a torrid stretch of offensive firepower. Vientos opened the scoring in the first with a two-run jack in the opening frame. With Syracuse already enjoying a 10-0 lead in the fifth, the Florida native went the other way again, this time a three-run poke for his second multihomer game of the season and sixth of his career. Full story »
Shoring things up
On May 1, Matt Russell got off to a good start for Jersey Shore against Aberdeen. Six weeks later, he picked up where he left off.
In a quirk of scheduling, the right-handed Phillies prospect restarted his weather-suspended game and nearly went the distance -- combining two different days for a wild line in the box score. He threw 129 pitches over eight innings to lead the High-A BlueClaws to a backdated 6-4 win over the IronBirds.
Russell completed the third inning on the first day of May, allowing two runs (one earned) on two hits with six strikeouts and a walk before rain forced the suspension of that contest. It resumed with Aberdeen in front, 2-1, and the 23-year-old picked up on a good note. He allowed just one more run while scattering six hits over five innings.
Russell's 12 K's were five more than any other outing in his two-year career. His 129 pitches, split over the two days, go into his stat line as just 28 shy of his total for three April starts combined. Full story »
Don't sleep on the DSL
Triple plays seem to be becoming a common occurrence in the Rookie-level Dominican Summer League. On June 11, DSL Tigers 1 pulled one off during a victory over DSL Tigers 2. And today, DSL D-backs Red accomplished the feat against DSL Colorado.
Colorado's Felix Tena and Ronny Ugarte started the top of the sixth with back-to-back singles off Maicor Serrano. A walk to Gabriel Terrero loaded the bases, and Jorluis Guerra plated Tena with a single. That signaled the end of the day for Serrano and fellow righty Jesus Suarez came into the game.
No. 18 Rockies prospect Dyan Jorge lofted a ball to center field that was caught by Andy Encarnacion, who relayed to Robinson Vargas at first. He threw over to third baseman Ruben Santana, who squelched Ugarte at third and the wandering Terrero off second.
Even with the milestone, though, the D-backs Red squad wound up falling to Colorado, 6-2, and Suarez (0-2) took the loss.
The last vestiges of spring
With summer set to begin on June 21, the the heat is definitely on in the Minors. Seattle's No. 3 prospect Harry Ford notched his first four-hit game complete with his first two pro triples and a career-high five RBIs for Single-A Modesto. Dodgers prospect Nelson Quiroz belted three home runs as part of a four-hit, six-RBI day for Single-A Rancho Cucamonga. The Cubs' Kevin Alcantara had a similarly huge game with a pair of homers and eight RBIs for High-A Myrtle Beach. In his season debut, the Pirates' Quinn Priester dazzled over three innings to kick off a combined no-hitter for Single-A Bradenton. A host of pitchers took steps forward in rehab appearances, including the Royals' Zack Greinke with Omaha, the Cardinals' Jack Flaherty with Memphis and the Rays' Shane Baz with Durham. Look back on the week that was.