Around the Minors: The week of May 9-15
Sights and sounds from action across Minor League Baseball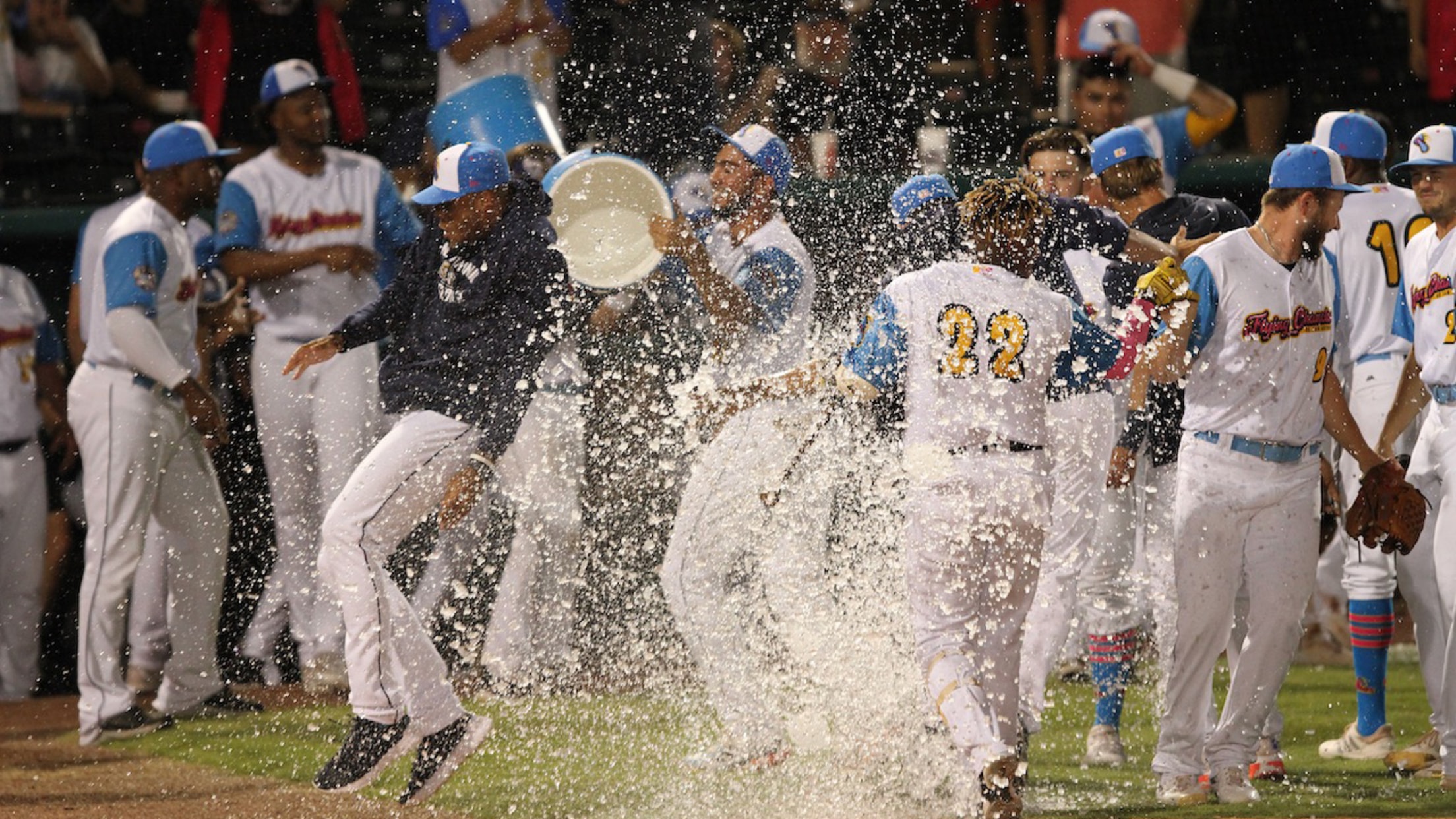 The Flying Chanclas de San Antonio celebrate as they beat the Diamantes de Arkansas for the second walk-off win this series. (David Michael/MiLB.com)
May 15
Might makes right
Second-ranked Cardinals prospect Nolan Gorman showcased his strength again in Triple-A Memphis' 5-4 win over Norfolk at Harbor Park, homering to briefly pull into a tie for the Minor League lead in big flies. Gorman's solo shot in the seventh marked his 14th of the season, knotting him with Springfield's Moisés Gómez and Greenville's Nicholas Northcut for the Minor League lead. Gómez hit his 15th later in the day.
Still, the total is notable given its come in 32 games for Gorman, whom it took 68 games to reach 14 homers at Memphis during his first run at Triple-A in 2021. He ultimately finished with 14 in 76 games, and 25 in 119 games between Triple- and Double-A. Solid, but not spectacular for a player whose notorious power has proceeded him since before St. Louis made him the 19th overall pick in the 2018 Draft.
Now 22, Gorman appears to be growing into that power. He's slugging .645 so far this season, with a .993 OPS.
Hungry for homers
Ezequiel Duran was 4-for-4 with two homers, two doubles, four RBIs and four runs scored through his first four at-bats. His next two trips to the plate may have been his least exciting in the box score but the most exciting to his manager.
MLB's No. 81 overall prospect reached base five times, drove in five runs and scored five and helped lead Double-A Frisco to an 18-4 rout of Tulsa to wrap up a six-game set.
Already working on one of his best games of a breakout season, Duran stayed locked in for his final two trips to the dish, earning a walk in the eighth and cashing in Frisco's final run with a sacrifice fly to center in the ninth. Of the 22-year-old's impressive moments in the contest, those stood out.
Meanwhile, teammate Trey Hair -- who had one homer and two multihihit games coming into the contest -- hit for the home run trifecta for the Rough Riders. Full story »
Working on his multiplication tables
Three days after blasting a walk-off grand slam for Lansing, Oakland's top prospect had another four-RBI day.
Tyler Soderstrom tallied his second multihomer game of the season with a pair of long balls and drove in four as part of a strong finish to High-A Lansing's home series with Dayton.
Baseball's No. 54 overall prospect started quickly with a solo homer to right in his first trip to the plate in the bottom of the second. After an RBI single up the middle in the third, Soderstrom grounded out in his next two at-bats but drove home a run while bouncing out to short in the seventh. The backstop capped his afternoon with another big fly in the ninth, launching a solo shot to left-center.
Tyler Soderstrom is heating up.

The top @Athletics prospect homered twice and drove in four on another big day for the @LansingLugnuts: https://t.co/9KGwdDUkPj pic.twitter.com/GScor8WwbD

— MLB Pipeline (@MLBPipeline) May 16, 2022
Missions accomplished
To see Kevin Kopps react, it looked like the end of any other game. His teammates let him hear about the lack of emotion afterward, after they'd spilled out of the home dugout in elation, engulfed their closer in the center of Nelson Wolff Stadium, and later as the clubhouse party raged.
Because the back-foot slider the right-handed reliever uncorked to strike out Kaden Polcovich didn't end just any other game. Starter Lake Bachar, Moises Lugo, Carlos Belen and Kopps combined on the 15th nine-inning no-hitter in franchise history as Double-A San Antonio no-hit Arkansas during a 4-0 win. It was the Missions' first no-no since Logan Allen and Jason Jester in 2018, and the eighth thrown in the Minors in 2022.
"It was one of those when it seemed like the stars and the moon and the sun all lined up," Missions manager Phillip Wellman said. "All four pitchers on the same day commanded their fastball and their secondary stuff. I saw more sliders and changeups for strikes today than I'd seen all year long." Full story »
Flipping the on switch
It was a prodigious display of power for Austin Dean.
For the first time in his 10-year professional career, the 28-year-old belted three home runs in a single game in Triple-A Sacramento's 11-8 comeback win over El Paso. It also marked the first time since July 16, 2019 that Dean notched a multihomer performance.
It was the second three-homer performance by a River Cats player this season -- Kevin Padlo smacked three dingers in a six-RBI performance on May 1. Full story »
May 14
24K magic
The Single-A Dunedin pitching staff was as imposing as it could be, striking out 24 in a nine-inning, 1-0 win against Tampa. Nick Frasso made his first start of the season following UCL surgery last summer. The 2020 Draft pick got things rolling with eight strikeouts and no walks in three one-hit frames. Blue Jays No. 28 prospect Dahian Santos kicked it up a notch with 10 punchouts and one walk in four one-hit innings. Braden Scott picked up the save after striking out six in two hitless frames to seal the feat.
"It was honestly one of the most unbelievable things I've ever seen," Dunedin pitching coach Drew Hayes told MLB Pipeline. "I started in pro ball in 2010 and I don't have words for what I watched tonight."
The Major League record for team strikeouts in a nine-inning game is 20, last accomplished by the White Sox over the Tigers on April 28, 2019. It's happened six other times at the big league level as well.
24 K and we aren't talking karats 🪙

Nick Frasso: 8 K
Dahian Santos: 10 K
Braden Scott: 6 K pic.twitter.com/DRQOYs7YzP

— Dunedin Blue Jays (@DunedinBlueJays) May 15, 2022
Strange sight
Reds veteran Joey Votto began a rehab stint with Triple-A Louisville on Saturday following a trip to the COVID IL. Having the Major League All-Star in the Minor League park was made even more special given the uniforms the Bats were rocking: Doctor Strange from the Marvel Cinematic Universe. During a two-hour rain delay, Votto -- who has found new fame on TikTok -- modeled his kit and signed autographs for kids.
After the Reds took him in the 2002 Draft, Votto made his way up the system, earning the International League Rookie of the Year while playing for Louisville in 2007. The first baseman made his MLB debut that September and returned to the Bats for rehab stints in 2014 and 2021.
The 🐐 rocking some new threads pic.twitter.com/CGdgQv2Zsq

— Louisville Bats (@LouisvilleBats) May 14, 2022
After the rain cleared, Votto worked a walk in his first plate appearance, an RBI single in his second and then another walk before he was pinch ran for in the fourth. The Reds slugger was placed on the COVID IL on May 3. The length of his stint has not been determined yet.
"I know Joey wants to get back as quickly as he can, but he wants to get back so that he's ready to go and play well." Cincinnati manager David Bell told MLB.com. "It was encouraging that he's playing tonight. Not too long ago, he wasn't feeling well. That's a really good sign."
Shuck yeah!
It was a powerful day for Double-A Biloxi. Tristen Lutz got things going with a solo shot in the fourth, then Brewers No. 2 prospect Joey Wiemer added a two-run dinger in the fifth. But things hit another level in the seventh. Felix Valerio, Thomas Dillard and Jakson Reetz homered in three straight at-bats, marking the second time in franchise history the Shuckers went back-to-back-to-back. And more than that, the five total long balls set a single-game club record. Biloxi topped Birmingham, 13-3.
The previous time the Shuckers homered thrice in a row was Aug. 27, 2017 when Angel Ortega, Javier Betancourt, Jacob Nottingham all went yard -- also in the seventh!
May 13
A spooky night in Coney Island
On Thursday, the game between High-A Wilmington and Brooklyn was postponed due to fog. The following day? The same thing. But this time it was Friday the 13th. The Cyclones play their games at the world-famous Coney Island, known for roller coasters, arcade games and a giant ferris wheel. The old school boardwalk vibe and relics of the park's inception over 100 years ago create an eerie scene for any foggy night. But add in the creepiest of dates, and it's downright spooky.
Friday the 13th. Baseball...but spooky.

Another day. Another fog delay. We'll keep you posted. #milb pic.twitter.com/3zqx3031KI

— Brooklyn Cyclones (@BKCyclones) May 13, 2022
Thisclose to a cycle
Vaughn Grissom posted his second three-hit performance in his past three games with High-A Rome, but his latest nearly checked off every hit box on the stat sheet in the Braves' 5-4 victory over Winston-Salem. The seventh-ranked Braves prospect blasted a two-run shot to right in the opening frame, worked a four-pitch walk in the fifth, motored around the bases for his first triple of the season in the seventh and found the grass in right for a single in the ninth.
The 21-year-old finished a double shy of what would have been the first cycle of his career. Still, the 2019 11th-round Draft pick drove in a pair of runs and scored twice. Grissom is sporting a .303/.406/.440 slash line with eight extra-base hits, 22 RBIs and 16 runs scored over 27 games this season.
Valuable Vasquez
Randy Vasquez has had a strong start to the season, never allowing more than two hits in each of his first four starts. On Friday, the Yankees' No. 16 prospect took it a step further for Double-A Somerset. Vasquez worked around two walks with five strikeouts for 5 2/3 hitless innings. The right-hander retired the first 14 batters he faced before issuing the free passes in his final two frames. After throwing 47 of his 68 pitches for strikes, Vasquez was pulled. The Dominican Republic native has a 1.86 ERA in 19 1/3 innings this season.
Vasquez did not have to face 2021 No. 1 overall Draft pick Henry Davis, who had the day off for Altoona. With the Curve bullpen matching the Patriots starter's efforts, the game reminded tight before Aaron Shackelford gave Altoona a 2-1 edge with a walk-off single in the 10th.
Goodest birthday boy
Triple-A Las Vegas bat dog Finn celebrated his 10th birthday on Friday. Along with fetching bats, the black lab is known for carrying a cooler full of water to umpires and jumping on his favorite fire hydrant. Finn's younger sister, Lambo recently joined the family business and works Aviators games with her brother.
Today is my 10th Birthday!! I can still bring it! @milb @AviatorsLV @MLB @MLBONFOX @Cut4 @espn #baseball pic.twitter.com/6yneCFMtS8

— Finn The Bat Dog and Lambo (@finnthebatdog) May 13, 2022
May 12
Pair of Jays take flight
It was a busy day for Blue Jays prospects down on the farm, from No. 2 prospect Orelvis Martinez clubbing his ninth homer of the year to No. 25 Sebastian Espino notching a multihomer effort to give him three homers in two games.
In Double-A New Hampshire's 7-2 win over Binghamton, Martinez collected two hits, but his most exciting one was a two-run shot to left-center to give his team a five-run lead. The 20-year-old leads the Eastern League with nine long balls. He's batting .286/.390/.571 with three homers, nine RBIs, three walks and two steals in the past 10 games.
Espino also put on a show in that game. After homering in the ninth inning in his previous contest, the 21-year-old smacked two dingers in his first two at-bats the following day, giving him jacks in three straight ABs and his first multihomer game since last Aug. 15. His first homer was a two-run shot to left-center that gave the Fisher Cats the lead, and the second was a solo jack to the same part of the ballpark.
Something grand ... with extra cheese
This season, Minor League baseball teamed up with STOUFFER'S® for a multiyear strategic partnership celebrating communities and providing family-friendly experiences. As part of that effort, STOUFFER'S tapped 15 Minor League clubs exemplifying those values. And when those teams deliver a home run with the bases loaded, it's celebrated in MiLB.com's STOUFFER'S Home Plate Hub.
It happened not once, but twice Thursday night.
First it was Jhailyn Ortiz, the Phillies' No. 12 prospect, whose grand slam highlighed Double-A Reading's 11-6 win over Bowie at FirstEnergy Stadium. Connecting off left-hander Easton Lucas in the sixth, Ortiz's sixth long ball of the season helped put the game out of reach.
Then it was Tyler Soderstrom's turn. The top A's prospect came to the plate for High-A Lansing with one out in the ninth and the bases loaded in a tie game. Soderstrom crushed the second pitch he saw, sending it over the wall in right-center field for a 7-3 victory.
Jhailyn Ortiz delivers a #STOUFFERSGrandSlam!

The #Phillies' No. 12 prospect serves up his 6th homer for the @ReadingFightins. pic.twitter.com/S73jfA7fgh

— Minor League Baseball (@MiLB) May 13, 2022
Extra cheese!

Top A's prospect Tyler Soderstrom drills a walk-off #STOUFFERSGrandSlam for the @LansingLugnuts! pic.twitter.com/uomZG7WryC

— Minor League Baseball (@MiLB) May 13, 2022
Barking in the park
A month's worth of struggles in the Majors led CJ Abrams back to Triple-A El Paso for a reset. He responded with a two-homer performance in what was the first Triple-A game of his career. Baseball's No. 9 overall prospect provided an encore in his second game with the Chihuahuas and it appears the bounces are going his way, literally and figuratively.
Abrams homered for the third time in his first seven at-bats and added an RBI single and another base hit to lead El Paso to an 11-4 win over visiting Sacramento. The 21-year-old scored three times and is 5-for-10 with eight RBIs in his first two Triple-A games.
If there was any disappointment stemming from his Major League struggles, Abrams has either forgotten about it or decided to take it out on Minor League hurlers. After grounding into a double play in the first inning, the sixth overall pick in the 2019 Draft helped his club rally from an early 3-0 deficit with a go-ahead two-run blast in the third. Full story »
No dodging OKC on this night
Triple-A Oklahoma City had it going on against host Round Rock. Six different Dodgers farmhands homered, Yefry Ramírez went the distance in a three-hit shutout and Dell Diamond doggos were out in force, blissfully unaware of the 19-0 pasting of the home team.
The long ball party started in the first inning when Jake Lamb belted his eighth of the season to left-center field. In the fourth, Jason Martin smacked a two-run shot, his fourth, and then he crossed the plate when Kevin Pillar followed with a three-run homer later in the frame, his ninth.
Oklahoma City added three more long balls in the fifth. Ryan Noda pelted his sixth, a two-run tater, and Andy Burns went back-to-back with his sixth to left. Eddy Alvarez capped the dinger onslaught with a three-run shot.
All of this was more than enough for Ramírez, who threw 107 pitches, 77 for strikes. The 28-year-old right-hander struck out a season-high eight while giving up three singles and a walk. He ended the night by fielding a grounder back to the mound and running the ball to first base for the final out.
Talk about a marquee matchup
Four Top 50 overall prospects took the field as Triple-A Norfolk and Memphis met at Harbor Park, with Grayson Rodriguez (No. 6) and Matthew Liberatore (No. 41) facing off as starting pitchers while Adley Rutschman (No. 2) and Nolan Gorman (No. 31) were in the lineup.
As fate would have it, all four played key roles in the showcase that ended in a 5-2 road win for Memphis. The biggest moment in the game came from Gorman. After striking out in his first three at-bats, Gorman broke an 0-for-10 slump with a go-ahead, two-run homer in the top of the eighth. Liberatore impressed on his end of the pitchers' duel, striking out five (including a backwards K of Rutschman on a fastball) across six innings with four hits, four walks and one earned run.
On the other side, Rutschman clubbed his first home run of the season and Rodriguez struck out eight across five innings of one-run ball, shaving his ERA to 3.09 across seven starts. Full story »
May 11
Debuting in style ... and with flair
Top prospect C.J. Abrams bypassed Triple-A all together on his way to earning an Opening Day roster spot in San Diego, jumping from Double-A to the big leagues as a 21-year-old last month. So when he arrived at Triple-A El Paso this week, he did so knowing a strong start for the Chihuahuas could find him back in the big leagues before long.
Message received.
Abrams homered twice in an explosive introduction to Triple-A, clubbing a three-run shot and a two-run homer in his debut at the level. Pulling both homers off San Francisco's No. 26 prospect Sean Hjelle, Abrams matched his 2021 home run output from Double-A in a single night, highlighting El Paso's 10-inning slugfest 10-9 loss to Sacramento. Full story »
To the moon, Pedro!
Sugar Land center fielder Pedro León, the Astros' No. 4 prospect, launched a two-run homer in the third inning against Albuquerque that traveled a projected 451 feet, hitting it off the scoreboard in left-center field.
León, who entered the game hitting .243 with four homers and 17 RBIs, went 2-for-6 with two RBIs in the series opener at Albuquerque. He hit a solo home run May 1 at Oklahoma City that had an exit velocity of 110.4 mph, which ranks as the hardest-hit home run by the Space Cowboys this year.
The 23-year-old Cuban defector signed for $4 million last year and was billed by the club as a "rapid mover to the big leagues." He began last year at Double-A Corpus Christ and was promoted to Triple-A after 10 weeks, playing primarily shortstop despite most of his prior experience coming in center field. This year, he's started mostly in the outfield, including 14 games in center and nine in right. He's started only three at shortstop.
Showing process at plate and on the mound
Of the prospects acquired in exchange for big league third baseman Nolan Arenado in 2021, Elehuris Montero was the headliner. Ten days after he made his MLB debut, Montero was swinging a big league bat.
Colorado's No. 4 prospect cranked a homer and added a double while tallying three hits and reaching base four times as Triple-A Albuquerque doubled up Sugar Land, 10-5.
Montero kicked off his day with a single in the bottom of the first before notching his first RBI on a line drive double off the left field wall in the bottom of the second. Two innings later, the corner infielder crushed his sixth home run of the season to left field, a two-run shot to extend the Isotopes' lead.
Two steps down the organizational latter, starting pitcher Tony Locey sparkled for six innings in a 10-0 win for High-A Spokane at Hillsboro. Locey, who also was acquired in last year's Arenado deal, didn't allow a hit or a run and struck out 10 to work around six walks. Hillsboro finished the night with just one hit against the Spokane bullpen.
One good milestone deserves another
Peyton Remy has known Danis Correa and Eury Ramos since the three of them started out in Rookie ball nearly five years ago.
The trio of righties combined on a milestone – a no-hitter for Double-A Tennessee in its 5-0 victory over Montgomery. It was the Cubs affiliate's first no-no since Eric Jokisch went the distance on Aug. 6, 2013.
Remy set the tone with eight strikeouts across six innings, Correa struck out three and walked one in two frames and Ramos closed it out with two strikeouts in the ninth.
"That was awesome," Remy said. "I've known them for a long time now and it's pretty cool to see all of us get here together and then do that." Full story »
All three times are charms
Ryan McKenna hadn't put one over the wall through 18 big league games or six back at Triple-A this season. In Norfolk's game against visiting Memphis, he liked being reintroduced to the feeling so much, he did it three times.
McKenna belted his first three homers of the season and drove in four runs in the Tides' 9-7 loss.
Baltimore's 2015 fourth-rounder opened the game with a bang, namely a leadoff homer to right-center field off Redbirds righty Johan Oviedo in the first inning. After striking out swinging in the third and fourth, he made loud contact again in the seventh with another solo shot again to right-center off new reliever Kyle Ryan. McKenna capped his night with a two-run blast to right-center off righty Junior Fernández in the eighth to draw Norfolk within two runs. Full story »
May 10
Making lemonade out of a lemon
Triple-A Norfolk third baseman Rylan Bannon saved face in a most impressive fashion in the fourth inning of the Tides' 6-1 victory over the visiting Redbirds.
With two outs, the 26-year-old Baltimore farmhand drifted into left field to make a play on a fly ball lifted by Memphis left fielder Scott Hurst. Bannon tried to make an over-the-shoulder basket catch, but the ball popped out of his glove. As he lost his balance and fell down, he swiped at it with his glove and came up with the ball.
Wheeling and dealing
A solid start to 2022 got a little better for Braden Shewmake. The No. 6 Atlanta prospect doubled twice en route to a career-high four hits to help Triple-A Gwinnett defeat Durham, 8-4. Shewmake scored four times, swiped his fourth base and walked twice, reaching safely in all six plate appearances.
Despite driving in just four runs in his first 24 games and 85 at-bats, the 24-year-old is batting .318/.376/.459 with 15 runs and eight extra-base hits.
While Shewmake did the job offensively, AJ Smith-Shawver was dealing three levels below. The club's 17th-ranked prospect blew past his previous high for strikeouts, finishing with 12 in five innings as Single-A Augusta edged visiting Columbia, 4-3. Smith-Shawver scattered four hits and three walks while surrendering two runs. The 19-year-old has 41 strikeouts and a 4.50 ERA across 24 innings in six starts.
That's quite a first impression
In his first Double-A plate appearance, Henry Davis got hit by a pitch. In his third, it nearly happened again.
Instead, Davis simply left the yard.
Baseball's No. 23 overall prospect cranked a two-run homer to left field for his first Eastern League hit and reached base three times in his debut at the level as Altoona sank visiting Somerset, 4-3.
Davis' bat is one of the things that has tantalized Pirates fans most in his first full season. Drafted first overall out of Louisville in 2021, the catcher played in just eight games a year ago between the Rookie-level FCL Pirates and High-A Greensboro, batting .308/.387/.808. Starting this season back at Greensboro this year, he was just as impressive. Davis batted .341/.450/.585 with five homers and 22 RBIs in 22 games for the Grasshoppers before getting the bump to Double-A. Full story »
Coming in for a landing?
This was the type of game that Yankees fans have been waiting for from The Martian.
Jasson Dominguez looked just as advertised as he collected three knocks -- falling a triple shy of cycle -- while driving in a career-high four runs in Single-A Tampa's 12-11 defeat to Dunedin at TD Ballpark.
The third-ranked Yankees prospect flashed all five of his tools that made him one of the most hyped international signings in recent memory -- crushing a solo shot to the deepest part of the park, hammering a two-run double to left and even notching a productive out with an RBI groundout to second in the eighth after a seven-pitch at-bat. Full story »
"This is what we're talkin about!" - #Yankees fans (probably)

MLB's No. 59 prospect Jasson Dominguez fell a triple shy of a cycle while driving in a career-high 4 runs for Single-A Tampa: https://t.co/YikJwvQZWM pic.twitter.com/NFaCuZ4X4V

— MLB Pipeline (@MLBPipeline) May 11, 2022
Gatorade: The first hint of a milestone
The pressure of a no-hitter can be such that not realizing one is in progress might be more beneficial than not. And that's how it went for Hunter McMahon, who got the final three outs of Single-A Fort Myers' no-no ... even if he didn't know what he had done.
With David Festa leading the charge with a career-high 11 strikeouts over six innings, McMahon and fellow reliever Jaylen Nowlin combined to wrap up the fifth no-hitter in franchise history with a 3-0 win over visiting Palm Beach.
The no-hitter was the sixth in the Minors this season and the Mighty Mussels' second in 27 games going back to last year. The club tossed a seven-inning no-no in the penultimate game of the 2021 campaign.
"I didn't know there was about to be a celebration at all," McMahon admitted. "I didn't know there was a no-hitter until everyone was going crazy and then I get doused in Gatorade. I knew we had a shutout, but I did not know we had a no-hitter." Full story »
That's a no-hitter win for your Mighty Mussels!! @FLBlue Players of the Game goes to the pitchers - Festa, Nowlin, & McMahon. pic.twitter.com/p3mP51rSMa

— Fort Myers Mighty Mussels (@MightyMussels) May 11, 2022
Spring in full swing across Minor Leagues
Despite a swath of rainouts across the Minors last week -- and even snow (!) on Mother's Day in Reno -- it feels like a full-fledged spring across Minor League Baseball. Last week, it was announced that the Triple-A National Championship will return as part of an entirely new event called the Triple-A Championship Weekend. For the second time in three Brett Kerry starts, a Rocket City Trash Pandas fan got a foul ball souvenir that came with a side of sudsy refreshment. On the prospect front, No. 2 D-backs prospect Corbin Carroll showed off his power with four homers in two games, Myrtle Beach put up a record offensive performance, and top Orioles prospects Adley Rutschman and D.L. Hall made the jump to Triple-A Norfolk to continue their respective rehabs. Look back on the week that was.