Scorching Riley homers twice for M-Braves
No. 97 overall prospect plates five runs with first dingers of year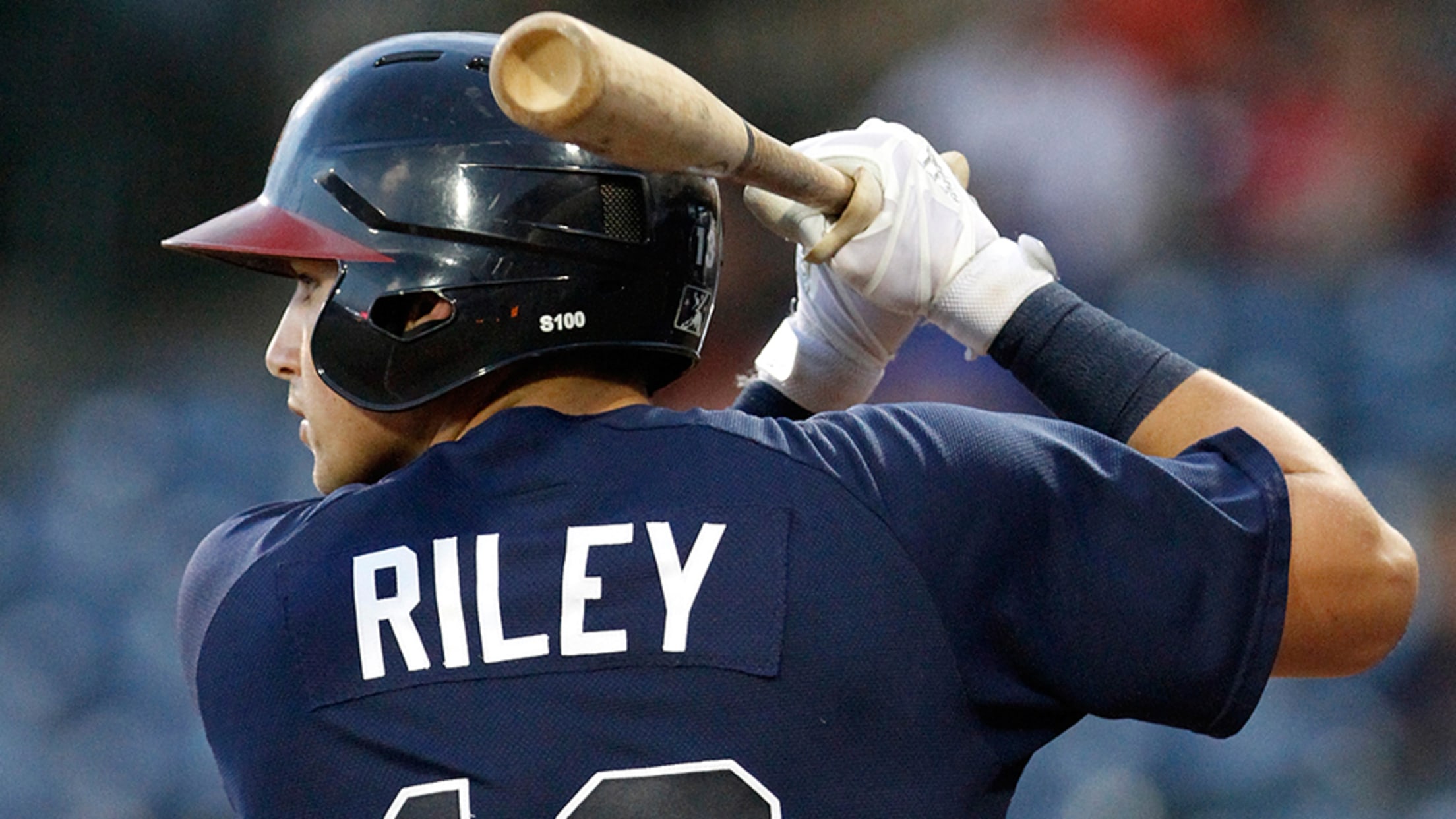 Austin Riley is batting .346 with eight RBIs for the Braves so far in the young season. (Ed Gardner/MiLB.com)
What is an avid outdoorsman like Austin Riley to do after a two-homer performance? Night fishing off the southeastern Louisiana coast, of course. MLB.com's No. 97 prospect joined teammate Josh Graham to reel in some fish under the night stars Thursday night, but only after Riley left the yard twice and drove in
What is an avid outdoorsman like Austin Riley to do after a two-homer performance?
Night fishing off the southeastern Louisiana coast, of course.
MLB.com's No. 97 prospect joined teammate Josh Graham to reel in some fish under the night stars Thursday night, but only after Riley left the yard twice and drove in five runs in Mississippi's 6-5 loss to Biloxi at nearby MGM Park. The Braves' supplementary-round pick in 2015 extended his seven-game hitting streak to begin the season. He's batting .346 with eight RBIs.
Gameday box score
"I'm just trying to focus on my approach, same thing I said during Spring Training," Riley said. "I'm really honing in on that and making sure I'm not missing my pitches. ... Hopefully it carries on throughout the season."
This year, the Braves No. 8 prospect earned his second consecutive invite to Major League Spring Training, where Riley went 5-for-24 with two homers in 12 Grapefruit League games.
Riley's focus this spring was on his defense, and Atlanta third-base coach Ron Washington took the 21-year-old under his wing at the Braves' complex in Sarasota County, Florida. The former big league infielder demonstrated to him the intricacies of playing the hot corner.
"Man, I can't express enough at how good he is and how much baseball knowledge he has about defense," Riley said. "Just working with him for the short amount of time I had made me that much better defensively. I'm seeing the ball and moving my feet a lot better, I worked on a couple things with the glove that have already helped in the seven games that we've played."
The first two days of camp the 21-year-old mostly tried to stay out of the way of the club's veterans as they worked on the diamond, but Washington wasn't having any of that.
"He came up to me and said 'I want to work with you every day,' and that really meant a lot," he said.
Riley was able to chat with Braves Hall of Fame third baseman Chipper Jones, and even though their conversations were mostly about hunting, being in the presence of a legend made a significant impact on him as well.
"It's an honor," the Memphis, Tennessee native said. "(Chipper) is around and you get to pick his brain. Right there, I said to myself, 'I'm pretty friggin' lucky to just be able to talk to him.' If I'm even just half as good as he was, then I had a pretty dang good career."
Riley earned a Double-A callup in July 2017 and performed well in 48 games with Mississippi, hitting .315/.389/.511 with eight homers and 27 RBIs. Making adjustments to Southern League pitching has allowed him to settle in well in 2018.
"I think the biggest thing is guys throw pitches in all counts," he said. "There are guys in (Class A Advanced) that have Double-A stuff, but don't command all three or four pitches as well than guys up here do. I think that was the biggest adjustment, seeing a 2-2 curveball and again at 3-2. Focusing in on my approach, staying within myself and trusting my eyes, that was the biggest adjustment (last season)."
Braves No. 14 prospect Alex Jackson went 2-for-4 with a triple and Touki Toussaint pitched five scoreless frames, allowing three hits while striking out nine and walking three, for the Braves.
In the top of the sixth, Riley belted a three-run homer to left field on a first-pitch offering from Brewers No. 25 prospect Zack Brown. He went yard to left again with one on in the eighth.
"The first home run was a slider and he hung it," Riley said. "I was actually sitting on that and was lucky enough to get it. The second at-bat was against a lefty, kind of a finesse guy that was throwing some off-speed, and I got down in the count. ... He just kind of left a changeup up and I was able to keep my hands back and was able to put a good swing on it."
Braves No. 14 prospect Alex Jackson went 2-for-4 with a triple and 11th-ranked Touki Toussaint pitched five scoreless frames, allowing three hits and three walks while striking out nine for Mississippi.
Corey Ray, the Brewers No. 7 prospect, finished 3-for-4 with five RBIs and a run scored. He roped a bases-clearing double to left with the bases loaded in the eighth to give the Shuckers their first lead of the game.
Nate Griep shut the door in the top of ninth to earn his fourth save of the season.
Josh Horton is a contributor to MiLB.com. Follow him on Twitter @joshhortonMiLB