Award winner Anderson shines for Drillers
Rockies prospect has one-hit outing after Pitcher of the Year honor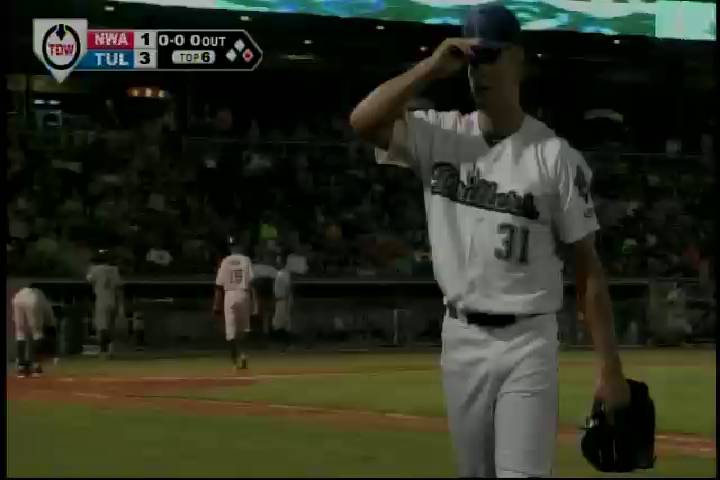 By Josh Jackson / MiLB.com | August 30, 2014 1:06 AM ET
Tyler Anderson has had a good couple of days.
On Thursday, he was named Texas League Pitcher of the Year. On Friday, he reminded everybody why.
The Rockies' No. 12 prospect allowed one hit, one walk and an unearned run while striking out six over six innings as Double-A Tulsa edged Northwest Arkansas, 3-2, in his final start before the North Division first-half champions head to the postseason.
"I think more than just it was the last one in the regular season, it was nice because the whole team played well," Anderson said. "Our defense was awesome and guys were swinging it. It's a good way to go into the playoffs. Every win now counts for our team momentum."
The win was the fourth straight for the 24-year-old left-hander, who improved to 7-4 while lowering his league-leading ERA to 1.98. That mark also earned him a spot in the Drillers' record book alongside a familiar name.
"I guess I tied Jeff Francis for a franchise record. That's kind of cool for me, that Jeff Francis did it last [in 2004] because in Spring Training a few years ago, when Jeff Francis was with the Rockies, I learned a lot from that guy," Anderson said.
The 2011 first-round pick doesn't intend to spend much time mulling over that accomplishment, or his Pitcher of the Year award.
"If something like that is going to affect me, either positively or negatively, I think that's not a good thing. My head is not in a good spot if I'm letting that kind of thing affect me," he said. "It's more important that we win a championship because that relates to a lot more people."
Anderson was placed on the disabled list after his Aug. 18 outing, but he wasn't injured.
"The Rockies wanted me to limit my innings, just because of injuries in the past," he explained. "And the Drillers, our team, wanted me a little fresher for the playoffs."
In the first inning, the Naturals' Mitch Maier reached second on a one-out throwing error by second baseman Taylor Featherston, took third on a wild pitch and scored on Brian Fletcher's sacrifice fly.
"I was a little frustrated about it and angered by it, not by the error but because I know my job is when guys make a mistake not to let that affect the team," Anderson said. "I let the guys down by letting the runner cross, but [Ryan] Casteel, our catcher, came out and said, 'Hey, you're still making quality pitches. Keep making them.'"
Anderson struck out Royals No. 12 prospect Orlando Calixte to end the opening frame and put the run behind him. Working with a 2-1 lead in the third, he issued a one-out walk to Ethan Chapman. Lane Adams followed with a fly ball to deep right field, but Jared Simon robbed him of a home run.
Anderson retired nine more in a row before finally allowing a two-out single to Maier in the sixth.
"It's always nice to get into a groove and to be throwing strikes, especially after skipping a start," he said. "Sometimes if you don't face live hitters for 10 days, that can be hard to do, hard to get a good feel for your pitches. That felt good."
The University of Oregon product fanned Fletcher to close his outing, having thrown 57 of 79 pitches for strikes.
The Naturals scored a run in the ninth and had runners on first and third with two outs, but Drillers third baseman Trevor Story -- the Rockies' 11th-ranked prospect -- leaned into the Northwest Arkansas dugout to catch Justin Trapp' foul pop and end the game.
"I was running around and going nuts [after the catch]," Anderson said. "It was awesome."
Will Swanner was 2-for-3 with a double and two RBIs for the Drillers, while fourth-ranked Royals prospect Hunter Dozier doubled and singled for the Naturals.
Josh Jackson is a contributor to MiLB.com. This story was not subject to the approval of the National Association of Professional Baseball Leagues or its clubs.
View More