Back in Vegas, Mets' d'Arnaud homers twice
51s catcher, sent down earlier in week, plates three runs in 14-7 rout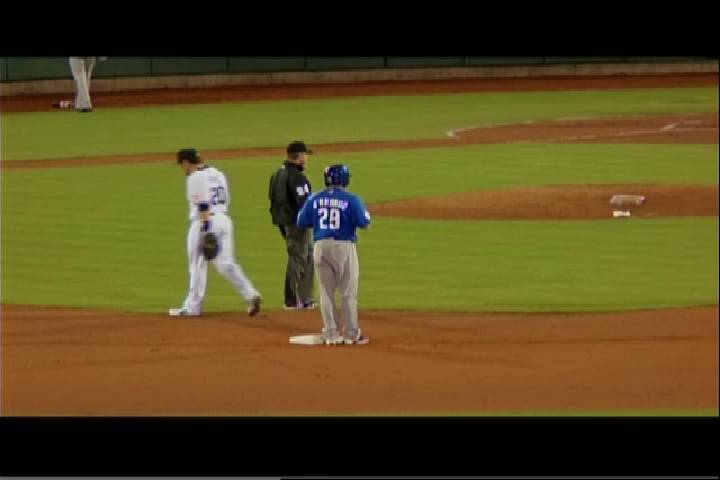 By Danny Wild / MiLB.com | June 11, 2014 9:57 PM ET
Travis d'Arnaud was shipped off to Las Vegas with a mission of proving himself again at the plate, a roadtrip that has no set timetable for a return. For the Mets catcher, a ticket back to Queens depends as much on his confidence as it does his stats.
"It wasn't the swing. It's kind of funny," d'Arnaud told the Colorado Springs Gazette. "It was just all in my head."
With a clearer mind and less pressure, d'Arnaud connected on a pair of home runs on a three-hit day and Daniel Muno's attempt at the cycle was foiled by a catcher in the ninth inning as Triple-A Las Vegas doubled up Colorado Springs, 14-7, on Wednesday afternoon.
Reassigned this past Sunday, d'Arnaud finished 3-for-5 with a double in the third inning, a two-run homer in the fourth and a solo drive in the seventh, going back-to-back with Muno in his third game with the 51s. He was hit by a pitch in the first and reached base four times, drove home three and scored twice a day after going 2-for-4 with a walk in his first 51s start of the year.
In the ninth inning, d'Arnaud had a chance for a three-homer game when the Sky Sox, trailing by eight, had catcher Michael Ramirez take the mound for mop-up duty. Muno, needing a triple for the cycle, took a called third strike before Ramirez got d'Arnaud to ground out to third in a seven-pitch perfect inning.
Since returning to Pacific Coast League, d'Arnaud is 6-for-10 with a walk. He hit .304 with a .487 on-base percentage in 19 games for the 51s last year. Escaping the New York spotlight has given the backstop a chance to take a step back and relax.
"It's hard to do it anywhere," said d'Arnaud. "You get in your head so much that it's hard to get out of there. Fortunately, working with [the 51s staff], we've been grinding it out and just having more talks than anything analytical. It's worked out great."
Las Vegas hit six homers in the 17-hit effort, three of which came off Greg Burke, a former Mets reliever who pitched for the 51s last season. Allan Dykstra hit his 10th in the sixth before Muno hit his second in the seventh off Sky Sox reliever Ryan Kulik and Brandon Allen added his fifth in the eighth. Even pinch-hitter Kai Gronauer, hitting .174 this year, came off the bench to hit his first homer in the fifth.
Sky Sox manager Glenallen Hill, who hit 186 homers in 13 Major League seasons, said he could relate to the struggles d'Arnaud has experienced.
"I think it's very beneficial to be in a position where you're not putting a lot of pressure on yourself as a player because you want to help the team win," Hill told the Gazette. "Not being able to make the mental adjustments you need to make at that level can snowball on you, so having a break is good."
In his role as the Mets' primary backstop this season, d'Arnaud hit .180 with three homers, nine RBIs and a .271 OBP in 39 games before being sent down in favor of Taylor Teagarden.
"He's upset, and I think he's upset at himself," Mets third baseman David Wright told MLB.com. "But I think that it's a bump in the road. What I told him is that you can't think of this as a failed opportunity, or that now people think less of you in the organization. It's a bump in the road, and a lot of really, really good players go through this when they're first brought up."
"It's very hard," Mets manager Terry Collins added. "He was our guy coming into Spring Training and he's been our guy since he got called up last year. But he's a young guy still learning, still trying to get better. You have to weigh the factor of is he getting anything out of this or is it hurting him in the long run?"
The Mets' message for their catcher of the future was simple -- fix the swing and start producing.
"Just go figure it out, it's hard to do here, hard to do, there is not a lot of room for forgiveness here," Collins said he told d'Arnaud, according to the New York Daily News. "As hard as you are working, as bright as your future is, it's hard to get it going here."
And so d'Arnaud took a flight out to Colorado Springs, where he joined his new teammates for the 51s' 11-5 loss to the Triple-A Sky Sox on June 9. He entered as a pinch-hitter that game, connecting on a fourth-inning single before reaching base three times in his first start a day later.
The Mets acquired d'Arnaud and right-hander Noah Syndergaard, now the club's No. 1 prospect, as part of the seven-player deal that sent former Mets ace R.A. Dickey to Toronto in December 2012. Syndergaard was placed on Las Vegas' seven-day disabled list with a sprained left shoulder June 6.
Neither starter lasted long Wednesday due to an hour-and-26-minute rain delay. Darin Gorski allowed a pair of runs on three hits while recording just two outs, while veteran Brett Tomko, who signed a day earlier, worked a scoreless inning for Colorado Springs in his first appearance with the Rockies, his 12th Major League organization. The 41-year-old also became the oldest pitcher to ever start for the Sky Sox.
Danny Wild is an editor for MiLB.com. Follow his MLBlog column, Minoring in Twitter. This story was not subject to the approval of the National Association of Professional Baseball Leagues or its clubs.
View More