Barons' Bassitt looking to redeem himself
White Sox prospect yields hit over five shutout innings in '14 debut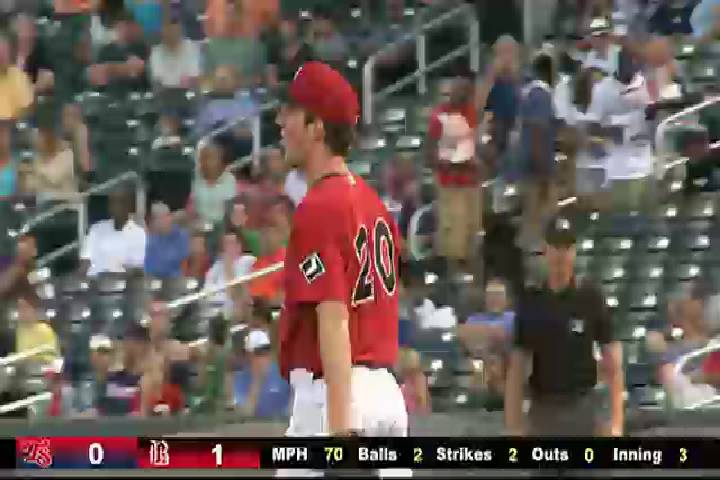 By Robert Emrich / MiLB.com | July 30, 2014 1:20 AM ET
Chris Bassitt isn't just looking to make up for lost time, he's hoping he can make up for his own mistakes. He took his first step on Tuesday night.
The White Sox prospect tossed five one-hit innings in his season debut as Double-A Birmingham walked off with a 3-2 win over Tennessee.
Bassitt walked three batters and struck out three, allowing only a first-inning single to Addison Russell, MLB.com's No. 7 overall prospect. He faced four batters over the minimum but did not figure in the decision in his first start since Game 1 of last year's Southern League Championship Series.
"I had my two-seam fastball and my sinker working," Bassitt said. "I developed a little bit of a hard slider in Spring Training, and my curveball, I had a little bit of everything going tonight.
"It [the slider] is something to complement my sinker a lot more than what I had before, a really loopy slider. We tinkered with it and made it kind of a true slider. I threw it a lot tonight, so obviously, I like it. It still has some ways to go. I don't have great command with it yet. For me, just starting to throw it, I'm very happy with where it's at."
After leading all White Sox Minor Leaguers with 101 strikeouts last season, Bassitt was sidelined with a broken right hand. The injury, which was not baseball-related, has set him back -- and not just on the mound.
"For me, missing pretty much the whole year, I felt like I kind of have some ground to make up. I threw people into bad spots, I threw people into starting positions when they shouldn't be starting," the 25-year-old right-hander said.
"Obviously, it [stinks] you not playing, but at the same time you feel worse because this guy is in this position because I'm not there. Everything gets out of whack. They've held their own, we're in first place again. At the same time, you don't want to have someone going into the season thinking, 'All right, I'm a reliever' and then I get hurt and it's all 'Hey, you're a starter now.' You feel guilty of putting them in that situation. That's their career and they shouldn't have to deal with that."
Bassitt, who made eight Southern League regular-season starts in 2013, entered this year with one objective -- to pitch for the White Sox. The injury has pushed back that timetable back and forced the University of Akron product to adjust his goals.
"My goals were to make it to the big leagues this year, but having the step back that I had, I'm going to take it one day at a time," Bassitt said. "Whatever happens, happens. I'm just going to go out every single day and give it my all. I feel like I owe it to this team to win pretty much every single time I step out on the mound."
Chris Curley gave the Barons the win with a one-out bases-loaded single in the ninth. Jared Mitchell slugged his eighth homer of the season and Trayce Thompson, Chicago's 13th-ranked prospect, doubled home Birmingham's other run.
Jae-Hoon Ha was 2-for-5 with an RBI for the Smokies.
Tennessee starter Pierce Johnson, the Cubs' No. 11 prospect, struck out eight and allowed two runs on five hits and three walks over six innings.
Robert Emrich is a contributor to MiLB.com. Follow him on Twitter @RobertEmrich. This story was not subject to the approval of the National Association of Professional Baseball Leagues or its clubs.
View More