Bauer fights cold, continues promising start
Indians right-hander fans nine over six scoreless innings for Clippers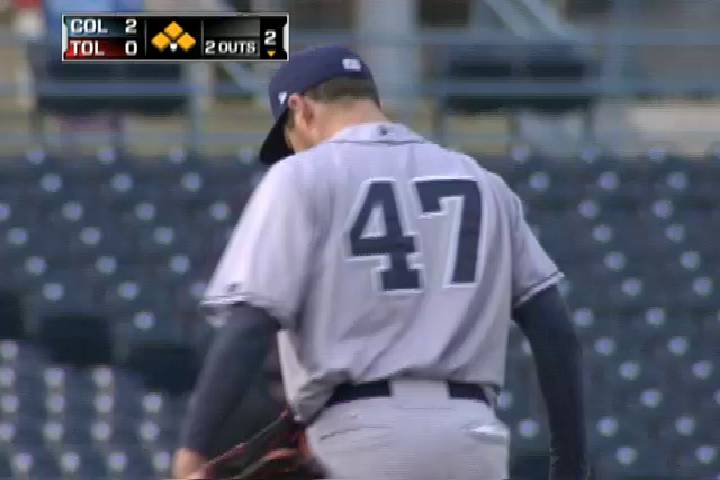 By Jake Seiner / MiLB.com | April 16, 2014 11:55 PM ET
Trevor Bauer grew up and attended college in Southern California and lives in Houston, so Wednesday's 41-degree game-time temperature in Toledo was something of a shock.
"It had to be below 30 with the wind chill," the Indians' No. 3 prospect said. "I didn't have much grip on the ball. I threw some good fastballs, but I was inconsistent with everything else."
The 22-year-old right-hander -- who often works with a seven-pitch mix -- battled through Mother Nature's handcuff and put together a third stellar start to begin the season. He struck out nine over six scoreless innings as Triple-A Columbus topped Toledo, 3-1, in International League action.
Bauer (1-0) allowed five hits and two walks two while lowering his ERA to 0.75 in two Triple-A starts. The UCLA product was coming off a Major League spot start on April 9 in which he held the Padres to two runs -- one earned -- on four hits over six innings.
The right-hander picked up the win -- his first Triple-A decision this year -- despite lacking any feel for his off-speed pitches, which include a curve, slider, splitter and changeup.
"I just wasn't as consistent with them as I have been," he said. "It's tough when you can't sink your grip in and be confident in it. You try pushing the ball a little bit or just trying to make it do something."
One thing Bauer did Wednesday that he hasn't in the past was use the strikeout to evade men-on jams.
In the second inning, he picked up a pair of strikeouts, escaping unscathed from a bases-loaded jam. In total, he fanned five with runners on base, a departure from the efficiency-first approach Bauer has tried to maintain as a pro.
"In pro ball, there are other things that come into it, like trying to be efficient," he said. "In college, if I was in a situation like that, I went after strike three to get out of it, regardless of the pitch count, because I didn't have one.
"In pro ball, you're always on a pitch count. If you don't get deep into games, it wears the 'pen out, has a lasting effect days down the line. I'm learning to be more efficient with the pitch count, and getting guys out in jams like that is one of the biggest things I've learned."
Bauer's strikeout rate has been notably lower with men on in the Majors. In nine starts, he's collected 23 strikeouts in 20 1/3 frames with men on but only 13 in 19 innings with the bases empty. While big league hitters tend to make more contact with men on (in 2013, batters had a 20.6-percent strikeout rate with the bases empty and a 19 percent rate with men on), Bauer's splits have been greater than average.
He posted all nine of his strikeouts on April 4 with the bases empty in his only other Triple-A start. In his appearance against the Padres, three of his five punchouts came with men aboard.
The early positive results come on the heels of what Bauer considers an important offseason. In early April, he told the Columbus Dispatch he began lifting weights the first week of September and was throwing by October. By mid-November, he felt he'd fixed his mechanics.
All of this followed a tumultuous 2013 campaign in which he posted a 4.15 ERA with Columbus, walking 73 batters over 121 1/3 innings while working to recapture the mechanics and stuff that had made him the third overall pick in the 2011 Draft.
"It's nice to see results come from the path I chose to take," Bauer said. "You try to make adjustments and change some things like I did last year, and you don't know how it will turn out. You think you know and that's why you do it. Until it actually plays out, you don't know how it's going to turn out.
"It's nice to see the hard work this offseason got me prepared to go out there and compete in a way that I want to."
Jake Seiner is a contributor to MiLB.com. Follow him on Twitter at @Jake_Seiner. This story was not subject to the approval of the National Association of Professional Baseball Leagues or its clubs.
View More