Berrios dominates in Wings' win over Sox
Top Twins prospect scatters two hits over seven scoreless frames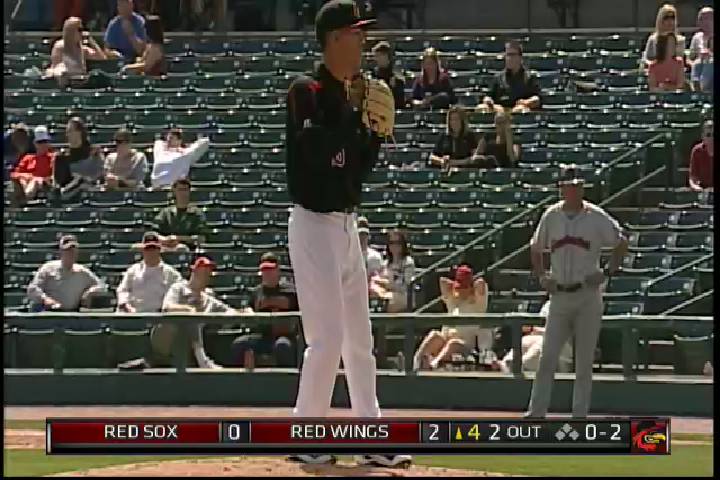 By Sam Dykstra and Chris Tripodi / MiLB.com | April 21, 2016 5:29 PM ET
You'd never know it from the results, but Rochester starter and Minnesota Twins No. 1 prospect Jose Berrios took a couple innings to settle in during the Red Wings' 5-0 win over the Pawtucket Red Sox on Thursday.
"The first two innings, I felt a little too excited, I think," said Berrios. "After the third, though, I just threw my pitches. I was working with all three of my pitches down in the zone, and they weren't able to do much with that."
Berrios struck out three of the first five batters he faced and allowed just one baserunner through two innings -- a two-out walk to No. 3 hitter Blake Swihart in the first. Once he found his groove, however, Berrios retired the Red Sox in order over the next three innings and hadn't allowed a hit through five.
Consecutive singles by Jantzen Witte and Sean Coyle to lead off the sixth spoiled Berrios' no-hit bid, but an inning-ending double-play ball off the bat of Rusney Castillo helped preserve the shutout. Despite his early effectiveness, Berrios was unaware he held Pawtucket hitless over the first five innings.
"When that hit me, I thought, 'Wow, that's pretty good,'" said the right-hander. "But the hit they got was a bloop hit, and there's not much I can do about that. I just had to keep working after that and thankfully they didn't score."
Berrios finished his outing with a 1-2-3 seventh, striking out seven while allowing just two hits and one walk. After struggling to be efficient in his first two starts -- he had yet to pitch into the sixth inning despite throwing at least 90 pitches in both -- Berrios threw 61 of his 93 pitches for strikes in what he deemed to be his best start of the season so far.
"Yeah, it was the best one, I think," the 21-year-old acknowledged. "I walked a lot of guys in my first two starts, but in between, I've just kept working, kept trying to get better, and it worked out."
After issuing seven free passes in his first 10 innings, the right-hander made a concerted effort to be aggressive, which led to just one walk on the day. Berrios threw first-pitch strikes to three of the first four batters he faced and six of the last 10.
"Today, I focused on hitting the plate. That's what I was trying to do -- hit the plate," said Berrios. "I was able to get ahead in counts, and that was a big help."
With Twins starters ranking in the bottom half of the American League in ERA early on, a few more performances like Thursday's could have Berrios knocking on the door to the Majors -- a possibility that isn't lost on the young fireballer.
"When I go out there, I'm thinking about being in the Majors," he said. "I know I need to throw every one of my pitches for strikes if I'm going to do that, so that becomes my focus first and hopefully the Majors comes after."
The Red Wings scored twice in the third and once in the fourth and seventh to provide Berrios with plenty of run support, and catcher John Hicks hit his first home run of the season in the eighth to add some insurance in the win, which snapped a seven-game winning streak by the PawSox.
"I was happy we were able to win," Berrios said. "I worked really hard with everything and was able to do what I wanted to help the team win."
Sam Dykstra is a reporter and Chris Tripodi is a producer for MiLB.com. This story was not subject to the approval of the National Association of Professional Baseball Leagues or its clubs.
View More