Betts delivers in the clutch for PawSox
Down to last strike, Red Sox prospect hits two-run single in ninth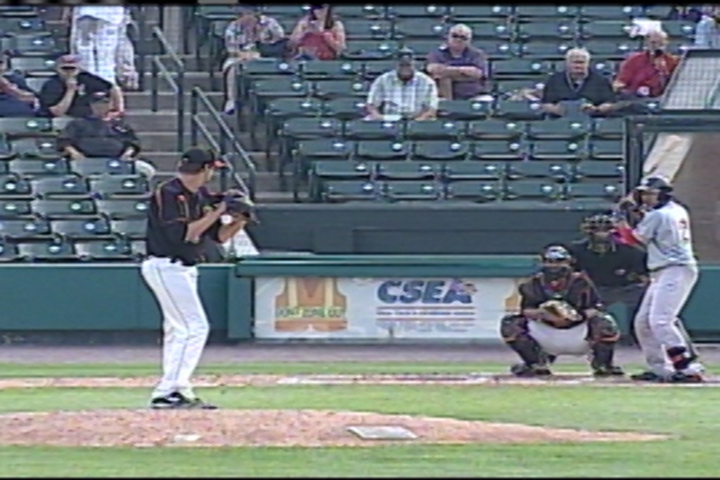 By Danny Wild / MiLB.com | June 20, 2014 11:30 PM ET
Mookie Betts is still one step away from the big leagues, but he's already well-versed in the Red Sox-Yankees rivalry.
Boston's fifth-ranked prospect hit a go-ahead two-run single with two outs in the ninth inning on Friday night as Triple-A Pawtucket rallied for a 3-2 win at Scranton/Wilkes-Barre.
The PawSox were down to their last strike when Betts, riding a five-game hitting streak, bounced a seeing-eye single up the middle off veteran reliever Heath Bell to score Ryan Roberts and Alex Hassan.
"I just battled pretty much," Betts said. "I fell behind quick. And, yeah, just battled through a whole bunch of tough pitches. I mean, he was painting pitches. He was making really good pitches on me the whole time, and somehow I managed to foul them off. And then, the last pitch, I got a pretty decent pitch to handle and just put a good swing on it, and it happened to find a hole.
"It was great. Big situation like that, close game, and it's the Yankees on top of that, so that made it all the better."
The decisive hit came on the 10th pitch of a battle with Bell, a three-time Major League All-Star who signed a Minor League contract with the Yankees last week. The ball barely eluded the glove of diving second baseman Rob Refsnyder and trickled into center field.
"Honestly, I was in the moment, so I wasn't really thinking about it," Betts said. "But the inning before, I asked who he was and they were telling me he's been in the big leagues for a long time. I didn't even know anything about him."
Betts finished 3-for-5 to raise his average to .324 in 17 games since he was promoted from Double-A Portland.
"It's been a tough transition for me," he said. "I'm going from guys that are closer to my age in Double-A and then I'm coming to Triple-A and facing guys like Heath Bell, you know, older guys with a lot of time. It's definitely been a transition. It's still different for me."
The numbers suggest otherwise. The 21-year-old infielder/outfielder is hitting .435 (10-for-23) during the streak and has had multiple hits in six of his last nine contests after batting .355 with six homers, 34 RBIs and a .443 on-base percentage in the Eastern League.
"Essentially, it's the same thing. They've got to throw it over the plate," Betts said. "But it's the ways they do it, the different ways they do it. Those are things that I'm trying to get used to."
Betts hit a leadoff single in the first and doubled in the third, but the RailRiders led 2-0 until Red Sox No. 19 prospect Travis Shaw tripled and scored on a fielder's choice off the bat of Carlos Rivero in the sixth.
Pawtucket held on in the bottom of the ninth after the Yankees' top affiliate loaded the bases with two outs against Drake Britton. Left-handed reliever Tommy Layne came on and struck out Carmen Angelini on a pitch in the dirt as the Red Sox returned to the .500 mark at 38-38.
Asked if his teammates said anything special to him after the game, Betts replied, "No, just a win, that's all."
Danny Wild is an editor for MiLB.com. Follow his MLBlog column, Minoring in Twitter. Mark Emery contributed to this story. This story was not subject to the approval of the National Association of Professional Baseball Leagues or its clubs.
View More