Bisons' Nolin puts injury woes behind him
Blue Jays' No. 11 prospect allows two hits over six scoreless innings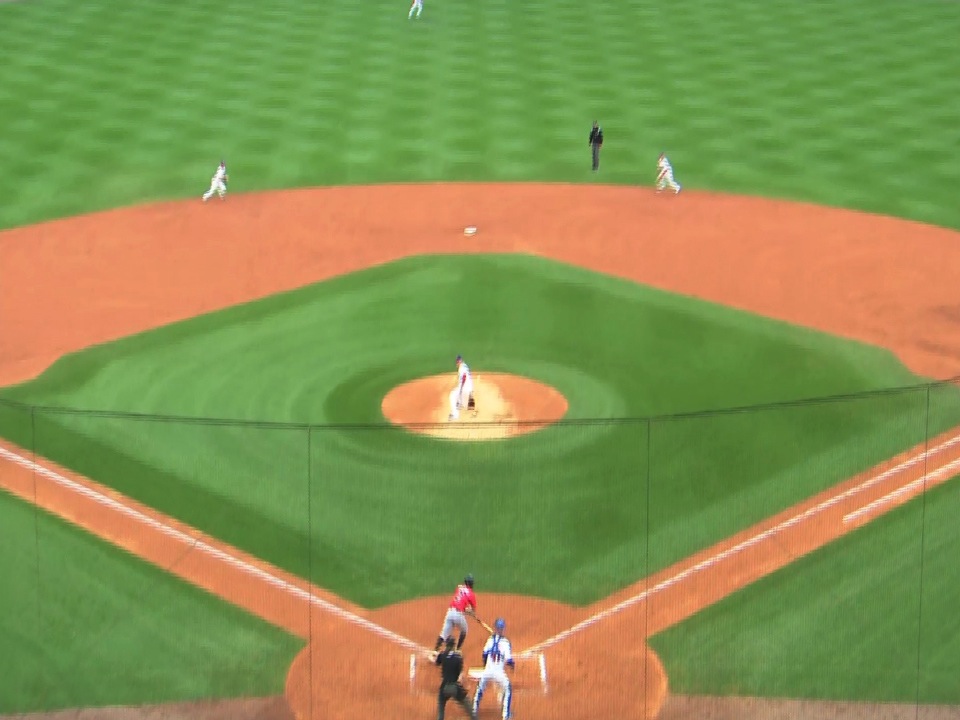 By Ashley Marshall / MiLB.com | July 29, 2014 10:54 PM
Sean Nolin already has missed a third of the season with a pair of stints on the disabled list. In hindsight, he may have come back from the first injury too soon. But now he's feeling close to 100 percent again.
Nolin allowed two hits and a walk while striking out three batters over six scoreless innings Tuesday night as Buffalo shut down Indianapolis at Coca-Cola Field.
The Blue Jays' No. 11 prospect threw 45 of 76 pitches for strikes and induced 10 ground-ball outs in his first International League appearance in six weeks.
"It was a great game," said Nolin, who relied on his fastball-changeup combination and mixed in a slider and curveball. "Numbers-wise, I felt like it was a little erratic at points, but I got in a good flow and I worked to keep the ball down and throw strikes.
"With the amount of ground balls I get, I wanted to attack the zone and throw strikes; throwing first-pitch strikes was a big thing. I thought I had 85 [pitches], so I thought I might be able to go out there with 10 left. But I know I'm coming back from injury and they have a plan, so I didn't want to push it."
Midway through his fifth year of pro ball, Nolin has blossomed over the past couple season. He broke out in 2012 when he went 10-0 with a 2.04 ERA in 20 games across two levels, then followed that by going 9-4 with a 2.77 ERA last year as he made his way to the International League. Nolin started this season back in Buffalo and threw 24 1/3 scoreless innings between April 13-May 8.
The Bisons placed him on the disabled list with a left groin strain on May 15, two days after a loss to Gwinnett. He logged 8 2/3 innings over three starts upon his return to Triple-A before returning to the DL with the same injury on June 18.
The Blue Jays sent him on a rehab assignment earlier this month, first with in the Rookie-level Gulf Coast League and then with Class A Advanced Dunedin, where he made two appearances. Temperatures were in the mid- to upper-90s in Florida and Nolin said pitching five innings in that humidity helped him go six on Tuesday.
"Just one or two pitches feeling it," Nolin said about his first injury. "I had to shut it down because I didn't want to make it worse. I don't know if [I returned] too soon. Technically, it was because it happened again. I thought I was gradually getting better. I felt like the second time was more like a spasm, but they saw something and took me out.
"I'm definitely close to 100 percent. I feel like I've progressed the last few weeks."
Selected in the sixth round of the 2010 Draft out of San Jacinto Junior College, Nolin made his Major League debut last May. But in 1 1/3 innings, he surrendered six runs on seven hits and a walk in taking the loss against the Orioles. He has hopes of returning to the big leagues before the end of the year.
"I was having a good season in the beginning. I was feeling good, then [the injury] happened and it was a little bit of a low blow, but I had to get it out of my head and get healthy," Nolin said. "I guess [the Blue Jays] want me to get a few more innings under my belt and get the confidence of being a big leaguer."
Chad Jenkins followed Nolin and worked a hitless seventh and Ryan Tepera was perfect in the eighth. Steve Delabar lost the shutout by giving up a run on two hits in the ninth.
Kevin Pillar homered for the second straight night and designated hitter Andy LaRoche added a solo shot, his fourth of the season, for the Bisons.
Indians starter Adam Wilk (7-10) gave up six runs on eight hits and five walks while striking out three over six innings.
Ashley Marshall is a contributor to MiLB.com. Follow him on Twitter @AshMarshallMLB. This story was not subject to the approval of the National Association of Professional Baseball Leagues or its clubs.
View More