Bisons to sign 100-year old shortstop, WWII veteran Roy Kinyon to 1-Day Contract
Kinyon passed on 1942 tryout with Bisons to enlist in US Navy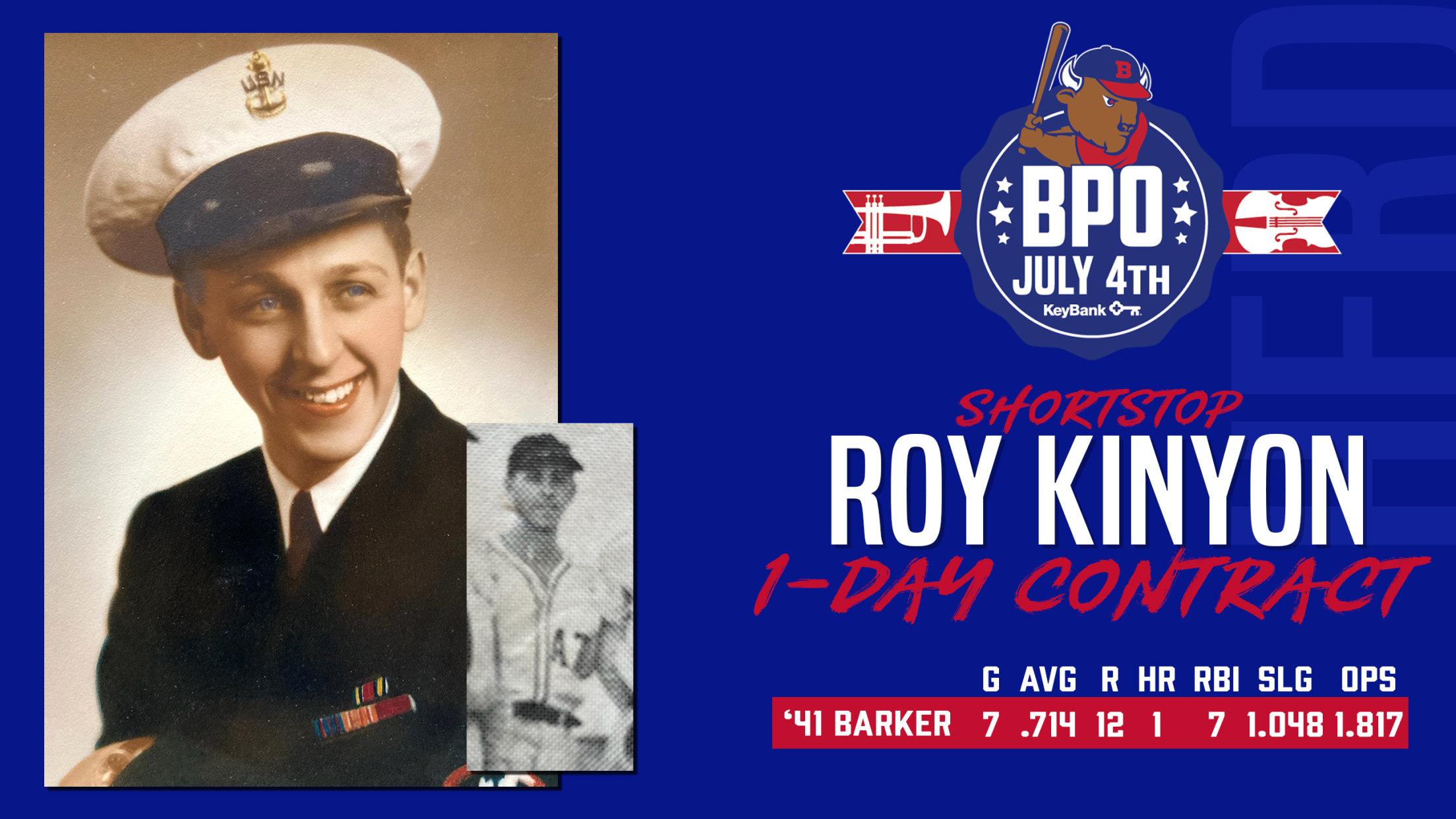 GET MY JULY 4TH TICKETS The Buffalo Bisons are thrilled to announce that they intend to sign 100-year-old SS Roy Kinyon to a one-day contract on Monday, July 4 so that he can appear in uniform for the Herd as they face the Syracuse Mets at this year's KeyBank Independence
The Buffalo Bisons are thrilled to announce that they intend to sign 100-year-old SS Roy Kinyon to a one-day contract on Monday, July 4 so that he can appear in uniform for the Herd as they face the Syracuse Mets at this year's KeyBank Independence Night Celebration (6:05 p.m.).
Kinyon, a two-sport star who led the Niagara-Orleans League in batting average with the Barker Raiders during a 1941 Championship campaign, will be tasked with throwing out the Ceremonial First pitch upon signing his contract on Monday, July 4th at Sahlen Field.
By signing this contract with the Bisons, Kinyon will finally get to join the team that began recruiting him 80 years ago. Following a standout baseball and basketball career with the Barker Raiders, Kinyon was invited to try out for the Bisons late in the Summer of 1942. In a courageous and inspiring decision, Kinyon passed up the opportunity to try out and instead enlisted in the United States Navy to serve his country during World War II.
"It's not often a minor league general manager gets to add a true American hero to his club's roster, but I am thrilled that we've come to terms with Roy on this one-day contract so that he can forever be part of the Buffalo Bisons team," said Bisons General Manager, Anthony Sprague.
Born in Appleton, NY, Kinyon was captain of both the baseball and basketball teams at Barker, each of which won championships his senior year. He led the 1940-1941 Raiders basketball team with 165 points, guiding the club to an 11-3 record. Thanks to his efforts on the diamond, the Barker baseball team went a perfect 6-0 during the 1941 regular season before defeating Newfane, 7-5, in the Niagara-Orleans League Championship Game. Kinyon averaged .714 during the season.
Kinyon served in the US Navy for four years, rising to the ranks of Chief, Motorist Machinist. His naval vessel, the USS Shoshone, was an amphibious cargo assault ship active in the Pacific. Kinyon was aboard his ship off the shores of Iwo Jima on February 23, 1945 where he watched six US Marines raise an American flag atop the summit of Mount Suribachi.
After the conclusion of the war, Kinyon had a 35-year career first as an Inspector and then as Scheduler Dispatcher at General Motors' Harrison Radiator. He also coached his three sons, Gary, Bruce & Carl, for many years in basketball at the Lockport YMCA and in baseball in the Lockport Little League.