Blue Jays Prospect Primer: Eyes on Sanchez
Toronto's No. 1 prospect ready to test his skills in the Eastern League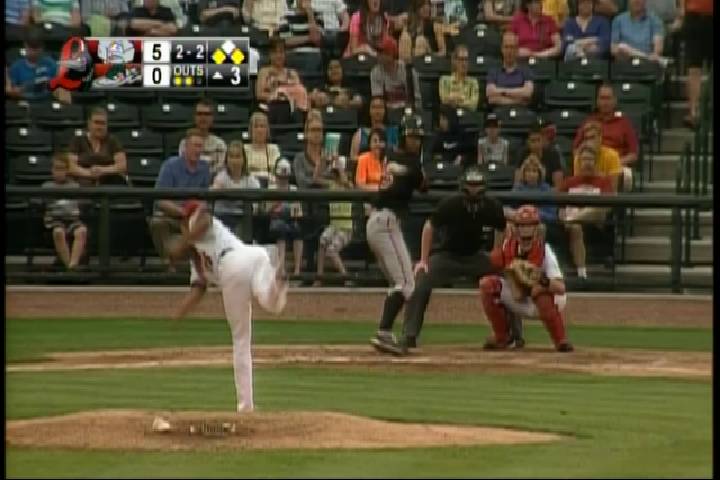 By Tyler Maun / MiLB.com | April 1, 2014 10:00 AM ET
Some players are on the verge of stardom, others are entering a crucial phase of their development and still others are getting their first tastes of full-season ball. With the 2014 season approaching, MiLB.com takes a look at the most intriguing prospects from each MLB organization.
Shining star: Aaron Sanchez, Right-handed Pitcher
The stuff is there. It has scouts and player development personnel drooling, in fact. The question for top Toronto Blue Jays prospect Aaron Sanchez is when the rest of his pitching package will come together. When it does, the rest of the baseball world will be on the lookout.
"Since Day 1, we've had a plan for Sanchey," Blue Jays assistant general manager Tony LaCava said of his organization's top pitching prize. "It's an individual plan for him. We don't do a one-size-fits-all on our players. He was a guy that, initially, command was an issue, but it's not unusual for power pitchers like him to have a little trouble finding the zone."
One of four high school pitchers the Blue Jays took within the first 80 picks of the 2010 Draft, Sanchez and fellow righty Marcus Stroman form a potent potential future one-two punch at the head of the Toronto rotation. First, though, MLB.com's No. 23 prospect will get a shot at the Eastern League.
"Each year, we think he's gotten better repeating his delivery," LaCava said. "His breaking ball continues to impress. We're going to start him in New Hampshire and see how he goes, and hopefully he continues the momentum he's built in Spring Training."
Sanchez pumps his fastball into the upper-90s and when he complements it with his power curve, the Barstow, Calif., native boasts a devastating one-two punch of his own. Toronto has been cautious with the 21-year-old's development, not sending him to a full-season circuit until his third professional season in 2012. Last year, despite losing a month to shoulder soreness, he made 22 appearances for Class A Advanced Dunedin, going 4-5 with a 3.34 ERA.
That performance was enough for the Jays to challenge Sanchez in the Arizona Fall League, where he rose to the occasion. In six outings, the Salt River Rafters righty posted a 1.16 ERA, 0.94 WHIP and struck out 21 through 23 innings of work.
"It's not a matter of stuff," LaCava said. "It's just a matter of him getting ahead of hitters, and when he does, he can be dominant. Again, sometimes patience with guys who have power like that, that's the best way to go. You can't rush them, but when it clicks for them, it can come fast. He has the stuff to pitch at any level."
Sanchez will headline the Double-A Fisher Cats rotation to open 2014.
Breakout prospect: Dalton Pompey, Outfielder
Fleet-footed Pompey has been in professional baseball for four years, and he'll still only be 21 at the start of the 2014 season. A 16th-round selection for Toronto out of neighboring Mississauga in 2010 at just 17, Pompey is ready to glide into elite prospect status with his trademark instinct and ease this year.
"Dalton's another guy with very big upside," said LaCava. "He's got really good tools. We've taken him slow as well, and last year, he really started putting it together."
The switch-hitting Pompey spent all of 2013 at Class A Lansing, where he batted .261 with a .752 OPS and 38 stolen bases, tops among Jays' Minor Leaguers. It is in the outfield where the rangy Ontario native shines brightest though. Last year's Gold Glove Award winner for Minor League center fielders, Pompey covers a lot of ground and does so with smoothness befitting a big league outfielder.
Pompey is likely ticketed for Class A Advanced Dunedin, where he will seek his breakout performance on familiar ground at the Jays' spring home.
"It's starting to come together," LaCava notes. "We think this can be a real breakout year for him."
At the crossroads: Matt Smoral, Left-handed Pitcher
Two years ago, the Blue Jays lured Smoral away from a commitment to North Carolina when they selected him with the 50th pick in the Draft. Injuries have stifled the lefty's development since, though, and Toronto has seen just 25 2/3 innings out of their million investment, all in the Rookie-level Gulf Coast League.
Smoral and the Jays are confident 2014 will be different. After a stress fracture in his right foot robbed the towering 6-foot-8 prospect of most of his senior year of college and all of his potential first professional season, Smoral debuted in 2013. Then another injury hindered his development. A problematic fingernail led to an infection and a nagging array of blisters that kept Smoral from ever feeling right on the mound.
In November, the Jays took a page out of San Francisco Giants reliever Jeremy Affeldt's playbook. Affeldt underwent surgery early in his career to remove part of a similarly troublesome fingernail, and last fall, Smoral did the same. This spring, the 20-year-old has been blister-free.
"[The blisters are] no longer an issue. He's a big guy with a great arm, and he's had a couple bumps in the road health-wise," LaCava said. "It just takes a little longer sometimes for these [big] guys to put it together. Smoral is a guy who has been frustrated with it, but we still believe in him."
If he's able to stay healthy, Smoral excites the Blue Jays with serious stuff. The long-limbed southpaw can rev his fastball up to 96 miles per hour and couples it with a solid slider and changeup.
"Hopefully he's turned the corner, and this year, we'll get to see him, particularly this summer, get out and do some things," LaCava said.
Toronto can afford to take things slowly with the young Smoral, who will head to another short-season gig in 2014.
More to keep an eye on: Triple-A catcher Jack Murphy won Asia Series tournament MVP honors as a member of the Australian Baseball League's Canberra Cavalry in November, helping to lead his team to the tournament title. … Marcus Stroman will anchor the Buffalo rotation to start the season . … Lefty Sean Nolin made his big league debut last May, but spent most of 2013 as a mainstay of the New Hampshire rotation. He ended the season in Buffalo and joins Stroman there for 2014. … Young shortstop Dawel Lugo impressed the Jays with his work at Rookie-level Bluefield last season, leading his team in home runs, and Toronto could test him at Class A Lansing this season.
Tyler Maun is a contributor to MiLB.com. Follow him on Twitter @TylerMaun. This story was not subject to the approval of the National Association of Professional Baseball Leagues or its clubs.
View More