Blue Rocks' Mondesi continues to heat up
Royals top prospect homers in second straight game, nearly cycles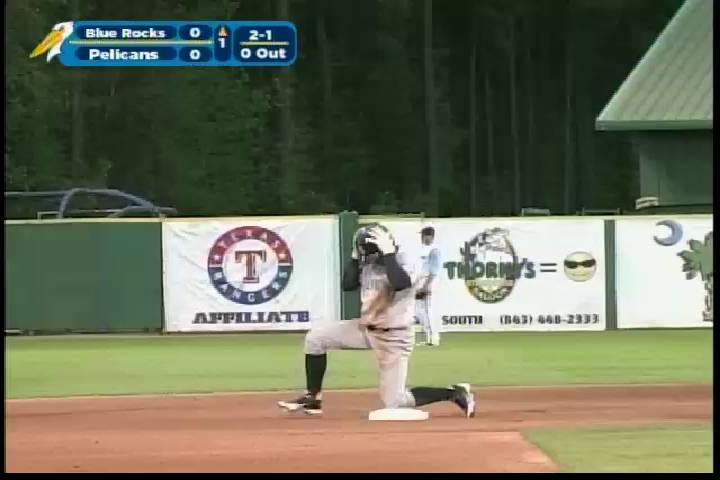 By Kelsie Heneghan / MiLB.com | August 10, 2014 1:45 AM ET
For some baseball players, it just takes one hit to get going. For Raul Mondesi, it was a triple on Friday night.
And though a three-bagger proved elusive on Saturday, he kept rolling.
Falling a triple short of the cycle, the Royals' top prospect homered in his second straight game to propel Class A Advanced Wilmington to a 3-1 victory at Frederick.
"I felt good with lot of confidence. I was looking for my pitch and when I got it, I put a good swing on it with what I've been working on with coaching staff," he said through Royals mental skills coach and translator Freddy Sandoval. "It always feels good to work hard and see the results, and I feel really comfortable and confident in the box."
Before Friday, Mondesi was hitting .180 since April and was frustrated with the lack of hits. He's been working on having the "best swing every time, hitting line drives up the middle every time and hitting the other way," while also remembering to stay relaxed at the plate.
The hard work began to pay off in the series opener in Frederick, where he halted an 0-for-11 funk with a triple, then homered and totaled three RBIs. Continuing his resurgence, Mondesi smacked another long ball in his first at-bat Saturday.
"It was a fastball right down the middle. I walked to the plate just looking for the pitch, just put a good swing and I was lucky enough to let the ball travel," said MLB.com's No. 42 overall prospect. "I hit the ball really well, but I just took off running like I always do.
"Basically, I just go out there every at-bat looking for good swings, not home runs. Just looking to find the gaps, [so] I can use my speed to help my team win."
It's the first time Mondesi has homered in back-to-back games since May 26-27, 2013, when he did it for Class A Lexington.
After flying out in the third, Mondesi doubled in his next at-bat and plated an insurance run with a single in the seventh. He had a chance to complete the cycle in the ninth but grounded out to first base. The 19-year-old switch-hitter said he was unaware of his close call with the milestone because he doesn't focus on statistics.
"It was good to see [Mondesi] continue swinging the bat well tonight," Wilmington manager Darryl Kennedy said. "I thought the most impressive at-bat was the two-strike, two-out RBI single to left-center. From the left side, he tends to get a little pull-happy, and it was nice to see him stay through the ball and drive a ball to left-center."
Logan Davis broke a 1-1 tie in the seventh with a bunt single that scored Daniel Rockett.
Davis' RBI made a winner out of Aroni Nina (3-1), who worked around a hit over 2 1/3 innings of scoreless relief. Blue Rocks starter John Walter allowed a run on four hits over three frames.
Kelsie Heneghan is a contributor to MiLB.com. Follow her on Twitter @Kelsie_Heneghan. This story was not subject to the approval of the National Association of Professional Baseball Leagues or its clubs.
View More