Boesch hits three homers in Bees' twinbill
Angels farmhand has gone yard four times in three-game stretch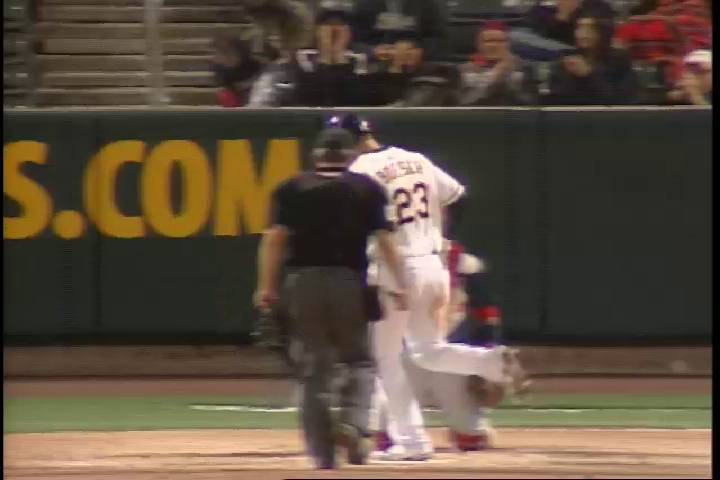 By Josh Jackson / MiLB.com | June 19, 2014 2:08 AM ET
Brennan Boesch hit three home runs on Wednesday, giving him four in his last three Pacific Coast League games.
His secret? Don't try.
"As somebody who can hit the ball out of the park, you've got to not try to do it," he said. "It's the opposite of what you'd think, but it's a funny game. As far as home runs go, the less you try, the [better] results you're going to get. That's my typical approach."
Boesch's three-homer night was divided between games of a doubleheader. He took 16th-ranked Cardinals prospect Zach Petrick deep in Salt Lake's 3-2 loss to Memphis in Game 1, then went yard twice with three RBIs and three runs scored as the Bees salvaged a split with a 9-8 win.
"I'm not missing pitches and I'm seeing good pitches to hit," Boesch said. "I'm getting the ball in the air and feeling good."
The 29-year-old outfielder, who's played in the Majors with the Tigers and Yankees, signed a Minor League contract with the Angels in January and hit .231 during a seven-game stint with the big club. He has 45 homers in 410 Major League games and 10 in 43 PCL contests this year.
In the second game, he connected against Redbirds starter Jose Almarante with two outs and a runner on second in the bottom of the second. He fell behind, 1-2, worked the count full, but did not have another homer on his mind.
"I try not to ever, but in that situation, definitely not," Boesch said. "With the full count, I'm just trying to get ready on time and see the ball to hand. I got a good pitch to drive."
The left-handed hitter knocked it over the fence in right field and knew right away that he had his third dinger in as many games.
"Usually to the pull side, you can tell," he said. "On that one, I definitely knew."
In the fourth, Boesch faced veteran left-hander Pedro Feliciano, against whom he doubled for the Tigers in 2010.
"I faced that pitcher a couple years ago. He's a veteran guy and I saw him when he was playing for [the Mets]," Boesch said. "I had a comfortable at-bat since I'd kind of had experience with him before. That always helps, especially because I don't know most of these guys [in the PCL]."
Boesch took a called strike before pulled the next offering out of the yard.
He came up again in the seventh with the score tied, 8-8. Facing Dean Kiekhefer, the University of California product admitted it was a challenge not to press for a big hit.
"That's hard. You've just got to slow it down a little bit, don't try to do too much. But I have to do that every at-bat," he said.
Boesch grounded to short on a 1-1 pitch, but he stayed true to his "don't try" approach.
"Guy was a pretty good lefty. He had some good pitches on me," he said. "I certainly was trying to drive the ball, but I wasn't trying for a home run. I don't know anybody that works for. It certainly doesn't work for me."
Boesch also recorded an outfield assist in the fourth, throwing out Oscar Taveras -- MLB.com's No. 2 overall prospect -- trying to stretch a two-run hit into a double.
Efren Navarro delivered the winning hit for the Bees, plating Grant Green with a one-out single in the ninth.
Josh Jackson is a contributor to MiLB.com. This story was not subject to the approval of the National Association of Professional Baseball Leagues or its clubs.
View More