Brewers Prospect Primer: Arcia ready to go
Shortstop's bat catching up to glove; system refreshed with trades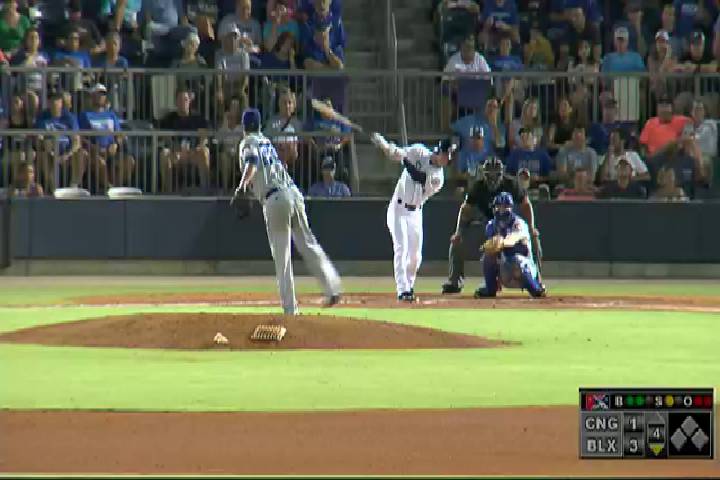 By Josh Jackson / MiLB.com | March 30, 2016 10:30 AM
Some players are on the verge of stardom, others are entering a crucial phase of their development and still others are getting their first tastes of full-season ball. With the 2016 season approaching, MiLB.com takes a look at the most intriguing prospects from each MLB organization.
Major League-ready: Orlando Arcia, SS
By some accounts, Arcia's defense has been ready for the bigs for at least a year now. His strong arm, outstanding range and smooth hands are a huge part of what make him the No. 6 prospect in baseball.
Last season, though, the 21-year-old Venezuelan proved he can also be a All-Star-caliber contributor with his offensive game. Seeing Double-A pitching for the first time, Arcia put together his most productive performance at the plate, batting .307 while leading the Southern League with 37 doubles as well as stealing 25 bags. In three full seasons, he's hit the 20-theft milestone three times, and in his 64 Rookie-level games in 2011, he stole 13. As he continues to hit his way aboard (he walked 30 times in 129 games last year and higher-level pitchers aren't likely to allow him bases on balls at a significantly greater rate), he'll continue to be a run-scoring machine.
Still, there's no reason for Milwaukee to rush him to the Majors. He does have room to improve offensively -- he plans to work on his pitch-recognition skills, for one thing -- and getting at-bats with Triple-A Colorado Springs will be a great way to do so.
Shining star: Brett Phillips, OF
Phillips, who turns 22 in May, has such a charismatic, easy-going personality that he'd have a good shot at being a star even if he wasn't a ballplayer. As it happens, though, he's an excellent ballplayer. A strong defender with a rocket arm, he also has the speed to play center or be a right fielder with a ton of range. He's had double-digit homers and triples in each of his two full seasons, and he's slashed .295/.370/.487 over 345 Minor League games. He stole 17 bases last season -- with two coming in the 23 games he played following the trade that brought him from the Astros to the Brewers -- but that's the department in which he feels he can develop the most this year.
"I definitely want to improve my baserunning. I know I can do more on the bases," he said, noting that he's always working to improve his overall game. "You always want to try and get better. The moment you get complacent is the moment somebody passes you by."
Breakout prospect: Josh Hader, LHP
Having been drafted by Baltimore out of a Maryland high school in the 19th round of 2012, Hader was traded to Houston along with outfielder L.J. Hoes for Bud Norris in 2013. Last year, he was on the move again, coming to Milwaukee in the same deal as Phillips. The left-hander put together an impressive 2015 across two Double-A leagues, going 4-7 with a 3.03 ERA and 119 strikeouts compared to 35 walks in 24 games, including 17 starts. During a solid Arizona Fall League showing (one run on eight hits, seven walks and 19 strikeouts over 16 innings), he worked on his offspeed stuff, and that's where his focus was in big league camp this spring.
"My slider and my changeup have been my biggest pitches that I've been wanting to work on, keeping those consistent, because as a starter, you can't just have one pitch," said Hader, who turns 22 this week. "You need to be able to command your slider and changeup. They've been coming along pretty well."
At the crossroads: Clint Coulter, OF
Coulter's power-hitting capabilities and strong arm make him unlikely to slip too far down the prospect ladder (he's currently No. 13 in the Milwaukee system) no matter how this season goes, but he does have the chance to reclaim his former esteem (he was No. 7 ahead of the 2014 season). The 22-year-old Washingtonian originally came up as a catcher but moved to right field beginning with a '14 AFL stint. Freed from the tools of ignorance for the entirety of the 2015 campaign, he hit for a lower average and on-base percentage (.246, .329) than he did the previous season (.287, .410). The tip in his homer totals (from 22 to 13) can be attributed to his promotion from the Midwest League to the dense-aired Florida State League, and it's likely that learning a new position hampered his overall offensive game.
"There's a lot of different variables, and just learning the pitching, communicating with guys in the field, it's been a lot of different stuff," he said earlier this month.
Now, though, he's comfortable in the outfield and with his pathway to the Majors.
"Looking back at my first two [Spring Training camps], it seemed like every day I was just full-bore going at it, trying to make the big league club as an 18-year-old," Coulter said. "I think now I'm definitely more relaxed."
Should some of that relaxation carry over to the regular season, look for him to reestablish himself as a high on-base percentage player with the ability to put balls on the other side of the fence.
Full-season debutant: Trent Clark, OF
Clark, the 15th overall pick from last year's Draft, did everything he could in his first crack at the pros to demonstrate he's ready for the Midwest League, but it's possible that the 19-year-old Texan may not get to the chilly climbs of Class A Wisconsin to start the year. If the Brewers don't assign him to the Timber Rattlers in the coming days, he's not likely to stay in Arizona very long. They gave Jake Gatewood the challenge of starting last year in full-season ball at age 19, and there's not much evidence to suggest Clark's game doesn't deserve the same shot.
Clark suffered a bruised forehead in the second game of his career and hit for the cycle in the seventh. That second occurence proved more indicative of how his debut season would go than the first. The left-handed center fielder batted .309/.422/.442 with 20 stolen bases and 14 extra-base hits through 43 games in the Arizona League to earn a push to Rookie-level Helena by the end of August. There, he went 13-for-42 (.310) with more walks (nine) than strikeouts (eight) over 12 games.
He's been compared to Ryan Braun for his tools, and he's likely to hit for more homers as he grows into his body.
More to keep an eye on: A sandwich pick (No. 41 overall) in the 2014 Draft, Gatewood is moving from shortstop to third base. The shift to the left makes sense for a 6-foot-5 20-year-old with a great arm and solid power, especially in a system that includes not just Arcia but Gilbert Lara and Yadiel Rivera. ... After an emotional spring, righty Jorge Lopez will open with Colorado Springs. It'd be asking too much to expect him to match the 2.26 ERA he put up in Double-A last year, but he'll be one of the PCL's most exciting arms. ... Jacob Nottingham was traded from the Astros to the A's last July and then to the Brewers in February. The 20-year-old power hitter figures to see a lot of time at Double-A Biloxi this year as he tries to cement his future as a catcher rather than a first baseman. ... Center field prospect Tyrone Taylor had a disappointing 2015 (.260/.312/.337) in Double-A, so he'll be out to rebound with a strong 2016. Taylor got into four Cactus League games and had a hit in his only at-bat.
Josh Jackson is a contributor to MiLB.com. Follow and interact with him on Twitter @JoshJacksonMiLB. This story was not subject to the approval of the National Association of Professional Baseball Leagues or its clubs.
View More