Brewers system bolstered by recent trades
Lucroy, Segura deals deliver depth to Milwaukee's prospect talent pool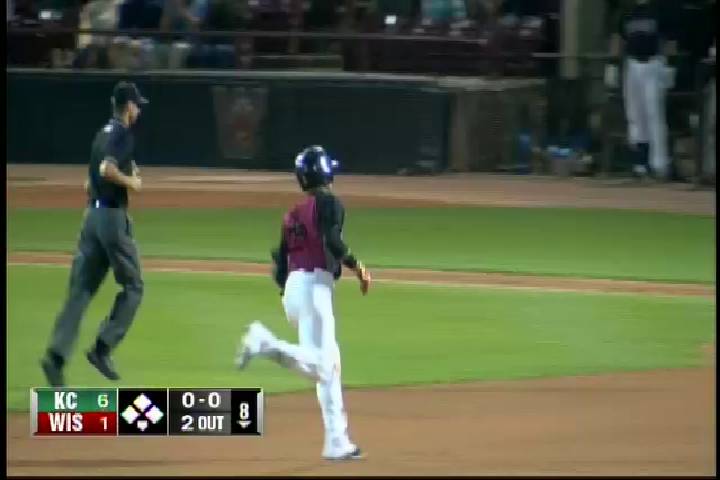 By Chris Tripodi / MiLB.com | November 16, 2016 10:00 AM
This offseason, MiLB.com is honoring the players -- regardless of age or prospect status -- who had the best seasons in their organization. We're taking a look at each team to determine the outstanding seasons in Minor League Baseball.
Sixteen months ago, Brett Phillips and Josh Hader were Houston Astros, Isan Diaz was a D-backs prospect, Lewis Brinson and Luis Ortiz played in the Texas Rangers system and Phil Bickford was with the Giants. Today, they are six of Milwaukee's top eight prospects.
The Brewers may not have veterans Carlos Gomez, Jean Segura, Jonathan Lucroy or Will Smith anymore, but moving those players resulted in a bounty of prospects making their way to Milwaukee. A team that went from 68 wins in 2015 to 73 in 2016, the Brewers are hoping these reinforcements, along with other top performers on the farm, will soon reach the Majors and make Milwaukee competitive once again.
Brewers Organization All-Stars
Catcher -- Manny Pina, Colorado Springs (63 games), Milwaukee (33 games): Pina's numbers are comparable to Sky Sox teammate Josmil Pinto, who spent 41 games behind the plate compared to Pina's 57 at Triple-A, but Pina was the primary backstop before his August 1 promotion to the Majors and gets the nod here, while Pinto earns the pick as utility man (see below). In addition to a .329/.371/.506 slash line with five home runs and 43 RBIs, Pina threw out nearly 40 percent of baserunners (23-of-60) compared to just over 30 percent for Pinto (13-of-43).
"You can look at the numbers offensively and see what kind of year he had for us, and he went to the big leagues and carried on pretty well," Sky Sox manager Rick Sweet said. "Defensively is where he really stood out for us -- he made a ton of improvements behind the plate, he threw people out consistently -- he worked very hard at it."
First baseman -- Ronnie Gideon, Helena (59 games): First base is not a strong position within the Brewers farm system, but Gideon was highly impressive in his professional debut. The 2016 23rd-round pick led the Pioneer League in home runs (17) and slugging percentage (.638) while batting .321 and posting a 1.010 OPS, fourth on the circuit. Gideon's homer-heavy short season comes after he hit 13 long balls over 101 games during his three years at Texas A&M.
Second baseman -- Trey York, AZL Brewers (47 games), Brevard County (seven games): York impressed with a .289/.393/.407 slash line with 14 steals in Rookie ball before an August 28 promotion to Class A Advanced Brevard County. Small sample size certainly applies here, but York improved those numbers in his seven games with the Manatees, slashing .333/.440/.571 and walking four times compared to two strikeouts. A ninth-round pick out of East Tennessee State in 2016, the 22-year-old York should start 2016 in full-season ball.
Third baseman -- Lucas Erceg, Wisconsin (42 games), Helena (26 games): Erceg hit the ground running after the Brewers drafted him in the second round, batting .400 with a 1.005 OPS, driving in 22 runs and swiping eight bases before leaving the Pioneer League. Erceg more than held his own in 180 plate appearance for the Timber Rattlers, slashing .281/.328/.497 with seven home runs and 29 RBIs. The stolen bases dried up, with just one steal in four attempts, but the bat looks legit for Milwaukee's No. 16 prospect.
"The first thing that stood out was his competitiveness," Timber Rattlers manager Matt Erickson said. "He does not like to lose. On the field, the first thing that stands out is his arm strength. His hands and fielding position improved throughout the season, but his arm strength is way above average. Hitting from the left side, I think he's capable of being a spray hitter going gap-to-gap with some power. He's got great hands and I think he can be a complete hitter."
Shortstop -- Isan Diaz, Wisconsin (135 games): An easy choice at the shortstop position, Diaz earned Minor League Player of the Year honors from the Brewers after a season in which he led the Midwest League in home runs (20) and total bases (238), tied for second in walks (72) and was fourth in slugging percentage (.469).
Acquired in late January as part of the trade sending Segura to Arizona, Diaz proved his MVP performance in Rookie ball in 2015 to be no fluke and found himself among MLB.com's Top 100 prospects by season's end, ranking No. 96. His defense still needs work, as his .941 fielding percentage ranked last of all shortstops in the Midwest League with at least 330 total chances, and most scouts see him as a better fit at second base in the Majors, especially with Orlando Arcia expected to stick at shortstop.
"He's a big Robinson Cano fan, so he wanted to watch film on the stuff that [Cano] did," Erickson said. "On the defensive side, that steadily improved and he took the adjustments of the position change well.... I like the idea of your middle infielders playing both positions and being versatile. With the bat, it was a little bit of a struggle early with the cold weather -- it's more survival -- but when the weather warmed up, he went on a tear in the second half. He's an exciting young player and it's just a matter of time before he's in the Milwaukee Brewers clubhouse."
Outfielders
Kyle Wren, Colorado Springs (77 games), Biloxi (50 games): Wren leads an outfield stacked with four Top 100 prospects, and he was the only outfielder in the system to post an OPS over .760 and play at least 50 games. The 25-year-old was solid with Double-A Biloxi (.283/.383/.370) but really took off after his promotion to the Pacific Coast League, slashing .339/.425/.432 with 54 runs scored, six triples and 20 stolen bases in 24 attempts a year after posting a .618 OPS in 76 Triple-A games.
"From last year to this year, his total game matured," Sweet said. "Offensively, he's not going to hit home runs, but he can drive the balls down the lines for doubles and hit into gaps.... In my opinion, he needed to get into a strengthening program and get stronger, and he did it. When he swung the bat, the ball came off his bat in a totally different way; the outfield couldn't cheat on him."
Keon Broxton, Colorado Springs (47 games), Milwaukee (75 games): After spending the first two weeks in the Majors and going hitless in 16 at-bats, Broxton found his stroke with the Sky Sox, slashing .301/.390/.573 with seven home runs and 15 stolen bases in 25 games through May 15 before being promoted back to Milwaukee. The 26-year-old speedster was optioned twice more before his final promotion July 25, after which he was extremely impressive for the Brewers, slashing .294/.399/.538 in 46 games after the All-Star break.
"Keon came back [from Milwaukee to Colorado Springs] the third time, and I had a great talk with him and laid it out with him -- we needed to eliminate mistakes," Sweet said. "His baserunning improved, his defense improved [and] he was more aggressive. All of a sudden for about seven or eight days with us, he was hitting home runs, driving the ball, having fun -- like a kid in a candy store. All the talent he had came home for him, and you have to give him all the credit. He has proven he's a Major League guy."
Brett Phillips, Biloxi (124 games): For those who view batting average as a barometer of hitting performance, Phillips' .229 mark is unimpressive, as are his 154 strikeouts. MLB.com's 62nd-ranked prospect still led all outfielders in the Milwaukee system with 16 home runs, however, and his 67 walks allowed him to post a .332 on-base percentage. His .993 fielding percentage ranked sixth out of 26 Southern League outfielders with at least 150 chances, and he was flawless in 19 games playing right field, where many scouts believe he'll end up long-term.
Utility player -- Josmil Pinto, Colorado Springs (86 games), Milwaukee (six games): Pinto caught 41 games for the Sky Sox and also saw time at first base (31 games) and designated hitter (14 games). The 27-year-old slashed .308/.362/.517 with 11 home runs and 51 RBIs before getting a late September promotion to Milwaukee. After throwing out 20 percent of basestealers in 2014 and 2015, he upped that number to 30 percent in 2016.
"He worked very hard and became an adequate defender behind the plate, which is all you want when you have a catcher with the kind of offense and power he has," Sweet said. "Offensively, he's got some kind of power, a loft-power guy to all fields. He really did a nice job having quality at-bats in high-pressure situations and got a lot of big base hits for us."
Left-handed starting pitcher -- Josh Hader, Colorado Springs (14 games), Biloxi (11 games): Hader started the 2016 season hot with Biloxi, registering a 0.95 ERA and striking out 73 batters over 57 innings. He allowed one earned run or fewer in each of his 11 starts with the Shuckers but struggled after a promotion to the PCL, posting a 5.22 ERA in 14 starts. The 22-year-old southpaw still struck out 88 batters over 69 innings, and his season ERA of 3.29 in 126 innings was still mighty impressive for the Brewers' No. 3 prospect.
"He struggled a bit when he came to us," Sweet said. "At Double-A you see very talented people who are still learning about the game. Triple-A is a much older game, and guys have a lot more games under their belt -- they're much more consistent. Josh had to make some adjustments at the Triple-A level.… He couldn't just throw the ball by people with his explosive fastball and deception. He needed to do more, and he learned that.... Josh is going to win a lot of ballgames at the Major League level"
Right-handed starting pitcher -- Brandon Woodruff, Biloxi (20 games), Brevard County (eight games): Like Diaz, Woodruff was the obvious choice for this honor. His 1.04 WHIP with the Shuckers led the Southern League, and he went 14-9 across two levels with a 2.68 ERA and a 173-to-40 strikeout-to-walk ratio over 158 innings. The 23-year-old Mississippi native also provided one of the season's best moments, striking out nine over six innings and homering in a 1-0 win nine days after his brother passed away in an ATV accident.
Reliever -- Stephen Kohlscheen, Biloxi (50 games): Not only did Kohlscheen tie for the organization lead with 23 saves with Nate Griep, but his 2.54 ERA ranked second in the system among relievers with 25 or more appearances, he converted 23 of 25 save chances and he struck out 67 batters in 49 2/3 innings. Not bad for a 28-year-old who was released by the San Diego Padres in March before signing a Minor League contract with the Brewers.
Chris Tripodi is an editor for MiLB.com. Follow him on Twitter @christripodi. This story was not subject to the approval of the National Association of Professional Baseball Leagues or its clubs.
View More