Brinson hits go-ahead grand slam in 16th
Myrtle Beach caps 22-hit game with extra-innings rally in Potomac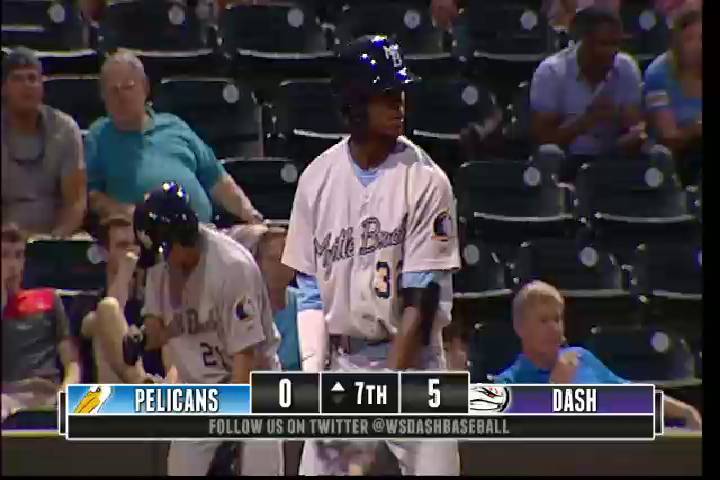 By Danny Wild / MiLB.com | July 30, 2014 6:40 PM ET
Lewis Brinson did his part to end what was shaping up to be a five-hour game Wednesday in Potomac, but his teammates weren't impressed.
"They said, 'It doesn't count, it was off a position player,' Brinson said. "That's all they said, 'No, it doesn't count! We don't care, but good job.'"
Brinson, the Rangers' No. 8 prospect, capped a memorable but exhausting game when he hit a go-ahead grand slam in the 16th inning off an infielder. Teammate and No. 2 Rangers prospect Jorge Alfaro added four of Myrtle Beach's 22 hits in a 10-6 win that went down as the longest game of the season for the Pelicans.
Brinson, who hit 21 homers last season, launched his 12th of the season and second since joining the Pelicans after Myrtle Beach loaded the bases against Potomac's Khayyan Norfork, a third baseman who was pressed into pitching duties in the 15th inning after the Nationals burned through four relievers and starter Pedro Encarnacion.
"I look at it as hitting a changeup, I hit a changeup out," Brinson laughed. "It was 84, 85 mph. I felt good, we were getting tired, we all wanted to go home. Losing that game, after it went that long, would have been rough, so to put us ahead, that felt really great."
Brinson, who finished 4-for-8, was one of eight Pelicans batters to collect at least two hits. Batting against a position player, though, can be more challenging than it sounds.
"I'm literally just trying to see the ball and hit it up the middle, get something elevated, score that one run," the center fielder said. "Obviously, with the bases loaded I wasn't trying to do anything special, just get a few runs home, get a cushion there -- that's all I'm trying to do. I wasn't trying to hit a grand slam, just trying to put the ball in play, get it out into the outfield."
Norfork, who is hitting .244 with two homers and 33 RBIs this season between two levels, actually turned in one of Potomac's cleanest innings of the day in the 15th when he retired the side in order. The next frame didn't treat him as well -- Preston Beck walked, Royce Bolinger doubled and Nick Williams was intentionally walked to face Brinson, who entered the game batting .171 over his last 10 starts.
"You just gotta try not to do too much, he's not throwing at as hard as the other pitchers, so you've got to kind of take it one pitch at a time, make sure you see the ball up don't get too antsy and chase," Brinson said. "Just see one down the middle, you know he'll give you something, a fastball, and put a good swing on it."
Alfaro, who managed to bat nine times Wednesday, had four singles and a walk, Chris Bostick went 4-for-8 with three doubles and three RBIs and Williams, the Rangers' No. 4 prospect, chipped in two hits and a run. Beck, Bolinger, Edwin Garcia and David Lyon all had two hits, while No. 9 hitter Luis Mendez missed the party, going 0-for-6.
Potomac tied the game in the bottom of the ninth on Isaac Ballou's two-out two-run homer off Jose Leclerc, extending a game that ended up lasting four hours and 41 minutes. Neither team managed a run from the 10th to the 15th innings.
"It's a long day, a getaway day, so we're trying to get the last win the sweep the series," Brinson said. "Every is getting in lots of bats. I'm thinking, 'Oh man, I've had two games worth of at-bats already,' and we're just trying to get that win, trying to get guys on and score some runs, but it when comes out as a win, obviously it feels a little better. If we had lost, all that would have been for nothing. Everybody is 4-for-8 and 1-for-9 and all this stuff, it's weird. You get two games worth of at-bats, but it feels great."
For Brinson, this season has been a chance to prove to the Rangers that he's more than an all-or-nothing slugger. Texas' first-round pick in 2012 flashed serious power last summer but also struck out 191 times in 122 games, a staggering stat that motivated the Florida native to become a more balanced, more consistent and smarter hitter in his third season.
The strikeouts this summer are down considerably -- he's whiffed 67 times in 63 games -- and he's now hitting .313 after finishing 2013 at .237. The 20-year-old also has 44 RBIs and a .375 on-base percentage, numbers that project to be nice improvements on his 2013 totals.
"It feels great -- I've had a pretty solid season up to his point," Brinson said. "I've had a couple setbacks and injuries here and there, but it's been a great season, a great bounce-back season after last year, and I'm getting used to full-season pro ball. Having the year I had last season, with all the homers and strikeouts, I'm trying to be more a more consistent player, making contact and solid defense. The power's gonna come if I get a pitch to hit, so I'm just trying to do the little things right and hopefully it works out for me."
Danny Wild is an editor for MiLB.com. Follow his MLBlog column, Minoring in Twitter. This story was not subject to the approval of the National Association of Professional Baseball Leagues or its clubs.
View More