Brinson logs four hits in Sky Sox debut
Brewers' No. 2 prospect scores three times on perfect night at plate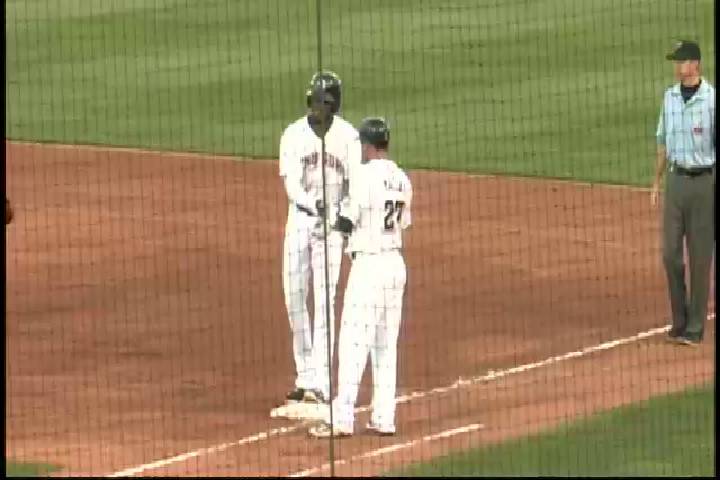 By Josh Jackson / MiLB.com | August 3, 2016 1:49 AM
A couple days ago, Lewis Brinson didn't know where he'd be playing this week.
"It's been pretty hectic," he said. "Obviously, there were a lot of trade rumors with Tampa Bay and the Brewers and the White Sox for Sale and all that stuff. I tried to focus on the task at hand, which was playing in the Rangers organization."
In the end, Brinson was acquired Monday by Milwaukee along with Luis Ortiz in a trade for big leaguers Jonathan Lucroy and Jeremy Jeffress. A day later, he was in uniform for his new club, going 4-for-4 with a double, three runs scored, an RBI and a stolen base to spark Triple-A Colorado Springs to a 7-3 win over visiting Oklahoma City.
"You want to get that first game with a new team out of the way, get your feet wet and get comfortable in the new atmosphere," the 22-year-old center fielder said. "That's what I tried to do tonight. I didn't try to go 4-for-4, but I wanted a few knocks to help the team win. The last 24 hours have been crazy, so it was nice to be able to exhale a little bit."
Brinson had been in the Double-A Frisco RoughRiders' clubhouse when he saw news of the trade on the television. He stepped out to call his agent, his mother, other relatives and his girlfriend, and then he said goodbye to his teammates -- some of whom he'd played alongside since the Rangers drafted him in the first round in 2012.
"With the trade deadline, everybody's eyes were glued to the TV and we saw that it happened. The Rangers needed Lucroy and Jeffress -- they're going for it all," he said. "I have the utmost respect for that and for the organization, but it does [stink] to leave behind some of the friendships and the relationships I've built."
After packing up his apartment and making arrangements to get Colorado Springs on Tuesday morning, he had the chance to scope out the Brewers system, where he checks in as the second-ranked prospect. The already prospect-laden organization also added right-hander Phil Bickford on deadline day.
"It [stinks] to go, but I have a great opportunity with the Brewers," the Florida native said. "I took a look at the roster, and I've got a good shot to be in the big leagues hopefully in September or sooner. And if not, I can make a push to get up there next year. The Brewers wanted me and I appreciate that. It feels great to know they love young guys, and they're in the process of rebuilding and getting back to their winning ways. Hopefully, I can be a part of that."
The four-hit performance also marked Brinson's first Pacific Coast League game this year. The No. 21 overall prospect hit .237/.280/.431 with 31 extra-base hits and 11 steals across 77 games in the Double-A Texas League before the trade, and he played in eight PCL games with Rangers affiliate Round Rock Express last season.
"It's kind of a transition from Double-A to Triple-A in a sense that it's a promotion and that means a lot, but..." he said. "I just go out there and play baseball. It's the same game, and once I get to the big leagues, I'm going to do the same thing -- just go play my game. My game got me this far, so why change anything?"
Brinson reached on an infield single with two outs in the opening frame and he scored the game's first run on Garrett Cooper's double.
"Getting that first hit out of the way, I was kind of able to exhale," he said. "I was kind of tense going into the game, because I wanted to contribute. It wasn't the hardest hit, but in the books, it looks like a screaming line drive up the middle. I'll take those every day of the week. And it was good to get the first run across and be able to score. That was a lot of fun."
Two innings later, he lined a single to left field that plated Kyle Wren, and he grounded a hit up the middle to lead off the sixth. He swiped second and crossed the plate on Garin Cecchini's triple.
Coming to the dish after the Dodgers pulled within one with a three-run eighth, Brinson poked Ryan Cash's 1-2 offering near the foul line in to shallow right and raced to second. Cooper followed with an RBI single, and Cecchini capped the scoring with a two-run homer.
"They made a push to tie the game, so coming up in the bottom half of the inning, I was trying to get something started, to get a hit, to get on base anyway that I could," Brinson said.
"That pitcher [Ralston Cash], I've faced him many times before, and he's a tough pitcher -- a tough slider, a tough cutter. I'm doing something right and I was able to hit it on the right side. It got away from the fielders and I got a double out of it. I'm happy to contribute, and hopefully, I can keep it rolling forward."
In the meantime, he admitted, "I could use some sleep."
Southpaw Brent Suter (5-5) scattered six hits and struck out six over seven shutout innings to earn the win.
Josh Jackson is a contributor to MiLB.com. Follow and interact with him on Twitter, @JoshJacksonMiLB. This story was not subject to the approval of the National Association of Professional Baseball Leagues or its clubs.
View More